Mets find power stroke with 3 HRs vs. Nationals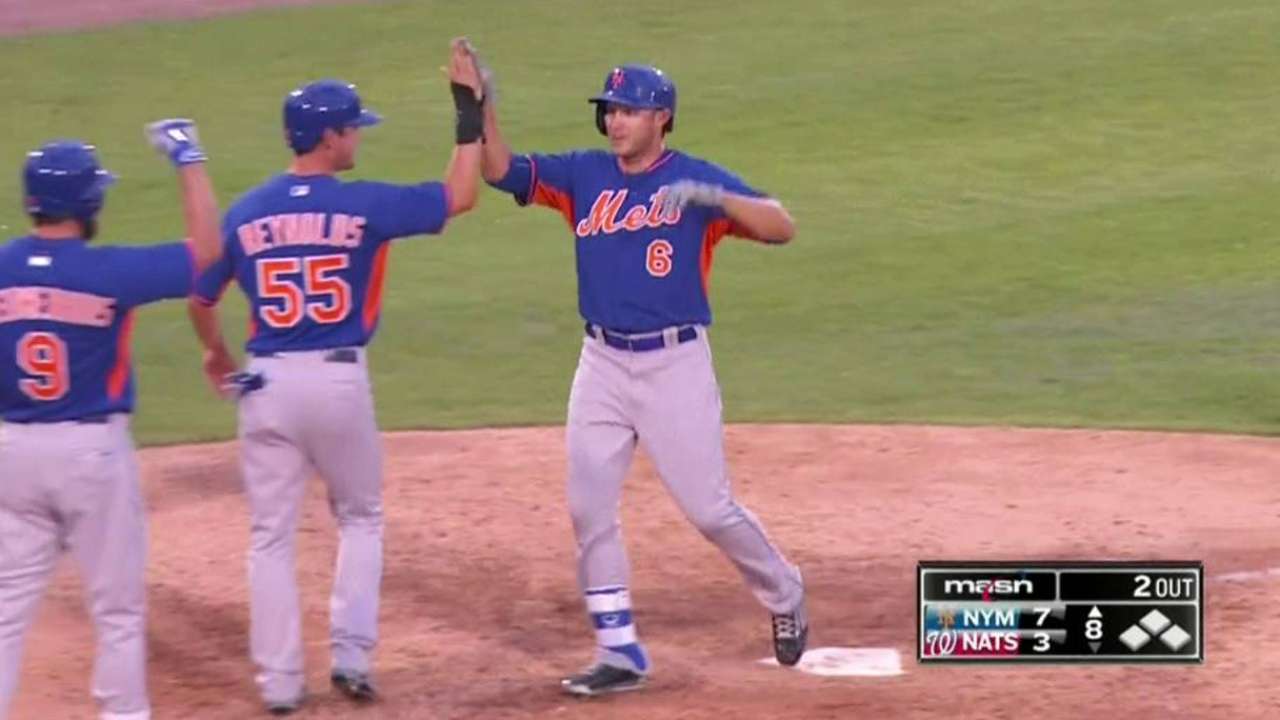 VIERA, Fla. -- Nationals left-hander Gio Gonzalez completed his longest and best outing of the spring, but his performance was matched by Mets right-hander Matt Bowman. Both pitchers completed five scoreless innings in New York's 8-3 victory on Thursday night at Space Coast Stadium.
The Mets scored four runs in the eighth off reliever Craig Stammen, punctuated by a two-run homer from Matt den Dekker, one of three jacks for New York. The Nationals' only offense came in the sixth off reliever Jeurys Familia, who was removed with two outs in the inning after allowing three runs on four hits.
MOMENTS THAT MATTERED
Finding his groove: Gonzalez continued to look sharp on the mound on Thursday. He surrendered just two hits and three walks in five scoreless innings, and he struck out five. Gonzalez has been excited about how healthy his left shoulder has felt this spring. He has not allowed a run and struck out 10 in his last nine innings.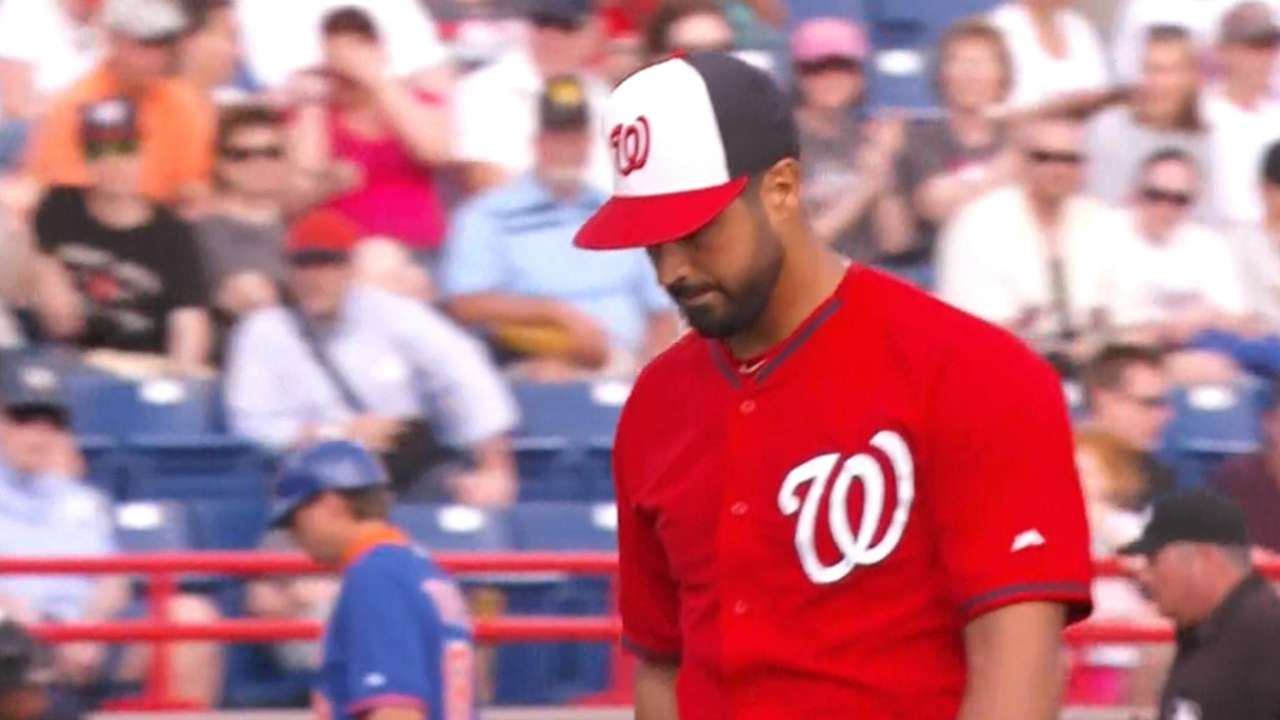 Bowman-der in chief: Making a last-minute spot start in place of Jon Niese, prospect Bowman blanked the Nats over five innings. He allowed just two hits, both singles, facing the minimum through four. Bowman, who was to return to Minor League camp after the game, also struck out four and walked one. He's slated to open this season at Triple-A Las Vegas.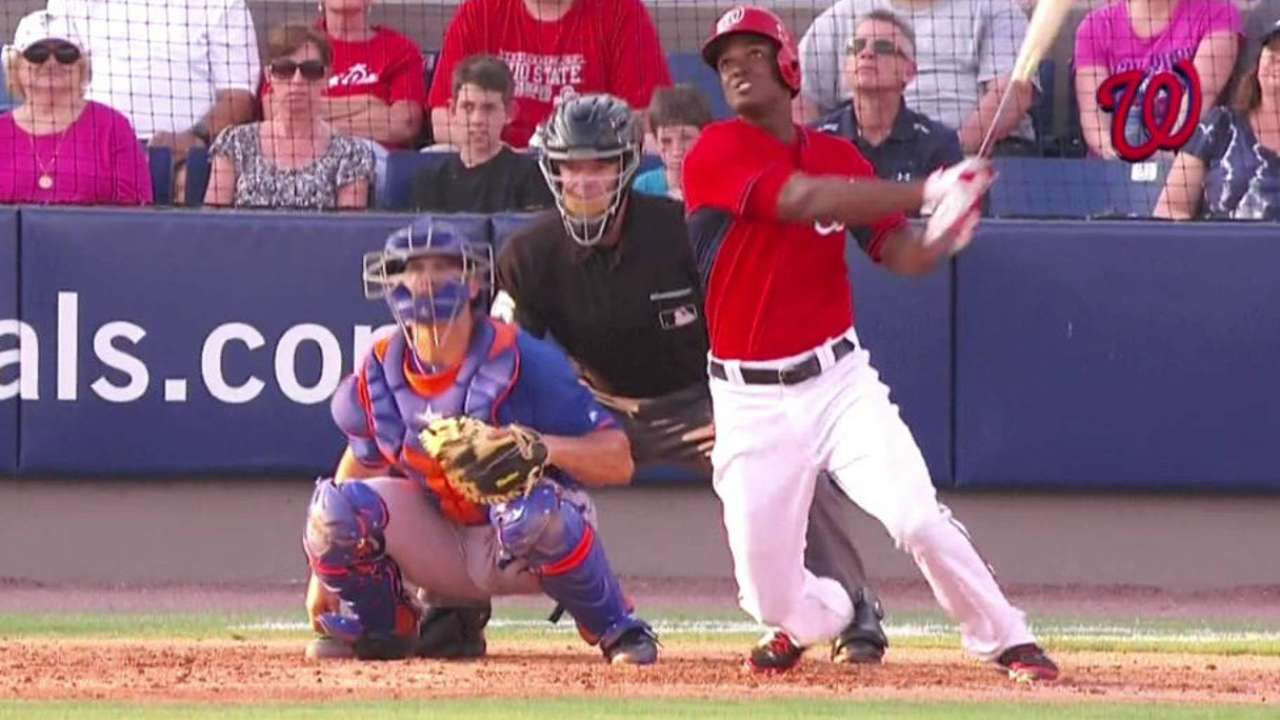 Nats offense breaks out: After being shut out during Wednesday's 1-0 loss against the Cardinals, the Nationals were also held scoreless for the first five innings on Thursday. The bats broke out in the sixth inning, tagging Familia for three runs on RBI doubles from Michael Taylor and Clint Robinson, along with a run-scoring single from Ryan Zimmerman.
Juan-two punch: Matt Reynolds and Juan Lagares hit back-to-back homers off Nats reliever Jerry Blevins in the seventh inning, turning a 3-1 deficit into a 3-3 tie. Lagares' homer was his third of spring, pushing his Grapefruit League average to .383. Before the game, Collins said that Lagares' hot spring could force the Mets to make him their everyday leadoff man.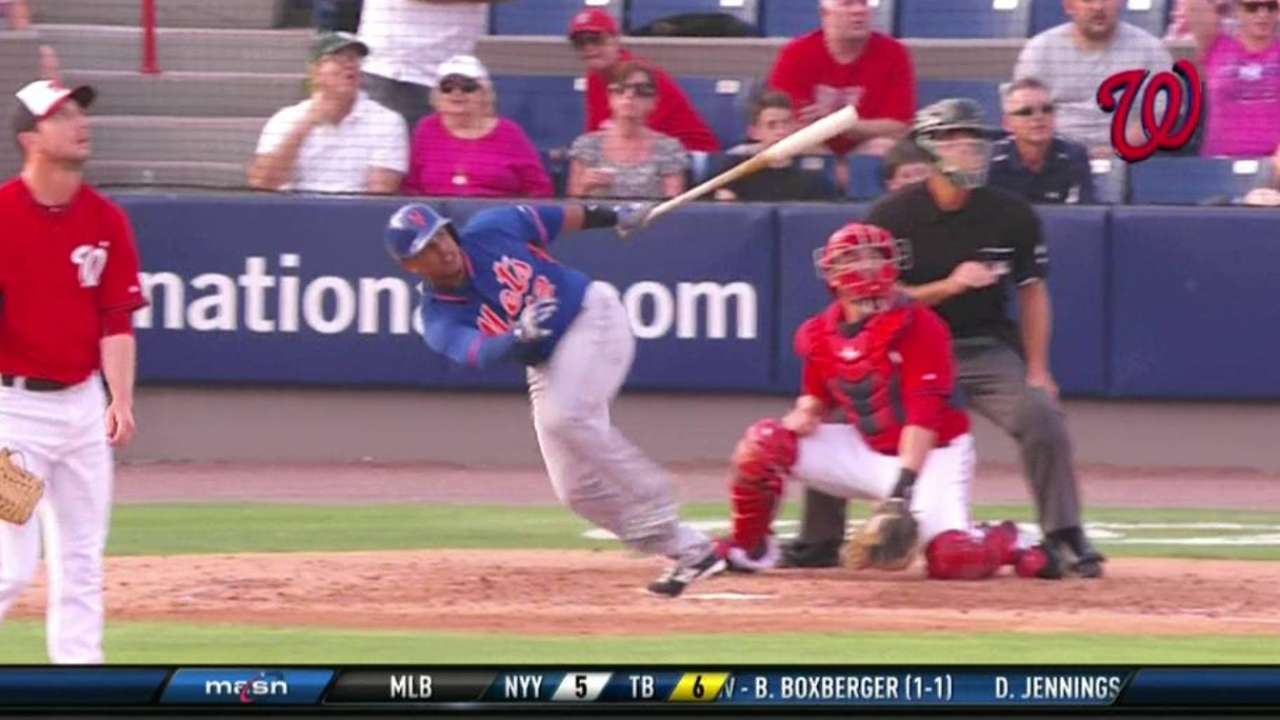 QUOTABLE
"With Zimmerman on first, I said, 'Nice to meet you. I've been watching you for a good long while now.' [Laughing] He said, 'That's great.'" -- Bowman, who grew up a Nationals fan, on meeting the Nats' first baseman after singling in the fifth.
"I've always said: If there's a buffet, I would love to pick out your meal. ... If it gets me an out, why not listen?" -- Gonzalez, on the benefit of the Nationals starters sharing tips between each other.
CHANGE OF PLAN
Bowman was not initially scheduled to start Thursday's game, but the threat of rain prompted the Mets to use Niese in an intrasquad game instead. Niese threw 76 pitches in that game, facing a lineup that included David Wright, Curtis Granderson and Michael Cuddyer.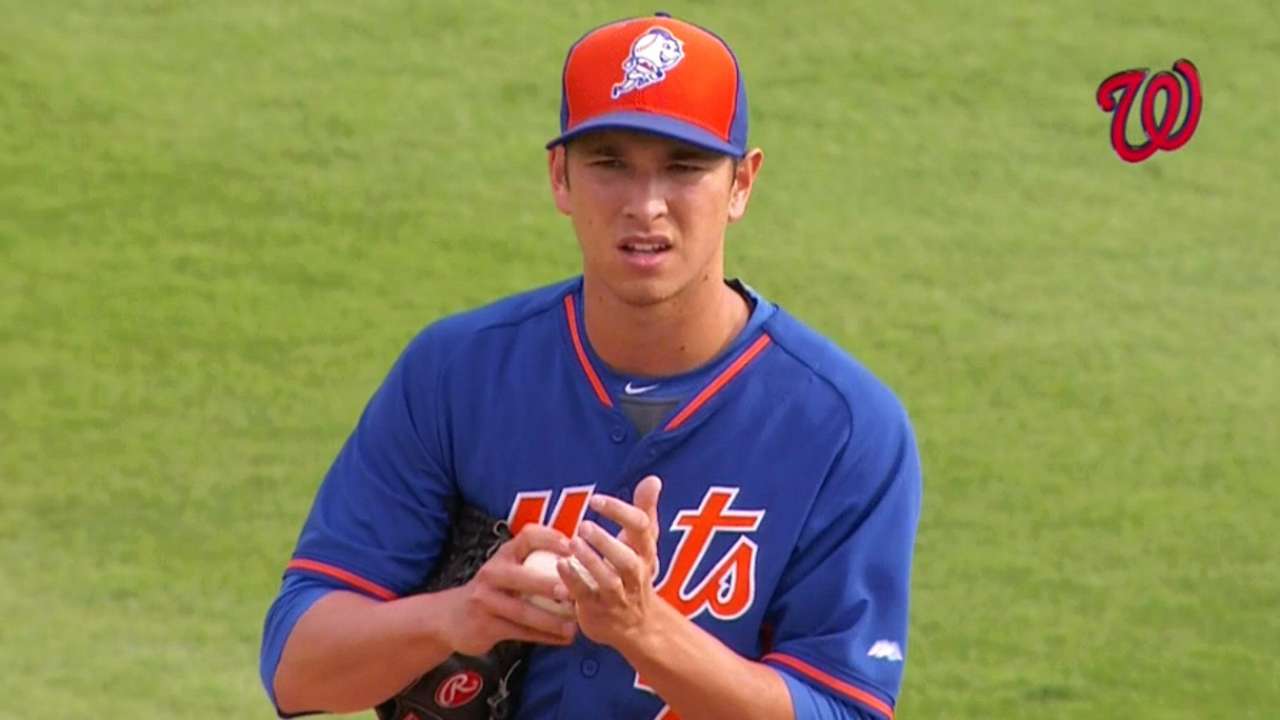 WHAT'S NEXT
All eyes will be on Mets right-hander Matt Harvey as he stretches out to around 80 pitches in his penultimate Spring Training start. Harvey, who is due to make his season debut on April 9 against the Nationals, will take on right-hander John Lackey and the Cardinals in a 1:05 p.m. ET game on Friday at Tradition Field. Watch it on MLB.TV.
Jordan Zimmermann, currently in line to be the No. 2 starter in the Nationals' rotation, will be on the mound against the Cardinals on Friday afternoon at Space Coast Stadium at 1:05 p.m. ET. Zimmermann has been enjoying a stellar spring, posting a 1.32 ERA in four starts with 11 strikeouts in 13 2/3 innings.
Anthony DiComo is a reporter for MLB.com. Follow him on Twitter @AnthonyDicomo. Jamal Collier is a reporter for MLB.com. Follow him on Twitter at @jamalcollier. This story was not subject to the approval of Major League Baseball or its clubs.