MLB.com Columnist
Mike Bauman
'Dead arm' a dead issue for Lester
Cubs can rest easy after new ace reports no problem in return to mound
MESA, Ariz. -- Sighs of relief all the way around for Chicago Cubs loyalists. Jon Lester is OK. He is all right. In fact, he is much better than that.
Lester had missed a Cactus League start Saturday because of the dreaded, yet commonplace, "dead-arm" syndrome. Because he is a centerpiece of the Cubs' expected revival, because he is worth $155 million over six years to the Cubs, this development was viewed in some quarters as dreadful, ominous and further evidence that gloom and doom have a permanent home at Wrigley Field.
In fact, Lester's dead arm meant none of those things. It was a bump in the road, a momentary nuisance, an event of no particular magnitude at all.
Lester was facing hitters again Thursday. True, they were Minor Leaguers on a practice field at the Sloan Park complex. But the big left-hander threw without pain, discomfort or anything resembling deadness.
"It was good," Lester said. "It felt good. Everything felt good."
He threw 54 pitches, 33 for strikes, over 3 2/3 innings. He gave up one hit, one walk and struck out three. He went after hitters. He threw first-pitch strikes to 10 of 12 batters. His fastball reached 93 mph, but he will be the first to tell you that means very little now.
"Cutter was good at times, bad at times," Lester said. "Curveball was pretty inconsistent. That's something that just comes with arm strength. For me, that's something that doesn't show up until April, May or even until it warms up, where you can really feel comfortable with that curveball, where you can differentiate between dumping one in or bouncing one for two strikes."
Cubs manager Joe Maddon was enthusiastic about Lester's work. True, enthusiasm comes naturally to Maddon, but Lester is the ace of the staff and his well-being is not a peripheral issue.
"I thought he looked really comfortable and his arm was working well," the manager said. "I thought as the game went along, maybe in the fourth inning, he was coming out of his delivery a little bit. But I thought overall it was really good.
"What I was really watching was him, watching his face. It never seemed like anything bothered him, so his arm felt great. He threw some good fastballs, some nice cutters, yeah, yeah, yeah, but he felt comfortable and that's the most important thing. I liked what I saw today."
When Lester showed discomfort on the mound, it had nothing to do with his left arm. He was angry with himself for missing up and away with some fastballs, issuing a walk in the process. You could see him being upset. You could hear him being upset.
Asked later what frustrated him, Lester responded: "Just not making adjustments. That's really my biggest pet peeve, in really anything, is when you continually do the same thing over and over and don't change it. If I miss high and away to a right-hander, I'd rather yank a ball down and in to him. At least I made the adjustment. But to continue to do the same thing over and over again is just unacceptable. In this game, you have to adjust with every pitch. It can't take you until three pitches later to make the adjustment. That's really where the frustration comes from.
"I wear my emotions on my sleeve, whether it's good, bad or indifferent. You can probably tell how I like a pitch by watching my reaction. It's something that people have tried to change in me, but that's just who I am."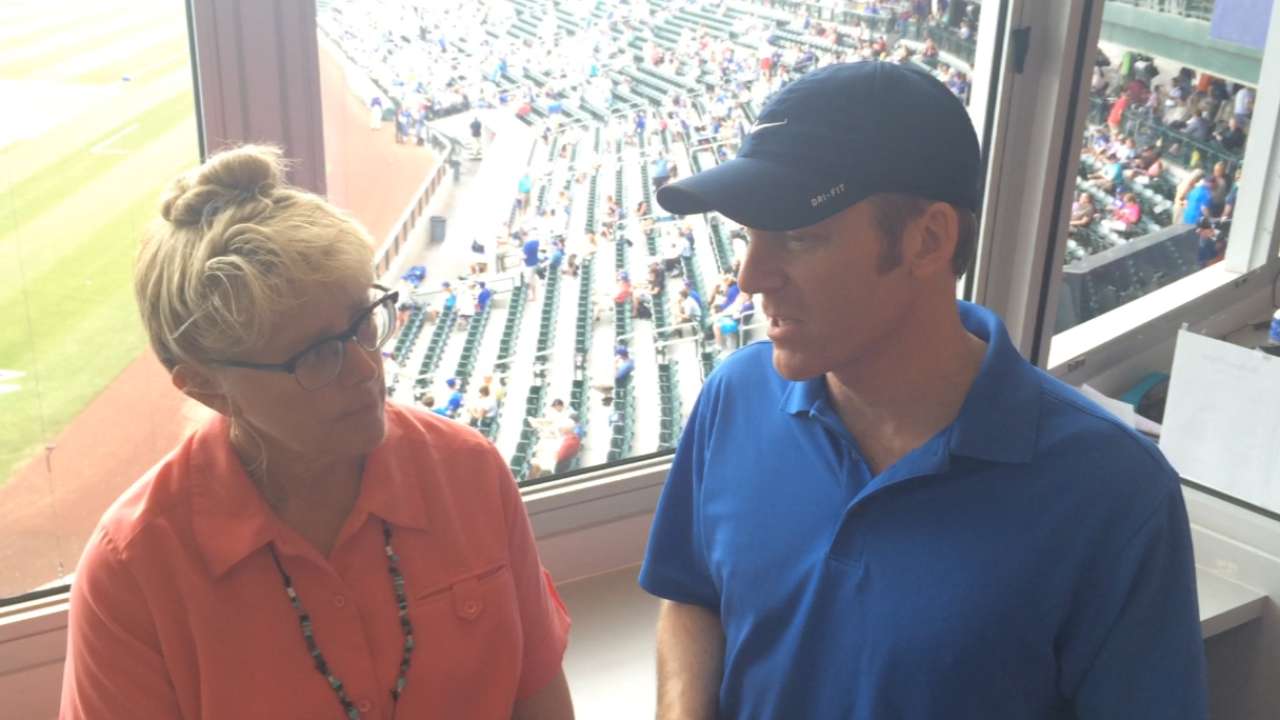 Maddon said Lester would make one more Spring Training start, in a relatively controlled Minor League game. A prevalent question was whether Lester would be at full speed for Opening Night against the St. Louis Cardinals on April 5 at Wrigley Field.
David Ross, who caught Lester on Thursday, said he was not part of the decision-making process on this issue, but added with a smile: "I'll take that guy off the couch in December, you know what I mean?"
Maddon said Lester would be on a pitch count for the season opener, perhaps at 95 pitches, with the number of innings dependent on his pitch efficiency.
Lester was asked if he would be "stretched out" enough for the opener. "It's not my first rodeo, we'll figure it out," he replied with a chuckle.
In Lester's world, questions about the Opening Night start are premature.
"I've got one more start, so we've got to get through that first," Lester said. "I don't like to go past the next one. Today was good, look forward to the next one. If everything goes well, then we can talk about Opening Night. Whether I'm healthy or I'm struggling, I always like to focus on the next one, because that's the most important one."
Let Jon Lester talk about whatever start he wants. For the Cubs and their legion of followers, the big thing is: he's talking about a start, not missing a start. What was a dead arm last week is once again a top-shelf Major League arm.
Mike Bauman is a national columnist for MLB.com. This story was not subject to the approval of Major League Baseball or its clubs.