International scouting director Kemp leads charge abroad
Padres have signed 12 since October, more potentially on the way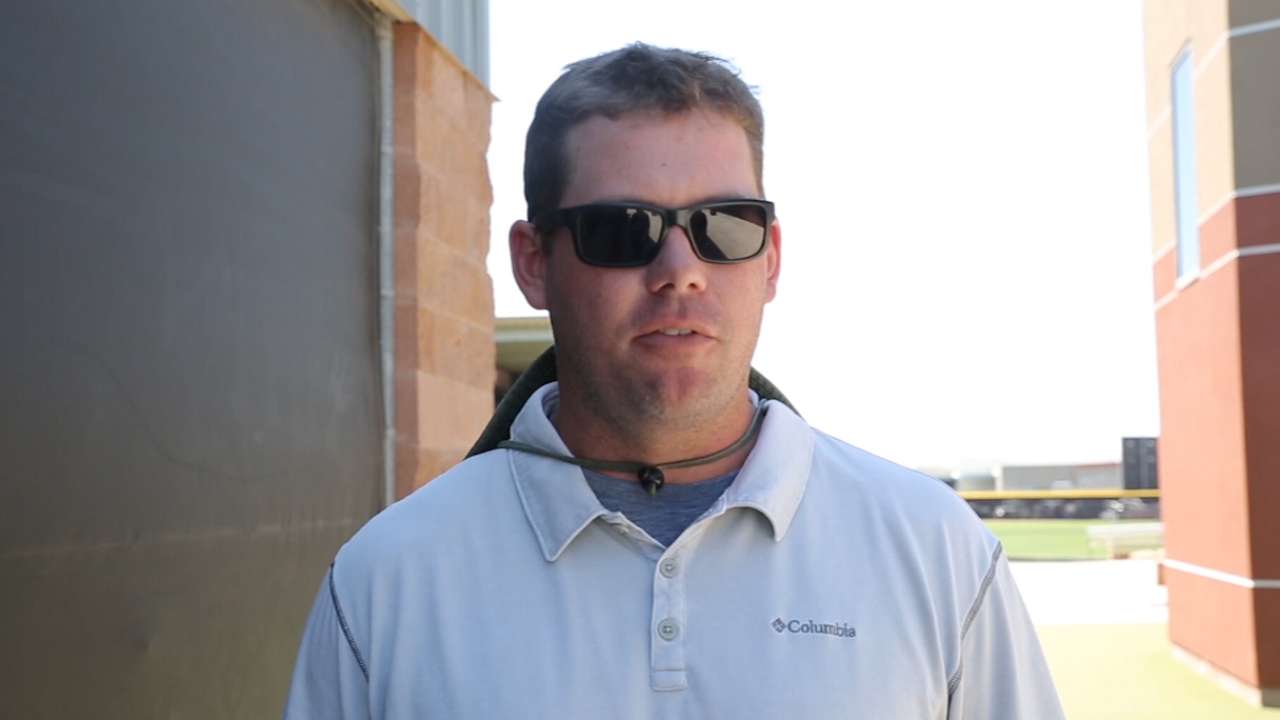 PEORIA, Ariz. -- From his home in Charlotte, Chris Kemp could -- and did -- cover a lot of ground scouting amateur players for the Rangers in his 2009 Dodge Charger. Covering a territory that included eastern Tennessee and the Carolinas, Kemp put 290,000 miles on the car in five years, running it often and running it hard.
These days, though, five months into the job as the Padres' director of international scouting, Kemp has traded those long hours in the Charger for frequent flyer miles and remote locations.
"The Charger still has 290,000 miles on it," Kemp said recently during a rare stop stateside, while he was at the team's complex in Peoria. "I've only used it to drive to the airport."
If you think it's hard to pin down Kemp's boss, Padres' general manager A.J. Preller, who has done a lot of traveling internationally to look at players on his own this offseason, don't even think about trying to run down Kemp, who probably wouldn't recognize the inside of his own home at this point.
"Since I was hired in early October, I think I've only been at home in Charlotte seven or eight days," Kemp said this week.
If you don't think the Padres are serious about ramping up their international operations, think again -- it's a major priority.
To date, the Padres have signed 12 international players, ages 16 to 19, to bonuses that range from $5,000 to $100,000. The players are from Venezuela, Nicaragua, Panama, the Dominican Republic and Mexico, and San Diego is close to finishing deals with several more.
The prized prospect of the bunch is believed to be 16-year-old right-handed pitcher Starlin Cordero, a converted outfielder from the Dominican Republic who has only been throwing for two months and is up to 94 mph.
Kemp, who has traveled to the Dominican Republic, Venezuela, Guatemala, the Far East and everywhere in Central and South America "that has players," relies on four scouts the Padres have in the Dominican Republic, where the team's academy is. In addition, there are three area scouts as well as Felix Feliz, the team's highly respected coordinator of Latin American scouting. Kemp leans a lot on Trevor Schumm, the international cross-checker and Pacific Rim coordinator, as well.
Kemp said a trip to the Dominican Republic might involve working out local players in the morning and then Cuban players in the afternoon. He said he and the organization have done extensive research on all of the Cuban players who have been available to this point, but they haven't landed one "in their comfort zone yet."
The Padres, of course, were in the running for Cuban players Yasmany Tomas, Yoan Moncada and most recently, Hector Olivera, who agreed to a six-year deal with the Dodgers this week.
As funny as it might sound, Kemp said, international scouting really isn't all that different than what he was doing before.
"I don't think it's much different. As an area scout, I took a lot of pride in hitting the back roads, going where the scouts weren't," Kemp said. "I think the same thing applies internationally. You're trying to be creative and aggressive and trying to find the best players possible. You never know what you're going to see."
"I've loved it. It's a chance to make an impact. I've always had the bug for finding players and this is the ultimate."
Preller believes he tabbed the right guys for the job.
"I think the biggest thing is he's a scout at heart; he loves doing it, he's loves going anywhere at any time. You've got to be a self-starter on the international side. He's got no fear for the job," Preller said. "He's attacked the job and gotten after it. He's aggressive."
Corey Brock is a reporter for MLB.com. Keep track of @FollowThePadres on Twitter. This story was not subject to the approval of Major League Baseball or its clubs.