Harper back in lineup after missing two games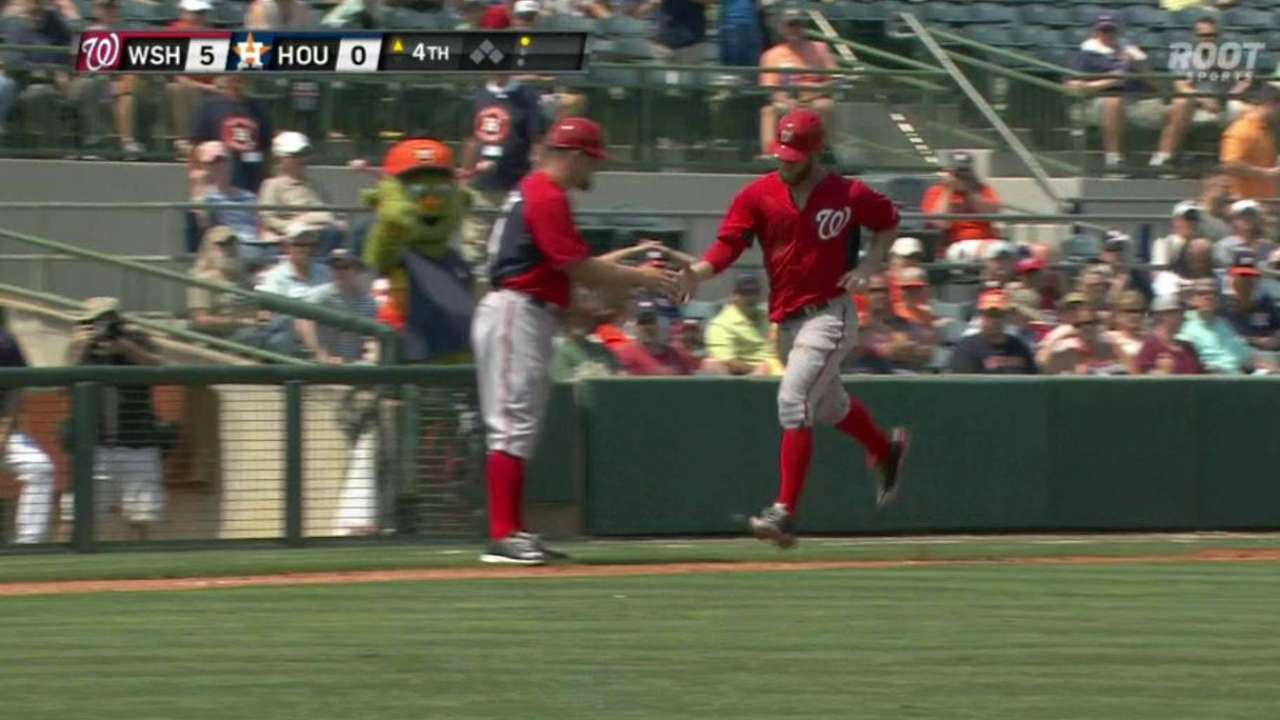 VIERA, Fla. -- Bryce Harper missed his second straight game on Thursday while dealing with a stomach bug.
Harper arrived at Space Coast Stadium initially on Thursday afternoon expecting to play against the Mets. After taking some light swings in the batting cages, however, he did not feel good and the Nationals sent him home.
"We wanted to get him out of here and not get anybody else sick at this point," manager Matt Williams said. "He's just sick to his stomach. It's one of those rites of spring that everybody goes through at some point or the other in Spring Training."
Harper returned to the lineup on Friday against the Cardinals, batting third and playing right field.
Washington already has multiple position players nursing injuries this spring. With the regular season opener (April 6 vs. the Mets) less than two weeks away, the availability of those players for Opening Day is becoming less certain.
Left fielder Jayson Werth (right shoulder) is playing defense in Minor League games, but he still feels pain while swinging a bat. Williams is not sure when Werth will appear in Major League Spring Training games.
"You do run out of time, though, so there's question, sure," Williams said of Werth's status for Opening Day. "The fact that he hasn't had regular at-bats in a Spring Training game yet makes me question it."
The minor left knee sprain third baseman Anthony Rendon sustained on March 9 still has him sidelined from baseball activity and he needed a second MRI on Wednesday that came back clean. Williams said Rendon was feeling better than he had the day before, but Williams has said that virtually every day since the injury and there was no timetable on when Rendon might return.
Earlier in the week, Williams said outfielder Nate McLouth might start the season on the disabled list as he rehabs his surgically repaired right shoulder.
The goal of Opening Day might be arbitrary if Werth or Rendon only have to miss the first week of the season, but Williams said the team would do what it could to get everyone on the field as quickly as possible.
"We would love to have everybody for Opening Day, but that's not going to happen," Williams said. "There's no reason not to push guys as far as we can push them to get them prepared, so there wouldn't be any reason to say we're not going to get them back healthy as quickly as we can."
Jamal Collier is a reporter for MLB.com. Follow him on Twitter at @jamalcollier. This story was not subject to the approval of Major League Baseball or its clubs.