Stats don't tell whole story as Milone shows his mettle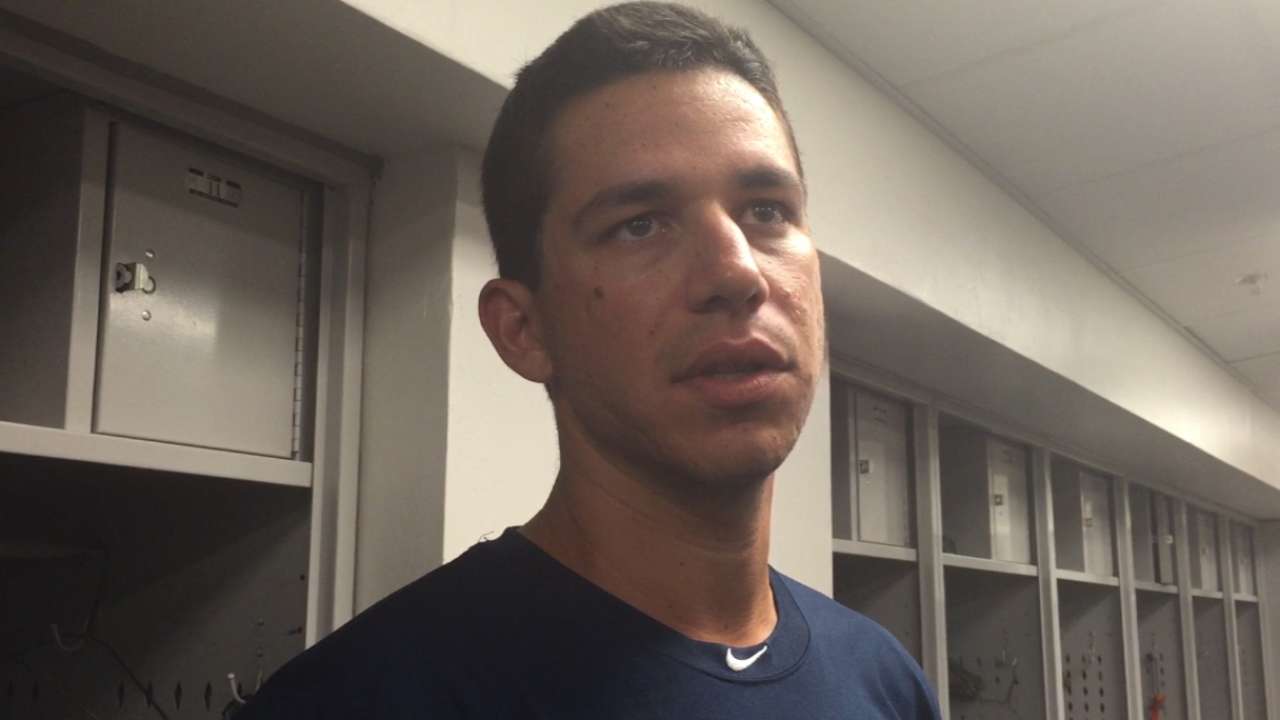 FORT MYERS, Fla. -- With Twins manager Paul Molitor looking to have his roster set by this weekend, left-hander Tommy Milone likely had his last chance to make an impression on the coaching staff with his start against the Red Sox on Thursday.
Milone, competing for the fifth spot in the rotation with Mike Pelfrey and Trevor May, went five innings, giving up three runs on six hits and two walks with three strikeouts while facing a lineup full of Boston's regulars in Minnesota's 5-4 loss in 10 innings. It wasn't the prettiest outing, but Milone was able to limit the damage in the third and fourth innings before finishing with a clean fifth.
"He did fine," Molitor said. "He minimized a few times. We got some outs that probably should've been hits, and they got some hits that should've been outs. The ball was carrying pretty good to left field and got a little bit of a boost, but that's Fenway baseball. But he got through five and got his pitch count up to close to 90, so I thought for the most part he was effective."
Milone said he hasn't received an indication from the coaching staff on what his role will be this season, but he said he felt good during his outing and was able to get out of a few jams.
"I think the biggest thing to take out of this one, the line score doesn't look very good, but I felt good and I was able to throw strikes and battle," Milone said. "[But] you never know what's going to happen. I can only control what I can control and that's to just go out there and pitch. That's really it."
If Milone loses out on the competition, he could head to the bullpen, which is an unfamiliar role for the soft-tossing lefty. But Milone said he's ready to do whatever the coaching staff asks of him.
"I'm kind of similar to Pelfrey in that I've never thrown out of the bullpen strictly as a bullpen guy," Milone said. "It's been limited, and I've only come out for clean innings, so it was never a real bullpen role. But if it comes down to that and that's the role they want me to be in, so be it. I'll go out there and give it my best and try to get outs just like if I were a starter."
Molitor met with his fellow coaches about the roster on Thursday, and he said he plans to meet with general manager Terry Ryan on Friday. Molitor said he'll have a better idea of the way the roster will shake out on Friday, and he will also give an update on Pelfrey's situation, as the team still hasn't announced whether he'll make another start this spring.
"We need to collaborate here," Molitor said. "So hopefully, tomorrow is a day where we can have some of those answers."
Rhett Bollinger is a reporter for MLB.com. Read his blog, Bollinger Beat, and follow him on Twitter @RhettBollinger. This story was not subject to the approval of Major League Baseball or its clubs.