Robertson managing soreness in right forearm
Closer intent on being ready for regular season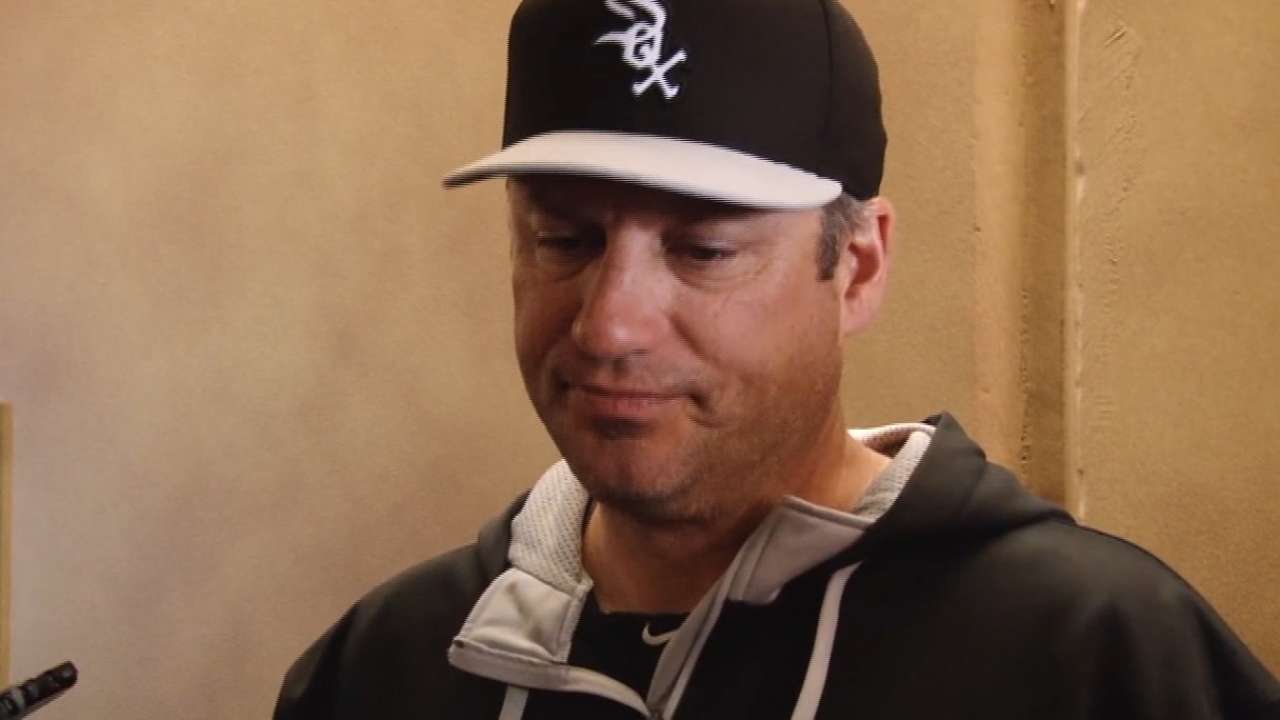 GLENDALE, Ariz. -- David Robertson was surprised to see the media gathered around his locker following Thursday morning's workout at Camelback Ranch. But when the word "soreness" is attached to a team's closer, albeit a non-worrisome attachment, it certainly draws some interest.
Robertson mentioned that he has a little soreness in his forearm, but he threw a 25-pitch bullpen before the White Sox contest against the Dodgers and reported no issues.
"I don't think anything is wrong. I'm not going for MRIs or anything like that," said an upbeat Robertson, who last pitched in a Cactus League game Saturday against the Royals. "I just got a little soreness. This late in the [spring] season, I don't want to sit there and push something and end up being injured for the start of the season.
"That's the big thing. I have a little soreness. It's not bad. I don't foresee a problem. I just don't want to injure myself worse when I've got a week or two to get it right."
Facing the Royals was more about making sure Robertson could get people out, according to the closer. But with the soreness continuing after he pitched, Robertson decided to "try to get my arm 100 percent."
"It's not even a dead arm. It's just you tweak something. You have a little soreness. You just try to get it right," Robertson said. "Spring Training, these games don't count. I want to be ready for the games that do count."
Manager Robin Ventura said that Jake Petricka, who last pitched Monday against the Padres, also was bothered by Spring Training soreness. Much like Robertson, who is scheduled for back-to-back appearances during Spring Training's final week, Ventura didn't seem worried.
"We have a few guys that are doing that right now," Ventura said. "When they are ready to go, they are ready to go. I don't think it's anything that's going to make them miss the start of the season."
"I'm ready for spring to be over and the real games to start," said a smiling Robertson. "It's getting about that point in spring where you feel like you've done the same thing every single day. There's no change in scenery. I'm ready for the season to start."
Scott Merkin is a reporter for MLB.com. Read his blog, Merk's Works, and follow him on Twitter @scottmerkin. This story was not subject to the approval of Major League Baseball or its clubs.