Mariners' bullpen battle remains wide open
Closer Rodney the only lock for possible seven-man relief corps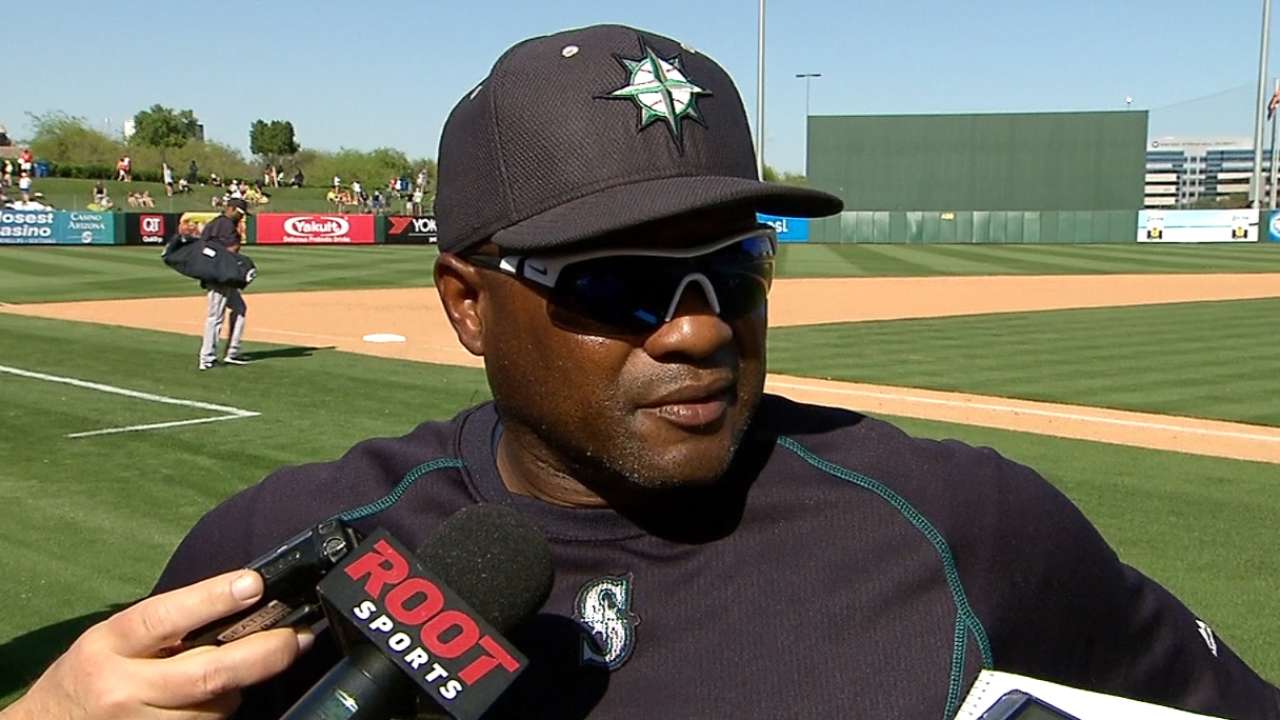 PEORIA, Ariz. -- While much of the focus on Mariners pitching this spring has swirled around the fifth-starter competition between Taijuan Walker and Roenis Elias, there is an even deeper and heated competition for relief spots on a club that posted the lowest bullpen ERA in baseball in 2014.
Manager Lloyd McClendon said Thursday that the only certainty is that Fernando Rodney remains the closer after racking up a Major League-leading 48 saves last season. Even after trading promising right-hander Brandon Maurer and not re-signing veteran lefty Joe Beimel, the Mariners have a surplus of quality candidates for their seven-man 'pen.
Which is why when McClendon was asked about right-hander Yoervis Medina, who has allowed just four hits and one run in 8 1/3 innings of Cactus League action and has been an integral part of the bullpen the past two years, he offered up a stern warning.
"He hasn't pitched well to this point in the spring," McClendon said Thursday. "We had a couple bullpen sessions with him and hopefully we'll see better from him today. He did a nice job for us last year. Everybody in our bullpen did a nice job for us. But one thing I expressed to the guys in our bullpen, Rodney is etched in stone. Nobody else. Whether you like it or you don't, it's just a fact."
Medina has a 2.81 ERA in 129 appearances the last two years, but the Mariners also have right-handers Danny Farquhar, Tom Wilhelmsen, Dominic Leone, Carson Smith and veteran non-roster invitee Mark Lowe in the mix behind Rodney. Charlie Furbush is the No. 1 lefty, with youngsters David Rollins and Tyler Olson and non-roster veteran Joe Saunders still competing for the second lefty role.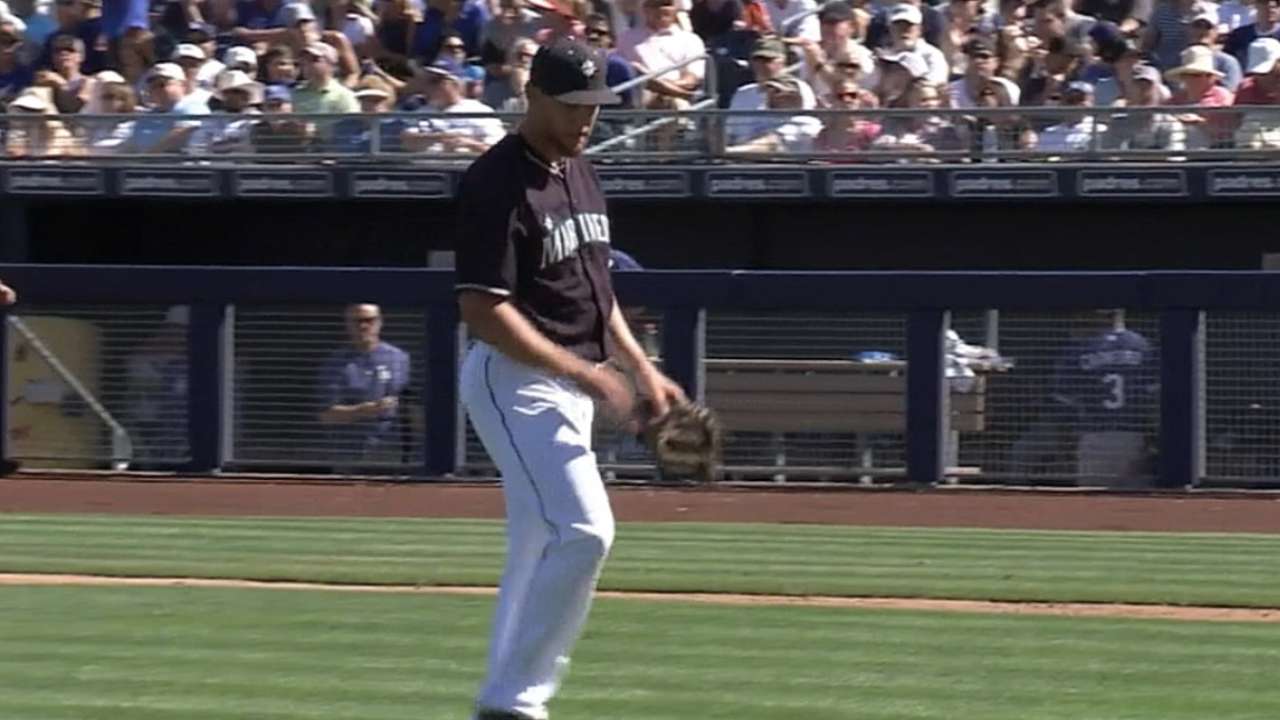 McClendon isn't committed to keeping two southpaws in a seven-man bullpen, however.
"I just want to make sure we take the best possible team north," he said. "Whether that's a left-hander or right-hander [for the last spot], I don't know yet. It'll all play out real soon. I would like to think we're dynamic enough that we don't just close the box and say it has to be a second lefty. Would I like a second lefty? Yeah. But it doesn't just necessarily have to be a second lefty."
Neither Wilhelmsen nor Leone has very good numbers this spring, but both are a little behind due to minor health issues. Wilhelmsen started a little late because of a sore back, while Leone didn't throw for about a week recently due to shoulder stiffness.
McClendon said both are playing a little catchup, but should be fine in accumulating enough work to be sharp by the start of the season. That's an important factor as those two are the primary candidates for multiple-inning roles, which can be critical early when starters aren't going as deep into games.
Leone was a key rookie addition last year when he posted a 2.17 ERA in 66 1/3 innings after making the jump from Double-A. This year's promising rookie appears to be Smith, a hard-throwing 25-year-old who has been extremely impressive since being called up last September, while Olson and Rollins have been outstanding this spring as young lefty candidates.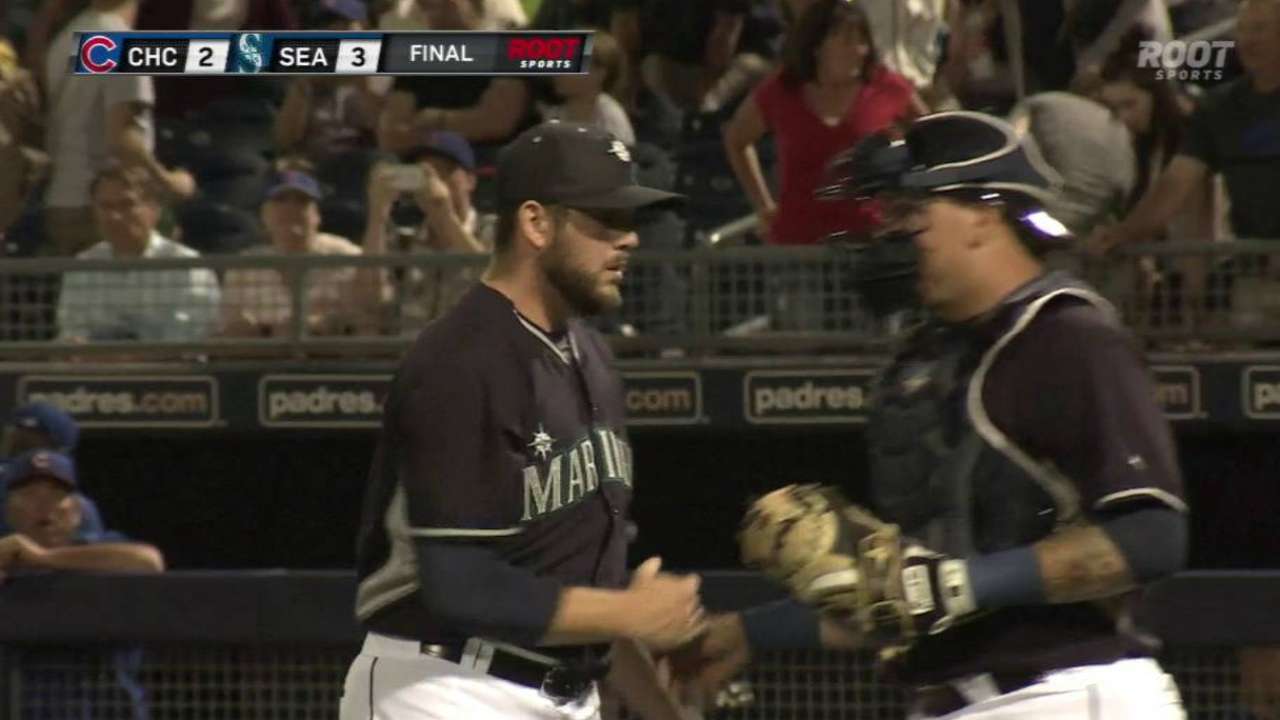 Seattle went with an eight-man 'pen for the second half of last season with excellent results, but that extra arm requires going with one fewer position player on the bench. With McClendon's desire to have more left-right options in the outfield -- with Seth Smith and Justin Ruggiano splitting time in right and Dustin Ackley and Rickie Weeks in left -- it's not going to be possible to go a man short on the bench.
So, yes, the bullpen competition is tight and McClendon sees that as an excellent sign of progress.
"I think this organization is at a point now where we don't have to take guys to the big leagues out of necessity," he said. "We're at a point now where we take guys because they're the best guys to take. And there is a lot of competition. We can probably say we've got nine to 10 legit people for a seven-man bullpen. So decisions are going to be tough."
Greg Johns is a reporter for MLB.com. Follow him on Twitter @GregJohnsMLB as well as his Mariners Musings blog. This story was not subject to the approval of Major League Baseball or its clubs.