MLB.com Columnist
Hal Bodley
Hinch's approach perfect fit for young Astros
First-year manager not setting any goals, just taking things game by game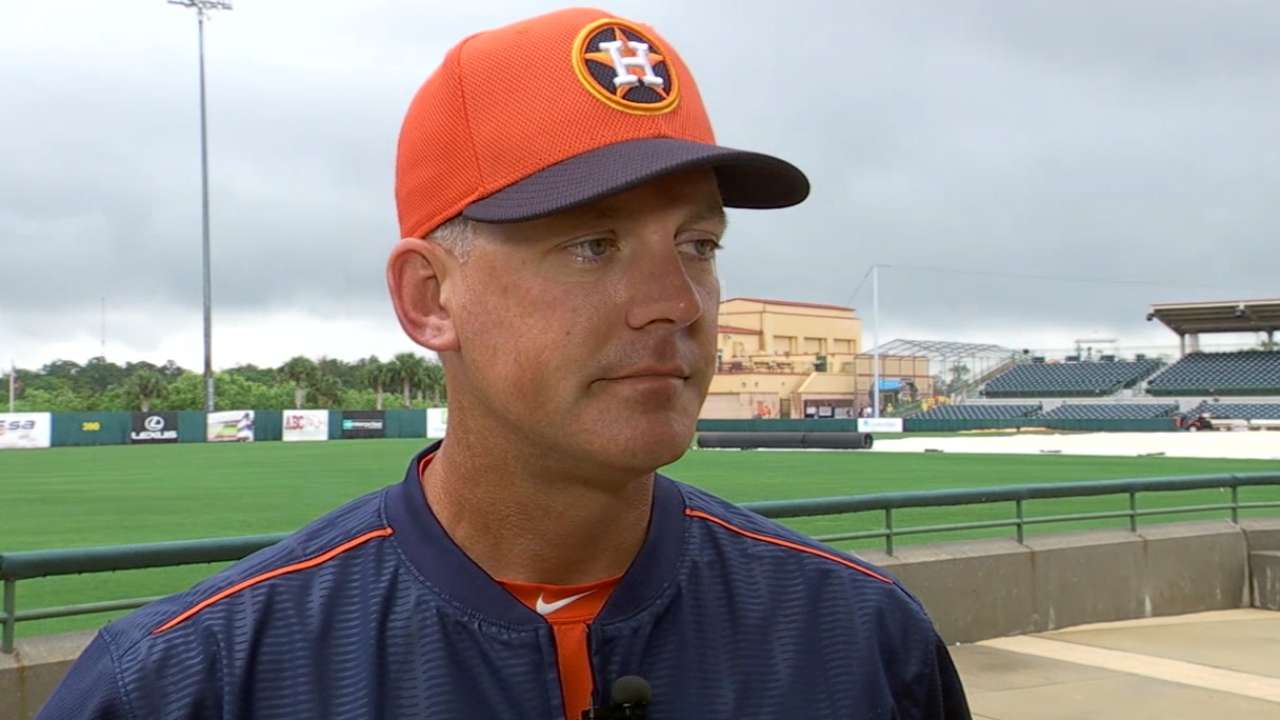 CLEARWATER, Fla. -- Nothing puts the current status of the Houston Astros in perspective better than the cover photo on their 2015 media guide.
There's Hall of Famer Craig Biggio, grimacing and holding his batting helmet high -- a fitting reminder of the Astros' glory days. Below, in Biggio's shadow, is young Jose Altuve, face of the Astros' future.
Biggio, the franchise's first Hall of Famer, played second base for the Astros when they went to their only World Series, in 2005. Since then, the downward spiral has been dramatic. Not since '08 have they had a winning season; there have been summers of 106, 107 and 111 defeats.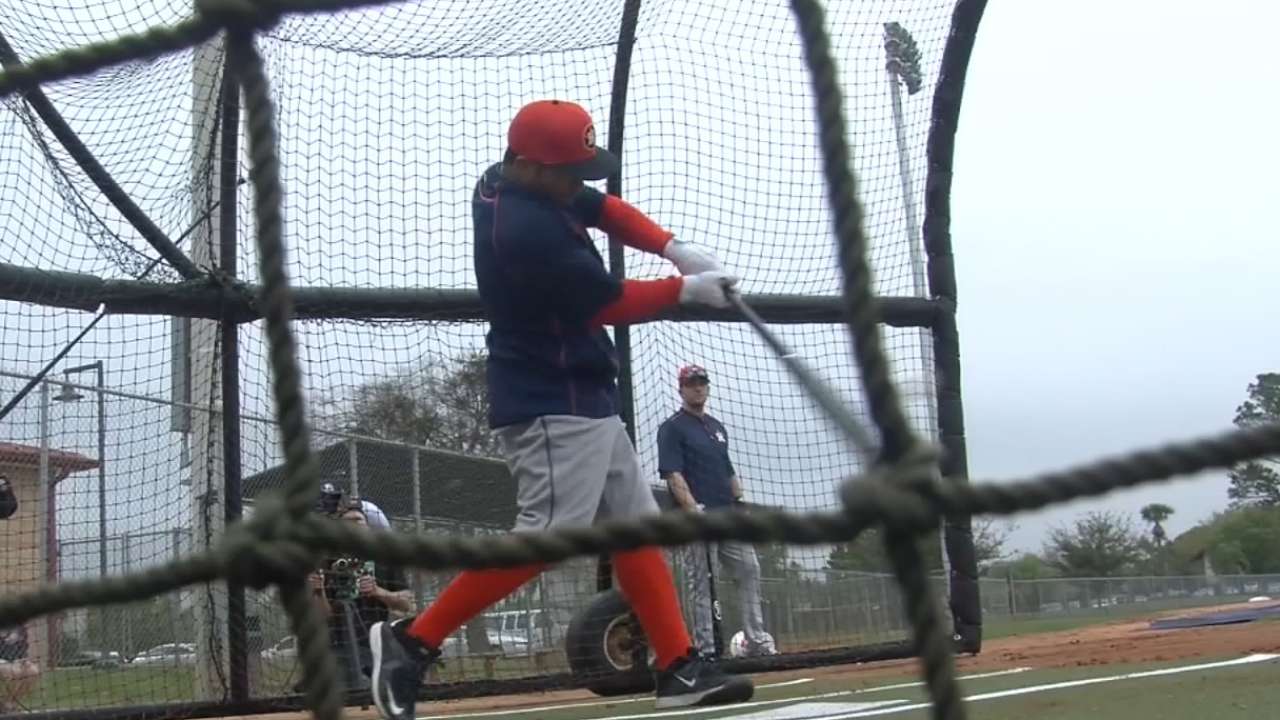 And then Altuve hammered out 225 hits, won the 2014 American League batting title with a .341 average to help Houston win 19 more games than the year before.
During Biggio's 20 years, the Astros, then in the National League, were always a contender; they won four division titles, finished second eight times, were in the postseason six times and had just four losing seasons.
After improving by those 19 games (70-92) and climbing out of the AL West basement, there's renewed hope in Houston. The Astros are not ready to challenge the Mariners or Angels for the division title, but a .500 season is within reach as they make a steady rise to respectability.
When a then-34-year-old A.J. Hinch became manager of the Arizona Diamondbacks in 2009, he was the Majors' youngest skipper. He was gone after 79 games in 2010.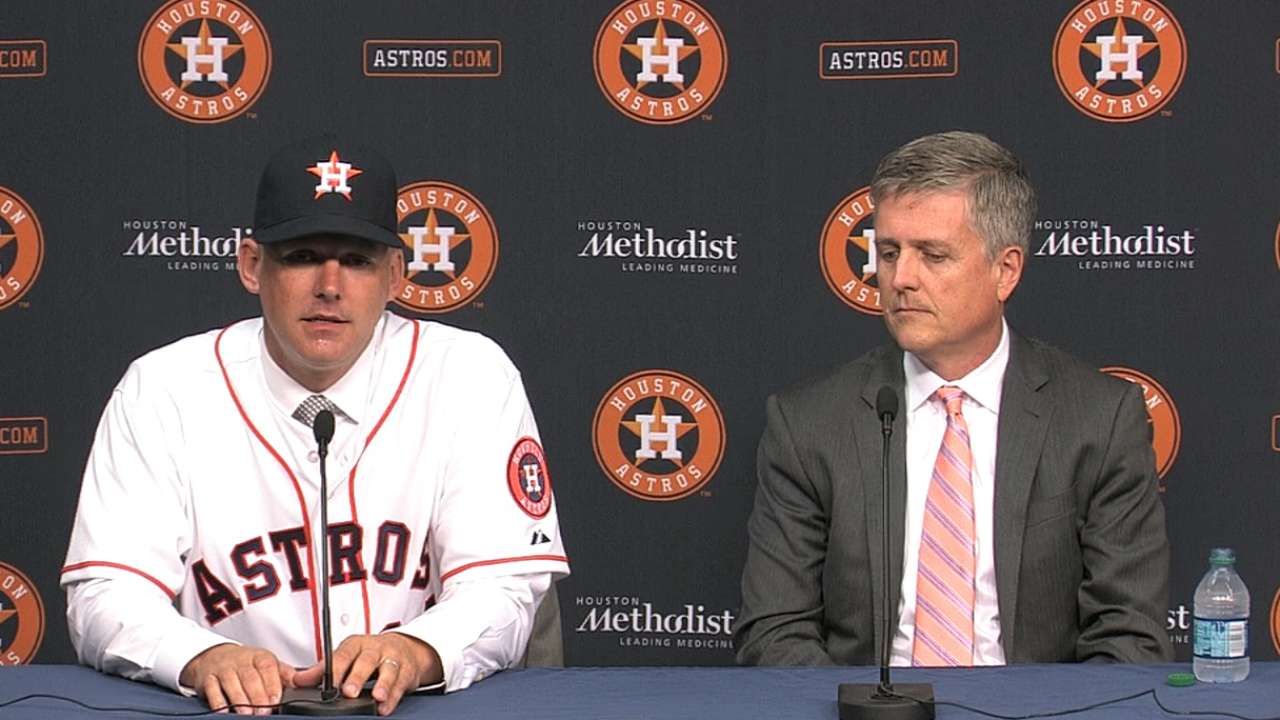 Last September, the Astros decided Hinch, now 40, was perfect for the rebuilding program under way. He thus became one of several new-age skippers -- young and without the extensive experience that used to be required. Hinch is of the same ilk as the Tigers' Brad Ausmus, the Cardinals' Mike Matheny, the White Sox Robin Ventura and the Rays' Kevin Cash, at 37, youngest manager in the Majors.
General manager Jeff Luhnow, well-known for his statistical approach to baseball, is obviously high on Hinch. The fact that Hinch was the Padres' vice president and assistant general manager from 2011-14 is an important credential.
"In Arizona, I was inexperienced and tried to tackle the world," Hinch said. "That approach didn't work and I learned from it."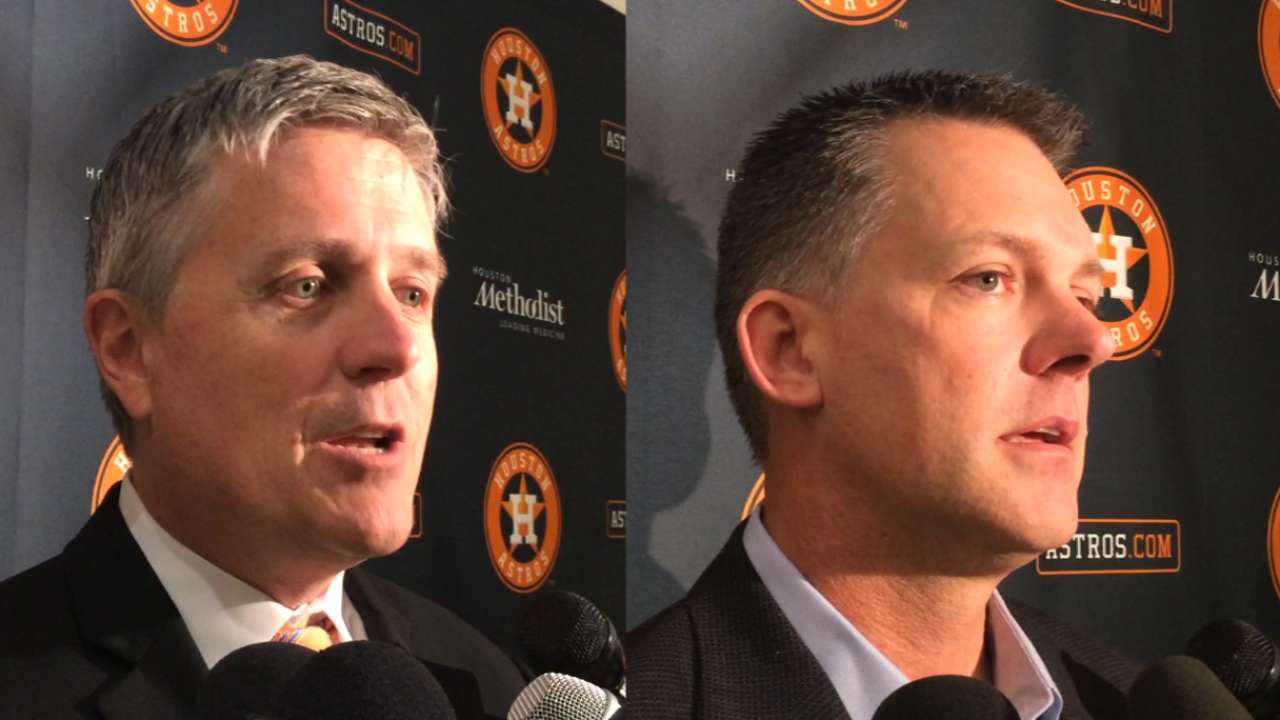 Says Luhnow: "It's important the manager and the general manager are on the same page. These are demanding jobs and we're in a fish bowl.
"I think A.J. is going to be the manager here when we win the World Series."
Sitting in the dugout at a Grapefruit League game against Philadelphia, Hinch said he's tried to create a mindset among his players that doesn't add pressure to their already difficult task of improving.
"Win today's game. That's it," Hinch said, refusing to list reaching .500 as the overall goal. "You build an identity that our best is good enough today. The effort that's required, the attention to detail that's required and the competition at this level is immense.
"We have an obligation as Astros to bring our best every day. We'll find out at the end of the day whether that is good enough, and then you move on to the next day. I'm not big on long-term goals, or putting the cart before the horse. We must play today's game at the best of our ability and the league will let us know where we factor in."
Maybe that approach is sophomoric for Major League professionals, but Hinch doesn't agree.
"The shorter we can keep their attention, the shorter vision we can create will add concentration for each game, each day," Hinch said.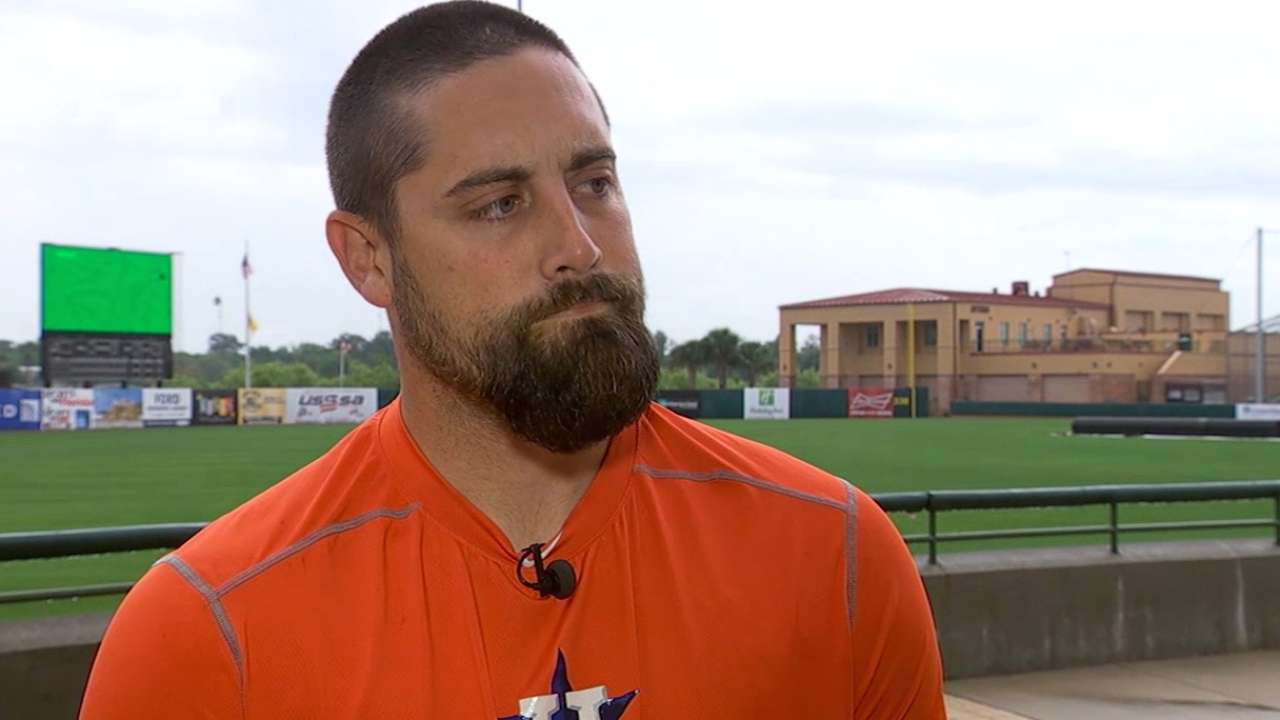 During the offseason, the Astros signed free-agent relievers Luke Gregerson and Pat Neshek in an attempt to improve their bullpen. It ranked last in the AL with a 4.80 ERA and 25 blown saves in 2014.
Hinch, a former catcher, believes nothing is more demoralizing than teams blowing leads.
"The fastest way to turn a team around is by winning games that you're leading," he said.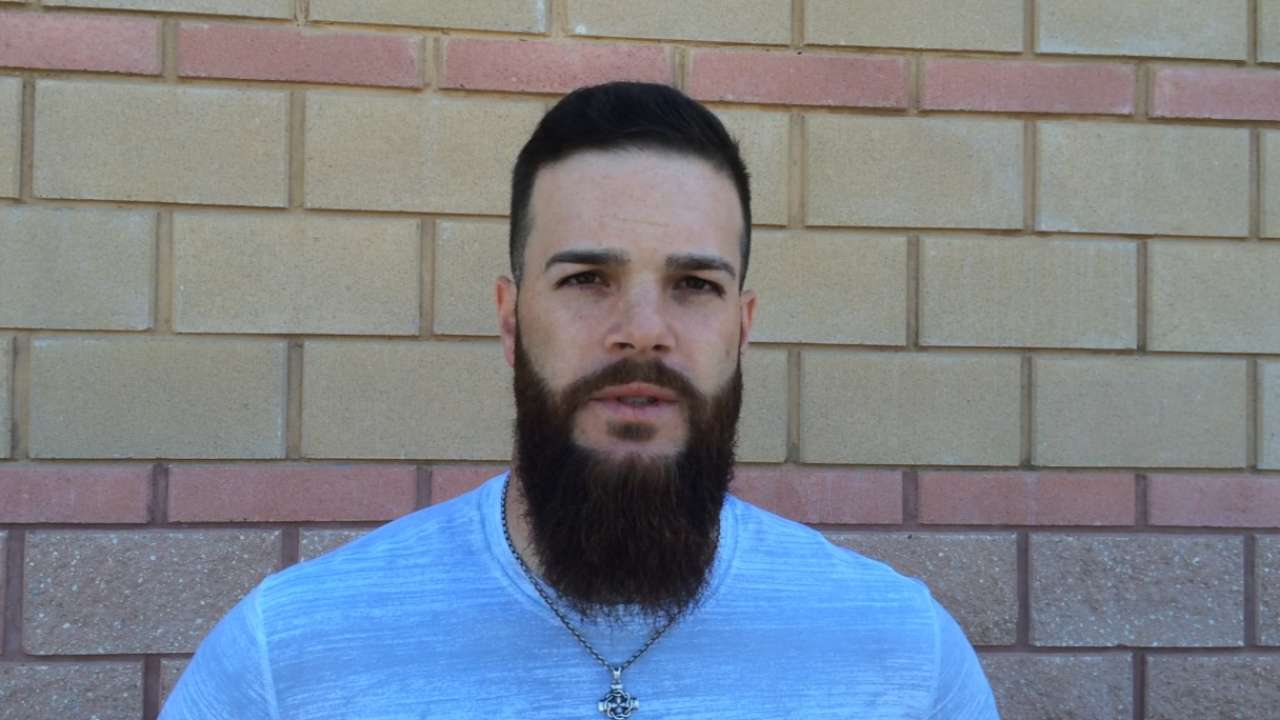 Hinch's approach should be perfect for a young team, with a core centered around Altuve. That core, including starters Dallas Keuchel and Collin McHugh, is 28 years old or younger.
Since last season, the Astros traded for slugger Evan Gattis, signed free-agent shortstop Jed Lowrie, added outfielder Colby Rasmus, infielder Luis Valbuena and backup catcher Hank Conger.
Yes, there's optimism.
"The most difficult task has been the fact I'm new and getting to know these players at a rapid pace, and implementing my culture, our vibe," Hinch said. "You have to build a team and build a team quickly. In April, the ball gets rolling down the hill pretty fast.
"Successes and failures are heightened as the season gets under way. For me, the real challenge was getting over the newness part and getting on with the real meat and potatoes of playing baseball. I think we've done that."
Climbing out of the basement in 2014 with 19 more wins was one of the biggest turnarounds in the Majors. That created enormous hope in Houston.
If that was a mini-step, Hinch believes giant steps are ahead.
Hal Bodley is the senior correspondent for MLB.com. Follow him @halbodley on Twitter. This story was not subject to the approval of Major League Baseball or its clubs.