Dominant Danner among Day 2's best at NHSI
Righty throws three-hit shutout, fans 13 for Huntington Beach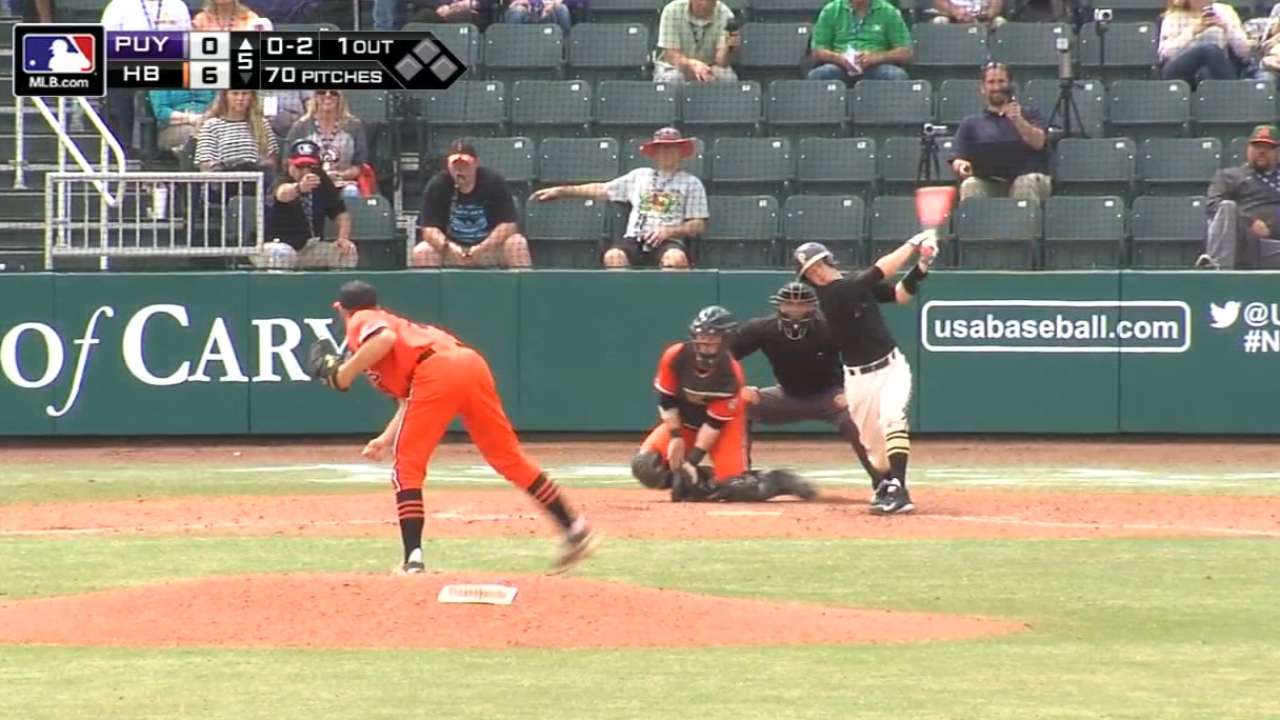 CARY, N.C. -- As the quarterfinals of the 2015 USA Baseball National High School Invitational began Thursday afternoon at the USA Baseball National Training Complex, Huntington Beach (Calif.) High School sophomore right-hander Hagen Danner delivered a stellar performance against Puyallup (Wash.) High School on the big stage of Coleman Stadium and the audience of MLB.com.
After surrendering a triple to start the game, Danner got into a groove and finished the game with a three-hit shutout and 13 strikeouts. With the victory, the Oilers advance to the semifinals on Friday in the 16-team, single-elimination tournament.
Danner, a UCLA commit, said he had to quickly put the triple behind him so that he could keep Puyallup off the scoreboard.
"Just throw strikes and get the next batter," he said. "The next batter is the only thing that matters."
Though he is just a sophomore, Danner is no stranger to the spotlight. He played a starring role on the Huntington Beach team that won the 2011 Little League World Series. He struck out 12 batters in one game in Williamsport and hit a home run in the championship game against Japan.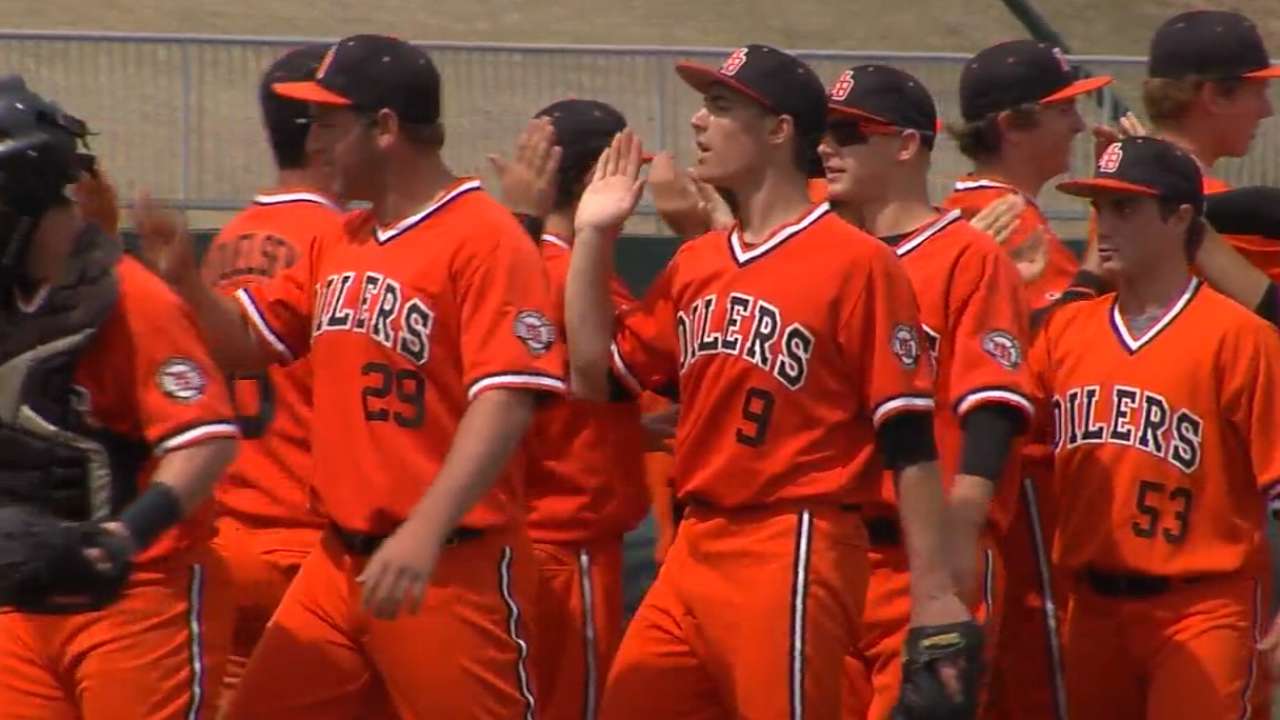 Now, Danner is trying to deliver another title to Huntington Beach. He came one step closer on Thursday. College Park High School (Pleasant Hill, Calif.), Mosley High School (Lynn Haven, Fla.) and San Clemente (Calif.) High School also advanced to the semifinals.
MLB.com will broadcast both semifinals Friday. The first game begins at 10 a.m. ET, and the second is scheduled for 1 p.m.
In addition to Danner, the tournament's second day produced several more standout performers.
MacGregor Hines, RHP, College Station: Due to Texas high school rules, College Station couldn't play their first game in the tournament until Thursday. Hines, a senior Florida commit, made it worth the wait as he struck out 12 batters in a complete-game victory against Trinity Prep (Winter Park, Fla.). Hines held the Saints to one run on two hits and three walks in seven innings.
"I'm a perfectionist on the mound," Hines said. "I probably walked more batters than I should have, they scored that run. That's a good team. You've got to give credit to them."
Keegan James, RHP, DeSoto Central (Southaven, Miss.): In a consolation game against Trinity Prep, James threw a four-hit shutout in a 10-0 victory. The senior Mississippi State commit struck out six batters in six innings.
James said his fastball and changeup were at their best.
"My curveball wasn't where it needed to be today," he said. "I had some get-me-overs. Other than that, I felt like I had my stuff."
Nickolas Oar, OF, College Park: The big parks at the USA Baseball National Training Complex mean home runs are hard to come by at the NHSI. Oar showed he had more than enough power to knock one out, as he homered against Loyalsock Township High School (Williamsport, Pa.) in a quarterfinals matchup. The senior Stanford commit went 1-for-3 with two runs and two RBIs.
Baylor Rowlett, C, College Station: In College Station's first game of the day, Rowlett guided Hines through his shutout and drove in all three runs. Though he went hitless in the Cougars' quarterfinals loss to San Clemente, the senior Oklahoma State commit showed throughout the day why his defense earns praise from scouts.
William Tribucher, LHP, San Clemente: With a trip on the semifinals on the line, Tribucher led San Clemente to a 5-3 victory against College Station. The senior Michigan commit held the Cougars to three runs (one earned) on three hits and four walks in 6 1/3 innings to earn the victory. At the plate, he went 2-for-3 with two runs and a double.
Schedule
Friday
1:15 p.m. ET - Huntington Beach (Calif.) vs. San Clemente (Calif.)
4:15 p.m. ET - International Prospects vs. South Caldwell (N.C.)
No broadcast - Mosley (Fla.) vs. College Park (Calif.)
Teddy Cahill is a reporter for MLB.com. Follow him on Twitter at @tedcahill. This story was not subject to the approval of Major League Baseball or its clubs.