Penny misses mark in latest audition
Right-hander allows six runs over four innings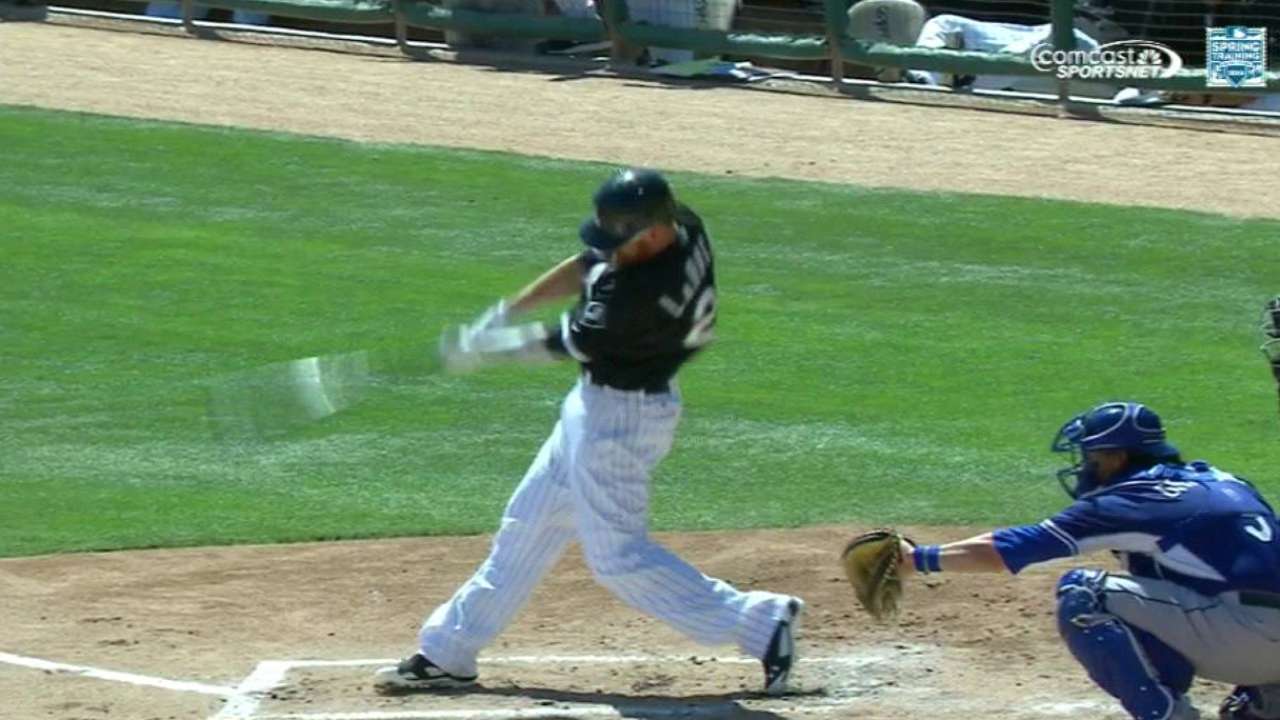 GLENDALE, Ariz. -- Brad Penny's push for a White Sox roster spot, either as a spot-starter for Chris Sale or a long reliever, took a bit of a hit on Thursday at Camelback Ranch in the Dodgers' 9-6 victory.
The Los Angeles offense was led by Yasiel Puig's fifth home run, a two-run shot, of the spring and four RBIs from Jimmy Rollins, who also hit a two-run homer. Penny allowed six runs on eight hits over four innings, while Clayton Kershaw struck out eight in six innings.
Kershaw allowed a run in the first when he walked Alexei Ramirez, Jose Abreu singled and Adam LaRoche doubled. But that was pretty much all the White Sox got off the Dodgers ace. The White Sox scored five late runs off of relievers Joel Peralta and Pedro Baez, before Kiké Hernandez crushed a solo homer in the ninth.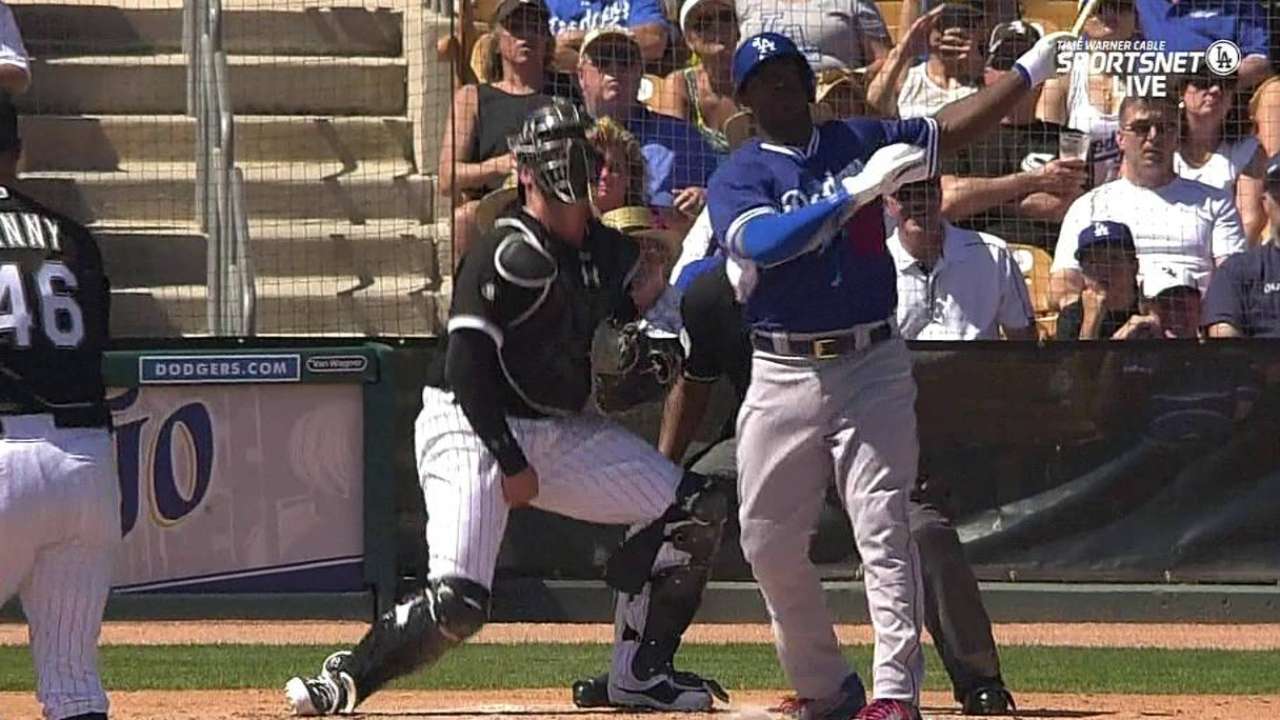 The Dodgers scored four in the second and two in the fourth off of Penny. Every Dodger in the starting lineup, including Kershaw, had at least one hit.
MOMENTS THAT MATTERED
Two forces colliding: Kershaw stands as quite possibly the best starting pitcher in all of baseball. Abreu has gradually asserted himself as one of the game's top hitters. When the two met up at Dodger Stadium last season, Abreu went deep in their first head-to-head matchup. Abreu wasn't quite as successful Thursday, but still managed to knock out three sharp singles.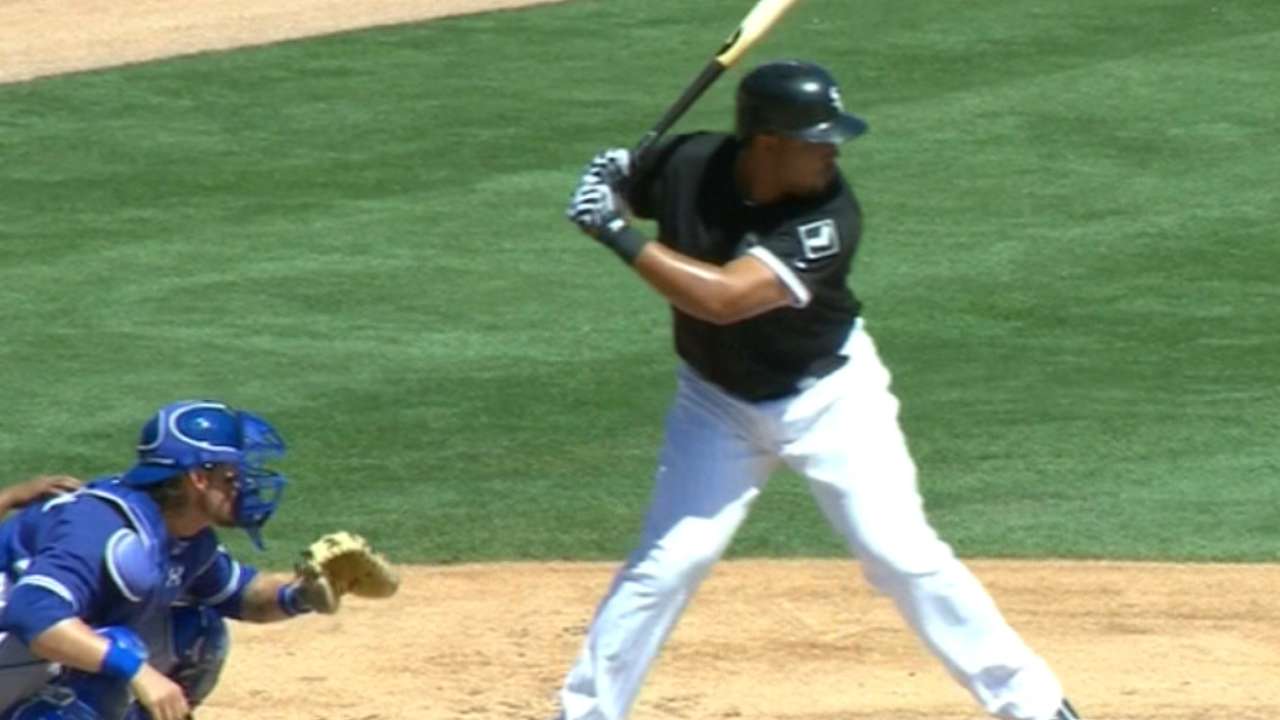 No battery trouble: After getting past a busy first inning by striking out the side, Kershaw allowed only one hit over his final five innings while pitching to new catcher Yasmani Grandal.
Step in the right direction: Those early Spring Training struggles for Zach Putnam seem to be a thing of the past. Putnam, who topped White Sox hurlers with a 1.98 ERA last season, pitched a scoreless fifth against the Dodgers on Thursday. He struck out Carl Crawford and Juan Uribe with nasty-looking split-fingers and stranded a runner at second on Andre Ethier's line drive to center.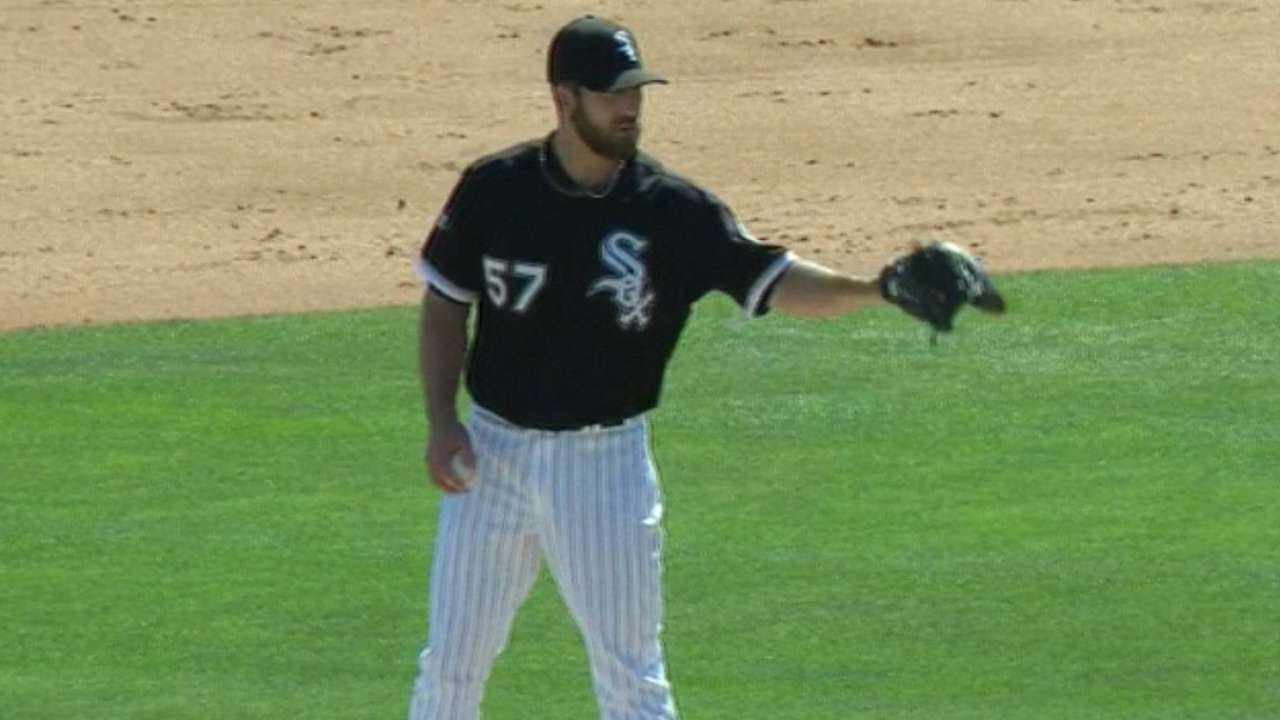 The lineup works: Manager Don Mattingly hasn't announced a batting order, but by the ones he's been using lately it looks like he wants to keep Puig batting second and Adrian Gonzalez third. There was speculation that with Matt Kemp and Hanley Ramirez out of the lineup, Puig and Gonzalez might drop to third and fourth.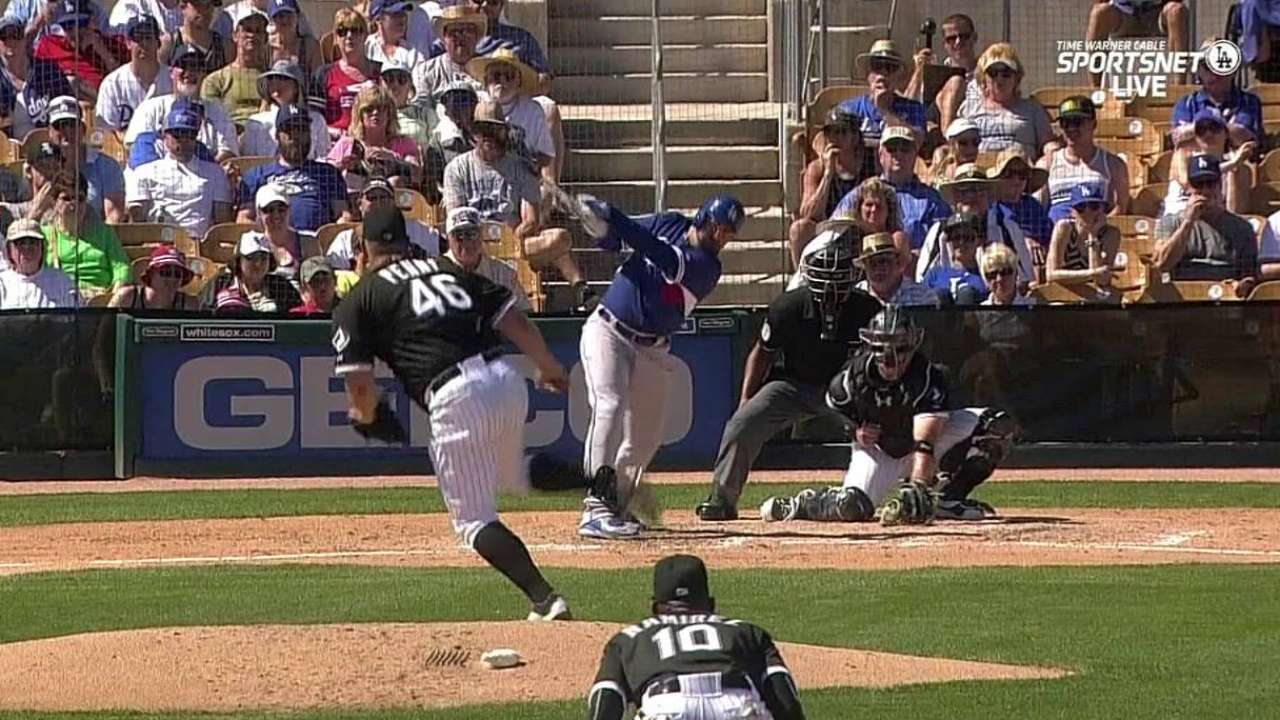 QUOTABLE
"I went out there and I was kind of letting it go, throwing more than pitching. I got behind. I was working on the cutter today, which I thought was better than it has been. So, just too many balls over the plate." -- Penny, on his four-inning outing
"It's just a Spring Training game. It doesn't count. I know what I need to work on to get ready for the season and that's what I'll work on." -- White Sox Opening Day starter Jeff Samardzija, on facing the Cubs on Friday.
"Jimmy knows how to work smart. He minimizes the amount of swings and ground balls, but maximizes what he gets out of it." -- Mattingly, on Rollins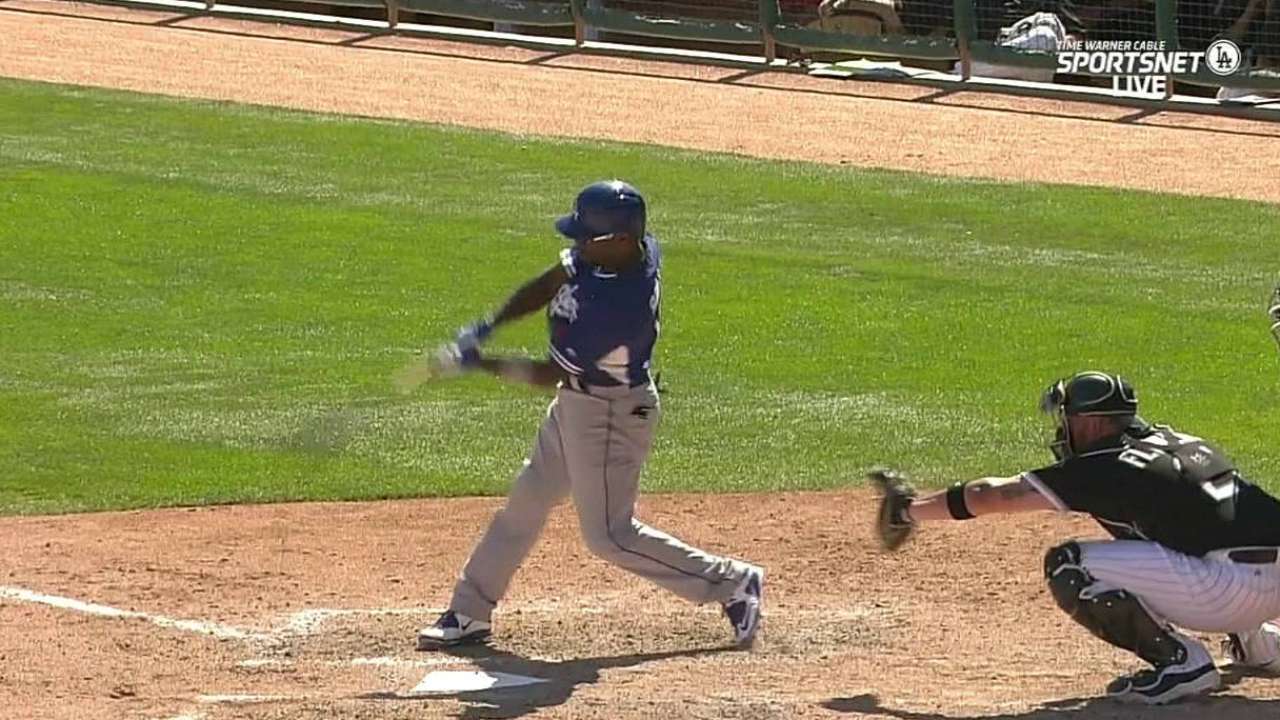 SOUND SMART WITH YOUR FRIENDS
Ramirez's first-inning walk marked the first free pass he had draw during 2015 Cactus League action.
ON THE REHAB TRAIL
Chris Sale was all smiles Thursday after throwing a bullpen session Wednesday in testing the avulsion fracture sustained in his right foot on Feb. 27. Sale's next big test comes Friday, when he's scheduled to throw a five-inning, 75-pitch simulated game.
WHAT'S NEXT
Zack Greinke starts Friday night at 7:05 p.m. PT (live on MLB.TV and Gameday Audio) for the Dodgers against the Giants in the only Cactus League game to be broadcast by Hall of Famer Vin Scully. Mattingly has Puig batting second, Gonzalez third and Howie Kendrick fourth.
Samardzija said that his start Friday against the Cubs, his original team, might have a more light-hearted tone if the game didn't take place so late in Spring Training. But facing the Cubs in Mesa, with a first pitch of 3:05 p.m. CT (live on MLB.TV and Gameday Audio) stands as just another work day for the White Sox Opening Day starter. Zach Duke, Matt Albers, Dan Jennings, Javy Guerra and Arcenio Leon also are scheduled to pitch.
Scott Merkin is a reporter for MLB.com. Read his blog, Merk's Works, and follow him on Twitter @scottmerkin. Ken Gurnick is a reporter for MLB.com. This story was not subject to the approval of Major League Baseball or its clubs.