Manfred content with A-Rod's smooth return
Commissioner confirms Yanks vet will be tested frequently in wake of suspension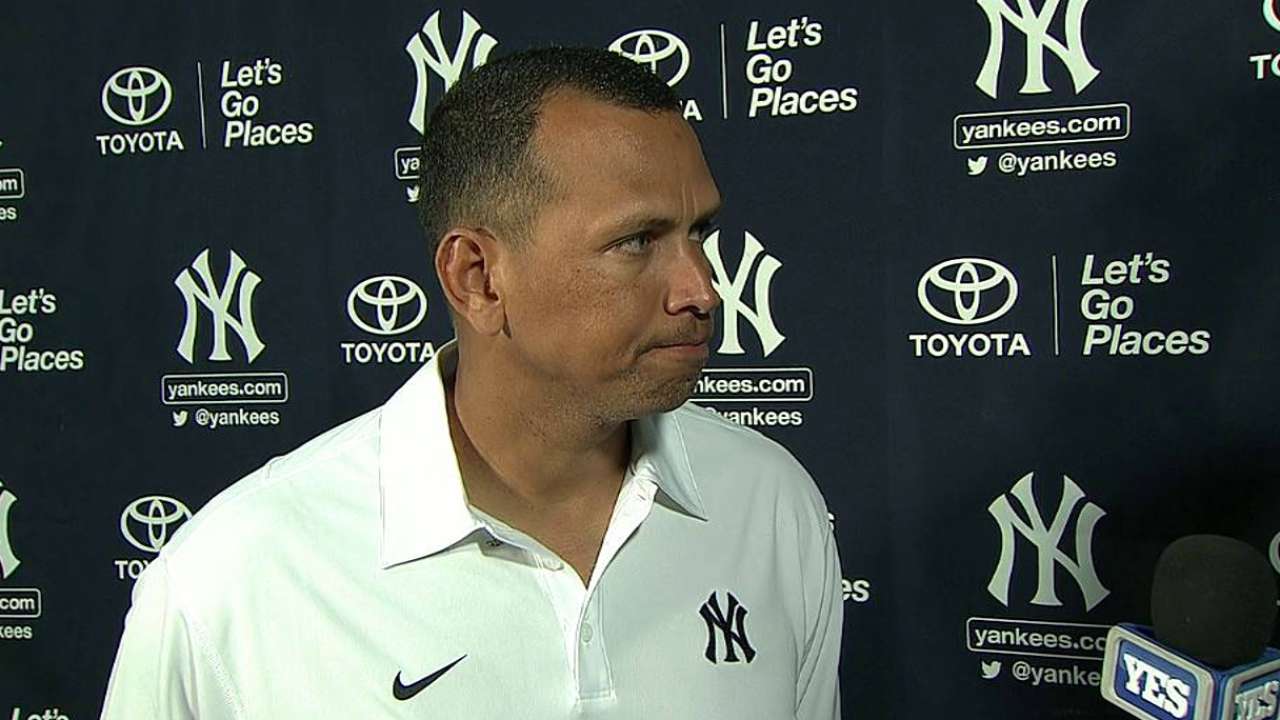 PORT CHARLOTTE, Fla. -- Commissioner Rob Manfred has been pleased to see Alex Rodriguez re-assimilate into life as an active player and with the Yankees following the slugger's historic suspension, Manfred said on Thursday.
"I think I've been pretty public about this," Manfred said. "Alex served a very long suspension. Once he served that time, baseball ought to welcome him back -- and I think we've done a good job. The institution as a whole -- teams, central baseball, everybody. He's played well. Good for him."
Rodriguez, 39, missed all of the 2014 season following Major League Baseball's investigation into the now-defunct Biogenesis clinic, which was operated out of Coral Gables, Fla. Rodriguez received a 211-game suspension that was later reduced to 162 games by an independent arbitrator.
Manfred, who is visiting Major League camps during Spring Training, said that he was able to speak with members of both the Yankees and Rays during Thursday's visit to Charlotte Sports Park. Rodriguez was not on the Yanks' travel roster for Thursday's game.
According to Manfred, Rodriguez will be subject to more frequent drug testing during the 2015 season as a result of his previous suspension.
"Let me be clear about this; he'll be tested exactly like every other player who has violated the program," Manfred said. "The program requires more frequent testing for players who are coming back after a suspension."
Though Rodriguez previously admitted to using performance-enhancing drugs while playing for the Rangers from 2001-03, he has not failed an official drug test.
Rodriguez accepted the suspension handed down by MLB based on what was described as overwhelming evidence that he obtained illegal performance-enhancing substances and also sought to hinder the league's investigation into those allegations.
Manfred said he is confident that the league's drug testing program will continue to serve as a strong deterrent.
"I have said this: I think our testing is state of the art," Manfred said. "It's as good as it can be. I think everyone in sports -- WADA, USADA -- has given a lot of praise to our investigative capacity. But I think you need to stay really vigilant on both fronts because this is a science ... and it evolves. We have to make sure that we're evolving with it."
Bryan Hoch is a reporter for MLB.com. Follow him on Twitter @bryanhoch and read his MLBlog, Bombers Beat. This story was not subject to the approval of Major League Baseball or its clubs.