Buchanan wasting little time in between pitches
Wojciechowski also in 99th percentile, but Fields ranks toward bottom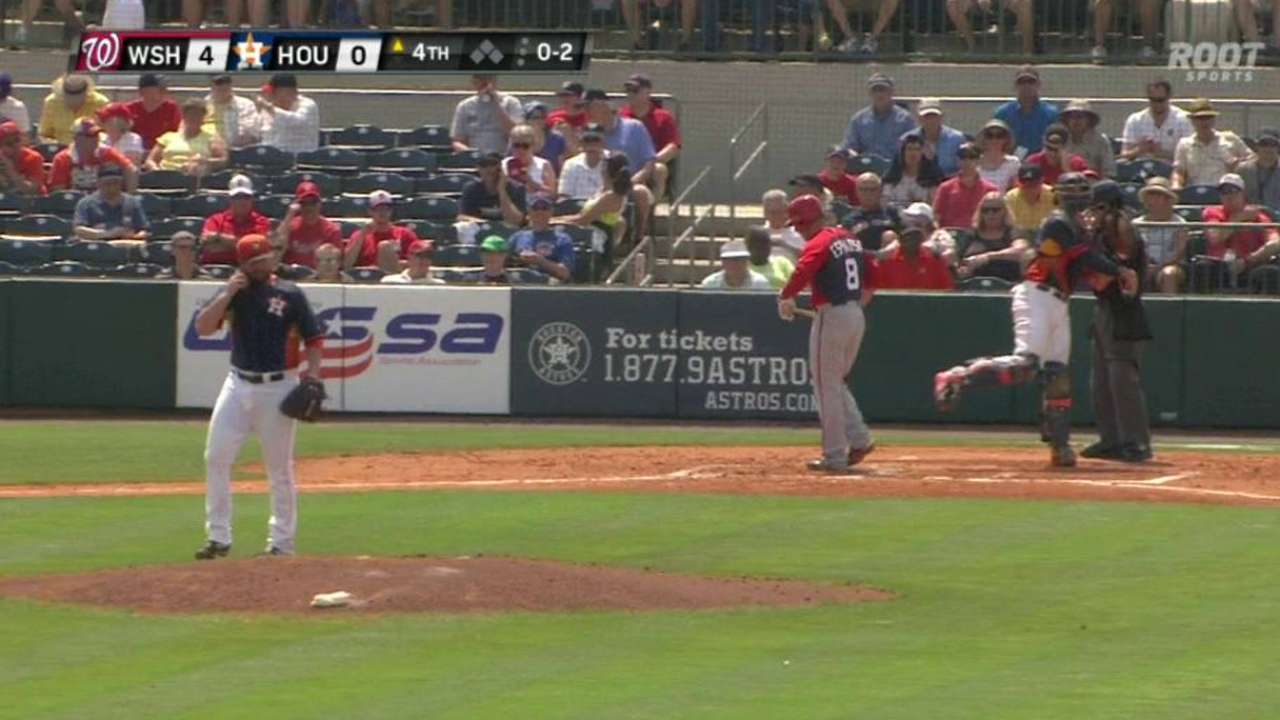 KISSIMMEE, Fla. -- The Astros, like all other teams, are receiving weekly reports from Major League Baseball regarding pace of play this spring. For the week of March 16-22, Houston's pitchers ranked seventh in the Major Leagues in average time between pitches.
Jake Buchanan and Asher Wojciechowski were especially fast when it came to time between pitches. Buchanan was first on the team at 5.9 seconds between pitches, and Wojciechowski was at 6.0, putting both in the 99th percentile among pitchers for the week. Josh Fields (14.7 seconds between pitches) was in the second percentile.
There is no timer between pitches, so no one is breaking rules, but baseball is stressing quicker play this year.
MLB has, however, installed a timer between innings this spring that will carry over into the regular season. The clock counts down from two minutes and 25 seconds -- two minutes and 45 seconds for nationally-televised games -- and the upcoming batter is announced when the timer hits 40 seconds.
"Major League Baseball has supplied us with some feedback to share with the players," manager A.J. Hinch said. "For the most part, I think it wasn't a big deal in the spring, but guys are curious about it. At the beginning of spring, you would notice the clock and there was a little bit of anxiety, but as the spring has gone on, we've have been 20, 30 seconds ahead of the clock."
The Astros did have eight pitchers violate the between-innings time limit during the week, including Roberto Hernandez, Dan Straily and James Hoyt twice. Also, Hinch said several players have been reminded by umpires about the part of the rule that requires keeping one foot in the box, although there are exceptions.
"We have one extreme offender to the pace of the game," Hinch joked about outfielder George Springer.
Buchanan said he wasn't aware he was the fastest worker on the team.
"I try to get it and go," Buchanan said. "I don't really try to kill too much time. I didn't realize I was that fast. I don't know how they calculate that. I don't know when the time starts or what. I catch it and get back on the rubber."
Brian McTaggart is a reporter for MLB.com and writes an MLBlog, Tag's Lines. Follow @brianmctaggart on Twitter. This story was not subject to the approval of Major League Baseball or its clubs.