Archer named Opening Day starter
Right-hander becomes 11th different pitcher to get call in opener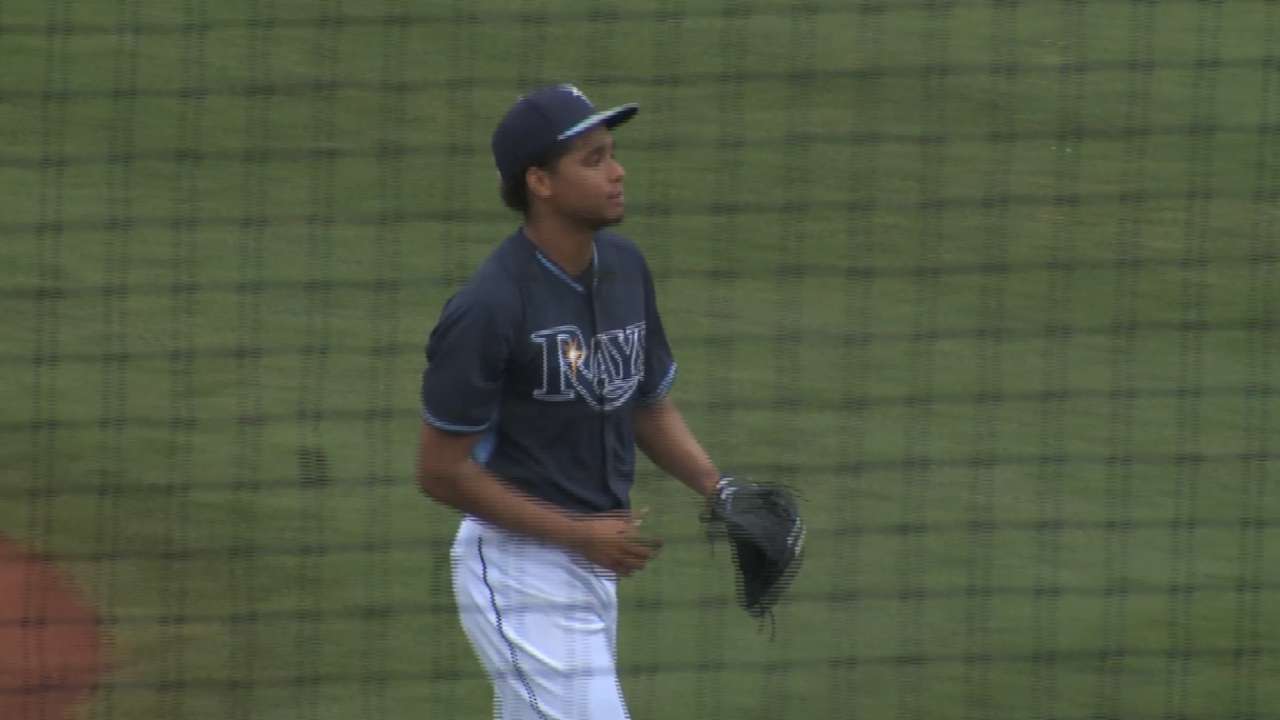 PORT CHARLOTTE, Fla. -- Chris Archer will be the Tampa Bay Rays' Opening Day starter.
Rays manager Kevin Cash confirmed what appeared to be the obvious choice prior to Thursday's game against the Yankees.
Most had figured the right-hander to be the guy once Alex Cobb was diagnosed with right forearm tendinitis and had to be scratched from the assignment.
"I'm excited for sure," said Archer before adding his own disclaimer. "Not excited that Cobb and [Drew] Smyly and [Alex] Colome are all out. I know that Cobb was ready to take the ball and this is just a temporary thing. They're all going to be back by the end of April."
The Rays open against the Orioles on April 6 in a 3:10 p.m. ET affair at Tropicana Field. Cash has joked for the past couple of weeks that he would name his starter once Orioles manager Buck Showalter named his.
"We talked to Chris a couple of days ago, and then we got confirmation that Baltimore had announced their guy, so we figured we'd announce ours," Cash teased.
Actually, the Orioles have not named their Opening Day starter, but the new manager went ahead and confirmed it would be Archer anyway.
Cash elaborated on the reasons why Archer indeed was the obvious choice.
"His year [last season], the effort, the work he's put in," Cash said. "You don't want to take anything away from Cobb. It was his. He'd earned that. But we're extremely comfortable with having that guy now be Arch."
Archer, 26, becomes the club's 11th different Opening Day starter in 18 seasons. In 32 outings last year, the right-hander posted a 3.33 ERA to go along with a 1.28 WHIP and a 10-9 record. In 14 innings this spring, he has a 1.93 ERA.
Cash characterized Archer as a deep thinker, highly intellectual, and very caring.
"He really cares," Cash said. "He cares about what he's doing, and he cares about the people around him, too. We had lunch and we didn't talk about him at all. We talked about his teammates and some different things he brought up over the course of his couple of years here. Impressions he's seen and stuff like that. He's got a very team-first approach."
Cash previously served as the Indians' bullpen coach, which allowed him to grow familiar with Corey Kluber, the 2014 American League Cy Young Award winner. Thus, one of the first things the curious Archer asked Cash about was Kluber.
"It's always impressive any time a guy values another person's success," Cash said. "It's easy to say, 'Well, he did it once.' Well, Arch is saying, 'What put him on the map? See if I can do the same thing myself.'"
For the most part, Archer downplayed Thursday's news.
"For me, nothing changes," Archer said. "It doesn't change anything that we discussed whenever we talked about me pitching April 7. I specifically said my mindset is going to remain the same because I knew that anything could happen.
"I knew that I could get pushed back because of rain. Something could happen on the front end also. So my mindset remains the same. I'm going to get 100, 110 pitches and I'm going to make the most of them. I'm going to try and pitch as deep as I can regardless of if it's April 6 or Sept. 20."
Archer remains close with David Price, and he admitted that after Cobb went down he had talked to Price. During that conversation, the subject of starting on Opening Day was broached.
"He didn't say, like, 'Hey man, I don't know what's going to happen,'" Archer said. "It's a baseball game. it's on April 6. If it was April 5, I would attack it the same. If it was April 7, I would attack it the same way.
"So, what I'm saying is there's nothing for me to ask him because I'm treating it as if it's a regular game. Because that's what it is to me."
In the past, Archer has been known to show his emotions on the mound. When asked if experiencing the ceremonious feeling of Opening Day will make him emtional, he answered: "I don't know. I'll have to tell you afterwards."
"I'm definitely going to do my best to block it out and prepare," Archer said. "Because at the end of the day it is just a game. They all have equal importance.
"There's been ceremonies pregame on days that I've pitched. I'm just going to try and block it out. Do my normal routine prior to the game. Then at 3:10 or whatever time the game starts, I'm going to be ready."
Bill Chastain is a reporter for MLB.com. This story was not subject to the approval of Major League Baseball or its clubs.