Holliday downplays age, seeks better start to season
Veteran, 35, points to lack of timing, comfort at plate as reason for first-half struggles in '14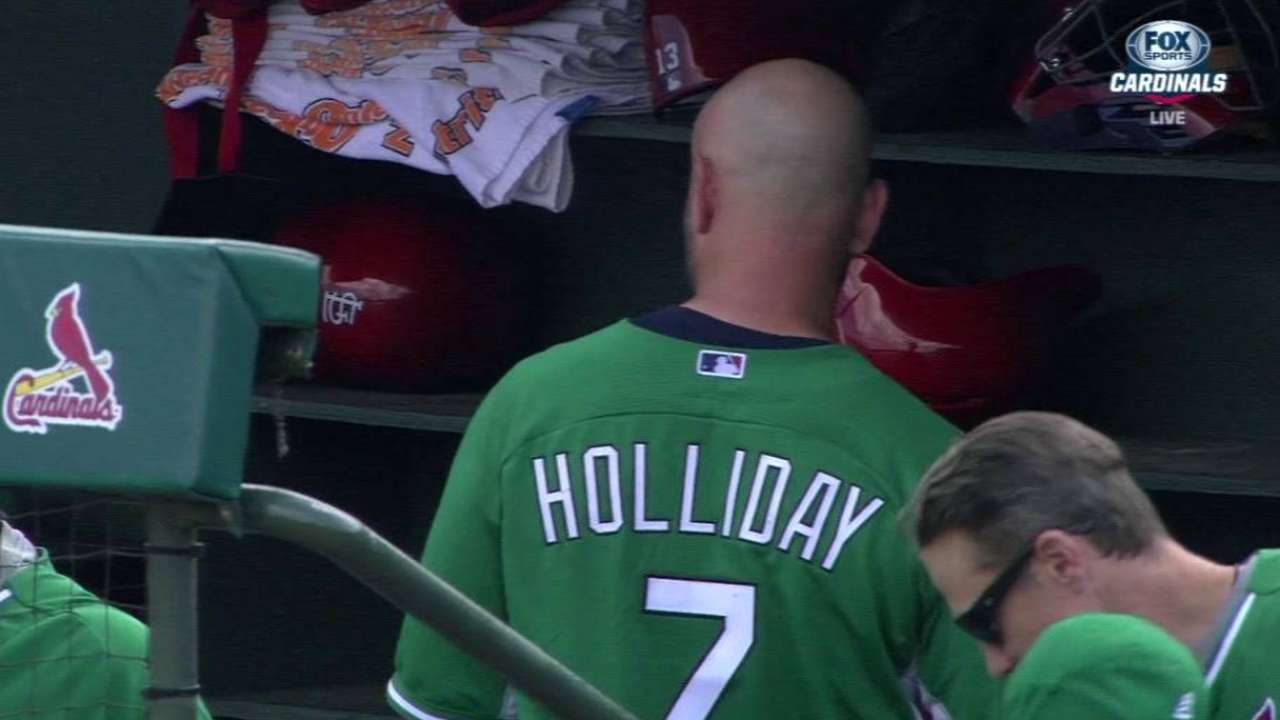 JUPITER, Fla. -- As left fielder Matt Holliday prepares for his sixth full season with the Cardinals, he's seeking to fend off the often decreasing production that comes with increasing age.
Holliday, now entering his age-35 season, is statistically coming off the worst offensive season of his 11-year career. His 2014 batting average (.272), slugging percentage (.441) and OPS (.811) were the lowest in his career. His on-base percentage (.370) and home run total (20) were his worst since 2005.
But Holliday downplays potential correlation between his production and age. Rather, he points to the slow start he endured in 2014 as a reason for the overall offensive decline.
"It was one of those things where I couldn't figure out what was going on in the first half," Holliday said. "I couldn't get comfortable. I couldn't find the timing I wanted in my swing. You start questioning what you're doing with your swing and stuff like that. I got in a bad place."
Indeed, Holliday had a lot to make up for in the second half of the 2014 season. After hitting .265/.373/.389 with six homers and 45 RBIs before the All-Star break, Holliday batted .281/.367/.515 with 14 homers and 45 RBIs in 63 games. His late power surge ensured he'd keep his streak of 20-homer seasons, which now stands at nine. He has also hit at least 30 doubles in each of the last nine seasons.
"After the break, I felt like I found it and was able to have a good second half," Holliday said. "I'm proud of that. But I'd like to do without the bad first half and have two good halves. That's where I want to be."
The Cardinals have discussed the possibility of giving Holliday more frequent days off to keep him fresh, though the more likely arrangement is finding opportunities to pull him out of the game late for a defensive replacement. Manager Mike Matheny recognizes that Holliday will not be an advocate for fewer overall starts.
"If you go back to what we know of him as a leader -- and he knows this as well -- one of the things he believes he brings is the ability to be out there," Matheny said. "It's discipline. It has to do with his work regimen, one. I don't know if there is a guy in here who is more disciplined with his diet and what he does daily. He's so routine-oriented, and that takes a lot of commitment. That's something he's done so well, which has allowed him to stay at that high level. I haven't seen that back off at all."
Jenifer Langosch is a reporter for MLB.com. Read her blog, By Gosh, It's Langosch, follow her on Twitter @LangoschMLB and like her Facebook page Jenifer Langosch for Cardinals.com. This story was not subject to the approval of Major League Baseball or its clubs.