Fomer NFL LB Magee switches gear, hits Sox camp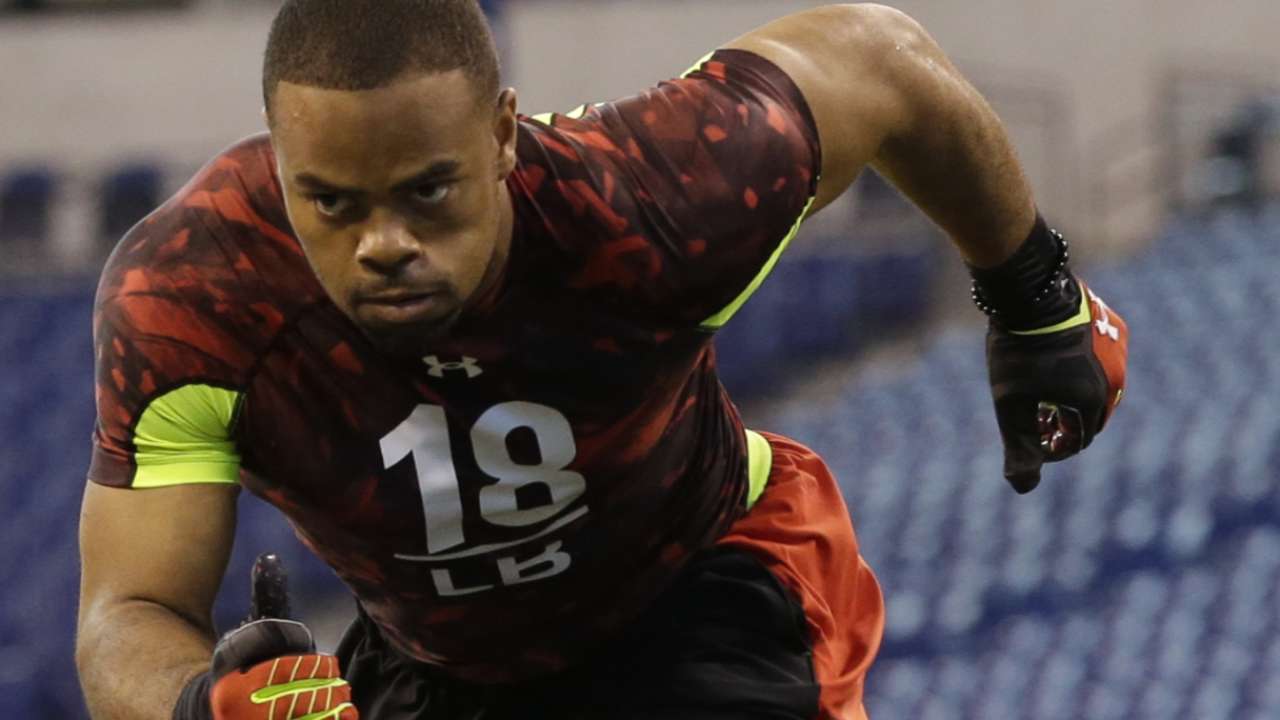 FORT MYERS, Fla. -- The Red Sox still don't know quite what they have in the player they took in the 23rd round of the 2012 First-Year Player Draft. But with linebacker Brandon Magee recently released by the Tampa Bay Buccaneers, they are about to get a much closer look.
The move had not practically even made its way on the NFL transaction wire on Wednesday, and Magee, an outfielder, was already headed to Spring Training to reunite with the baseball team that drafted him three years ago.
In the coming weeks, Magee could ramp up to the point where he starts playing in some Minor League games. It would mark the first time Magee has played competitive baseball since his career at Arizona State University. And even then, his primary focus was football.
"We're just now getting a look at him physically," said Red Sox director of player development Ben Crockett. "He took a few swings in the cage this morning, threw out to 90 feet. We're going to need to evaluate. He's been doing football workouts. He hit a couple times off the tee, played catch a couple times, but not even a normal Spring Training prep. We're going to take it slow."
Magee will conduct interviews within the next few days once he gets his feet under him. Crockett wasn't ready to say the 24-year-old Magee has given up on playing in the NFL again.
"That would be speculation from me at this point," said Crockett. "I know he's here with us now. I know he's excited about that. Certainly, I don't think he planned to leave the Bucs prior to that. I know that his focus at this moment is baseball. But given the success he's had doing both, I don't know what his plans are."
For the Red Sox, who have maintained their rights to Magee since they drafted him, there is no drawback to seeing what they have. Magee had a short stint in Spring Training last year, but that was mainly to rehab an injury.
"He's a strong kid," said Crockett. "He's really athletic. And certainly, you can see why he had success as a football player as well and why he may still continue to have success. He's definitely a strong kid and someone we're looking forward to seeing."
It is far too early to know what kind of progression Magee will have in Red Sox camp.
"We're looking forward to seeing him take BP on the field and let him run around a little bit," said Crockett. "And then as we get a better sense, particularly in games, whether it's in Spring Training or extended spring training, getting a chance to see him in games against some live competition, which is something he hasn't seen since college."
Ian Browne is a reporter for MLB.com. This story was not subject to the approval of Major League Baseball or its clubs.