MLB.com Columnist
Jim Callis
Top of 2015 Draft board remains murky
Rodgers expected to go first, but injuries and new scouting directors create clouded picture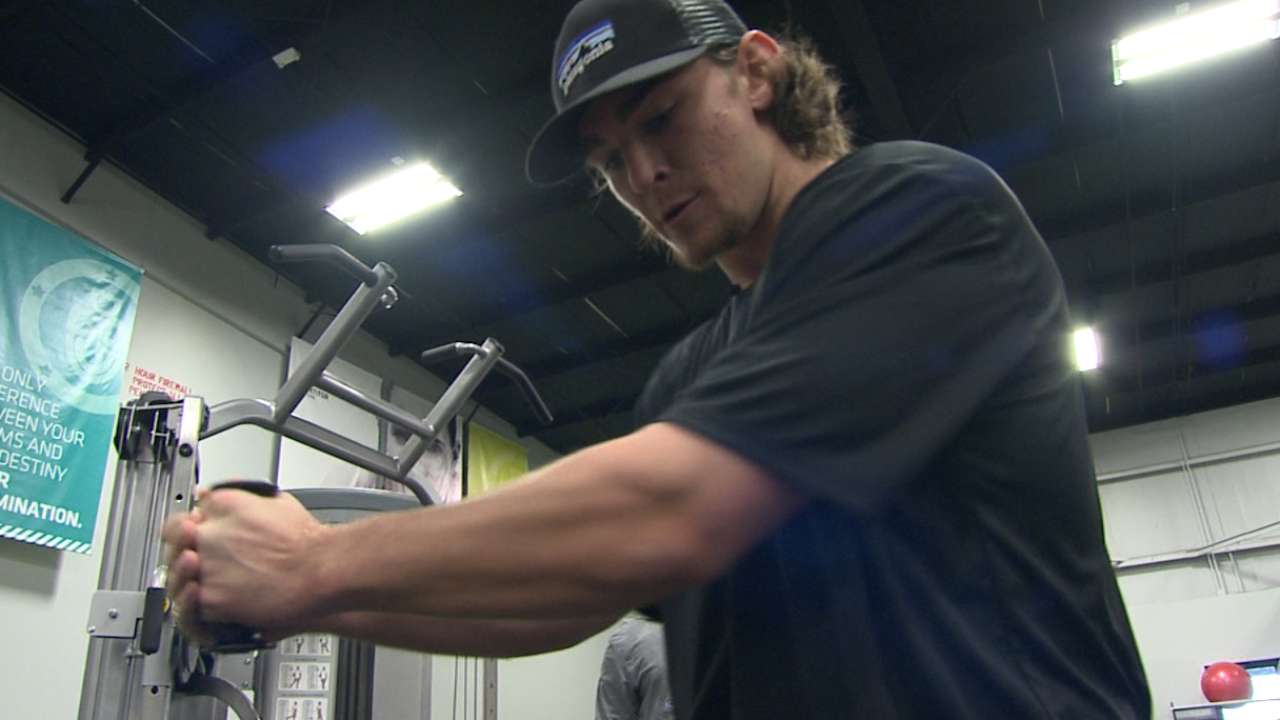 Brendan Rodgers, the consensus No. 1 Draft prospect entering 2015, has held serve and still looks like the favorite to go first overall to the D-backs on June 8. But with Duke's Mike Matuella and unsigned 2014 top pick Brady Aiken -- the top two eligible pitchers -- needing Tommy John surgery, few of the other highest-rated talents have met expectations, leaving many more questions than answers at the top of the Draft.
A shortstop from Lake Mary (Fla.) High, Rodgers continues to demonstrate outstanding offensive potential for his position along with a strong arm and solid speed and defense. But most of the players right behind him on MLBPipeline.com's Draft Top 50 rankings from December have gotten hurt or regressed, including Matuella and Aiken, who figured to be Rodgers' main competition to be the top pick.
Aiken, who was ranked No. 3 on the list, went No. 1 in last year's Draft, only to see his $6.5 million bonus deal fall apart when a post-Draft physical led the Astros to become concerned about his elbow. Six days after Aiken's first start since May lasted only 13 pitches for IMG Academy's (Bradenton, Fla.) post-graduate team, the 18-year-old left-hander had Tommy John surgery to repair the torn ulnar collateral ligament in that same elbow. Scouts in attendance were impressed by the brief glimpse of Aiken's stuff, but it remains to be seen how much the southpaw's stock will be affected.
Exactly one week after Aiken underwent Tommy John surgery, it was reported that Matuella -- the only pitcher initially ahead of Aiken on the Top 50 list -- also needed the procedure. Matuella also has spondylosis, a manageable defect of the vertebra in his lower back that contributed to him totaling just 121 innings in his first two years of college and summer ball. He made his Opening Day start but missed his next outing with forearm tightness. He returned to the mound and went 1-1 with a 1.08 ERA and 24 strikeouts in six starts (25 innings) for the Blue Devils before tearing his UCL.
"I probably haven't seen a Draft this unsettled, where players haven't separated themselves," a National League scouting director said. "You also have eight new scouting directors in what looks like a very mediocre Draft at best, so who knows what might happen? The guy who goes [No.] 12 might be as good as the guy who goes [No.] 2."
It's not just Matuella and Aiken. Vanderbilt right-hander Walker Buehler (No. 4 on the Top 50) missed his first two starts with elbow soreness and has since been kept on a short leash. Virginia left-hander Nathan Kirby (No. 5) and Louisville righty Kyle Funkhouser (No. 6) have been effective but have battled their control more than scouts would like. San Clemente (Calif.) High southpaw Kolby Allard (No. 7), the top prep arm, is out for at least two months with a stress reaction in his back and might not pitch again before the Draft.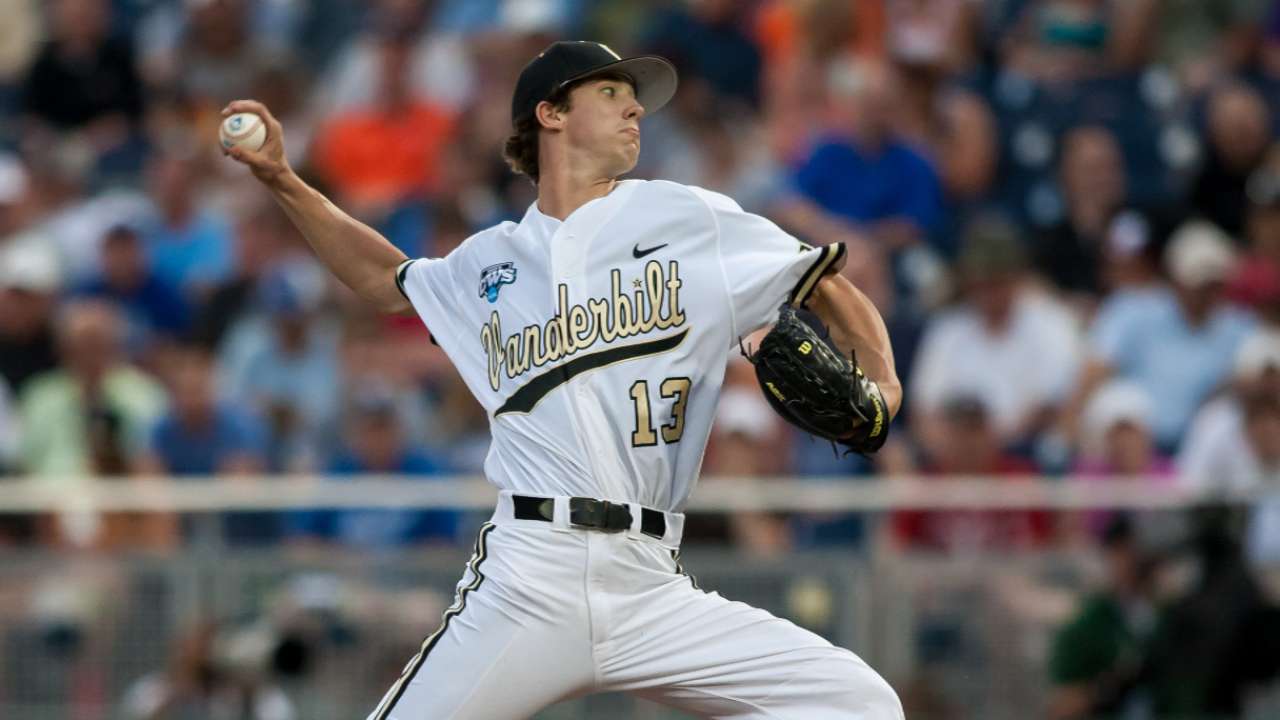 "Matuella has missed time, Buehler has missed time, who knows what's going on with Aiken and now Allard is out," an American League scouting director said before learning of Aiken and Matuella's injuries. "It's a weird year. It will be interesting to see what happens at the top. Those teams usually take college pitchers if they're there, and you'll probably still see a run on some of those guys, but Dillon Tate is the only college pitcher who has stepped up so far."
A right-hander from UC-Santa Barbara who starred as a closer on the U.S. collegiate national team last summer, Tate (No. 30 on the Top 50) has boosted his stock more than any Draft prospect this spring by making an impressive transition to starting. He has maintained a 92-96 mph fastball and wipeout slider while posting a 1.69 ERA, .170 opponents' average and 49 strikeouts in 42 2/3 innings.
Two high school prospects who have helped themselves this spring are Plant High (Tampa) outfielder Kyle Tucker (No. 27 on the Top 50), whose bat stands out in a down year for hitters, and Lakeview Academy (Gainesville, Ga.) right-hander Dakota Chalmers (unranked), who has vaulted into the top tier of prep pitchers.
"Tucker is a tall kid with very easy power," the NL scouting director said, "and someone is going to think he's a better version of Kris Bryant in high school."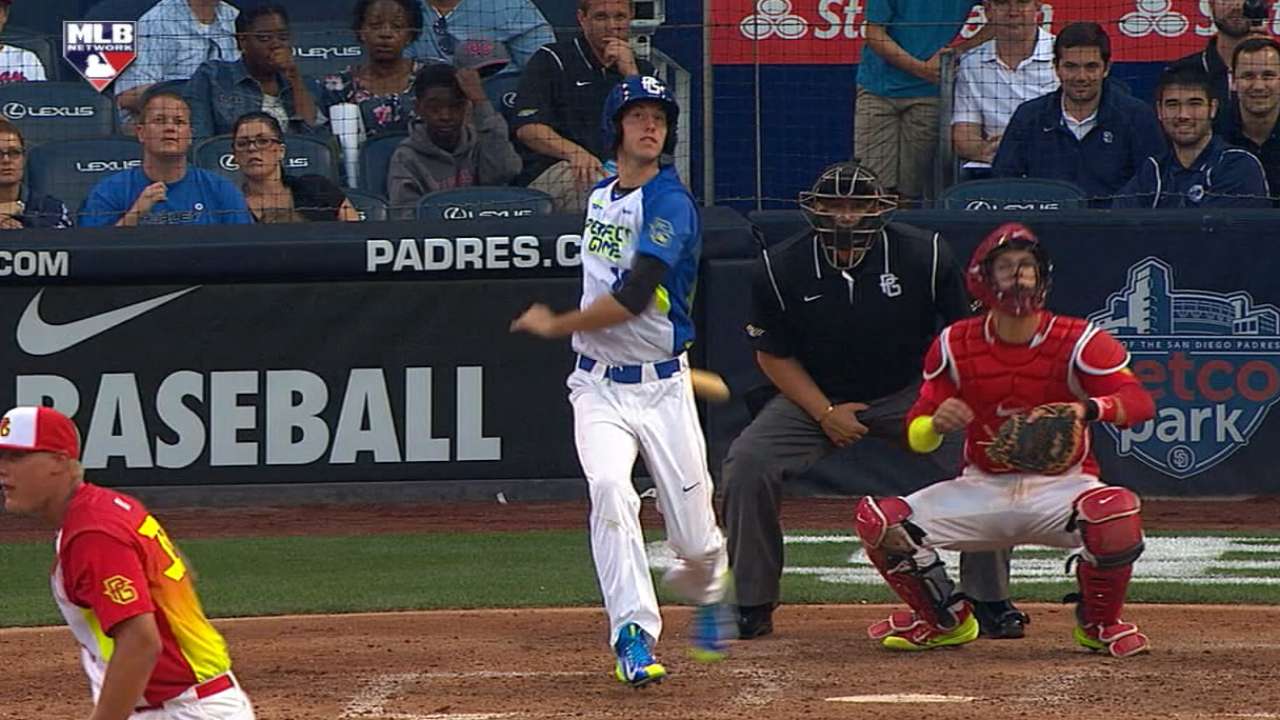 As often is the case, the scarcest commodity in the Draft is college position players. The best available, Vanderbilt's Dansby Swanson (No. 9 on the Top 50), has moved from second base and proven he can play shortstop. Though they acknowledged that he's more of a solid player than a franchise cornerstone, both scouting directors said they would take Swanson with the second overall choice as of now.
If Rodgers and Swanson are selected 1-2, that could be a fitting start for what's shaping up to be an unusual Draft. In the first 50 years of the Draft, only once have shortstops been taken with the top two picks: 1982, when the Cubs took Shawon Dunston and the Blue Jays whiffed with Augie Schmidt.
"I think this Draft is going to be defined as very erratic," an AL scouting executive said. "There's some depth but there's not a lot of top-end talent. No one is distancing himself from the rest of the pack, so it's a strange Draft to project what's going on at the top."
Jim Callis is a reporter for MLB.com and writes a blog, Callis' Corner. Follow @jimcallisMLB on Twitter. This story was not subject to the approval of Major League Baseball or its clubs.