MLB.com Columnist
Jonathan Mayo
MLB Pipeline checks in from White Sox camp
Outfielder Hawkins impresses at plate; righty Adams discusses first Spring Training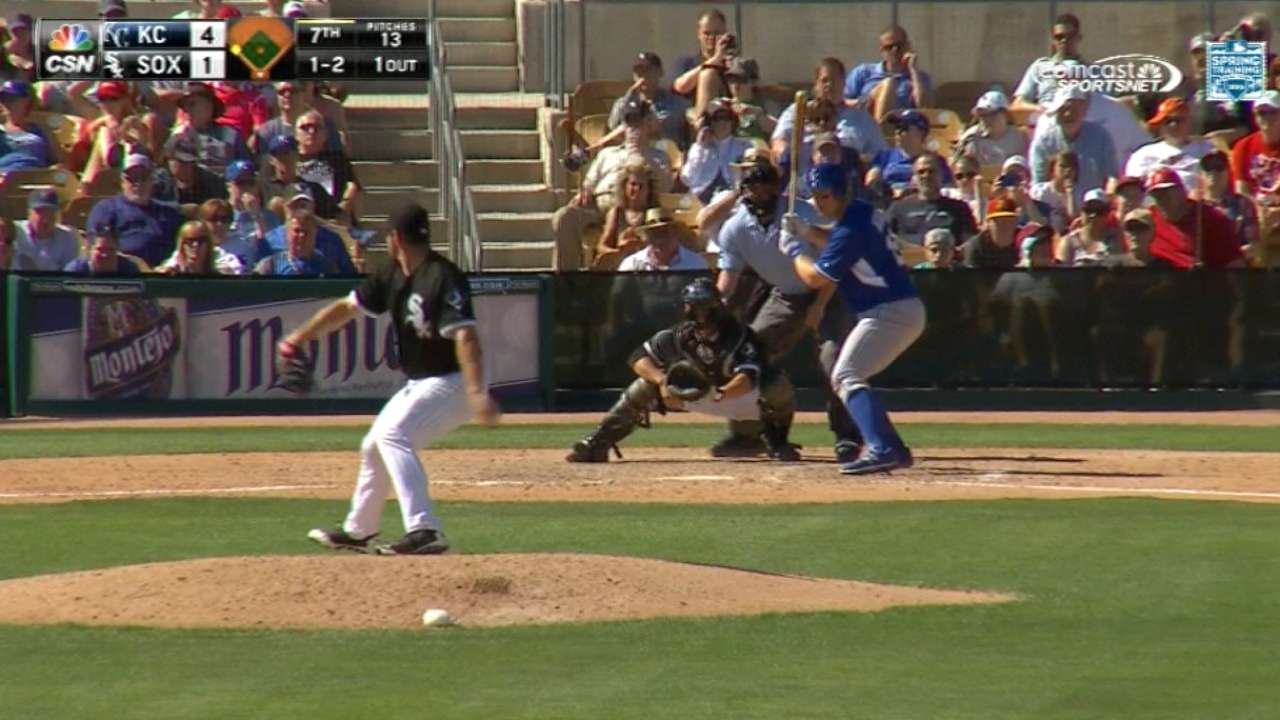 Every Spring Training, prospects get a chance to show what they can do as they prepare for the season ahead. Some are competing for jobs in big league camp, others are prepping for the season as they vie for spots at Minor League affiliates up and down a team's system. MLBPipeline.com will be visiting all 30 camps this spring. Today, we check in on the Chicago White Sox.
GLENDALE, Ariz. -- The White Sox, for a time, had a reputation of taking toolsy yet risky high school athletes in the Draft. While the jury is still out on some of those selections, it certainly hasn't been foolproof. But thanks to some high-end pitching taken in the 2014 Draft and some work on the international front, the system appears to be moving in a better direction.
"We definitely have more depth," White Sox director of player development Nick Capra said. "I think our system is getting a little bit stronger, bottom to top. I think it's been enhanced a little bit by our Latin American program, which is better than it has been. We're starting to spend money over there, which we really haven't done in the past. That helps stabilize our Minor League system.
MLB Pipeline Spring Training Reports
"We have a lot of arms, a lot of power arms. Big, strong kids. We dabbled in the high-risk, high-reward athletic position players. Some of them panned out, some of them didn't. Now we're getting a diverse athlete, not only toolsy guys, but guys who are also baseball players who know how to play the game."
Camp standouts
While pitcher Carlos Rodon has rightfully generated most of the buzz, two of those aforementioned high-risk, high-reward guys have also turned heads. Courtney Hawkins, the 2012 first-round pick and No. 9 prospect in the system, did make some strides in a repeat of the Carolina League in 2014. He's continued making adjustments and just finished an inspiring turn in big league camp. Hawkins hit .412/.429/.853 with four homers in 18 Cactus League games.
"He might be the MVP of camp over there, from what we've seen and what we hear from the big league staff," Capra said. "He's been real impressive. Mechanically, he's finally learning to take the muscle out of the swing, take the body out of the swing, putting himself in a stronger position to hit. But not only that -- the biggest issue with Courtney is strike-zone recognition -- learning the pitches he needs to swing at early, being a little more aggressively selective early in the count, swing at his pitches rather than pitcher's pitches."
Fellow toolsy outfielder Trayce Thompson, No. 19 on the Top 30, also showed well in big league camp, hitting .412/.421/.588 in 17 at-bats before being reassigned. He, too, is showing a much better overall approach.
"He's done a lot of things that make us believe hopefully he's over the hump as far as his offensive game is concerned," Capra said. "He's always taken the approach of being a cautious hitter, rather than a let-it-go type of hitter. I've seen more of that this spring. He's a big strong, athletic kid who needs to drive the ball to both sides of the field with power. I think that he possibly might be coming out of it."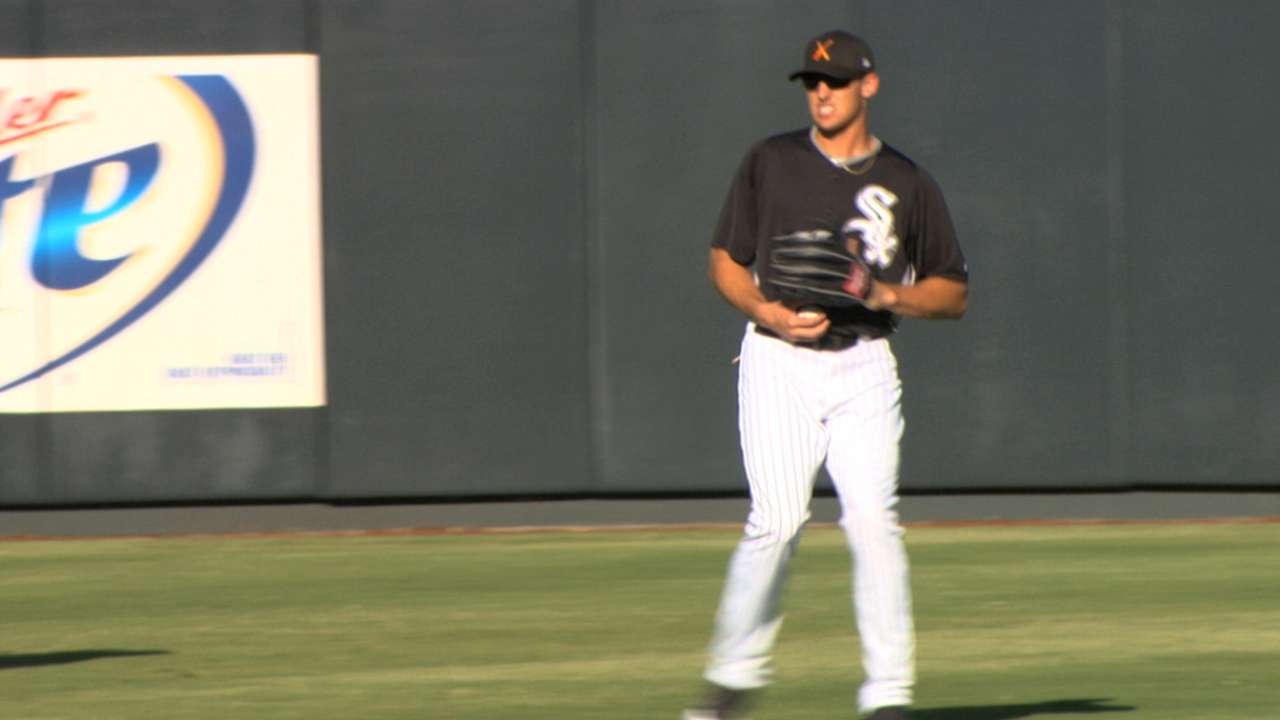 Breakout candidates
At the end of August, the White Sox traded veteran outfielder Alejandro De Aza to the Orioles for two relatively unknown pitchers. Right-hander Mark Blackmar might not be on prospect radars, but he did go 10-1 and finished fifth in the Carolina League in ERA (3.18). The White Sox haven't seen a lot of him, but they like what they've seen so far. The move to Double-A could put Blackmar more firmly on the map.
Capra also raved about two young players from that increased effort in Latin America. Yelmison Peralta, a 20-year-old Dominican right-hander, pitched well in the Rookie-level Arizona League and briefly in the Pioneer League in 2014. Robinson Leyer spent the year in the South Atlantic League and finished in the top 15 in ERA. Now 22, the Dominican could be ready to jump on the radar.
"They're young and they've showed big arms," Capra said. "The stuff coming out of their hand has been impressive, and now command. Command's always an issue. These guys are throwing the ball over the plate more consistently."
Three questions with Spencer Adams
Right-hander Adams was taken in the second round of the 2014 Draft, No. 44 overall.
MLBPipeline.com: It's your first Spring Training. How has it stacked up based on your expectations?
Adams: Getting up early, I wasn't ready for that, that's for sure. I didn't really know what to expect. I knew it was going to be a lot of throwing, just trying to get my arm in shape. The first couple of days, it was a lot more intense than I thought. There was a bullpen [session] every two days. Just taking good care of our arms and making sure we're healthy. I guess that's the biggest change for me.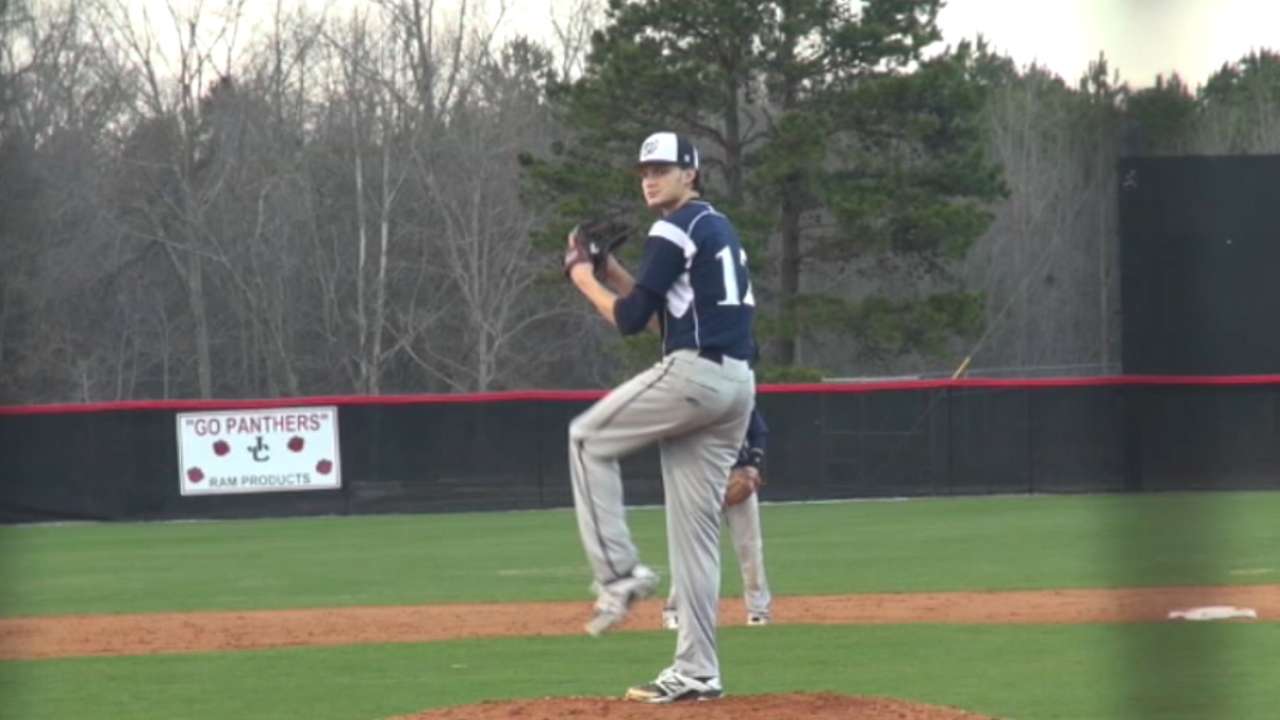 MLBPipeline.com: That's probably to get you ready for that first full season. What have you heard about the long season? And how prepared do you think you are for it?
Adams: I've heard a lot about it. It's going to be the toughest on my body out of my entire career, that first full season. I'm looking forward to it. Right now, I think my body's in pretty good shape. I'm just ready to get after it right now with a team.
MLBPipeline.com: What takeaways did you get from your successful pro debut?
Adams: At first, I was a little nervous about it. I'd never been nervous about pitching in a game before. After I got done with that first inning, I just settled down. I just felt like I'd done it for a long time, just going back to what I usually do, throwing strikes, not trying to overthink things and make things too complicated. The pace of the game is a lot quicker now. People are bigger and faster now. You have to get used to it.
Jonathan Mayo is a reporter for MLBPipeline.com and writes a blog, B3. Follow @JonathanMayoB3 on Twitter. This story was not subject to the approval of Major League Baseball or its clubs.