Detwiler makes strong case for rotation
Banister praises Rangers lefty: 'He has done everything we'd like to see'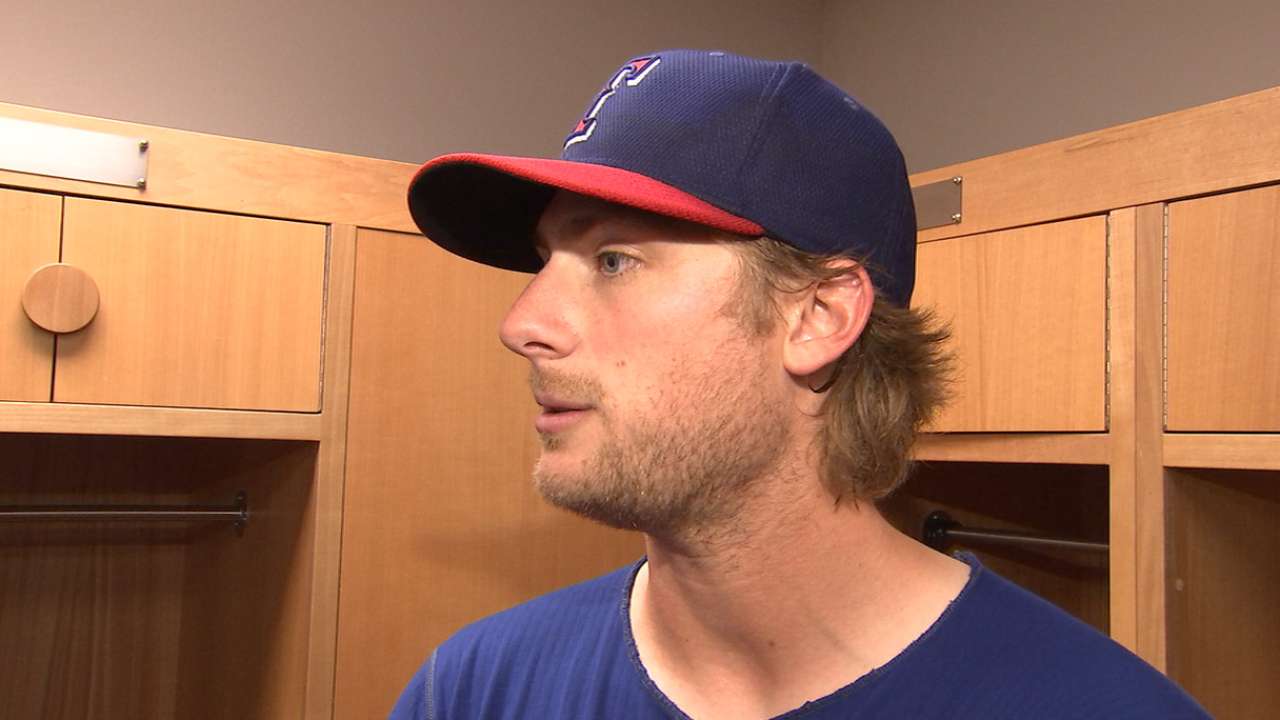 GOODYEAR, Ariz. -- Left-handed pitcher Ross Detwiler wasn't ready to speculate if he has shown enough to prove he belongs in the Rangers rotation.
"I don't know," Detwiler said cautiously. "That's up to them. We've got a lot of good pitchers around here. It's a tough decision."
Manager Jeff Banister also isn't ready to make any public declarations but it does seem more and more apparent that Detwiler is going to be in the rotation to start the season.
"He has done everything we'd like to see," Banister said. "We'll make that decision moving forward shortly."
Detwiler wasn't bad in his latest outing against the Reds and might have been better with a few breaks. He did allow four runs, three earned, in the second inning but also retired eight of the last nine hitters before leaving the game after four.
The second inning started with Jay Bruce reaching on a two-base throwing error by second baseman Elliot Johnson. Brayan Pena followed with a two-hop grounder that took off and got past shortstop Ed Lucas for single. Bruce scored on the play.
A single by Skip Schumaker and a double by Ivan DeJesus Jr. brought home another run. Detwiler struck out pitcher Anthony DeSclafani but singles by Brandon Phillips and Zack Cozart brought home two more runs.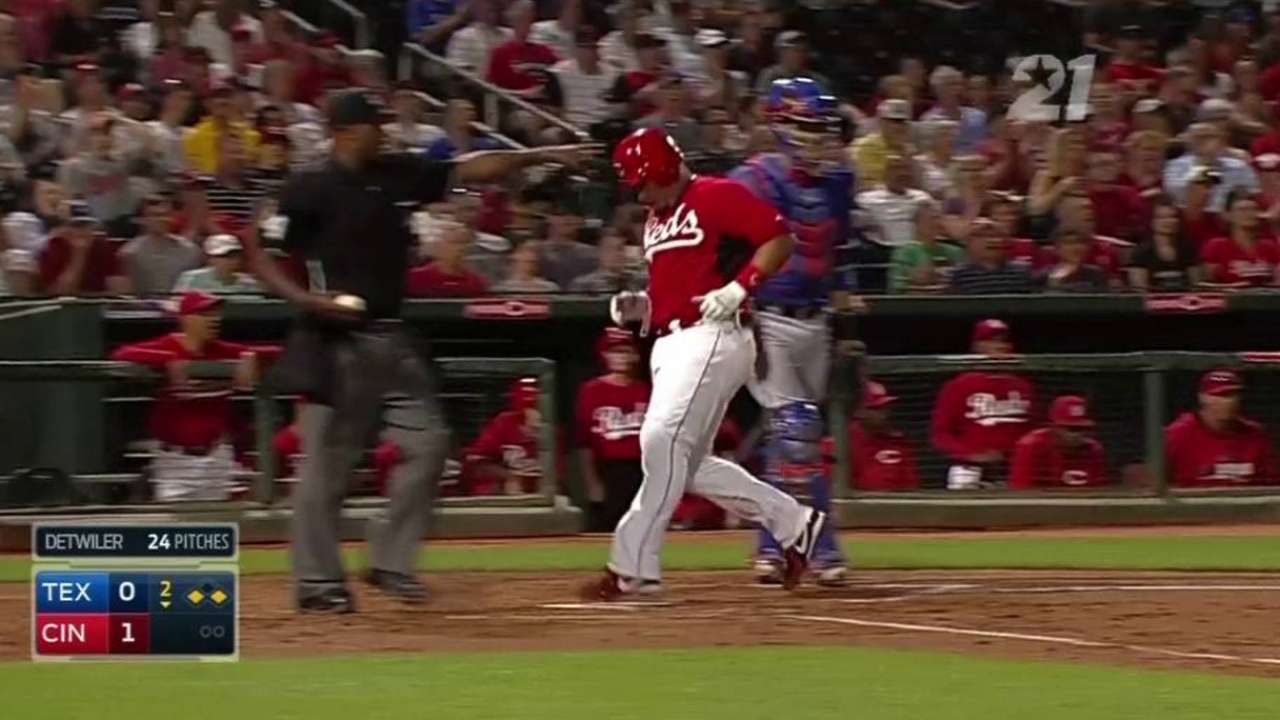 "I got some bad hops but I felt I could have made better pitches," Detwiler said. "I got some pitches up and that can induce bad hops. I can vividly remember some pitches that were higher than I wanted them to be."
Detwiler then got Marlon Byrd on a pop to short right field -- first baseman Mitch Moreland made a nice catch -- and finished Todd Frazier on a grounder to third to end the inning. Detwiler followed that with two scoreless innings before his night ended.
"He continued to pitch," Banister said. "That's what you want from all of them. If he is in the rotation, he is going to have to battle through that, that's the nature of things. We are going to make errors, our pitchers have to step up and get those extra outs."
Detwiler threw another 70 pitches and then an extra 12 in the bullpen after he was done on the mound.
"I think I still have a little work to do," Detwiler said. "My changeup came around the last inning. I'd like to get more comfortable with that before the season starts. Mix in the curve ball. The biggest thing has been getting used to the catchers and they getting used to me. That's happened quickly. We've got some smart catchers."
The Rangers' public stance is they are looking for two starters for a rotation that already includes Yovani Gallardo, Derek Holland and Colby Lewis. Nick Tepesch and Nick Martinez appear to be the other two leading candidates. Anthony Ranaudo has fallen behind but is pitching Friday against the Athletics in Mesa. Lisalverto Bonilla and Ross Ohlendorf are starting to be viewed as bullpen candidates.
More Rangers news and notes:
• Adam Rosales started at third base on Wednesday and made several excellent defensive plays. Said Banister: "Anywhere you put him, he shows up."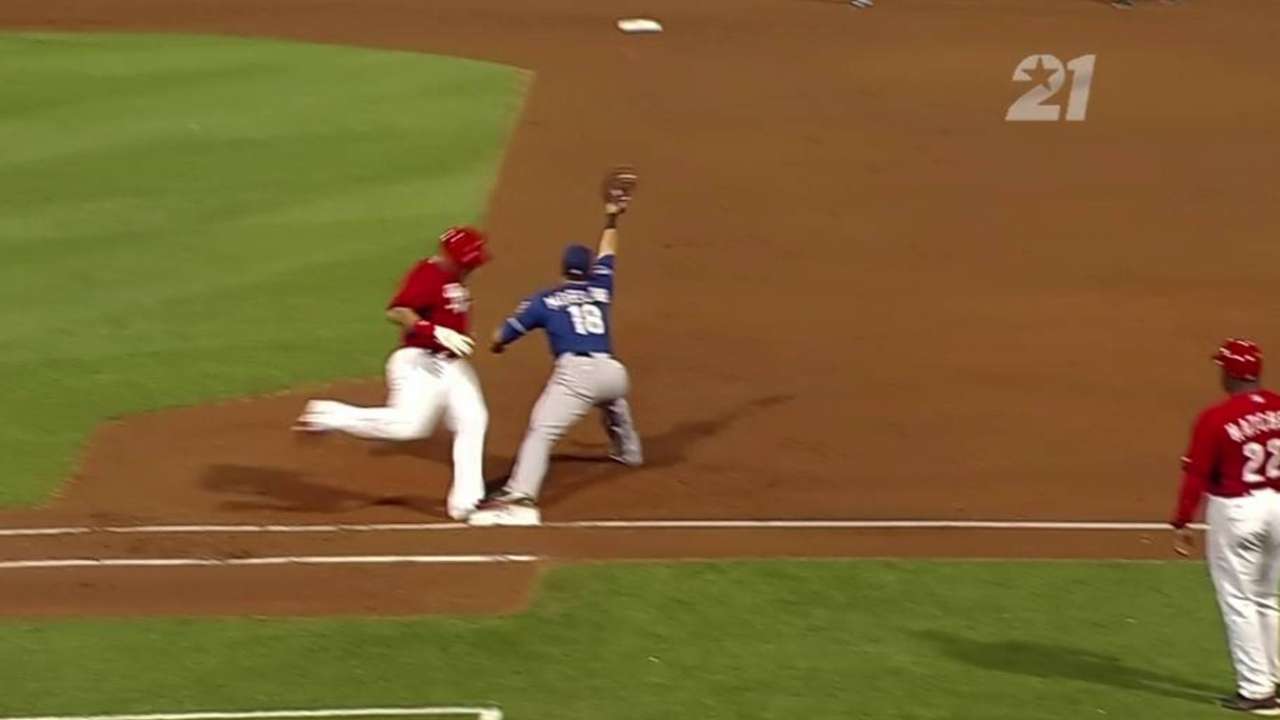 • Jamey Wright, trying to win a job as a middle reliever, pitched a 1-2-3 fifth inning but then walked three batters in the sixth. That led to a run and he had to be picked up by Kyuji Fujikawa. Said Banister: "He had a sharp first inning and the second inning seemed to get away from him. It's one of those things we'll continue to watch and see how the stuff continues to play out. We're still looking at all our guys until they move out of camp."
• Fujikawa retired four of five batters he faced and Banister said, "Fujikawa has been impressive in his last few outings. The velocity on his fastball, anytime you've got a fresh fastball and the velocity carries through the zone, it makes his secondary stuff play.
T.R. Sullivan is a reporter for MLB.com. Read his blog, Postcards from Elysian Fields, and follow him on Twitter @Sullivan_Ranger. This story was not subject to the approval of Major League Baseball or its clubs.