Detwiler dealt rough 2nd, Rangers bats go quietly
Reds starter DeSclafani strikes out 9 in shutout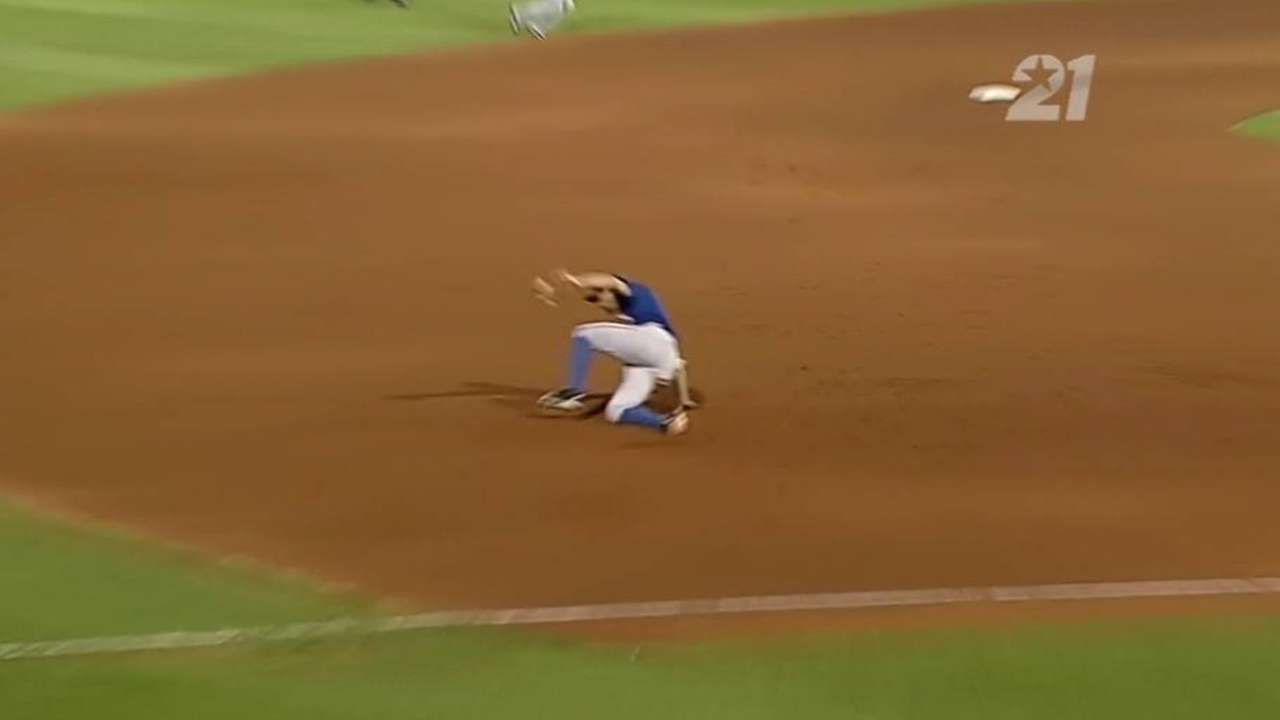 GOODYEAR, Ariz. -- Using a four-run bottom of the second inning while sending nine men to the plate, the Reds claimed a 5-0 victory over the Rangers on Wednesday at Goodyear Ballpark.
Appeared headed into the Cincinnati rotation, Anthony DeSclafani had his best outing in his fifth start of spring. DeSclafani pitched six scoreless innings with four hits, three walks and nine strikeouts.
Rangers starter Ross Detwiler went four innings and allowed four runs, all coming in the second inning. He came back to retire eight of the last nine batters that he faced.
MOMENTS THAT MATTERED
Detwiler can't pick up defense: Detwiler's defense didn't help him in a four-run second inning for the Reds. But Detwiler also had trouble stopping the bleeding once the defense put him in a jam. The inning started with second baseman Ellliot Johnson throwing wildly on Jay Bruce's ground ball. Shortstop Ed Lucas then couldn't make a play on Brayan Pena's high grounder. It got past him for a single (questionable scoring decision) and gave the Reds a 1-0 lead. Then four of the next five hitters reached on three singles and a double, bringing home three more runs before Detwiler could get out of the inning.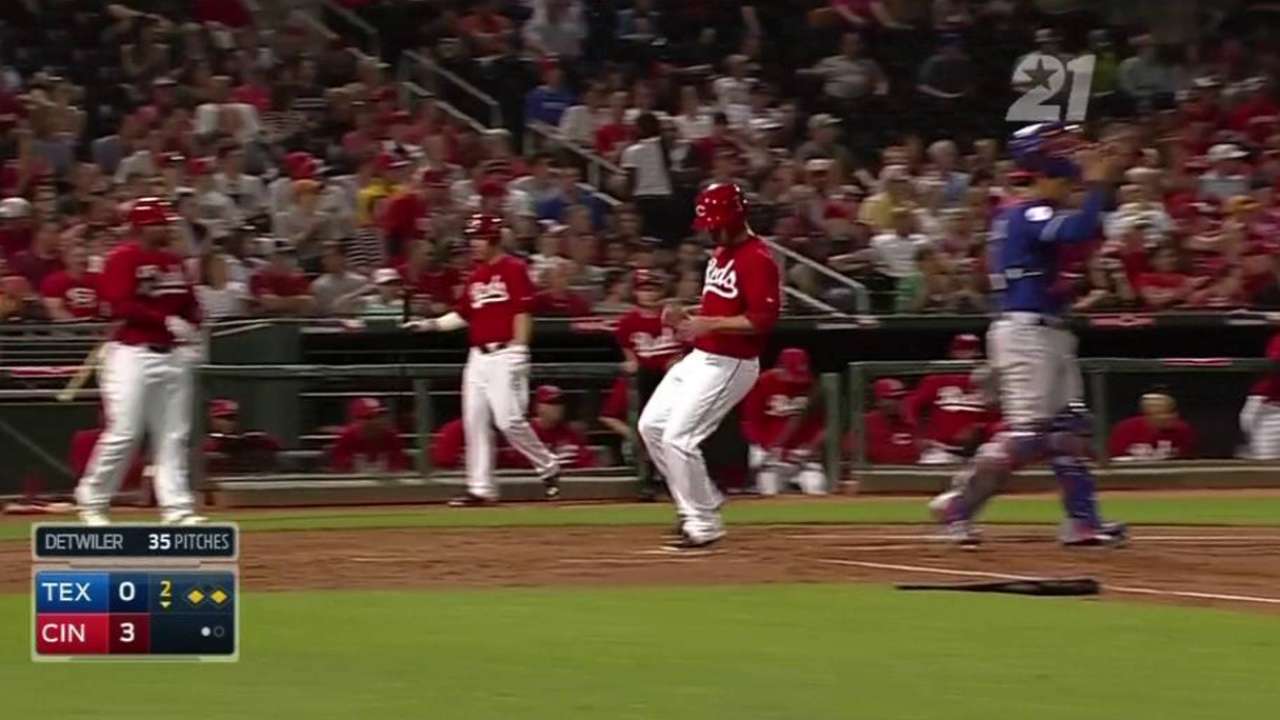 Two-out walks don't haunt: Something that's popped up the last few outings for DeSclafani are two-out walks. He had three of them on Wednesday, including back-to-back walks in the sixth. In both the fourth and sixth innings after walks loaded the bases, DeSclafani got out of it. Lucas, who is trying to win a job on the Texas bench, swung at the first pitch in both situations and grounded out to end each of the innings.
Rangers veteran relievers toil: Jamey Wright, who had a 14.29 ERA coming into the game, and Kyuji Fujikawa were both on the mound Wednesday night trying to keep their hopes alive of making the Opening Day roster. Wright took over in the fifth and looked sharp in setting down the side in order. But he walked three in the sixth and that led to another run. Fujikawa came in and got the last out on a ground ball. He also pitched a scoreless seventh, allowing one infield hit but also getting three ground ball outs.
One inning for Chapman: Entering with four consecutive two-inning appearances, closer Aroldis Chapman worked one inning vs. the Rangers, the seventh, following DeSclafani. Chapman gave up a leadoff double before retiring the rest of the side in order with one strikeout.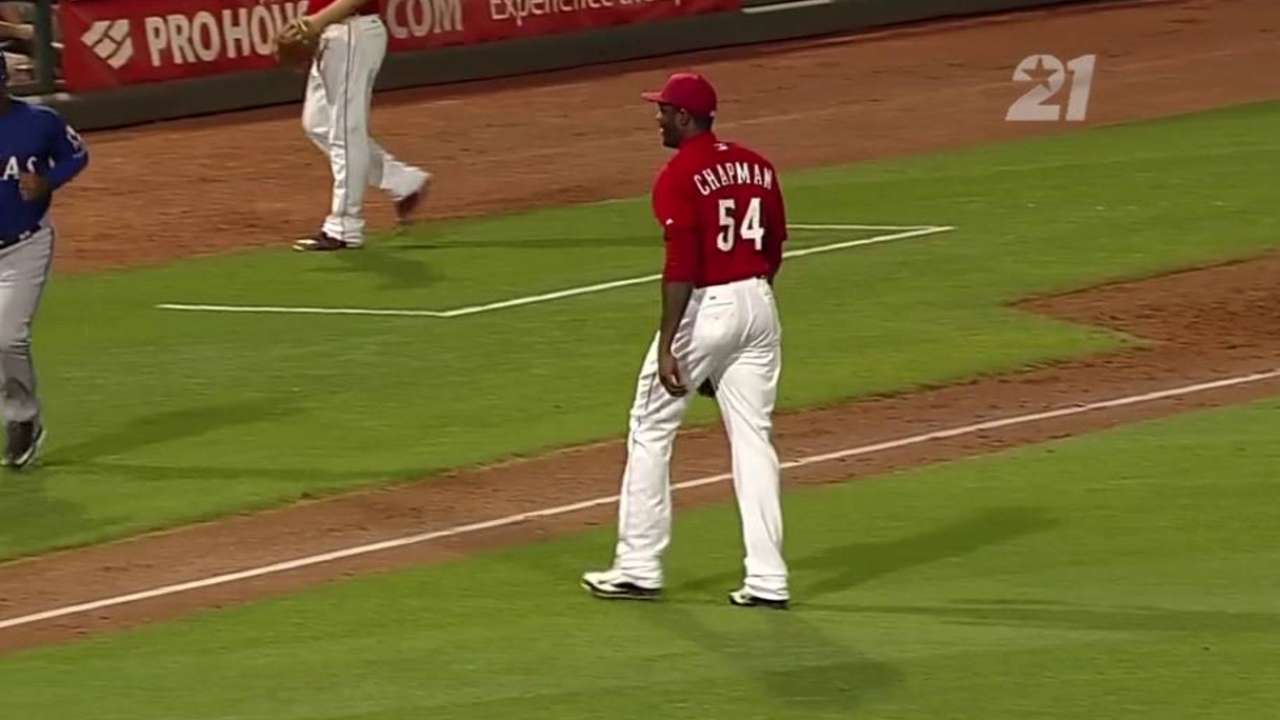 QUOTABLE
"Adam made some really good plays tonight. He got a few bad hops but knocked the ball down and still got it over to first base." -- Detwiler on third baseman Adam Rosales.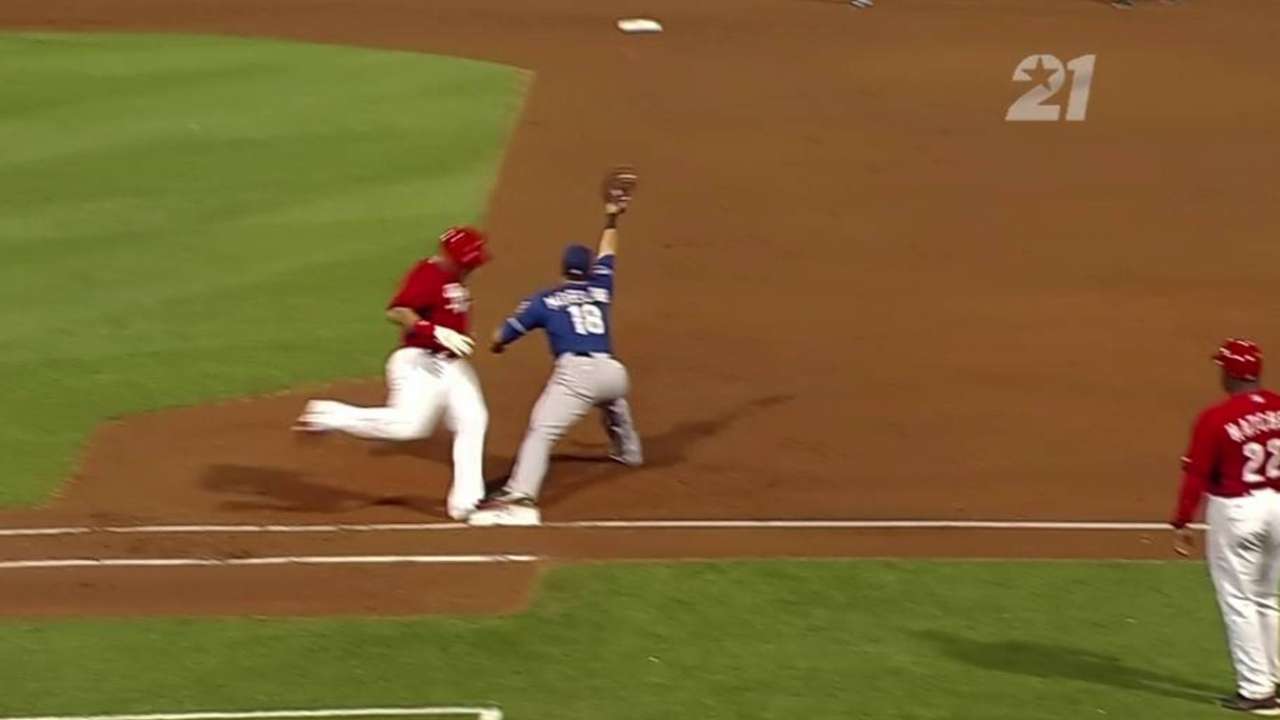 "Physically, I felt good. Mechanically, I was a lot better than the last outing. The 'pen was good. I was able to locate to the sides of the plate and throw my secondary stuff for strikes. This is a good outing. I'm happy about it. I want to try and repeat this and be consistent with it."
-- DeSclafani on his night.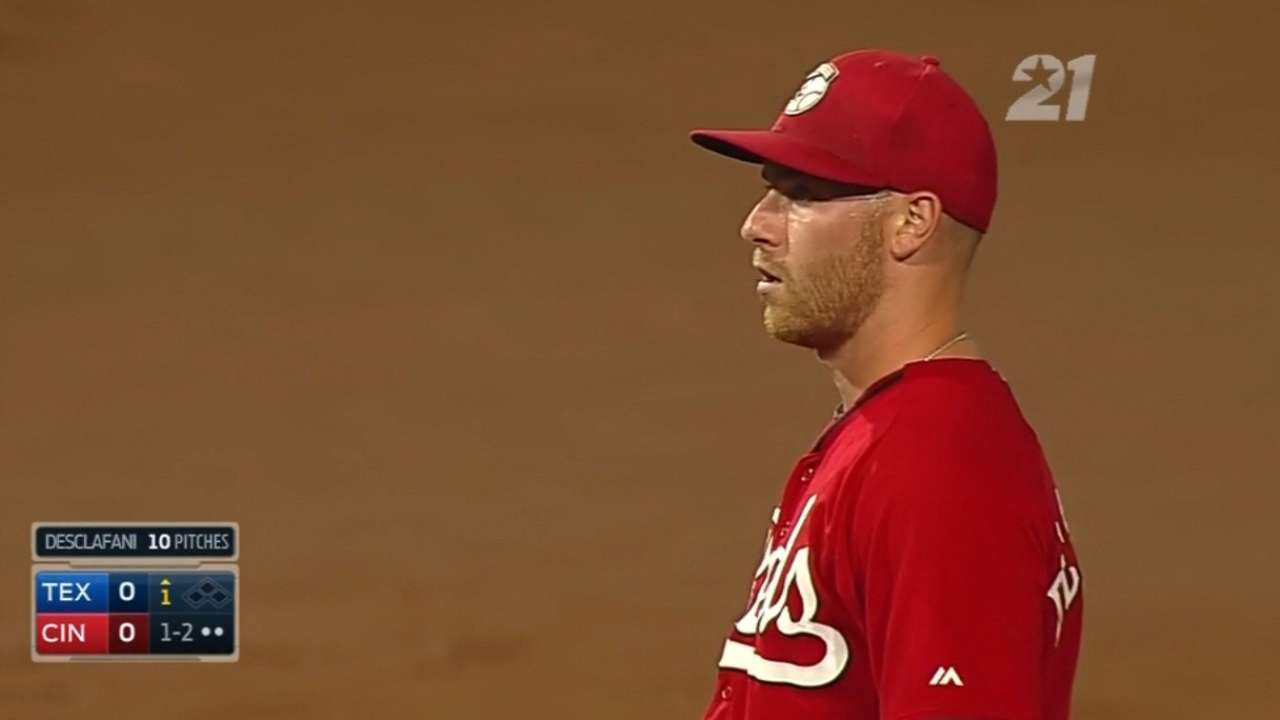 SOUND SMART TO YOUR FRIENDS
Ryan Rua, with a second-inning single, has a six-game hitting streak with eight hits in his last 18 at-bats. Rua reached base three times on a single, walk and error called against third baseman Todd Frazier on a hard-hit grounder.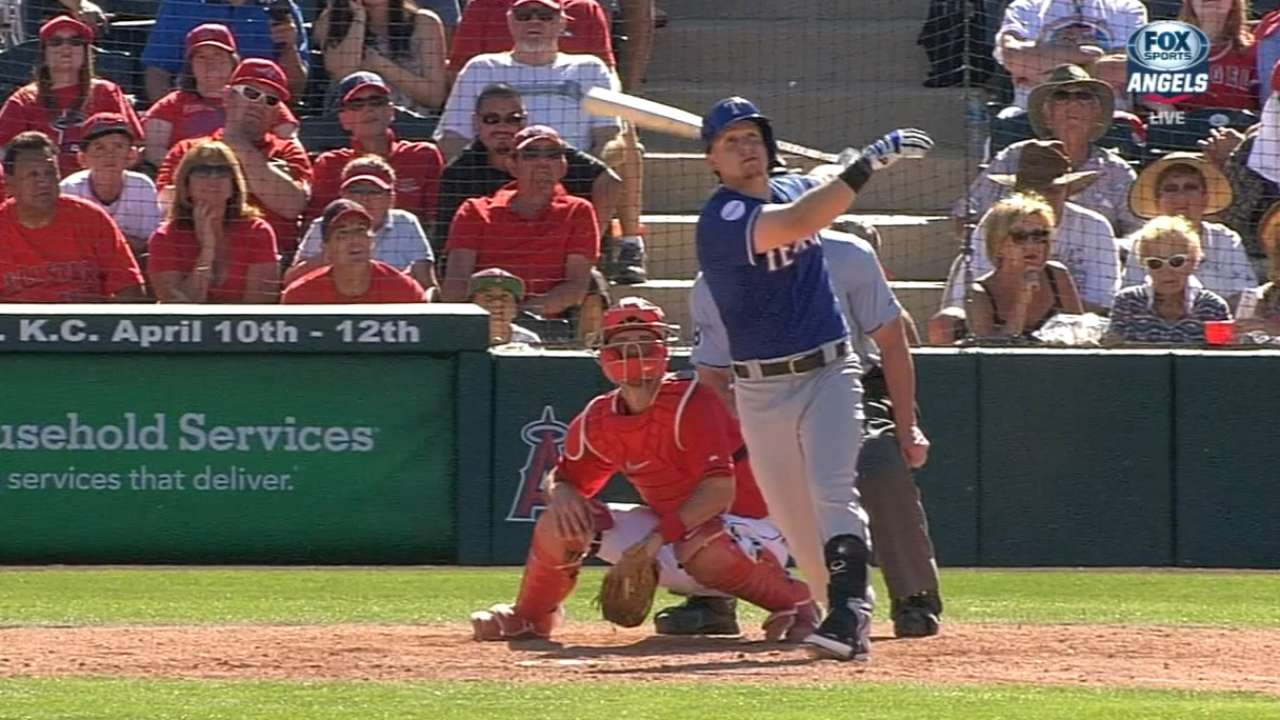 WHAT'S NEXT?
Rangers: Shin-Soo Choo will be back in the Rangers lineup on Thursday when they host the Rockies at 8:05 p.m. CT in Surprise. Choo has been getting his work done in Minor League games lately as he is limited to designated hitter duty because of tightness in his left triceps muscle. He is 4-for-18 in Cactus League games.Nick Martinez will start for the Rangers and be followed by Ross Ohlendorf. Derek Holland is starting in a Minor League game. The game is available on MLB.TV and Gameday Audio.
Reds: Joey Votto will likely be back in the Reds lineup on Thursday when Cincinnati plays as the visiting team in their 4:05 p.m. ET game vs. the Indians at Goodyear Ballpark. For the first time this spring, prospect Michael Lorenzen will get a start as he tries to earn a spot as a non-roster invite. Likely competing to be a long reliever, Lorenzen will need to bounce back from his last outing vs. the Giants on Friday -- when he gave up six walks in two innings of relief. The game is available on MLB.TV and Gameday Audio.
T.R. Sullivan is a reporter for MLB.com. Read his blog, Postcards from Elysian Fields, and follow him on Twitter @Sullivan_Ranger. This story was not subject to the approval of Major League Baseball or its clubs.