Friendships forged, strengthened in waning days of camp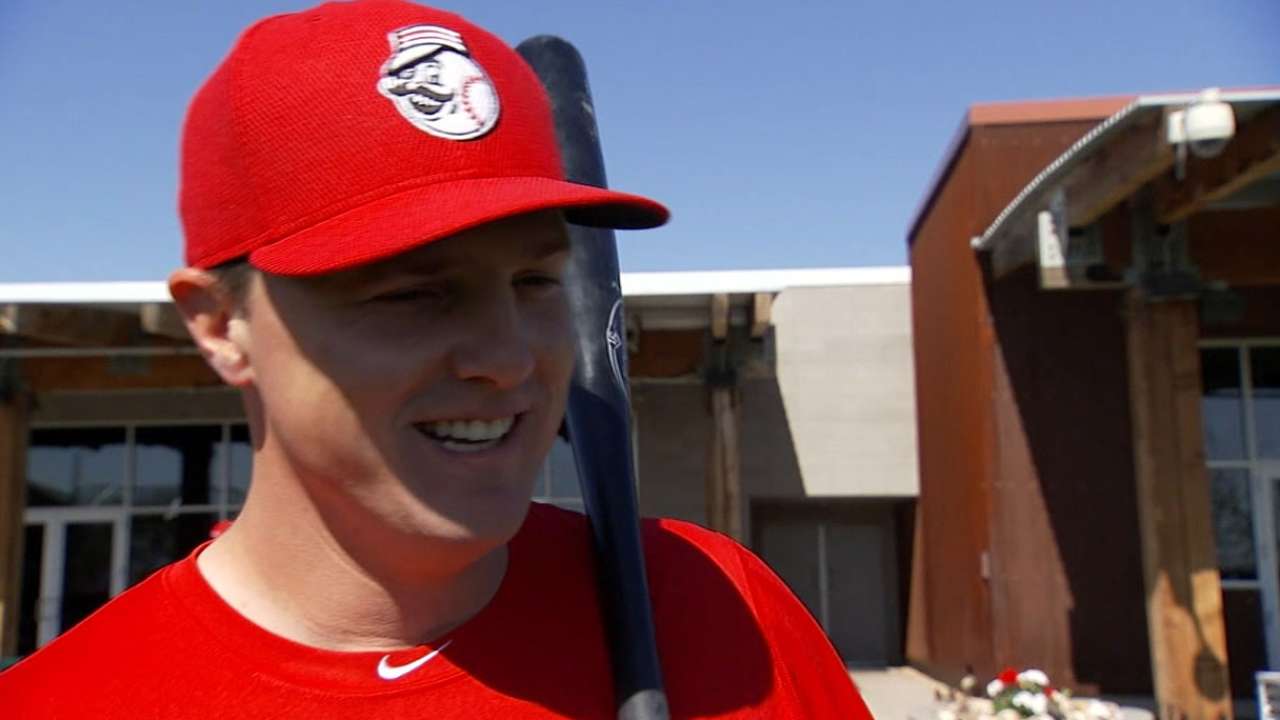 It's not classified among the all-encompassing menu of on-field maneuvers labeled "baseball activities," but it might as well be filed with that stuff, too.
On a damp Tuesday morning in Goodyear, Ariz., a few hours before the sun will dry out the complex and allow for an afternoon game at the stadium up the street, young Reds outfielder Billy Hamilton is sitting in a chair next to the locker of slightly older Reds outfielder Jay Bruce. They are chatting about any number of things.
It could be the NCAA basketball tournament, which is playing on a TV nearby. It could be dinner plans. It could be a particular situation in the previous day's game or a goal for the upcoming season.
The subject matter isn't nearly as important as the fact that the two are comfortable with each other and winding down the long days of spring together, as teammates and friends.
"I try to do what I can," Bruce said. "It's kind of interesting, because I'm still fairly young as far as my time in the game. I try not to get in people's business too much. But I always tell Billy that before he knows it, he'd going to be the guy doing this for other guys."
Bruce bonded early with veterans Adam Dunn, Ken Griffey Jr. and Scott Hatteberg.
Bruce was attending his first big league Spring Training in 2008, fresh off being named Baseball America's Minor League Player of the Year.
"Dunn got, like, 50 of those magazines with me on the cover, you know, 'The Next Big Thing,' and he made me sign them and hand them out to everyone in the clubhouse," Bruce said. "Then he made me sign baseballs to [Derek] Jeter and A-Rod, 'From Jay Bruce, the next big thing.'
"It was embarrassing, but it was all in good fun. At the time I didn't have the foresight to see what they were doing, but those guys really showed me the way."
As the clubhouse cubbies clear out and the rosters are trimmed, the real bonding happens. "Go time" is almost upon the players of the Major Leagues, and they are getting prepared physically and mentally.
"We thought of Spring Training as a real grind more than anything," former big leaguer and current Seattle manager Lloyd McClendon said. "It's hard to bond when you have 55, 60 guys in camp. It's more of a distraction then. As we start to cut down, guys start to form those friendships a little bit more."
McClendon considers himself fortunate to have come up as a player in the Cincinnati system, where he cut his teeth with help from such legendary players as Pete Rose, Tony Perez and Dave Concepcion.
"For some reason they liked me," McClendon said. "I don't know why. But they taught me how to go about my business and how to act. It was good. I could have easily gotten lost. And I don't see a manager having much to do with that."
Over in Angels camp, skipper Mike Scioscia spends the first few weeks of Spring Training sending young players on scavenger-hunt-type adventures. One such hunt years ago had golf fanatic and pitcher Chris Bootcheck designing his ideal driver and having it constructed.
These days, 2014 American League MVP Mike Trout often finds himself near the locker of the veteran he looked up to from afar when he first arrived on the scene: Albert Pujols. The two have become close.
"I know that Albert really appreciated the talent from the first day he saw Mike," Scioscia said. "Mike was never intimidated, but at times, when you have a presence like Albert, it might take a young player a little time for the familiarity to get to where it bonds them.
"But those guys, they talk baseball all the time. I think Albert set some goals that I know Mike would like to eventually reach."
The same goes for Hamilton when it comes to Bruce. The same went for the young McClendon when it came to Tony Perez.
These friendships are a natural product of a difficult game that is honed over time, and one of the long-standing traditions of baseball is acknowledging how important the fostering of these bonds can be.
"You can't make people get along," Bruce says.
"But Spring Training is long, and the season is long, and if you have a bunch of guys who have a common goal and buy into it together, that makes bonding and friendship that much easier."
Doug Miller is a reporter for MLB.com. Follow him on Twitter @DougMillerMLB. This story was not subject to the approval of Major League Baseball or its clubs.