Sale targeting April 12 for first start of season
Ace throws 30 pitches in bullpen session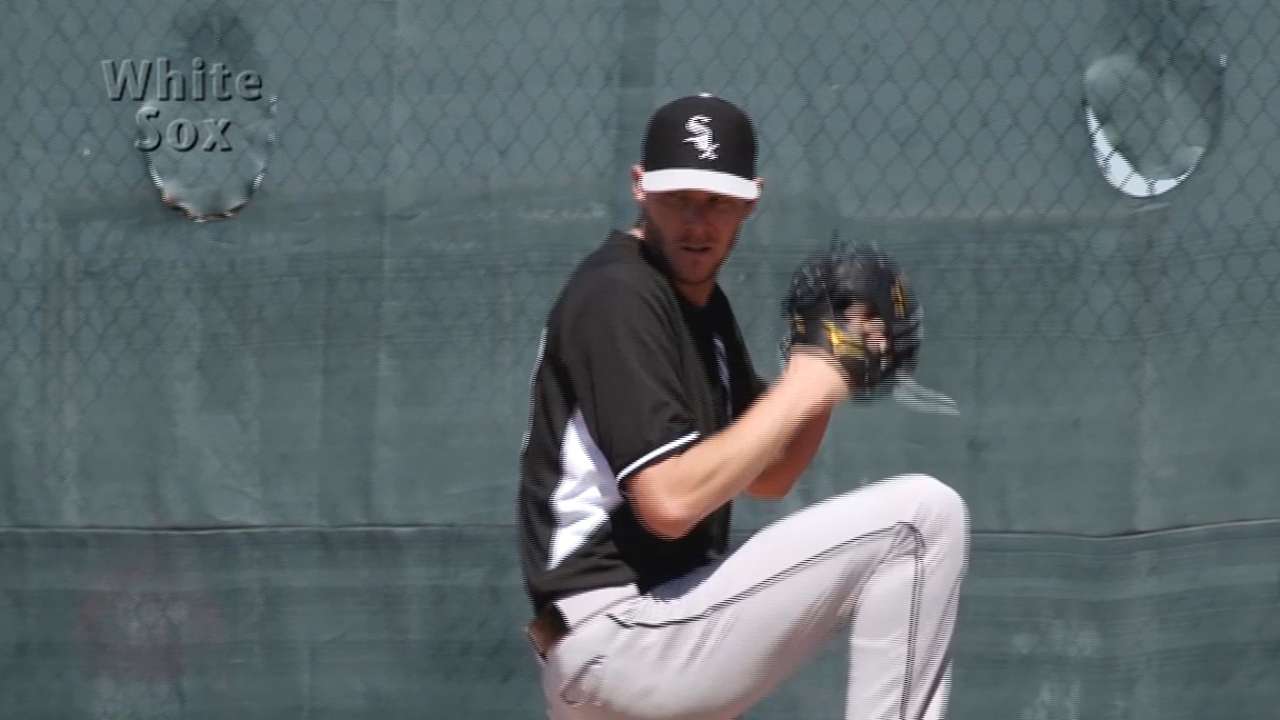 GLENDALE, Ariz. -- White Sox ace Chris Sale threw about 30 pitches in a bullpen session Wednesday afternoon, and he came away feeling no pain in his injured right foot.
Sale, who sustained an avulsion fracture in the foot in late February, tentatively set April 12 as a target date for his return -- the first time the White Sox would need to use a fifth starter.
"It's already been 3 1/2 weeks," Sale said. "I wouldn't see why [April 12] wouldn't be a good date to shoot for."
Of course, Sale was quick to clarify that he isn't going to rush back if he isn't quite at full strength.
Sale throws a bullpen session. pic.twitter.com/vWvX69SXcD

- Chicago White Sox (@whitesox) March 25, 2015
"I'm not a doctor," he added. "I wish I could give you all the answers, I wish I had all the answers. I don't. The only thing that'll tell is time. The more time that goes by, the better it feels."
Originally tabbed as the club's Opening Day starter -- Jeff Samardzija was officially named on Wednesday to start April 6 in Kansas City -- Sale could instead be poised to get the ball at home against the Twins on April 12. If he's not available, that task would fall to either Brad Penny or Carlos Rodon.
If Sale doesn't make the April 12 start, the White Sox could then go another 10 days before they need a fifth starter. That makes it unlikely they would need a replacement for Sale for more than one start.
"You gauge a plan and then go from there and see how he does every step of the way," White Sox manager Robin Ventura said. "But there are reassessments as you go through it. If it doesn't look like he's going to get [April 12], then you push it back. But hopefully he can make it on schedule."
Sale is set for a simulated game on Friday, which will last five innings and 75 pitches. He's also scheduled for a game-like throwing session on April 1, though the specifics of that will likely depend on how he does Friday.
During Wednesday's session, Sale worked all of his pitches -- though mostly fastballs. He was his usual competitive self on the hill, grumbling in frustration when he missed a spot and all business when he pounded a corner.
"I still expect myself to go out there and make pitches and get better," Sale said. "This isn't just to see how my foot feels. This is work for me as well. I have something to accomplish while I'm out there -- more than just, 'Oh how does the foot feel.' I'm trying to find arm slot, get life on pitches and hit locations, because no one's going to care about my foot my first start out."
Sale sustained the avulsion fracture in an accident at his Arizona home on Feb. 27, and he's been desperate to get back into his normal routine.
"I feel like I'm a real baseball player again," Sale said. "Before, I felt like I was coming in and doing the same things over and over. It gets tough watching sunny days through a glass window."
AJ Cassavell is a reporter for MLB.com. Follow him on Twitter @ajcassavell. This story was not subject to the approval of Major League Baseball or its clubs.