MLB.com Columnist
Phil Rogers
Jump for Joyce: New face helping Angels fill void
Opportunity knocks for offseason addition in face of Hamilton's uncertain status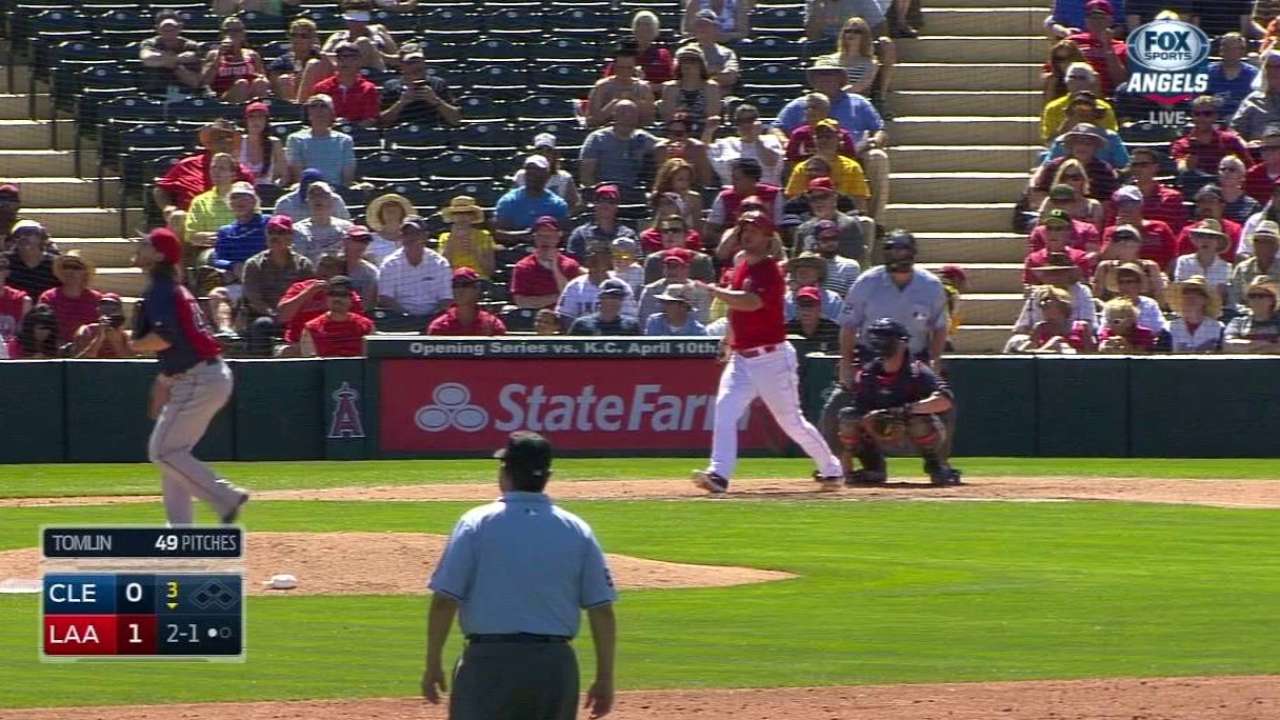 TEMPE, Ariz. -- Here's the thing about the Angels.
They aren't preparing for life after Josh Hamilton. They're merely preparing to do the best they can until he gets back, whenever that is.
Thanks to Matt Joyce, they're feeling as good as they can about opening the season without the guy who Arte Moreno signed to a nine-figure contract a little more than two years ago.
General manager Jerry Dipoto wasn't anticipating anything other than having Hamilton both healthy and on the active roster when he traded reliever Kevin Jepsen to the Rays for Joyce in December. He was just trying to shift some of his depth from the bullpen to the outfield, and it's a good thing he did.
The Angels continue to await a ruling from Commissioner Rob Manfred on the discipline that follows Hamilton's reported violation of Major League Baseball's drug policy. The guy who hit seventh for the Angels in the disappointing Division Series against the Royals last October never made it to Arizona, having undergone surgery on his right shoulder in February.
That's less than an ideal circumstance, obviously.
But on the field, the Angels aren't missing a beat this spring -- except maybe when Joyce was out nursing a strained hamstring. He's the guy who gets a bigger than expected role with Hamilton missing, and you can't ask for a better start to a relationship than the one between him and the Angels.
"This team, not only are they extremely talented, but they're a really good group of guys," said the 30-year-old Joyce, who last year hit .254 with nine home runs for Tampa Bay. "Since Day 1, they've been welcoming. I've really enjoyed myself so far."
Joyce returned to left field in Wednesday's 4-3 victory over the Indians and quickly showed why he's expected to be Mike Scioscia's cleanup hitter when the Angels face Felix Hernandez on Opening Day at Safeco Field.
He had tested his hamstring with at-bats in Minor League games and served as a DH on Monday, but this was a real dress rehearsal for his anticipated role. He lined a hard single to right field off Josh Tomlin in the first inning and crushed a home run to right-center in the third. He walked against reliever Anthony Swarzak in his last plate appearance.
"We need that," Scioscia said about Joyce's contribution. "If you look at our projected lineup, and you're looking at Erick Aybar, Kole Calhoun and Matt Joyce, that's only three lefties. And Matty's the element that can hit in the middle of the lineup and hit behind some hitters. That bat's important, no doubt."
Just as importantly for Joyce, his legs passed a pair of tests. He ran hard from first base in trying unsuccessfully to score on a Chris Iannetta double, and got a quick burst of speed before laying out to take a hit away from Brett Hayes.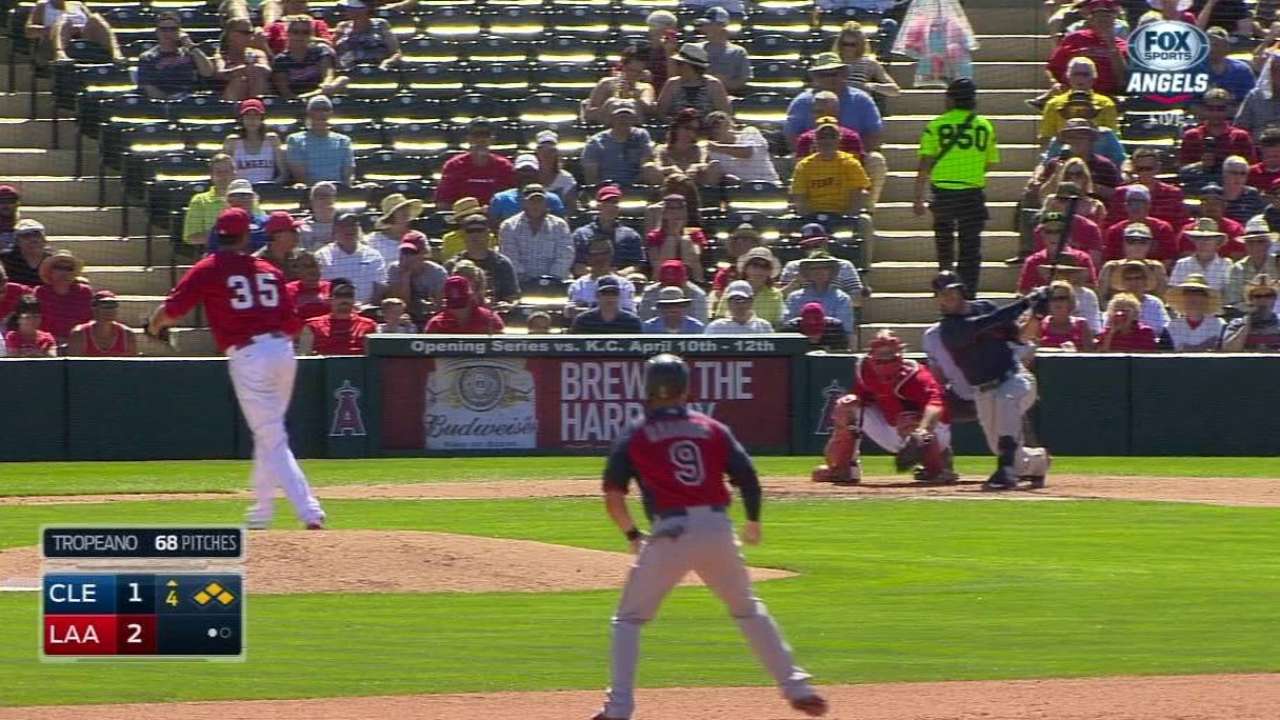 "This was a good test for me," Joyce said. "I got a couple balls in the outfield. The first hit I got I had a chance to score on a double down the line. I'm not going to lie to you, going into third I was kind of hesitant, looking at [third-base coach Gary DiSarcina] as he was waving his arm. But it was a good test, and I'm reassured and feel really good."
While Hamilton is in the third season of his five-year, $125 million contract, Joyce is earning $4.75 million in his last season before free agency. He's hungry and looking to make his mark, which is partly why he appealed to Dipoto in a trade made during the run-up to salary-arbitration season.
He's never been known for the super-action hero stuff that Hamilton made seem routine when he was in his prime with the Rangers in 2010 and '11 -- their World Series seasons -- but Joyce has been a consistent hitter, especially against right-handers.
Joyce enters 2015 with a .783 career OPS and has never been more than 51 points off that total in a season, either to the good side (like in 2011, his best season) or the bad side (in 2014).
"It's funny you say that," Joyce said about being consistent. "I feel like I had one good year and the last couple were down years. Maybe there were a couple others I had decent years with some home runs, power numbers."
Joyce puts up his numbers with a lot of preparation and a minimum of drama, the way the so-called "professional hitters" have always done it.
"The numbers dictate themselves," he said. "How you play, how you go about your business, your approach, putting in the time, day in and day out. The numbers take care of themselves and will be there at the end."
Before the uncertainty over Hamilton -- and Manfred has said only that he expects to make the ruling before Opening Day -- Joyce was seen as a left-handed option at DH and in left field when Hamilton was given a day off or used as the DH. Now he figures to get the majority of the playing time in left, although most likely in some kind of platoon with Collin Cowgill.
Joyce has seen his batting averages against left-handers steadily decline in recent seasons, to .147 in only 35 plate appearances last season. He says he hit them well all his life until he got to the big leagues, and would love nothing more than to show the Angels that they need to play him 162 games, not the 141 that is his career high.
"Only time will tell with that," Joyce said about a platoon. "I always wanted to be an everyday player, that everyday guy you send out there and you don't have to worry about. You become a staple in the lineup, a staple in the field."
Maybe that will happen this year. Or maybe Joyce will merely play a role in keeping the lineup built around Mike Trout and Albert Pujols rolling until Hamilton returns, ready for yet another career revival.
You never know about Josh. But Joyce?
He's dependable, and he might just have a little upside left in his tank. He's in a great situation to find out.
Phil Rogers is a columnist for MLB.com. This story was not subject to the approval of Major League Baseball or its clubs.