Draft prospects shine at Day 1 of USA Baseball tourney
National High School Invitational gets underway in North Carolina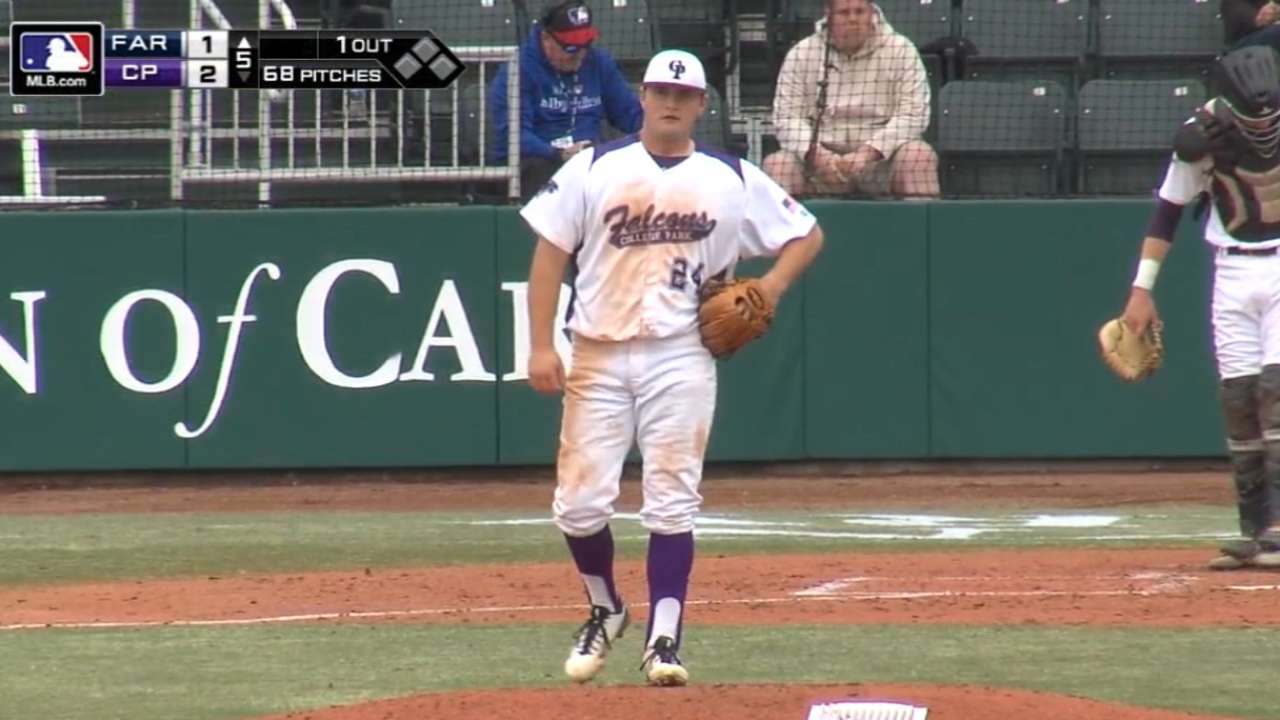 Play began Wednesday in the 2015 USA Baseball National High School Invitational at the USA Baseball National Training Complex in Cary, N.C. The 16-team single-elimination tournament brings together some of the best high school teams in the country as well as some top prospects for scouts to watch as they prepare for the 2015 First-Year Player Draft.
The first day of the event was packed with action beginning with the first game of the day, when Mosley High School (Lynn Haven, Fla.), the No. 1 team in Baseball America's top 25 rankings, defeated Junipero Serra High School (San Mateo, Calif.), 1-0, behind senior right-hander Dillon Brown, who threw 6 1/3 scoreless innings and collected two hits. He is committed to Samford to play quarterback, but has excelled on the diamond this season, as he has yet to allow an earned run in 36 innings.
"It just took me a minute to settle in," Brown said. "Once I found my rhythm, I really felt good out there on the mound."
After Mosley's victory, fans didn't have to wait long for an upset, as Loyalsock Township High School (Williamsport, Pa.) defeated Horizon High School (Scottsdale, Ariz.), 7-4, in its first game of the spring. The Lancers hadn't practiced on dirt before coming to North Carolina, and star shortstop/right-hander Kyle Datres and seven other players had only finished their basketball season last week. None of that mattered against Horizon, which has won nine state titles and produced three first-round Draft picks in its history.
"These guys have been through this," Loyalsock coach Jeremy Eck said. "They've played in the big game their entire lives. They know to stay calm and lean on each other when it counts."
In one of the most anticipated games of the day, right-hander Joe DeMers led College Park High School (Pleasant Hill, Calif.) to a 3-1 victory against Farragut High School (Knoxville, Tenn.) in a game that was broadcast on MLB.com. DeMers struck out six, walked one and held Farragut to three hits in the complete-game victory. He also scored a run and drove in another.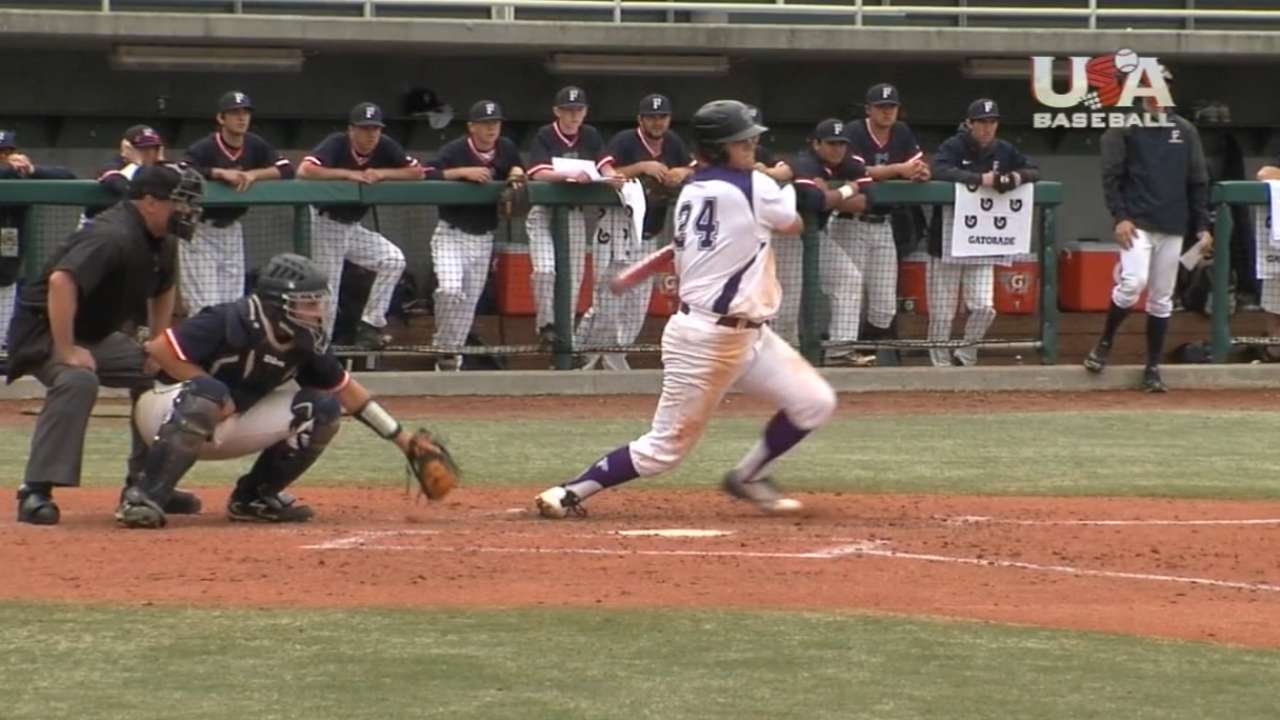 "His stuff was, I've seen it better, but it was still good enough to win," coach Andy Tarpley said. "He knows how to compete."
Joining Mosley, Loyalsock and College Park in the quarterfinals are Huntington Beach (Calif.) High School, Puyallup (Wash.) High School, San Clemente (Calif.) High School and Whitewater High School (Fayetteville, Ga.). The last quarterfinalist will be determined Thursday when College Station (Texas) High School takes on Trinity Prep (Orlando, Fla.) at 9:45 a.m. ET.
The quarterfinals will begin later Thursday. MLB.com will broadcast two of the games, one at noon and the second at 3:30.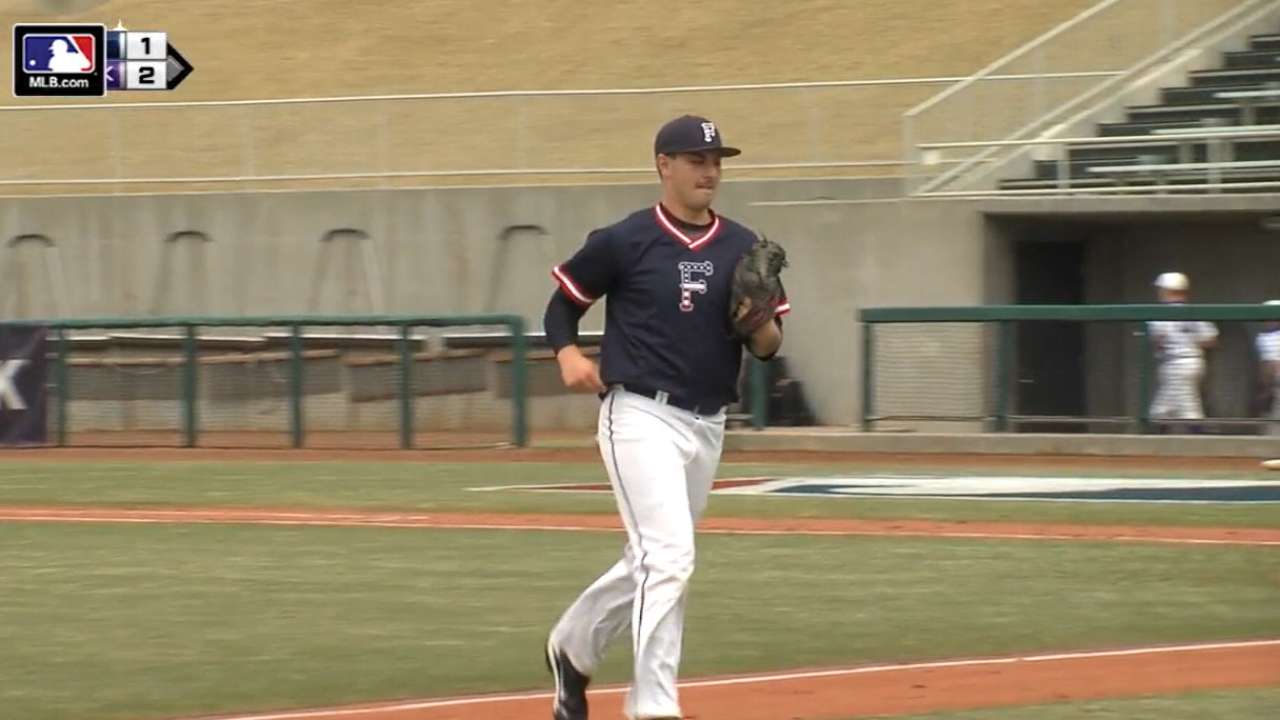 In addition to Brown and DeMers, the tournament's first day produced several more standout performers.
Daniel Amaral, OF, Huntington Beach: Though he went hitless in Huntington Beach's victory against St. Thomas Aquinas High School (Fort Lauderdale, Fla.), Amaral was disruptive on the basepaths, as he drew two walks, scored four runs and stole a base. The senior is the son of former Major Leaguer Rich Amaral and is committed to UCLA.
Kyle Datres, SS/RHP, Loyalsock: Playing in front of his future college coach, North Carolina's Mike Fox, the senior keyed Loyalsock's upset of Horizon. Datres went 1-for-3 with a walk and two runs and then earned the save with two scoreless innings.
Lucas Herbert, C, San Clemente: After getting down early to Lambert High School (Fayetteville, Ga.), Herbert led San Clemente to a comeback victory, 7-5, in eight innings. He hit a leadoff double in the eighth and came around to score the go-ahead run. The senior UCLA commit finished the day 3-for-5 with a run and a double.
Chris Micheles, LHP, Puyallup: Making his first start after transferring from nearby Emerald Ridge High School this year, the junior was dominant in a shutout performance. Micheles, a Washington commit, struck out eight in seven innings against Leesville Road High School (Raleigh, N.C.).
Austin Riley, RHP/3B, DeSoto Central (Southaven, Miss.): Plenty of scouts were in the stands to watch Riley, who regularly runs his fastball into the low 90s. The senior Mississippi State recruit didn't have his best start, as Whitewater scored five runs on 11 hits and a walk in 5 2/3 innings. He did strike out seven, and went 2-for-4 with a two-run home run and a double.
Teddy Cahill is a reporter for MLB.com. Follow him on Twitter at @tedcahill. This story was not subject to the approval of Major League Baseball or its clubs.