Frustrated Betances vows to finish spring strong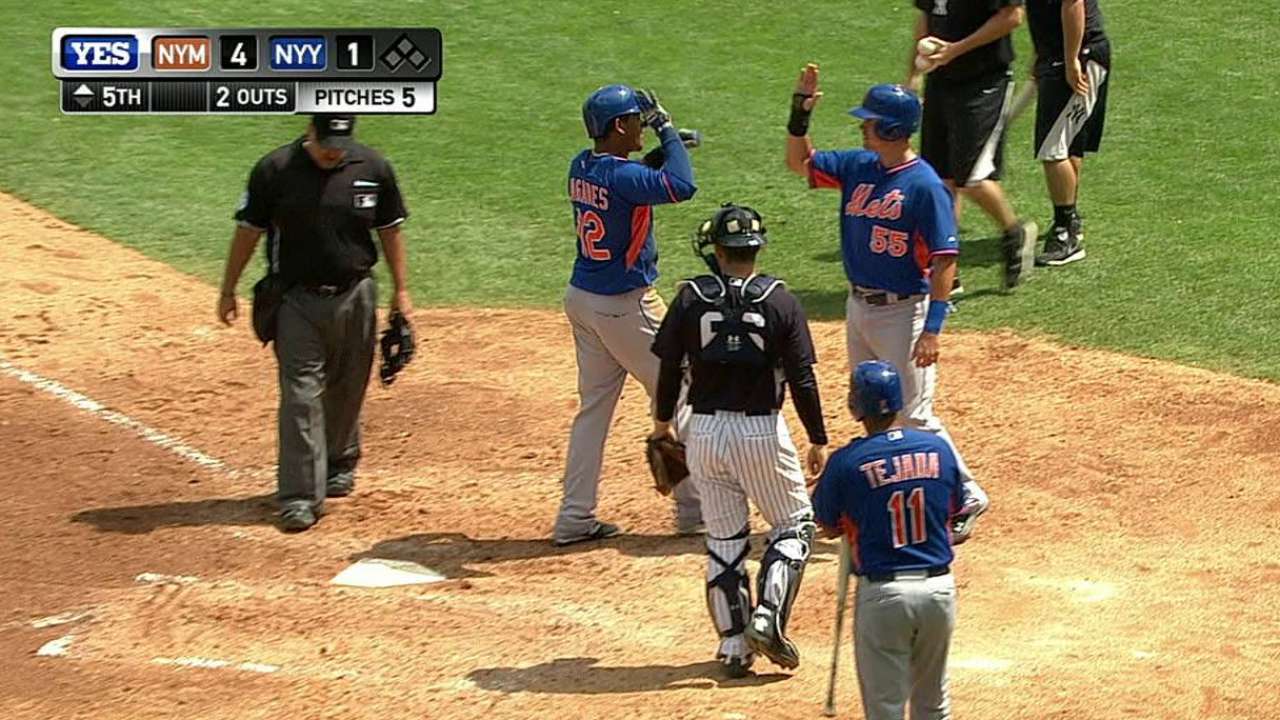 TAMPA, Fla. -- The home run that Dellin Betances served up on Wednesday came on a hanging curve, so any chatter about radar-gun readings is irrelevant there. Yet with less than two weeks before Opening Day, the Yankees right-hander is running out of time to finish his spring on a strong note.
"I'm obviously frustrated," Betances said. "I mean, it's been four outings where every time out, I've given up a run. Today I felt better, but you've got to make a better pitch than that to [Juan] Lagares. It's frustrating, but I'm sure I've got four more outings left and I'll do whatever I can to be better for the season."
Pitching in back-to-back games for the first time this year, Betances relieved Masahiro Tanaka and served up Lagares' second Grapefruit League homer before getting Ruben Tejada to pop out.
Betances owns a 6.75 ERA in six spring appearances, having allowed seven hits over 5 1/3 innings, and the subject of his velocity will probably continue to raise questions until answered convincingly.
"I think he set a pretty high standard last year that's not always so easy to live up to," manager Joe Girardi said. "My only concern is that he's right at the end of Spring Training."
Betances' fastball was clocked at 89-90 mph in Wednesday's brief appearance, which came after the discussion that had prompted Girardi to inspect last year's spring radar readings.
"I get asked so much about it. He's actually throwing harder than he did last year," Girardi said. "It was the last week [of spring 2014] that it kind of jumped up."
Earlier on Wednesday, general manager Brian Cashman said that Justin Wilson hit 97 mph on Tuesday against the Braves, but he said that Betances, Andrew Miller and David Carpenter have been sitting at 93-94 mph for most of the spring.
"Our power arms have been a little lower than where they typically are, and the easy commentary behind that kind of stuff is that the relievers are still building their arm strength," Cashman said. "Since it's a whole group situation, I don't worry about it."
Radar-gun readings aside, Betances wonders if having had so much exposure during last year's All-Star campaign might be working to his disadvantage here in the Grapefruit League.
"A lot of these guys know who I am now," Betances said. "Last year, there was a lot of unknown, but right now, I need to get those few more veils and maybe attack the zone better. But today, I thought it was good, I just made a mistake to Lagares."
Bryan Hoch is a reporter for MLB.com. Follow him on Twitter @bryanhoch and read his MLBlog, Bombers Beat. This story was not subject to the approval of Major League Baseball or its clubs.