Nesbitt catches Tigers' attention with advanced work
Prospect a breakout relief candidate after serving as Class A closer last year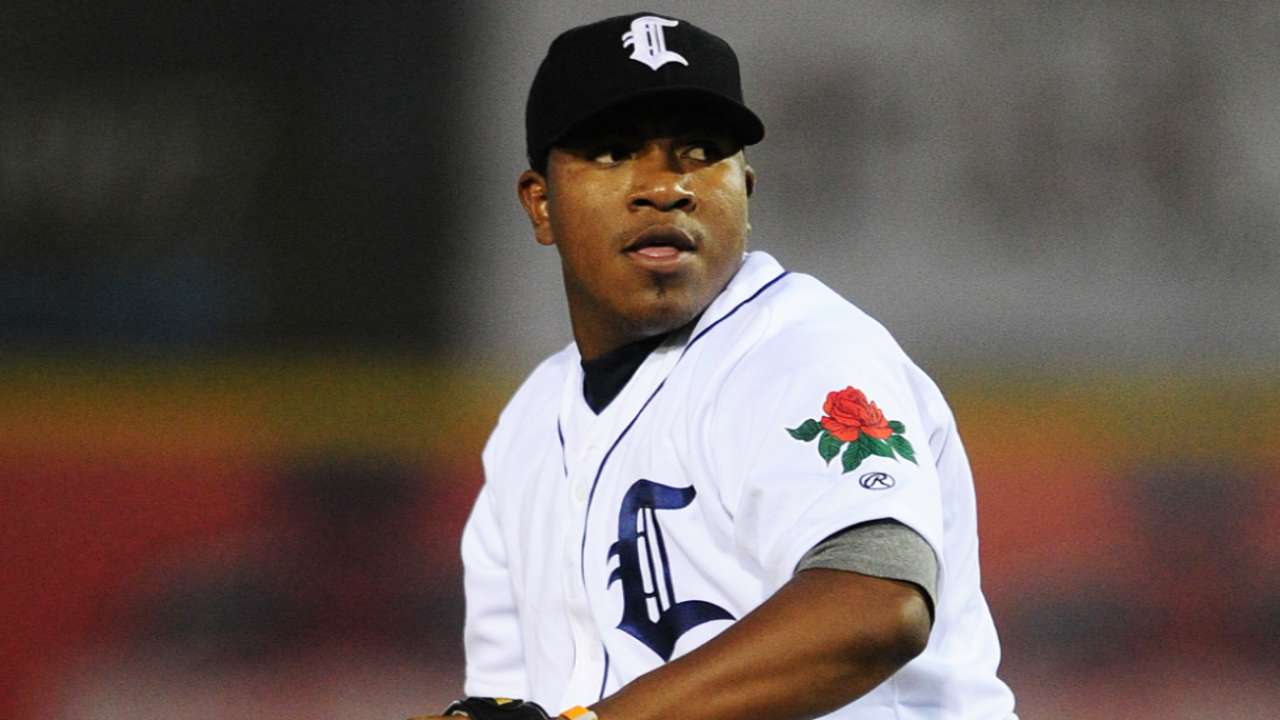 LAKELAND, Fla. -- The quiet voice of Angel Nesbitt requires some close listening when he talks about his Spring Training, about his rise from Class A Lakeland closer to Tigers breakout relief candidate in less than a year. He's a softer-spoken person than his linebacker-like frame would suggest.
"I feel so happy how I'm throwing right now in Spring Training," the 24-year-old Venezuelan right-hander said. "This is my first Spring Training, like [on the] 40-man [roster], and I feel good. I can say I've thrown well."
Nesbitt, ranked 16th among Tigers prospects according to MLB.com, has saved his biggest statement for when he takes the mound. In so doing, he has the Tigers' attention.
"I think he's extremely close," manager Brad Ausmus said last week about the pitcher's Major League readiness.
Said catcher Alex Avila: "Four plus pitches that he can command. He's impressed me. He's impressed me quite a bit."
The repertoire gets overlooked in the radar gun readings that show a young hurler capable of throwing mid- to upper-90s fastballs. They are not overlooked among the Tigers officials and teammates watching him.
"You don't see it too often," Avila said. "For a young guy like him that has that type of stuff, he's got a really good idea how to pitch. He's not just up there throwing as hard as he can. That's not something you see every day. That doesn't happen that often.
"Normally a guy has to develop a little longer and figure out more how to pitch with the type of stuff that he has. And he has a pretty good idea."
It's a development that came along the way up. He raised eyebrows when he approached 100 mph on his fastball like fellow Tigers reliever Bruce Rondon. But Nesbitt didn't always pound the strike zone with it.
"My fastball is the first pitch," he said. "After that, I can say my changeup is the next pitch. And I work with a couple pitches more -- cutter, slider. I have to throw all pitches for a strike. In the big leagues with these guys, it's not fastball every time. You have to throw your pitches and you have to be smart with your fastball and secondary pitches."
Among Tigers prospects in camp this spring, Nesbitt hasn't thrown as hard as often as Rondon or former Double-A Erie teammate Jose Valdez. But by taking a little off his velocity, he has gained on command.
"This Spring Training showed me how to control," Nesbitt said. "You can throw 100, but high, everybody can hit it. If you throw 95-97, but down in the zone, you have more [success]."
Even on a staff that doesn't put much credence into Spring Training results over track record, Nesbitt has impressed. He had seven innings of one-run ball with three hits allowed, two walks and five strikeouts before the Mets roughed him up on Saturday. Nesbitt nearly headed down the same path Tuesday against the Yankees before he salvaged a scoreless inning on two hits.
He has given Ausmus an option if Rondon needs innings in the Minors following his lost 2014 season, or if the manager has to replace a veteran on the staff. Bigger picture, Nesbitt has given the Tigers their best relief prospect since at least Corey Knebel last year, and maybe since Rondon a couple of years back.
Jason Beck is a reporter for MLB.com. Read Beck's Blog and follow him on Twitter @beckjason. This story was not subject to the approval of Major League Baseball or its clubs.