Galvis hopes heavier bat will translate into more hits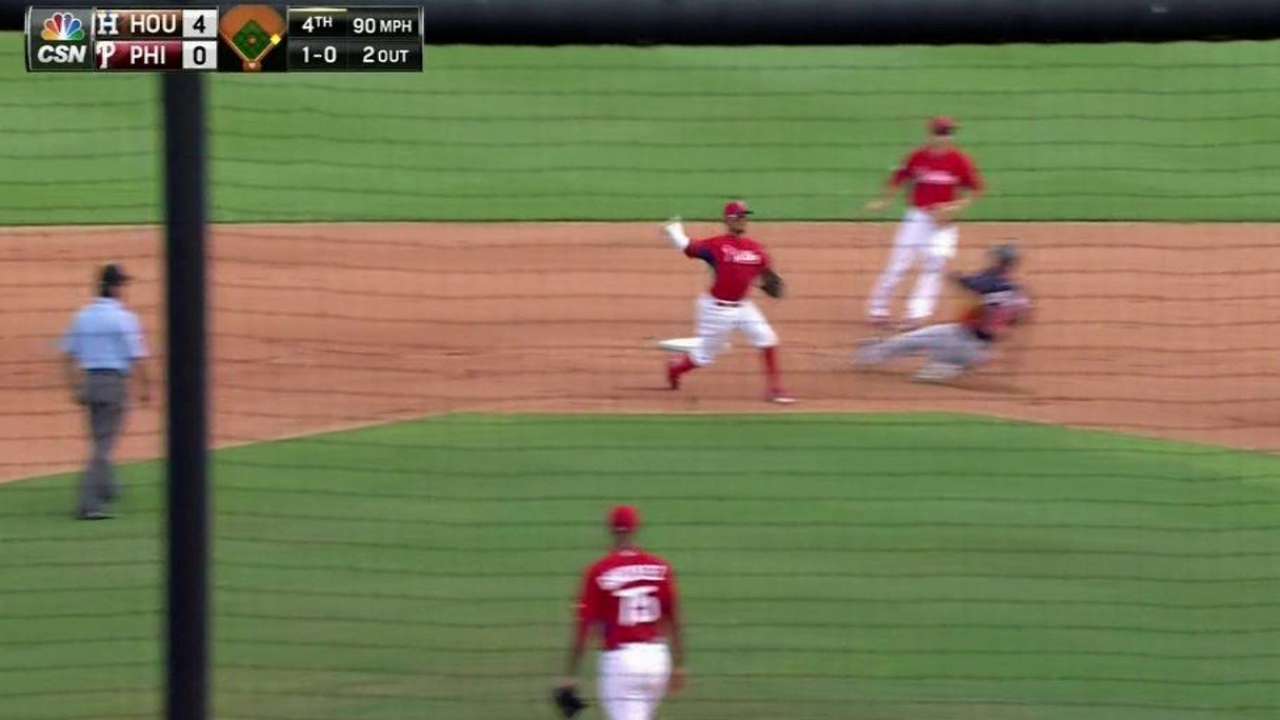 CLEARWATER, Fla. -- Freddy Galvis needs to display more offense than he has shown during Spring Training and in his 550 plate appearances with the Phillies.
The Phillies hope a bigger bat will help.
Galvis has been using a Louisville Slugger U1 bat this spring. It is 35 inches, 33 ounces, which makes it longer and heavier than his standard bat (34 inches, 31 ounces). It also has a smaller knob, which makes a hitter less inclined to swing out of his shoes. The Phillies believe the heavier bat -- the same model used by Roberto Clemente and many others -- will prevent Galvis from swinging too hard.
"It's a bat that's not about being down on the nob and over swinging for home runs," Phillies manager Ryne Sandberg said. "He's taken to it very well. It's been a good thing for him."
Galvis singled in Wednesday's 7-1 loss to the Astros at Bright House Field to raise his batting average to .280, but with no walks and no extra-base hits, his .560 OPS is lackluster, well off his .621 career mark in the big leagues.
But Galvis said the bat is serving its purpose. He believes his swing is shorter and more compact, and he has found that when he connects the ball still sails.
"It's heavy," Galvis said.
Galvis said it did not take long to get accustomed to it, but he noticed after swinging it during early work and during batting practice before the game his arms started to tire. So now he is using his regular bat before games and carrying the U1 to the plate once the game begins.
Galvis said he has ordered more U1's and plans to try them out during the regular season.
"I knew I over swung, but I didn't know with the heavy bat I'd have more control," Galvis said. "I thought with a heavy bat I'd have to do more to get to the ball. But what it showed me is if you relax your hands and let the ball come to you and throw the bat [at the ball], that's it. Because when you hit it good, it's going to go."
Worth noting
• Phillies right fielder Domonic Brown hit Wednesday for the first time since leaving last Thursday's game because of tendinitis in his left Achilles. Brown expects to try running Thursday, and he is hopeful to be ready by Opening Day.
• The Phillies reassigned infielder Chase d'Arnaud and outfielder Darin Mastroianni to Minor League camp following Wednesday's game.
Todd Zolecki is a reporter for MLB.com. Read his Phillies blog The Zo Zone. Follow him on Twitter. This story was not subject to the approval of Major League Baseball or its clubs.