Tanaka working on improving two-seamer
Righty not eliminating four-seamer, but says pitch was vulnerable in 2014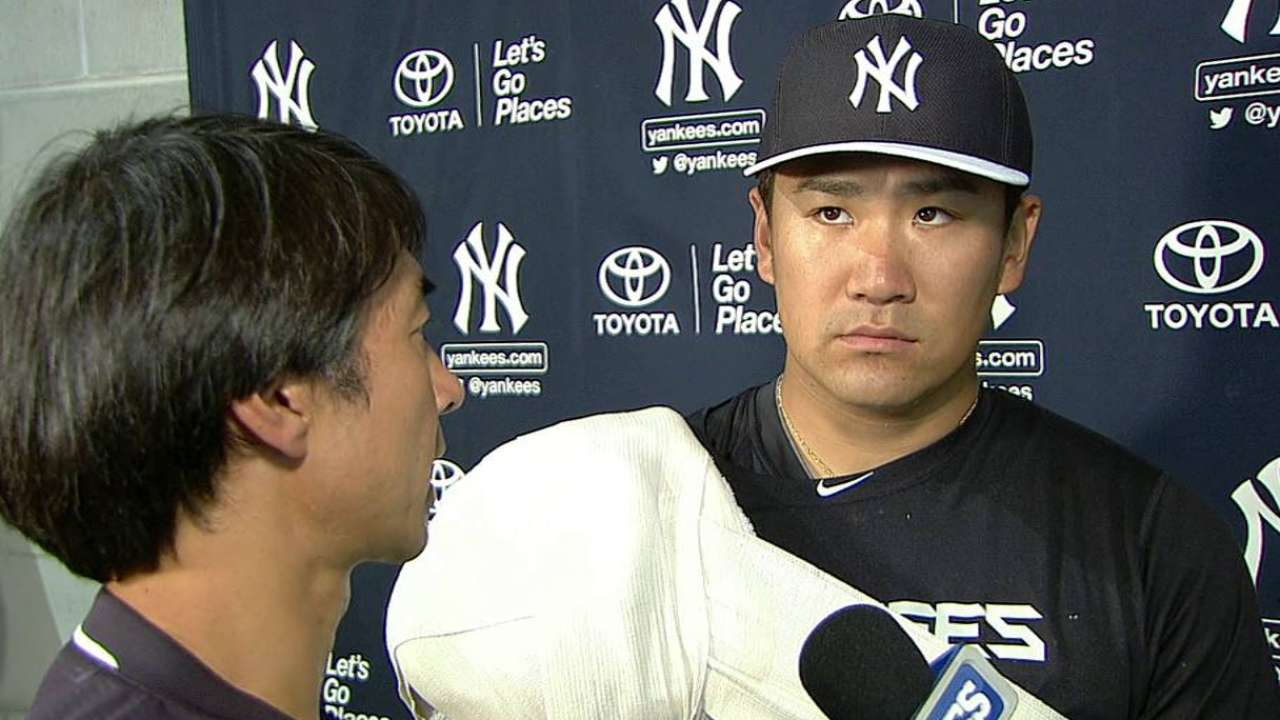 TAMPA, Fla. -- If it appears that Masahiro Tanaka isn't lighting up the radar gun like he did during his terrific rookie campaign, the Yankees right-hander is armed with a good explanation, and it's one which he says is unrelated to last year's elbow injury.
Tanaka revealed on Wednesday that he has decided to throw his two-seam fastball more this spring, a pitch that has less velocity than his four-seamer but adds downward movement. Tanaka said that he thought his four-seamer was vulnerable last season, and so he is looking to make an adjustment.
"The reason for the 88, 89, 90 [mph] is that I'm throwing two-seamers," Tanaka said through an interpreter. "The reason I'm not throwing [four-seamers] much is that a lot of the four-seamers were being hit last year during the regular season. So I'm doing this on purpose. I'm working on the two-seamers purposely."
Speaking after he hurled 4 2/3 innings in the Yankees' 7-2 loss to the Mets, Tanaka clarified that this does not mean he is shelving the four-seam fastball completely. He just may use it less often, instead relying on a repertoire that also includes a splitter, slider, cutter, curveball and changeup.
"I think there's room for both of them," Yankees manager Joe Girardi said. "Four-seam, you're going to see more velocity; it might be something you climb the ladder with, do some different things. But sometimes you get quick outs with sinkers and there's more movement. He's just trying to improve his game."
"It's not going to hurt him to have another type of fastball in the mix," pitching coach Larry Rothschild said. "With his location, it can be an effective pitch."
Last season, Tanaka threw 426 four-seam fastballs (21.34%) at an average velocity of 92.74 mph, according to BrooksBaseball.net. He threw 389 two-seamers (19.49%), with an average velocity of 91.44 mph. In his two September starts after the injury, Tanaka threw mostly splitters and two-seamers.
Facing the Mets in his second-to-last spring start, Tanaka struck out seven, scattered four hits -- including a solo homer by John Mayberry Jr. -- and allowed three runs (two earned), throwing 47 of 59 pitches for strikes. Tanaka said he is not holding anything back.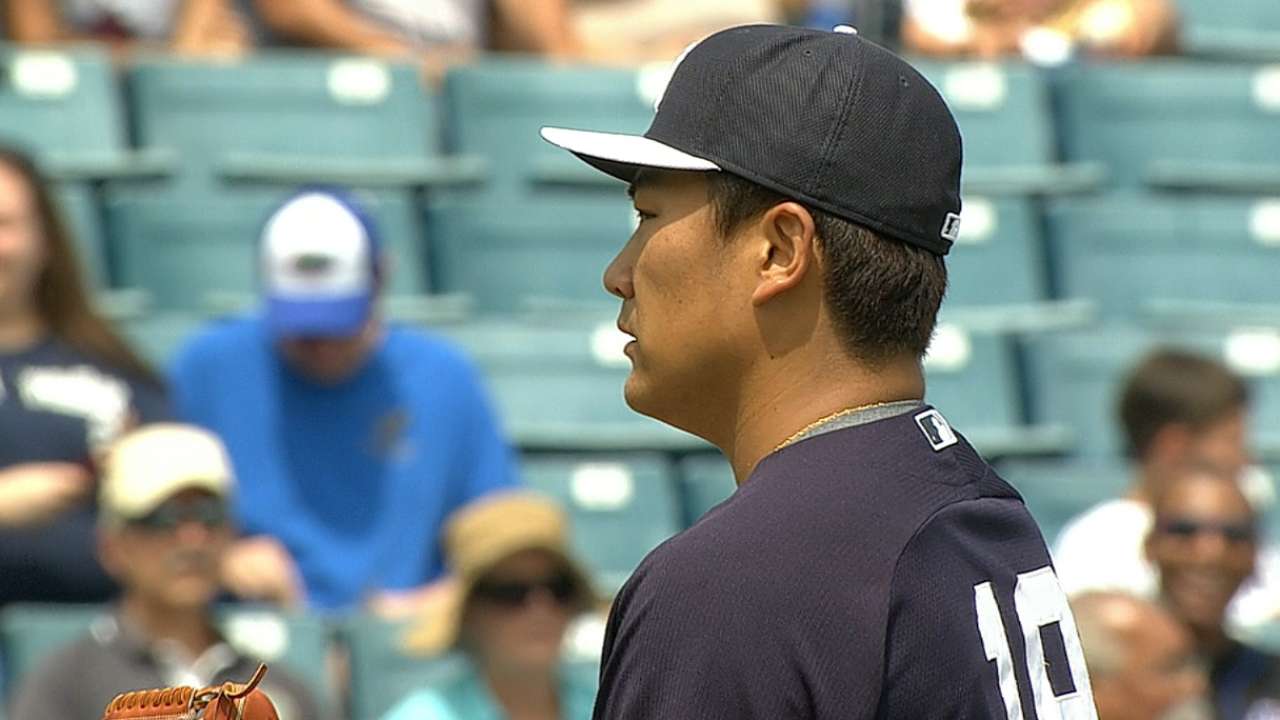 "I'm not worried about where I'm at right now," Tanaka said. "I'm not a pitcher that would throw 95 mph every single pitch. I may get that maybe once or twice in a game. Given that, I'm OK with where my velocity is at right now."
Girardi said that Tanaka will likely be ready to throw 75 pitches in his next outing, which would set him up to throw about 90 in his first start of the regular season. That will probably come on Opening Day against the Blue Jays on April 6, but the Yanks have not officially announced that.
"He's healthy, that's the biggest thing," Rothschild said. "I think he's paced himself a little bit as far as really turning the ball loose. ... He knew what he was doing and the purpose that he had behind it."
Bryan Hoch is a reporter for MLB.com. Follow him on Twitter @bryanhoch and read his MLBlog, Bombers Beat. This story was not subject to the approval of Major League Baseball or its clubs.