Follow the leaders: Braves value veterans' presence
Gomes, Grilli, Markakis, Pierzynski bring character missing from last year's clubhouse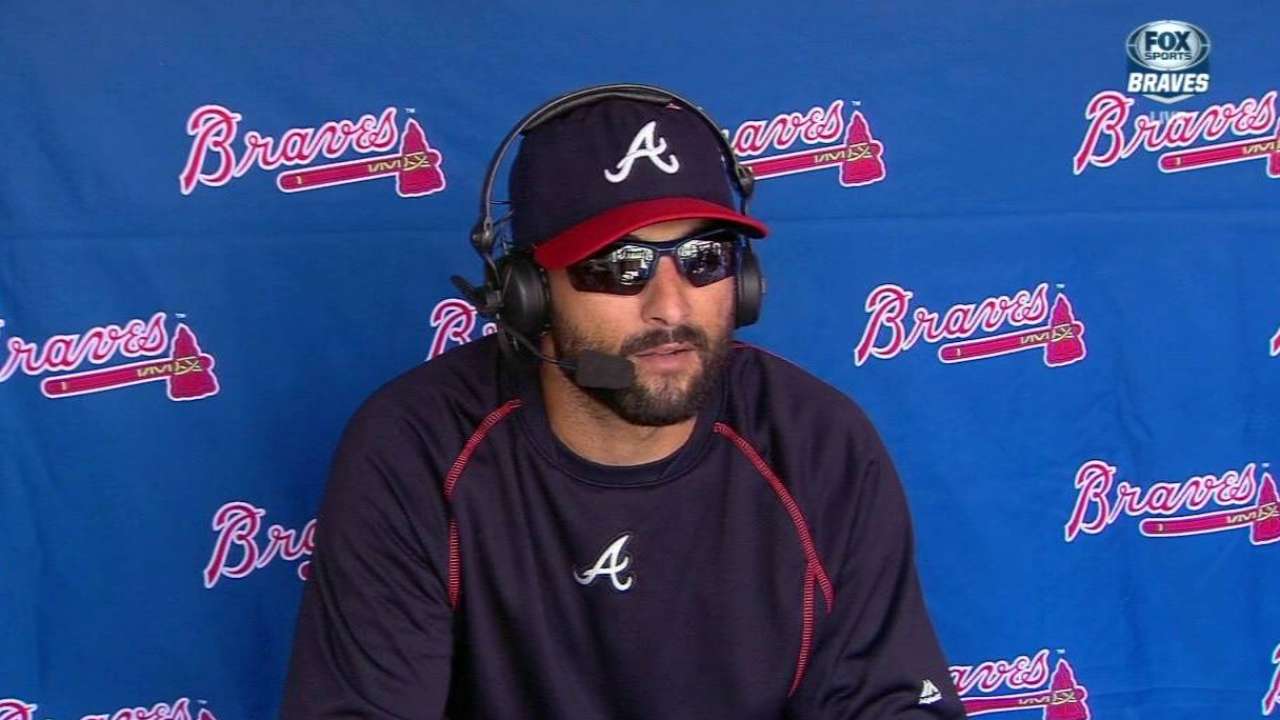 LAKE BUENA VISTA, Fla. -- Though Dale Murphy was not with the Braves as they captured 14 consecutive division titles, he influenced this successful run via the leadership he provided Tom Glavine and John Smoltz during their earliest years at the Major League level.
When John Schuerholz became Atlanta's general manager before the start of the memorable worst-to-first 1991 season, he accounted for Murphy's absence by filling his roster with Terry Pendleton and Sid Bream, a couple of aging veterans who made an immediate impact on the field and a lasting impact on the organization via the direction they provided Glavine, Smoltz and ultimately Chipper Jones. Once Jones retired at the conclusion of the 2012 season, the Braves were fortunate to still have the leadership provided by Tim Hudson and Brian McCann.
But once Hudson and McCann exited after the 2013 season, the Braves suddenly found themselves without that strong clubhouse leader they had possessed over the previous two decades. Thus, coming off last year's disappointing season, it was not surprising when John Hart, the club's president of baseball operations, made a conscious effort this winter to sign veteran leaders like left fielder Jonny Gomes, right fielder Nick Markakis, right-handed reliever Jason Grilli and backup catcher A.J. Pierzynski.
"When we started losing a couple games in a row last year, we didn't have anybody to light into someone," Braves first baseman Freddie Freeman said. "I don't think that will be the case this year."
There was never any reason to doubt the intense competitive spirits possessed by Jason Heyward and Justin Upton, who were traded by the Braves this winter. Heyward once destroyed a video-room chair after watching what proved to be the game-winning Adeiny Hechavarria triple that ended Atlanta's 14-game winning streak on Aug. 10, 2013. But at the same time, Heyward has not reached that point in his career where he is comfortable expressing his feelings verbally within the clubhouse.
Like the 25-year-old Freeman, who has played more games in a Braves uniform than any other member of Atlanta's current roster, Heyward and Upton have not been around long enough to acquire the pedigree of Gomes, Pierzynski and Grilli, who are all in the final stretch of their respective careers.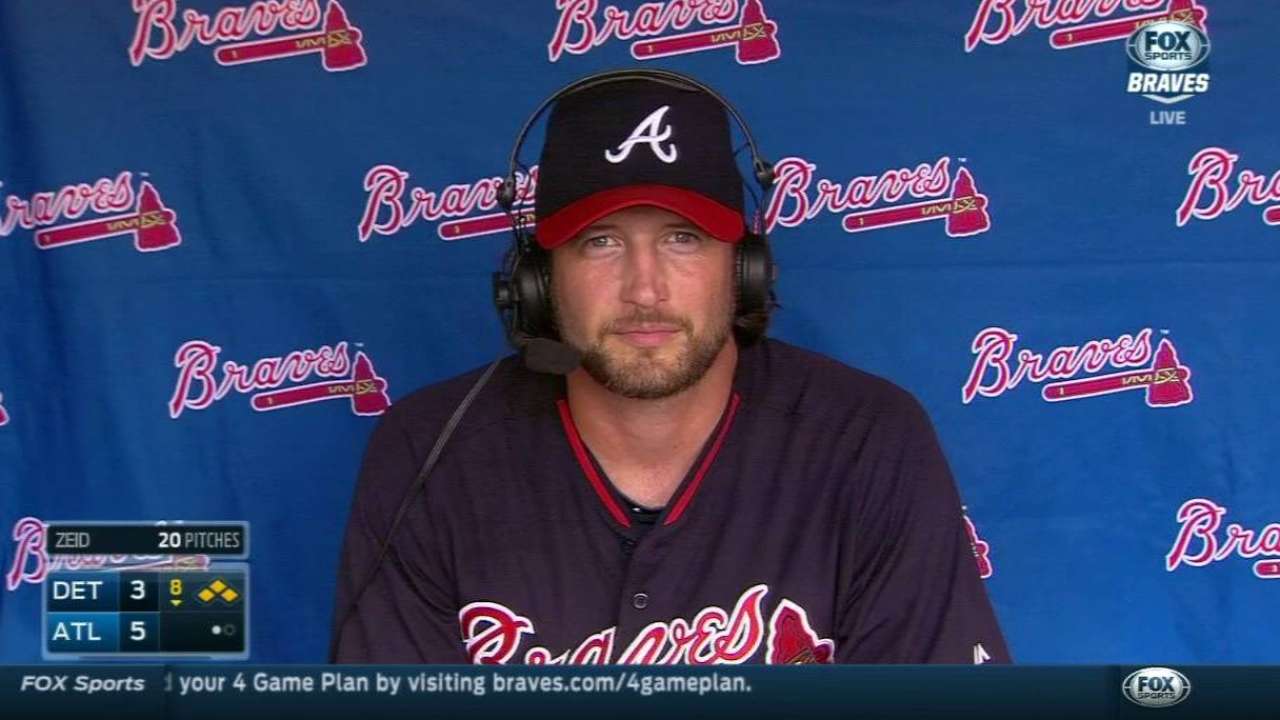 "When you play with guys who have been in the league a little longer, they come in with a little more sense of confidence in who they are and what they're trying to do," Braves closer Craig Kimbrel said. "That's always a plus. They don't talk about experience for no reason. It's called experience for a reason."
Each of these acquired veterans has brought a little different approach to the leadership department. Pierzynski has never shied away from saying anything at any time, especially when given a chance to irritate an opponent. Grilli is more of a laid-back veteran who can provide regular laughs and also guidance, like he recently did by spending time with Mike Foltynewicz after the heralded prospect had a rough outing.
Though his physical appearance and highly competitive approach might allow him to be mistaken for a mixed martial arts fighter, Gomes can control the mood of the clubhouse with his great sense of humor and always optimistic mindset.
"When you see Gomes, you make sure you do the right thing," Braves shortstop Andrelton Simmons said. "He's scary, but he's a nice guy."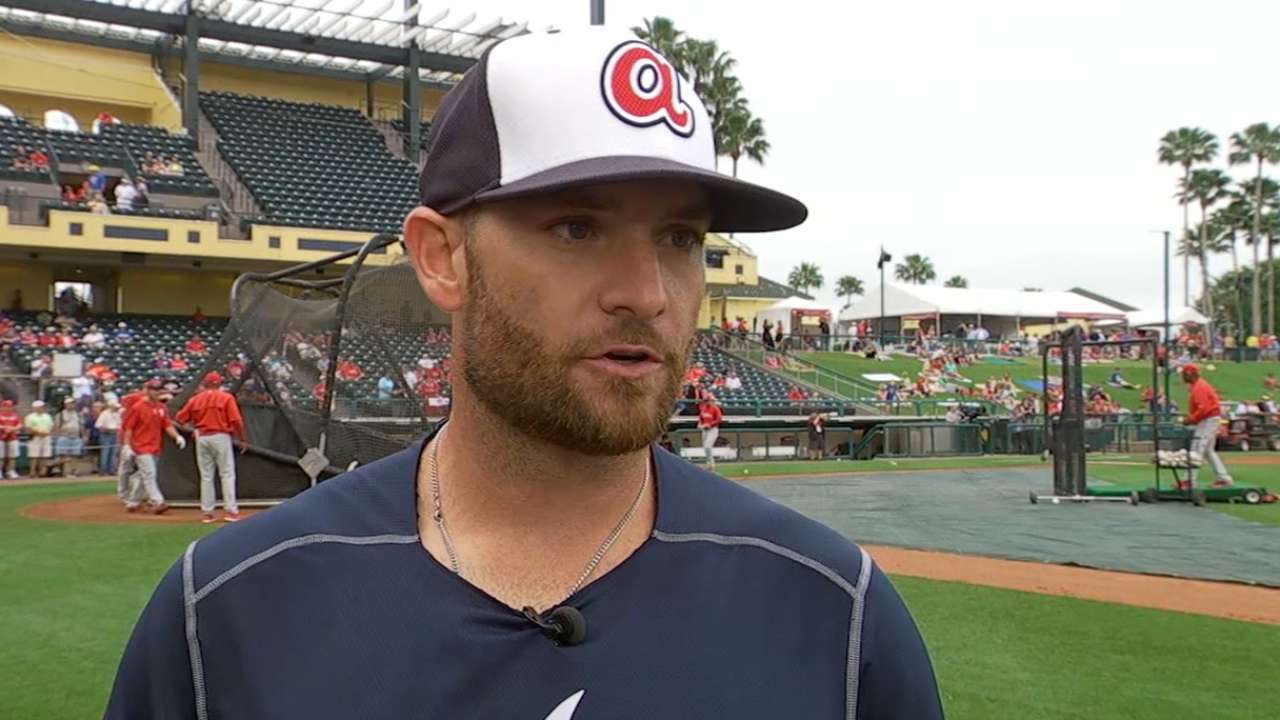 Markakis, who has rarely been seen smiling over the past month, also provides a no-nonsense, regimented approach. But there is no doubt that he is prepared to continue providing the same kind of leadership that he did the past few years with the Orioles.
Recognizing that manager Fredi Gonzalez has countless other responsibilities, Markakis told his new skipper that he would take care of policing the clubhouse, a responsibility that Smoltz, Glavine, Jones and a few select others handled for Atlanta over the past few decades.
Though they all bring a little something different to the table, Gomes, Markakis, Grilli and Pierzynski have all made concerted efforts to create an atmosphere where it is understood that mediocrity is not acceptable, even though some fans and media members are doubting the Braves this year.
"When you're in the big leagues, you're expected to win," Grilli said. "It's not about development, that's what the Minor Leagues are for. When you get to the big leagues, it's time to win. So put on your big-boy pants and go out and win."
Mark Bowman is a reporter for MLB.com. This story was not subject to the approval of Major League Baseball or its clubs.