'Locked in' Phelps extends dominant spring
Long reliever throws five scoreless innings, lowers Grapefruit League ERA to 0.56 ERA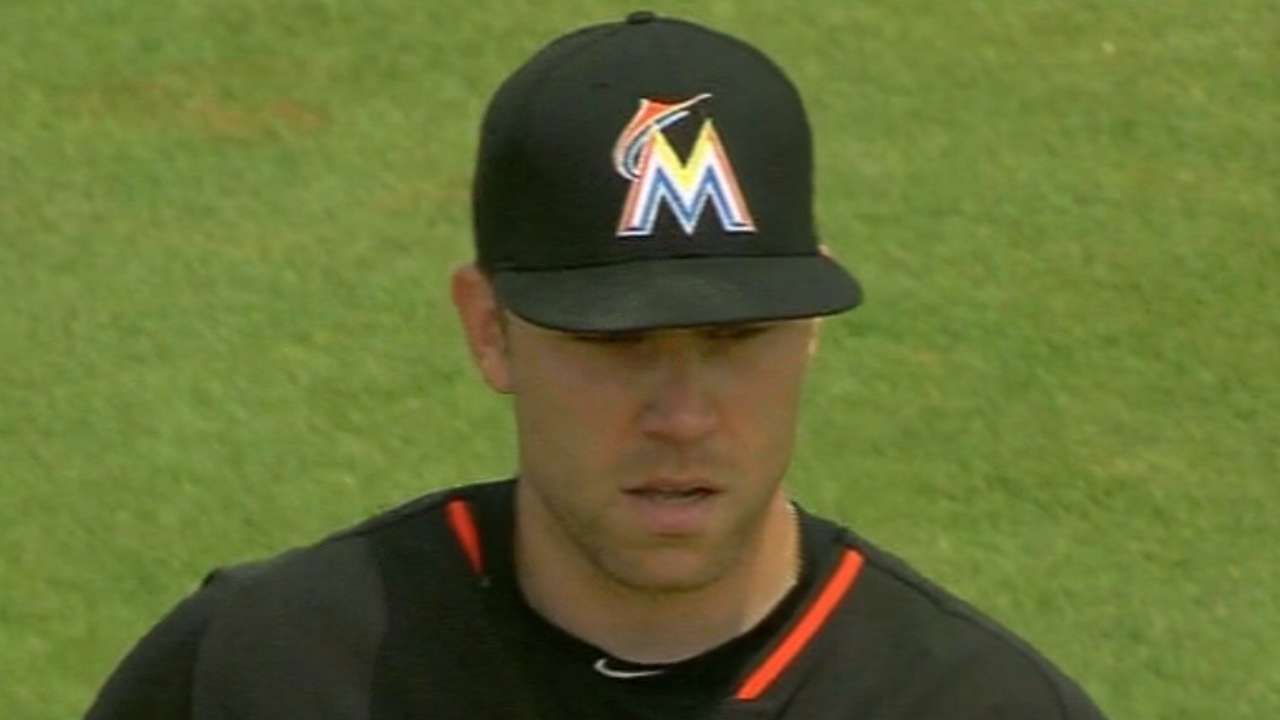 LAKELAND, Fla. -- The Marlins' starting rotation is "not 100 percent set" yet, manager Mike Redmond said, but it seems pretty clear David Phelps won't be a part of it. Phelps has certainly made his case clear on the mound, though.
Phelps continued his dominant Grapefruit League run on Wednesday at Joker Marchant Stadium, holding the Tigers to two hits over five scoreless innings.
The 28-year-old right-hander leads the Marlins in innings this spring, with 16, and his minuscule 0.56 ERA speaks for itself. He has walked seven batters, but he's given up only eight hits while striking out 12.
"This is the best I've felt, mechanics-wise and stuff-wise," Phelps said. "I feel pretty locked in right now."
Yet Phelps will probably find himself in a long-relief role to start the season. The rotation that's "not 100 percent set" includes Henderson Alvarez, Jarred Cosart, Mat Latos, Dan Haren and Tom Koehler.
That would leave Phelps and Brad Hand pitching out of the bullpen, but they'd be stretched out and ready to fill in whenever necessary.
"It gives us depth. That's something that we tried to address in the offseason -- bring in guys that have been starters that could fill that role," Redmond said. "It's nice for us to have those guys in whatever role they are going to end up being in."
This dance is nothing new for Phelps, who faced similar questions with the Yankees each Spring Training from 2012-14. After that, he compiled a 15-14 record and a 4.21 ERA while making 40 starts and 47 appearances out of the bullpen.
"This spring's no different than my last three," Phelps said. "I'm pretty satisfied with the way it's gone. Hopefully regardless of where I'm pitching in the game, just keep putting up some zeros."
He's done that so far this spring, and he continued to do so Wednesday against a Tigers lineup that featured most of the club's best hitters.
Phelps doesn't possess typically overpowering stuff. Over the last three seasons, his fastball has clocked in at an average of 90.4 mph. But he's shown he can be effective when he locates his fastball and mixes in the rest of his pitches.
That was the case Wednesday. Phelps was aggressively throwing strikes, either getting ahead of the Tigers or forcing them to swing early in the count.
No matter where Phelps ends up come Opening Day, the Marlins have to like what they've seen so far this spring.
"He's relentless on the corners," Redmond said. "I think that's what's made him successful. You don't have to throw 96 [mph] in this league to win ballgames and to be effective. You've just got to be good on the corners. I think you saw that today."
Adam Berry is a reporter for MLB.com. Follow him on Twitter at @adamdberry. This story was not subject to the approval of Major League Baseball or its clubs.