Marlins close to making tough decision on bench
With two spots likely open, position versatility, pinch-hitting key; Solano helps cause vs. Tigers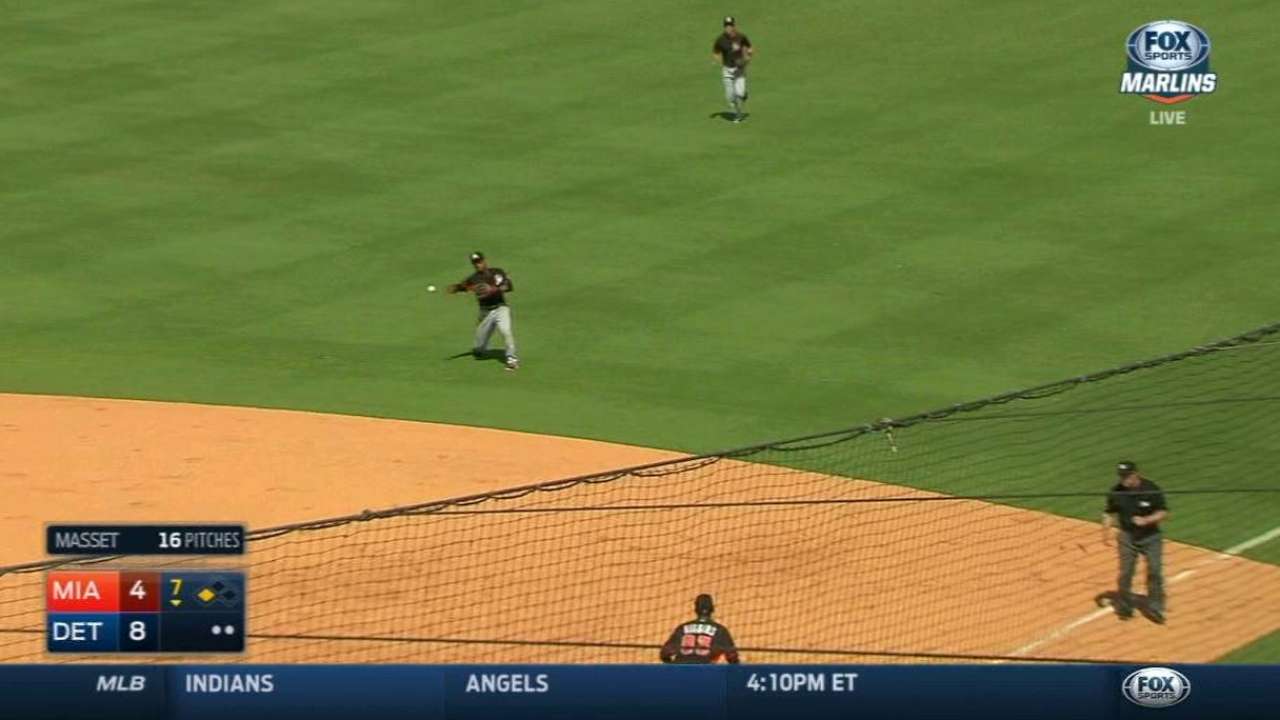 LAKELAND, Fla. -- With Opening Day less than two weeks away, the Marlins are preparing to round out their roster. Their rotation appears to be set, their everyday lineup intact and their bullpen mostly accounted for.
Perhaps the biggest task facing Miami's front office and coaching staff, then, is deciding how to fill out the club's bench.
"That's a conversation that we're going to have in the next few days," Marlins manager Mike Redmond said Wednesday. "It's going to be a tough decision, man. They've all had great springs. They've all had chances to play. It's something that we'll have to discuss as a group."
With two spots likely up for grabs, the leading candidates are Donovan Solano, Reid Brignac, Don Kelly and Reed Johnson, with Jordany Valdespin, Tyler Colvin, Cole Gillespie and Scott Sizemore also in the mix.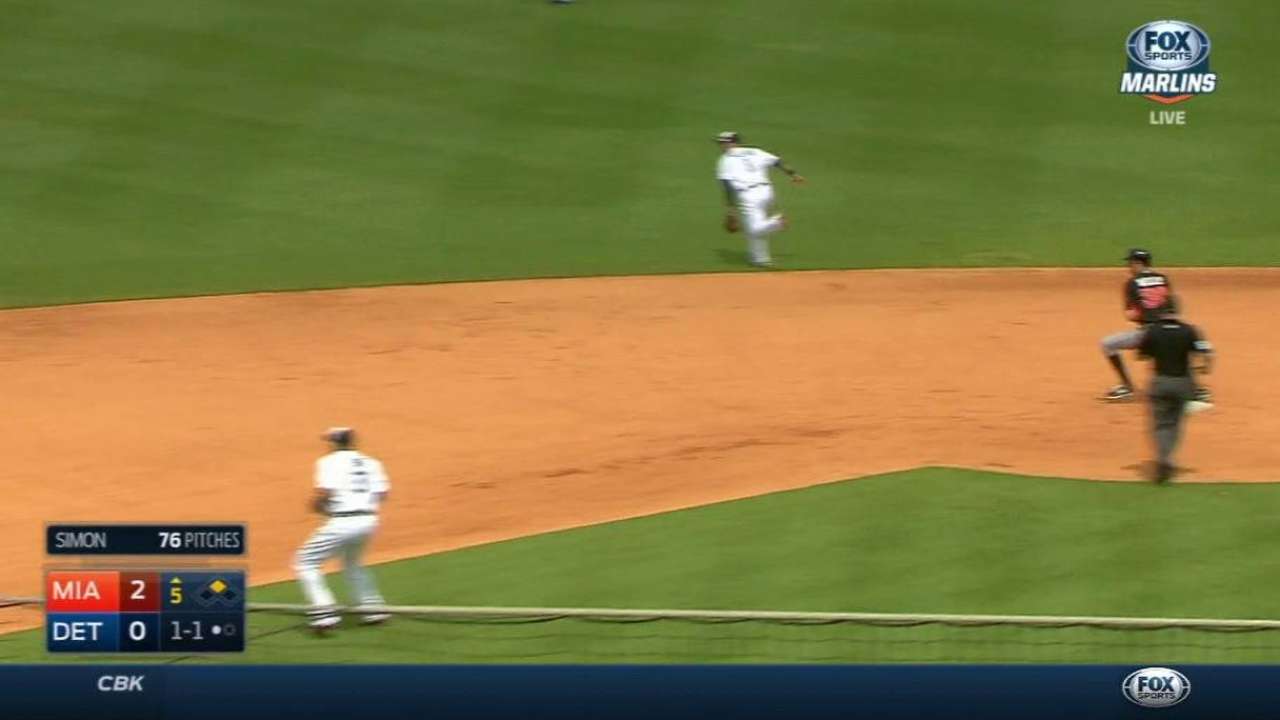 All eight players made the three-hour bus ride from Jupiter to Joker Marchant Stadium on Wednesday, but Solano and Brignac saw the most time on the field -- and Solano perhaps made the strongest case for himself.
Solano went 3-for-5 with a home run while playing five innings at shortstop and three more at second base. Brignac was 1-for-5 while splitting time at third base and shortstop. Kelly went 1-for-4 with an RBI and a run scored while playing first base.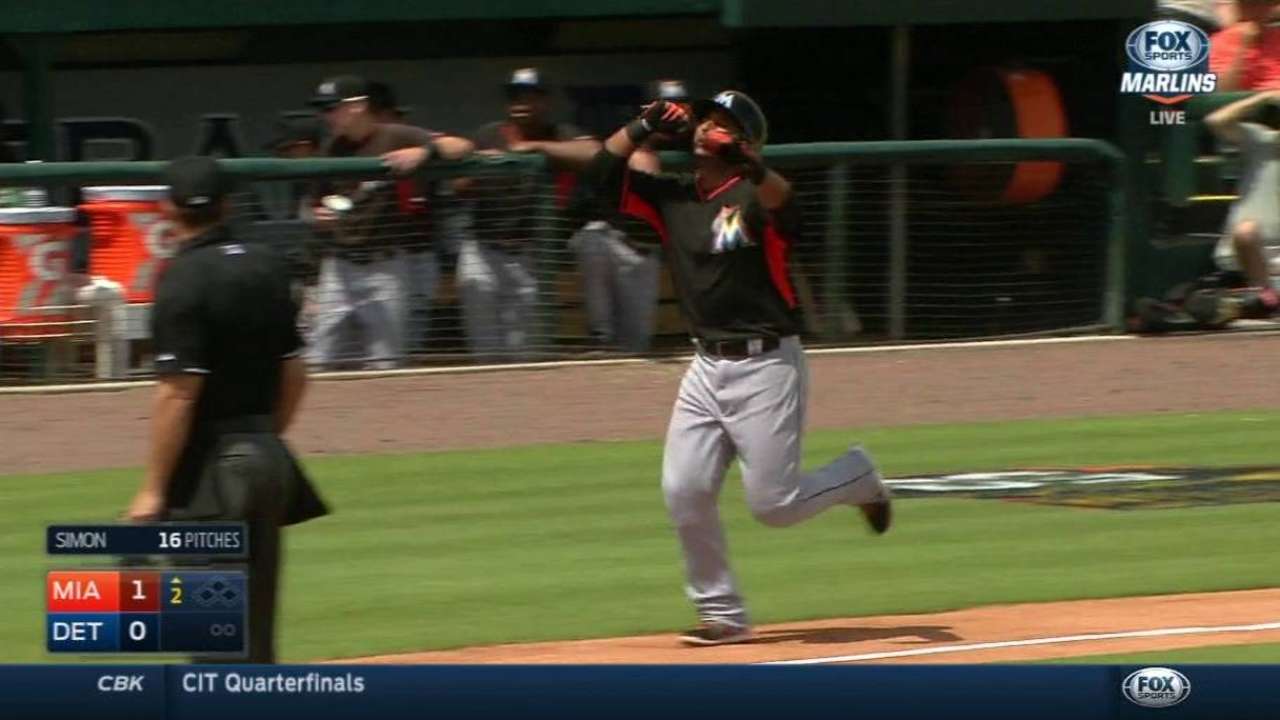 Redmond said the Marlins will look for defensive versatility and pinch-hitting prowess in their remaining bench players.
"How that sways one guy over the other, I don't know. It's good to have tough decisions. That's what you want," Redmond said. "That's usually a sign that your team and your organization's getting stronger, to have those tough decisions.
"We definitely have got one coming up -- a couple of 'em."
Around the horn
• Left fielder Christian Yelich returned Wednesday after sitting out three days due to a blister on the palm of his right hand. Yelich went 1-for-4 in the Marlins' 8-4 loss to the Tigers.
"He could have played yesterday," Redmond said. "We just wanted to give him a couple days off to make sure he was feeling good, but he's back."
• Reliever Sam Dyson gave up six runs on six hits in the sixth inning. Dyson served up two runs on five singles before Tigers catcher Bryan Holaday did most of the damage on a two-out grand slam to left.
"Sinkerball guys, when they get up, that's usually what happens," Redmond said. "But he'll be all right. He's got great stuff."
• Reliever Aaron Crow tossed a perfect eighth inning with one strikeout while pitching for the second straight day.
"He's done a good job throwing strikes. This guy's had a lot of success in the big leagues," Redmond said. "I know he had kind of a rough year last year, but he brings a wealth of experience as well."
Adam Berry is a reporter for MLB.com. Follow him on Twitter at @adamdberry. This story was not subject to the approval of Major League Baseball or its clubs.