Rupp putting up big numbers to be Ruiz's backup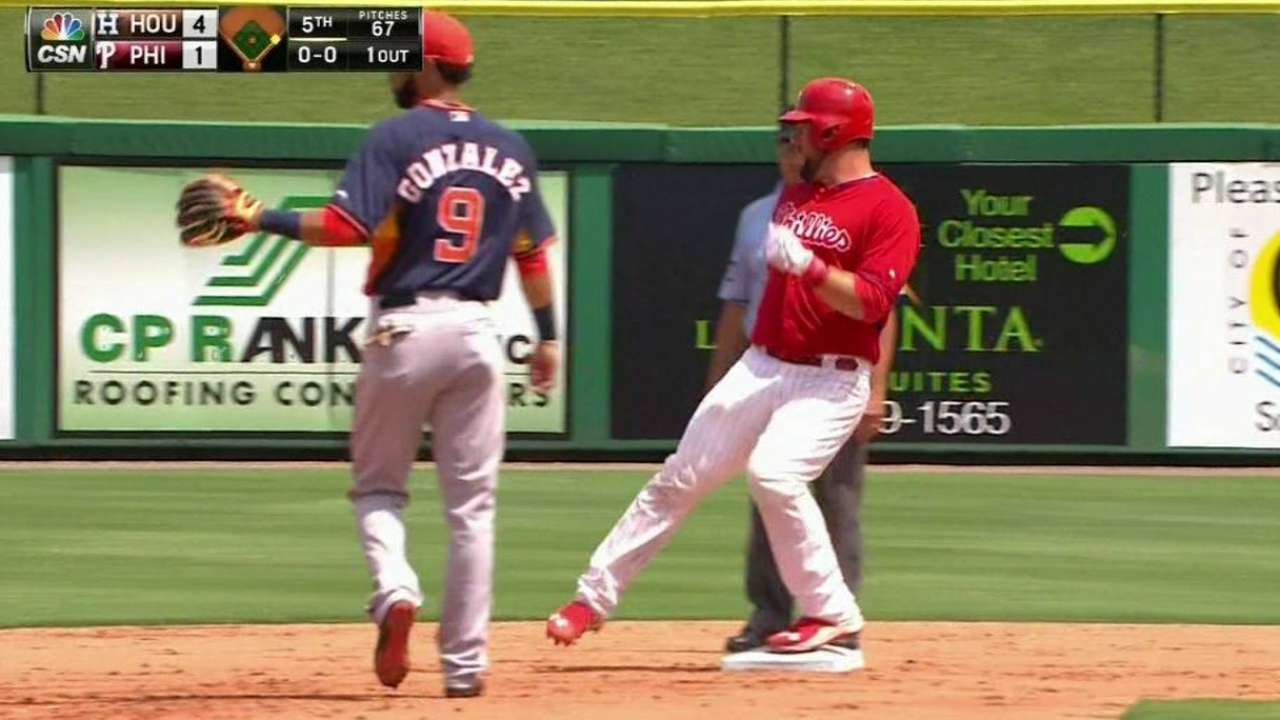 CLEARWATER, Fla. -- Cameron Rupp should be a cinch to be Carlos Ruiz's backup on the Opening Day roster.
The Phillies have not announced anything with the opener 12 days away, but Rupp is hitting .391 (9-for-23) with five doubles and three RBIs in 11 Grapefruit League games. He doubled in the fifth inning in Wednesday's 7-1 loss to the Astros at Bright House Field.
"He's making contact," Phillies manager Ryne Sandberg said. "He's shortened his stroke a little bit, and he's strong. It's resulting in some extra-base hits. But Cameron, yeah, he's making some progress there. He's getting some pitches to hit, not missing them. He's driven the ball to all fields, and he has some pop in his bat."
Rupp's only serious competition in camp is Koyie Hill, who is hitless in 11 at-bats with three walks and five strikeouts.
"I feel confident and comfortable in the box," Rupp said. "I'm taking pitches that I know I can't hit instead of putting a bad swing on it. Now, when I get a pitch in my zone, I'm being aggressive. The swing feels good."
Rupp has hit .205 in 78 plate appearances in the big leagues. He hit .165 in 219 plate appearances last season with Triple-A Lehigh Valley. The 26-year-old suffered a strained left oblique in April, which he said put him in a hole.
Rupp said Wednesday he now feels like his old self again. Rupp showed he could hit in earlier Minor League seasons. He posted a .720 OPS in Class A Lakewood in 2011, a .770 OPS in Class A Clearwater in '13 and a combined .755 OPS later that season with Double-A Reading and Lehigh Valley.
"It feels good to be confident up there," Rupp said.
Rupp is intriguing as a backup, because if the Phillies monitor Ruiz's playing time -- he is 36 and has never started more than 113 games behind the plate in any season -- he could get enough at-bats at the big league level to further his development.
It looks like he will be getting that opportunity.
Todd Zolecki is a reporter for MLB.com. Read his Phillies blog The Zo Zone. Follow him on Twitter. This story was not subject to the approval of Major League Baseball or its clubs.