D-backs adding local hits to ballpark fare
Churro Dog, Lo-Lo's among highlights new to Chase Field's menu in 2015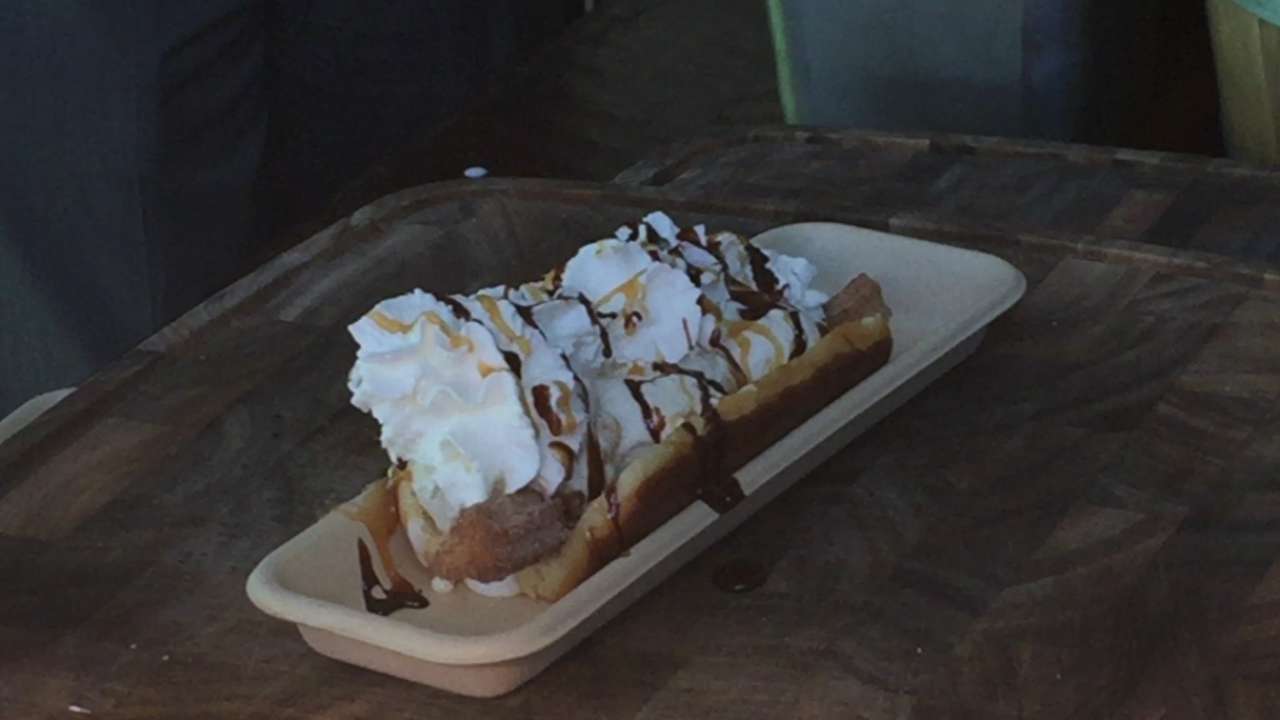 PHOENIX -- Traditional ballpark fare will always have its place at Chase Field, but as D-backs fans attending games there this year will no doubt notice, there will be many more options beyond hot dogs and hamburgers.
"We've tried to create 'wow' items each and every year that have been big hits," D-backs team president and CEO Derrick Hall said. "But in addition to that, we want to create great destinations with local favorites."
Hall gave the media a tour of the Chase Field concourse, which was dotted with workers putting the finishing touches on the transformation, including a redesigned and expanded Team Shop.
"We've redesigned and reimagined our Team Shops," Hall said. "We also took some of our fixed merchandise stands on the concourse, and we've built walk-in stores."
The menu boards at all of the concession stands will now be digital, which will give the team more flexibility to make changes with offerings, or to offer specials.
Here are some of the food options from local restaurants that will be available in 2015:
Lo-Lo's Chicken and Waffles: This popular restaurant will offer its signature fried chicken and waffles made from scratch. It will also offer its unique side dishes that are not often found at a ballpark, including fried green tomatoes, spicy corn fritters and mac and cheese.
America's Taco Shop: Founded in Phoenix in 2008 by America Corrales, America's Taco Shop will offer fresh made-to-order items such as burritos, tacos, nachos and quesadillas.
Paradise Valley Burger Co.: The local restaurant, which was recently featured on the Food Network, will offer some of its specialty burgers, like Paradise CHZ, Beach House Burger and Burger Parmesana.
Zoyo Neighborhood Yogurt: Fans will have the opportunity to customize their frozen yogurt with unique toppings that range from sprinkles to mochi, which is a Japanese rice cake.
Food Truck Alley: Located on the plaza just outside Gate A, the D-backs, along with Best in Show Events, will feature local food trucks that rotate each series to offer fans fresh, new items.
For fans with a sweet tooth, the D-backs will offer the Churro Dog, which is a warm cinnamon churro served on a donut bun and topped with Zoyo Neighborhood Yogurt, whipped cream, caramel and chocolate sauce.
New to Chase Field this year: the Churro Dog. pic.twitter.com/drUK3rITxX

- Arizona Diamondbacks (@Dbacks) March 4, 2015
Sure to be popular with the kids will be candy stations at which fans can fill a bag of loose candy, which will be priced by the weight.
Then there are Ballpark Poppers, which will feature items you would likely find at a State Fair, such as deep-fried cheeseburger poppers.
Adult craft beer fans will want to make their way to The Draft Room, which will serve more than 20 draft flavors. Previously called the Arizona Baseball Club, The Draft Room is open to all fans looking to enjoy the game in a casual pub-like setting.
"It's a new look and feel here at Chase Field," Hall said. "We're getting away from the concept of concessions. At Chase Field, you're always going to have your ballpark fare. But now there's more. We've brought in a lot of the local talent, a lot of local, popular spots."
Steve Gilbert is a reporter for MLB.com. Read his blog, Inside the D-backs, and follow him on Twitter @SteveGilbertMLB. This story was not subject to the approval of Major League Baseball or its clubs.