Miggy moves up timetable, looks solid at first
Cabrera makes diving stop to rob hit in opening inning of spring fielding debut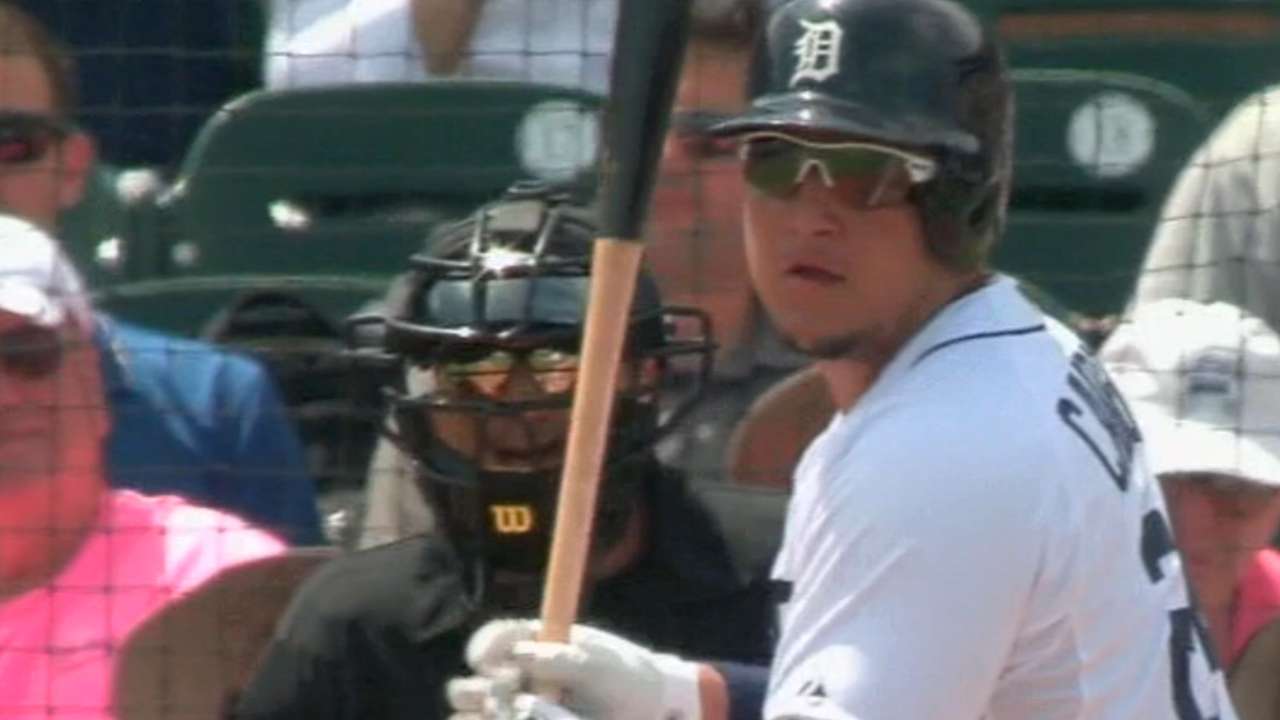 LAKELAND, Fla. -- Don Kelly had to smile and say something as Miguel Cabrera picked himself up off the infield dirt at Joker Marchant Stadium on Wednesday.
It wasn't that Cabrera had just taken a base hit and an RBI away from a former teammate who's battling for a job with another team. Kelly could live with that.
"I told him, 'You can't be diving like that. You might get hurt,'" Kelly said.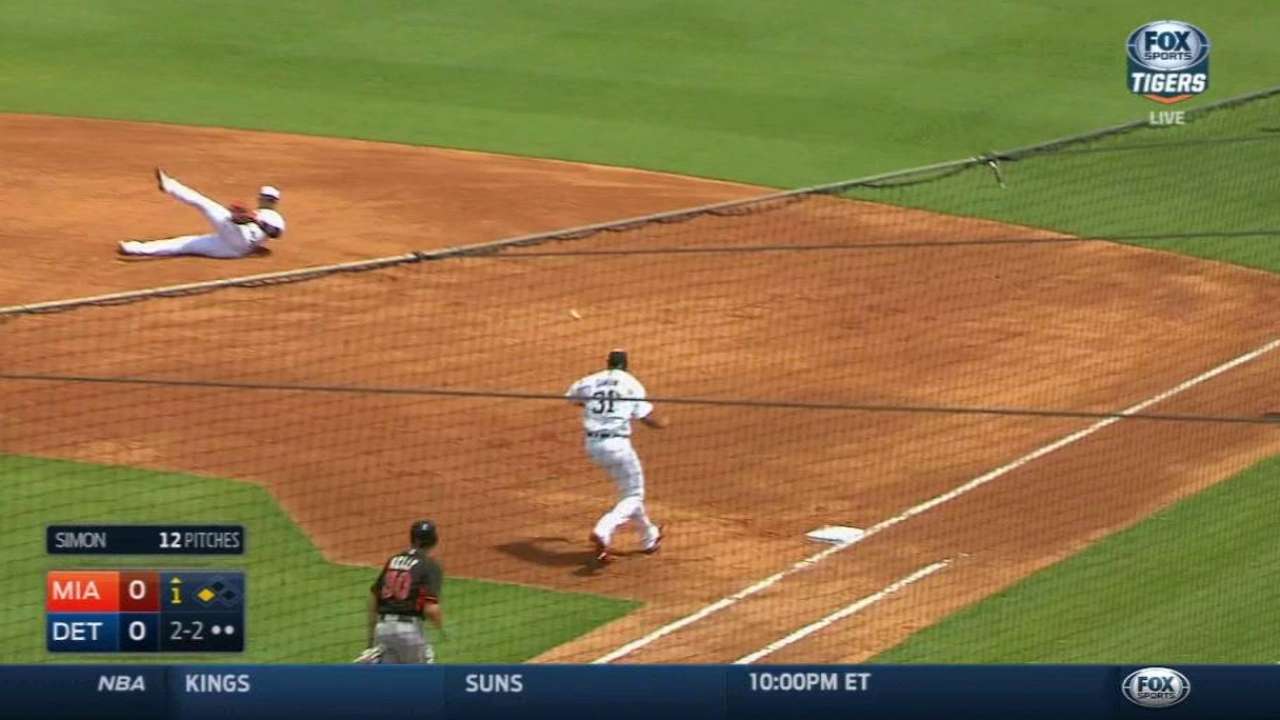 He was half-kidding with his concern. Manager Brad Ausmus wasn't.
"I liked it when he got up and smiled," Ausmus said after the Tigers' 8-4 win over the Marlins. "He's a very important part of the team. You don't want to lose him coming off of a major surgery. So I was concerned. But when he came up smiling, I was relieved."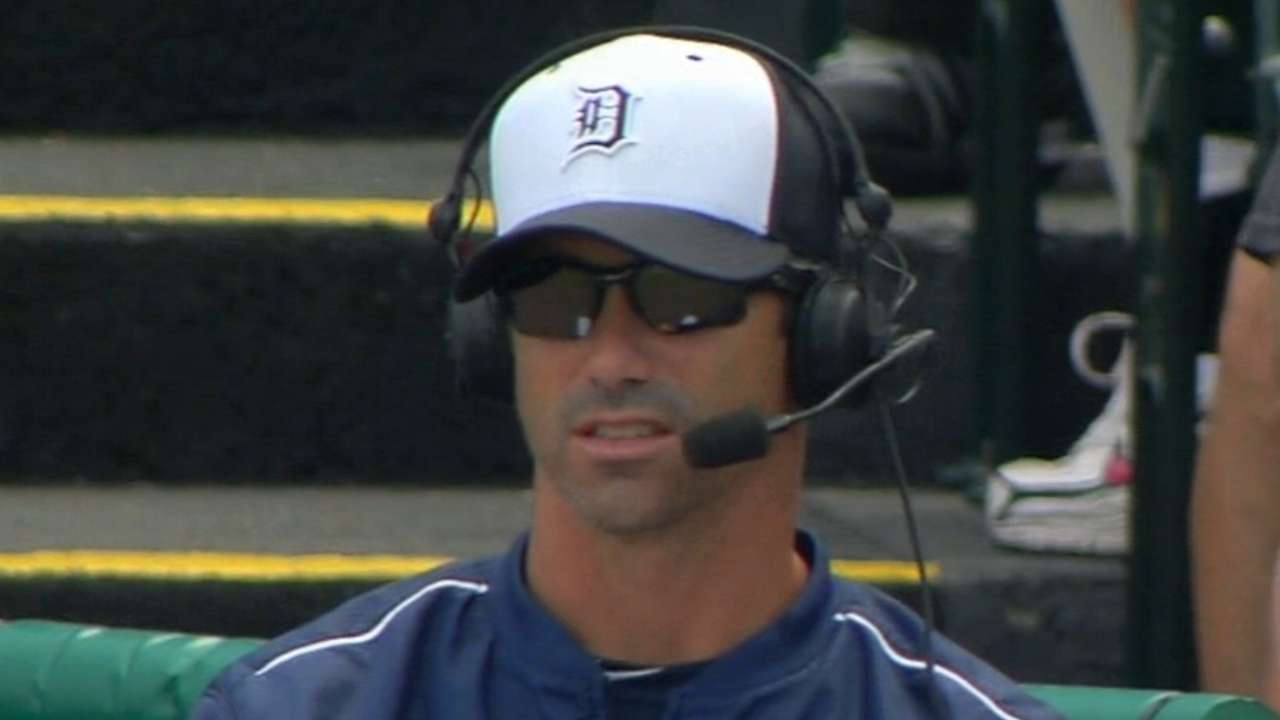 Cabrera originally wasn't scheduled to make his first start at first base this spring until Thursday, especially after serving as the designated hitter against the Yankees on Tuesday night. He convinced head athletic trainer Kevin Rand that he felt good enough to move up the timetable a day, rather than DH in a Minor League game as previously planned. Thus, Cabrera and Victor Martinez were in the same lineup Wednesday, albeit for just four innings.
"I feel very good," Cabrera said. "I'm glad to be back at first and try to get in the rhythm, try to get in baseball shape. I was so happy to be out there at first base and try to play defense."
Offensively, Cabrera went 0-for-2, flying out to right field in the first inning before grounding out to second base in the fourth. Defensively, Cabrera put on a show of sorts.
His dive into the hole on Kelly's ground ball and throw from his seat ended the first inning with a runner on third. An inning later, Cabrera made an off-balance, on-target throw home for a forceout with the bases loaded, denying another Marlins run. Both plays put his surgically repaired right ankle and foot to the test.
"It feels very good," Cabrera said. "I try to make plays, and to make that play in that situation, I don't think about my ankle, my feet. Right now I'm focused on [trying to] go out there and play."
It was a bright spot on an otherwise sloppy day for Tigers infield play, which included two fielding errors and an infield single that bounced off Jose Iglesias.
If things go to plan, Cabrera will be back at first base for Thursday's game against the Orioles, then take Friday's game off. From that point on, he'll spend the final week getting ready, getting not only at-bats at the plate but repetitions in the field.
Jason Beck is a reporter for MLB.com. Read Beck's Blog and follow him on Twitter @beckjason. This story was not subject to the approval of Major League Baseball or its clubs.