Molitor takes Vargas under his wing
Twins skipper wants his young first baseman to not waste his power in batting practice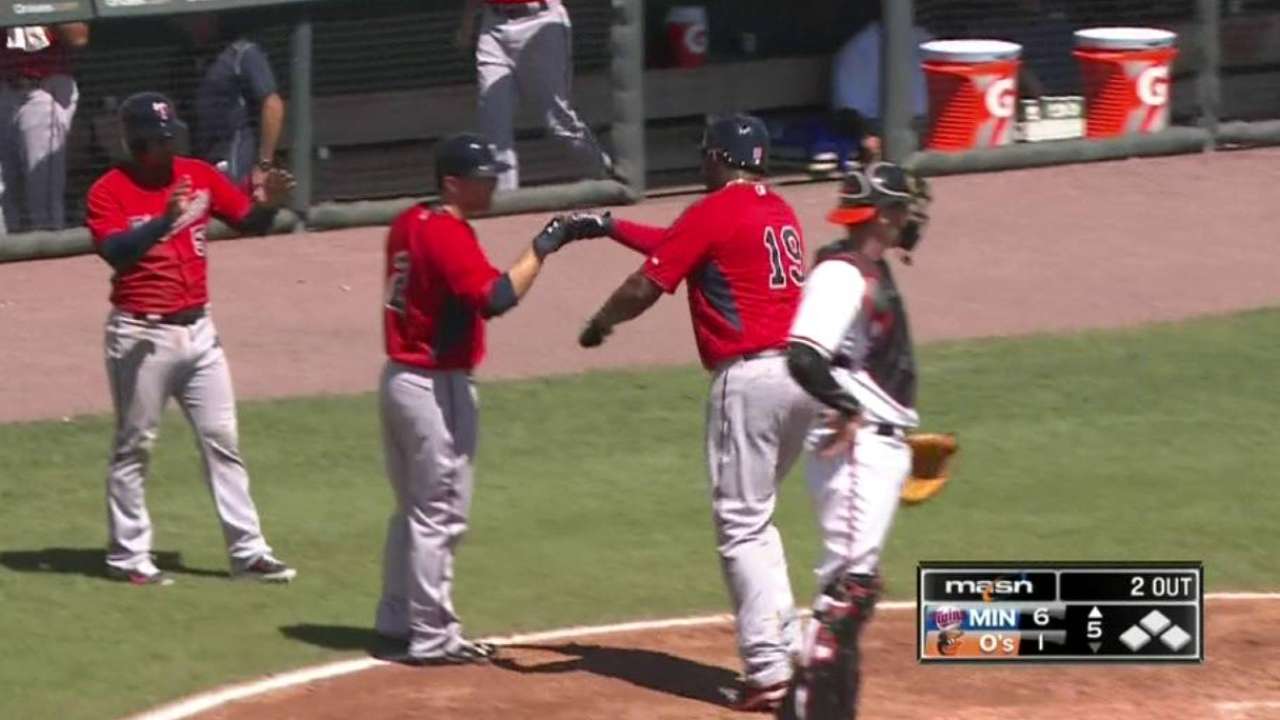 FORT MYERS, Fla. -- Twins manager Paul Molitor stood out on a back field at the team's spring complex on Tuesday, watching Kennys Vargas take batting practice.
This wasn't a passive exercise, however. Molitor, a Hall of Famer and 3,000-hit club member, would issue Vargas a reminder before each round.
"If you hit a home run, you want it to be a line drive," Molitor told him.
Vargas, a 24-year old listed at 6-foot-5 and 275 pounds, is plenty strong, as he showed while almost launching a home run out of Hammond Stadium during the Twins' 2-1 loss to the Rays on Wednesday. He doesn't need to power up to drive the ball over the fence, no matter how tempting that is.
"We try to keep him from playing home run derby in batting practice," Molitor said. "With the lack of velocity during that, he can pretty much do what he wants and get away with it."
Molitor believes that practice habits can translate negatively to games. A swing that generates homers in BP with significant lift might not be so productive when the at-bats count.
So Molitor and his staff constantly remind Vargas, Oswaldo Arcia and some of the other players who enjoy using batting practice to launch baseballs into orbit that those homers don't "mean a thing."
When you're a player with the natural ability to hit homers, you don't have to try to do too much. In terms of Vargas' mechanics, that means creating a swing path that doesn't "come around the ball" and hook it foul.
"It's fun once in a while at the end of your round to go ahead and do some things that kind of break up the mundane routine of having to perfect your craft," Molitor said. "But in general, it's not how you want to go about getting better as a hitter."
So the manager was encouraged during Wednesday's sixth inning, when Vargas -- a switch-hitter batting right-handed -- took a cutter from Rays lefty Jeff Beliveau and not only blasted it over the left-field berm, but kept it just fair to knot the game at 1.
It was Vargas' fourth homer and eighth RBI in 47 plate appearances this spring -- and a reminder of the damage he can inflict.
"We need a higher foul pole," Molitor joked.
Andrew Simon is a reporter for MLB.com. Follow him on Twitter @AndrewSimonMLB. This story was not subject to the approval of Major League Baseball or its clubs.