Angels may start season without a fifth starter
Candidates for final rotation spot have made decision a tough one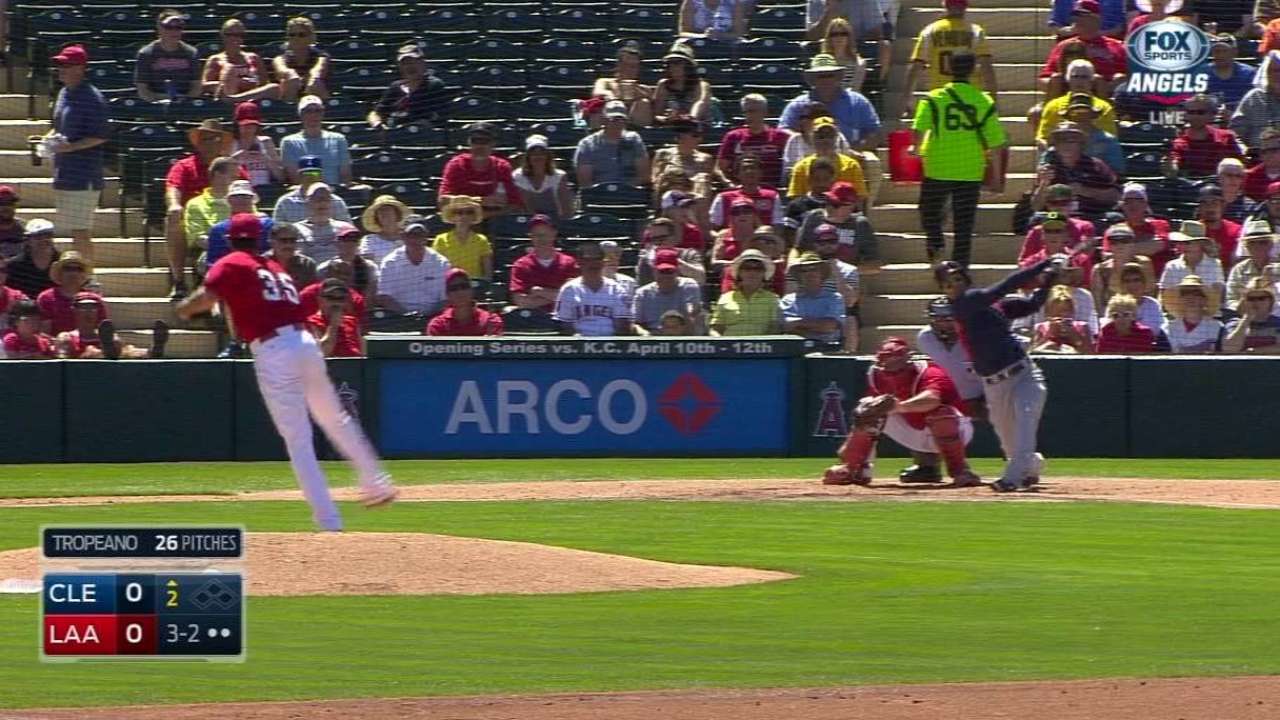 TEMPE, Ariz. -- The Angels' fifth starter to begin the season could be Andrew Heaney, Nick Tropeano, one of the less-heralded players remaining in camp, or nobody.
Opening Day is less than two weeks away and several options remain on the table, at least publicly.
If Angels manager Mike Scioscia has already decided who will fill out the rotation, he isn't saying.
"We have a lot of things to evaluate," Scioscia said after Wednesday's game. "It's going to be much easier when we look at getting to six or seven guys throwing the ball well, which hopefully we're approaching."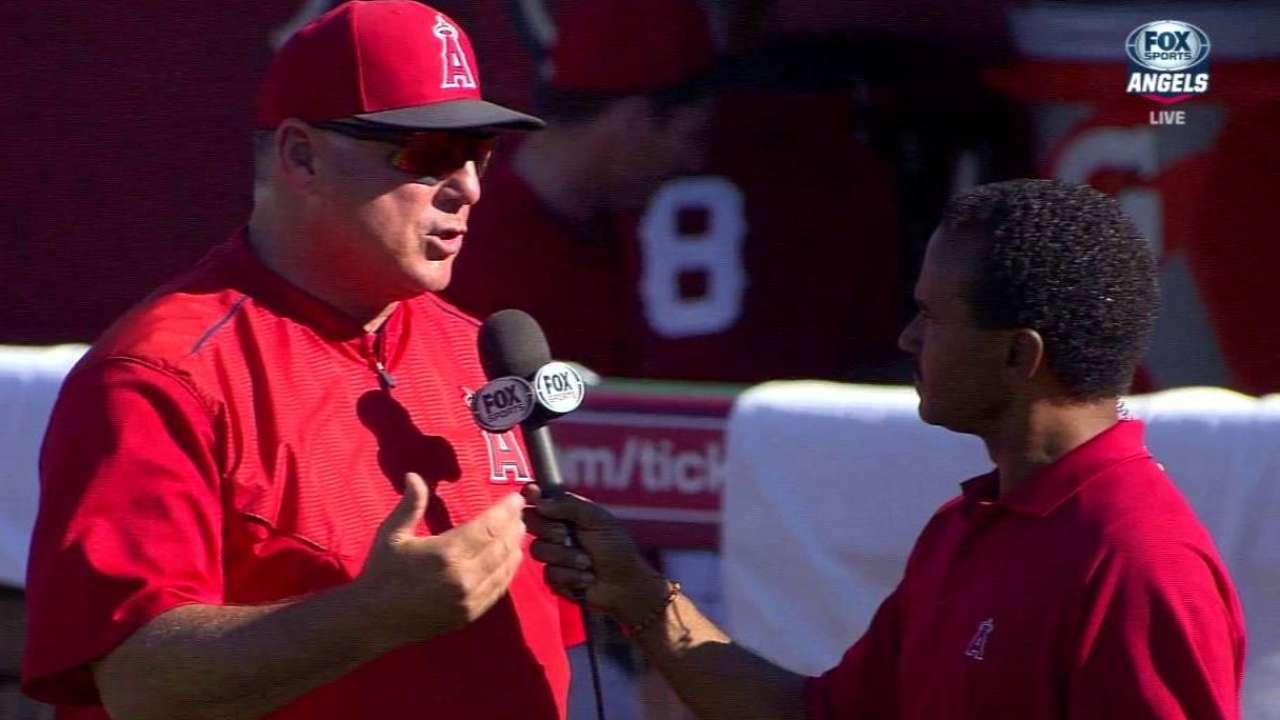 It's pretty clear that Jered Weaver, C.J. Wilson and Matt Shoemaker will start the season-opening series in Seattle, in that order. And it's also become evident that Hector Santiago, who dominated Indians Minor League hitters in a B game Wednesday morning, has solidified himself as the No. 4 starter.
The rest seems hazy, partly because none of the two main candidates have separated themselves and partly because of how the schedule plays out.
The Angels are off April 9 and won't need a fifth starter until April 14. Garrett Richards could be ready by then. The 26-year-old right-hander threw four no-hit innings against Cubs Minor Leaguers on Monday and lines up to have three more starts -- all in a Minor League environment -- by the time the Angels must turn to a five-man rotation.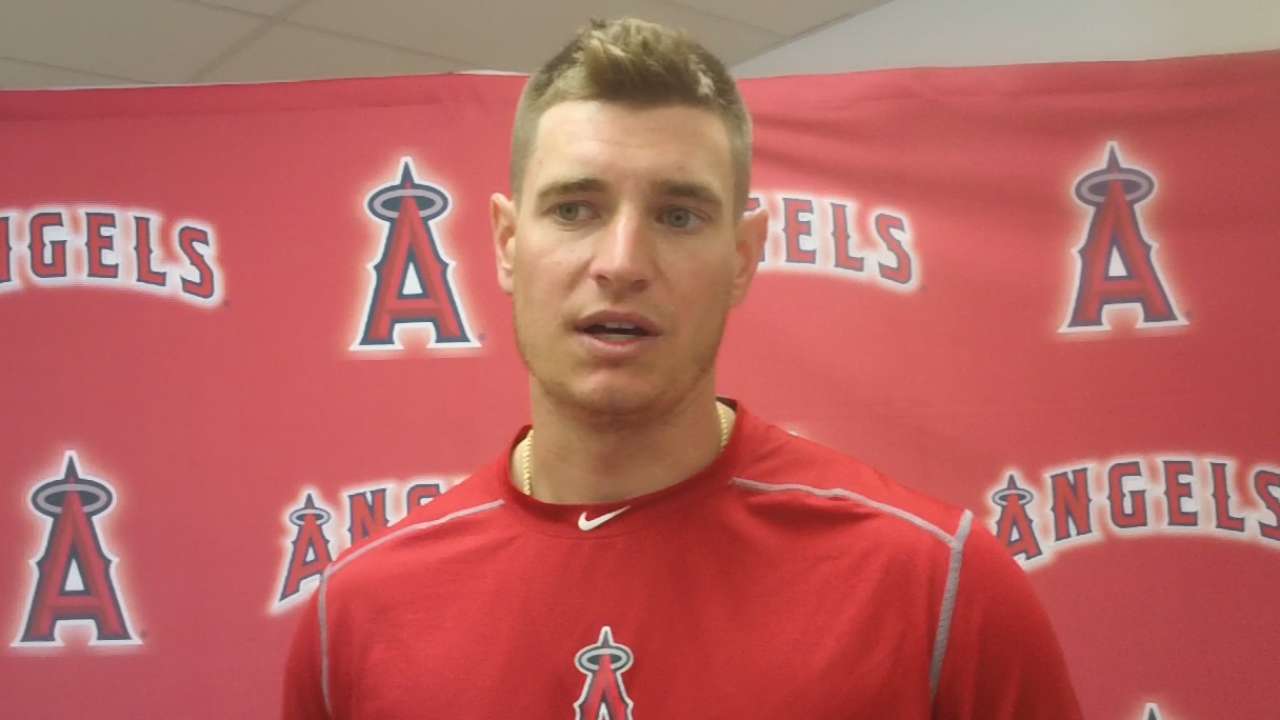 If that's the case, and the Angels opt to keep their first three starters on normal rest the first time through the order, Heaney and Tropeano would probably both start the season in the Minor Leagues. That would give the Angels an seight-man bullpen for the first seven games, with starters like Drew Rucinski and Jose Alvarez potential options to make the team as long relievers.
Heaney and Tropeano have each shown flashes of how good they can be, but they've each struggled, too.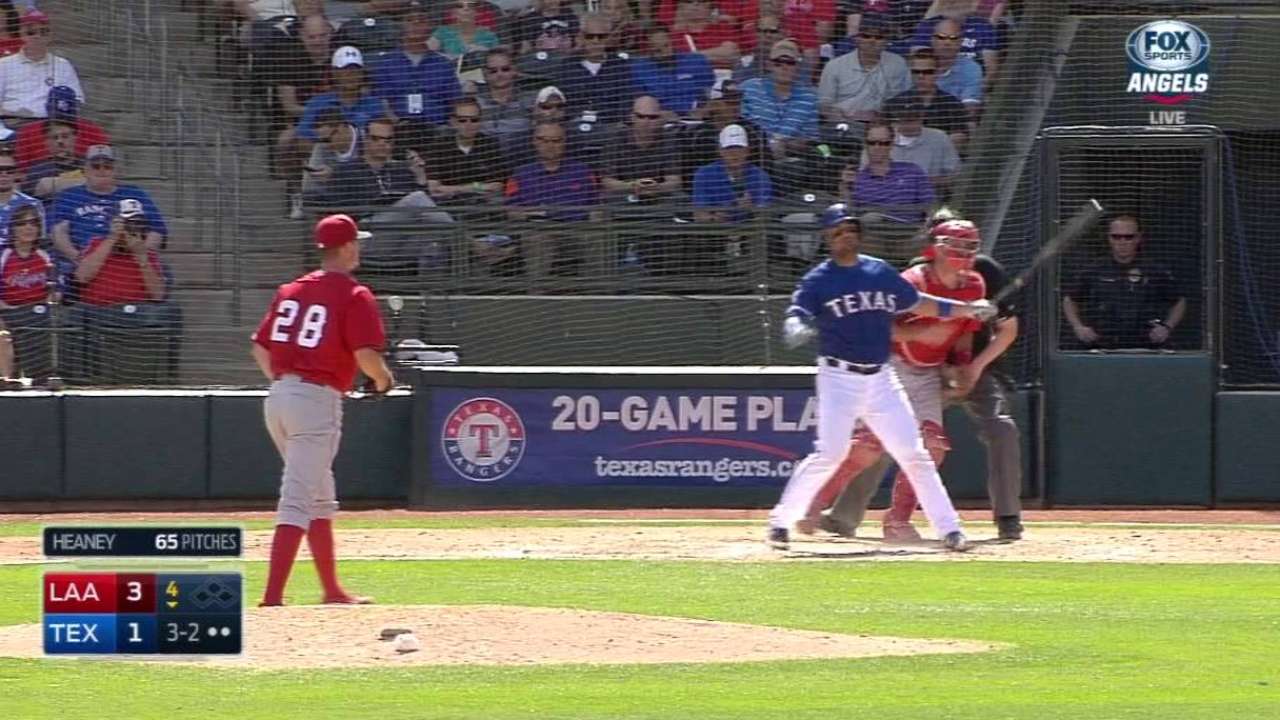 Heaney, acquired from the Dodgers for Howie Kendrick, has an 8.36 ERA in four Cactus League starts and has been burned by one rough inning in each of his last two outings. Tropeano made his first Cactus League start Wednesday, stifling Indians hitters with his fastball-changeup mix for the first three innings but walking two batters and giving up three runs (one earned) in the fourth.
Scioscia nonetheless called it a "big step forward" for Tropeano.
"I'm here for a reason," Tropeano said. "I just have to run away with it and keep working hard and stay focused."
Asked whether he believes the fifth spot is still wide open, Scioscia said: "There's a lot of things that can go into consideration. But you look at all the guys who have been throwing the ball well, we can look at a lot of different things as we start the season. We don't need a starter [until] the 14th, so there will be some things that we'll look at."
Worth noting
• Santiago gave up just one run on two hits and a walk in six innings of his B game start against the Indians in the morning, striking out nine. Santiago said he "threw first-pitch strikes with all my pitches" in his 80-pitch outing.
• Scioscia confirmed the obvious, while basically asserting that Drew Butera will be the backup catcher. Butera is out of options, and Scioscia said he "has the experience and confidence to go back there and work with the staff."
• Left-handed power hitter Marc Krauss hasn't played since Sunday because of back spasms, but Scioscia said he felt better Wednesday and will take batting practice Thursday morning, in hopes of getting more at-bats. Krauss, 9-for-18 with five walks this spring, is in the running for the last bench spot.
Alden Gonzalez is a reporter for MLB.com. Read his blog, Gonzo and "The Show", and follow him on Twitter @Alden_Gonzalez. This story was not subject to the approval of Major League Baseball or its clubs.