Sands' monster blast earns honor, manager's praise
Indians utility player's home run from Tuesday deemed 'Swing of the Day'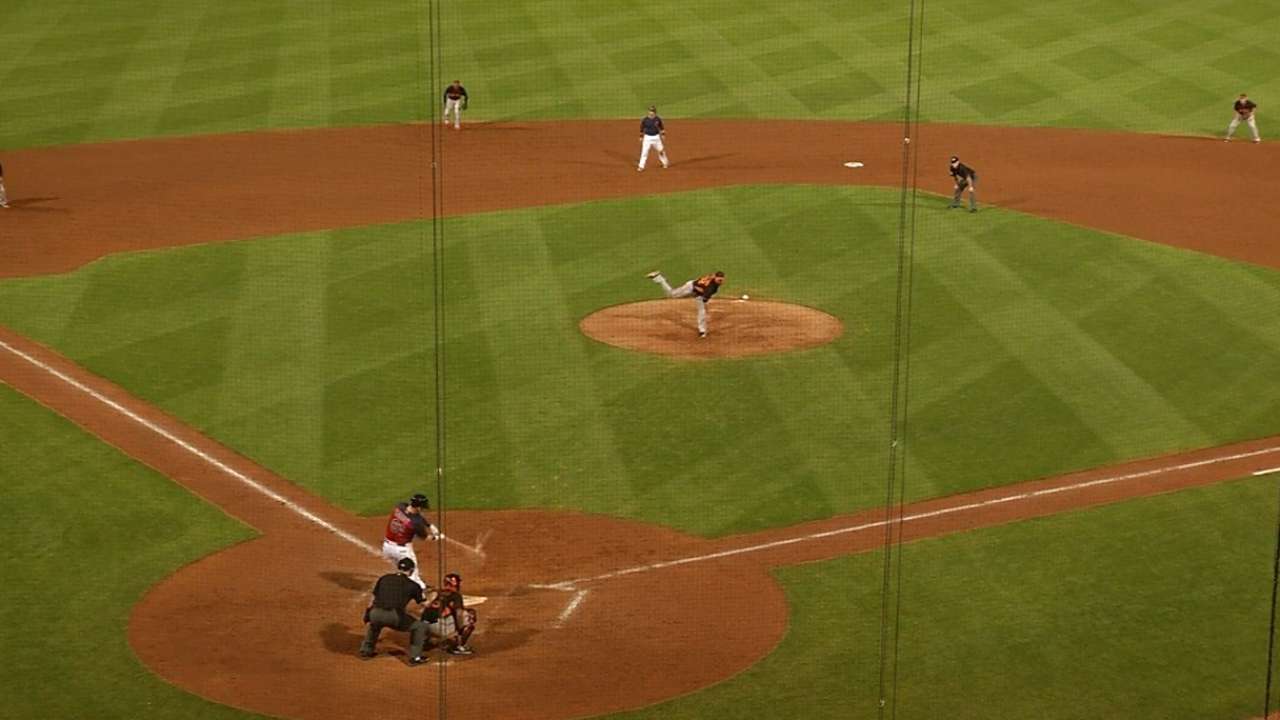 GOODYEAR, Ariz. -- Brandon Moss looked at the whiteboard inside the entrance to the Indians' clubhouse on Wednesday morning and shook his head. As he predicted, there were eight still photos on display, breaking down Jerry Sands' home-run swing from the previous night's game.
Sands' tape-measure blast was deemed the "Swing of the Day" by Cleveland hitting coaches Ty Van Burkleo and Matt Quatraro, even though Moss also had a rocket shot to right field in the Tribe's 9-5 romp over the Giants. Considering that both blasts were worthy of the daily honor, Moss was asked if there should have been co-winners this time.
"No," Moss said as he walked away. "I don't want charity."
Sands smiled when told of Moss' feigned disgust.
"This is my first one," Sands said. "I'm sure he's going to have a few more swings that will get 'Swing of the Day.'"
Spring Training hero Jerry Sands, Swing of the Day winner for his 480-foot bomb over Goodyear Ballpark batter's eye: pic.twitter.com/ngje81yoHH

- Jordan Bastian (@MLBastian) March 25, 2015
Moss will be hard-pressed to duplicate Sands' homer heroics, though.
In the third inning against San Francisco, Sands lifted a pitch from right-hander Ryan Vogelsong to straightaway-center field at Goodyear Ballpark, where the baseball sailed well over the tall, green batter's eye. The wall is believed to be roughly 55 feet high and the Indians announced Sands' shot was an estimated 480 feet.
"I guess they got their obtuse triangle out," Sands quipped.
Indians manager Terry Francona was not sure about the measurement.
"I would say it had to be more," Francona said. "I mean, to go over that thing, as hard as it was going, you have to figure it had to go more than 80 feet over the wall. Maybe not. I don't know. That ball was hit. That was pretty impressive."
Francona has been just as impressed with the way the 27-year-old Sands -- a non-roster invitee -- has handled Spring Training overall. Coming off July surgery on his left wrist, Sands has bounced between right field and first base, while batting .387 (12-for-31) through 13 games. Sands fits the criteria of an intriguing bench option: He bats right-handed, hits lefty pitching well and plays multiple positions.
"They've got a pretty stacked roster right now. It's pretty full," Sands said. "[Francona] is pretty straightforward. He told me there's obviously opportunity -- a right-handed bat -- but he just told me, with the wrist and stuff, to go out and don't take every at-bat to heart. Get your work in, get back going. Then, if I don't make the Opening Day roster, OK, but still work my way back and hopefully I'll have an impact on the team at some point."
Jordan Bastian is a reporter for MLB.com. Read his blog, Major League Bastian, and follow him on Twitter @MLBastian. This story was not subject to the approval of Major League Baseball or its clubs.