Kipnis nears return after positive Minor League outing
Indians second baseman has missed seven games with mid-back spasms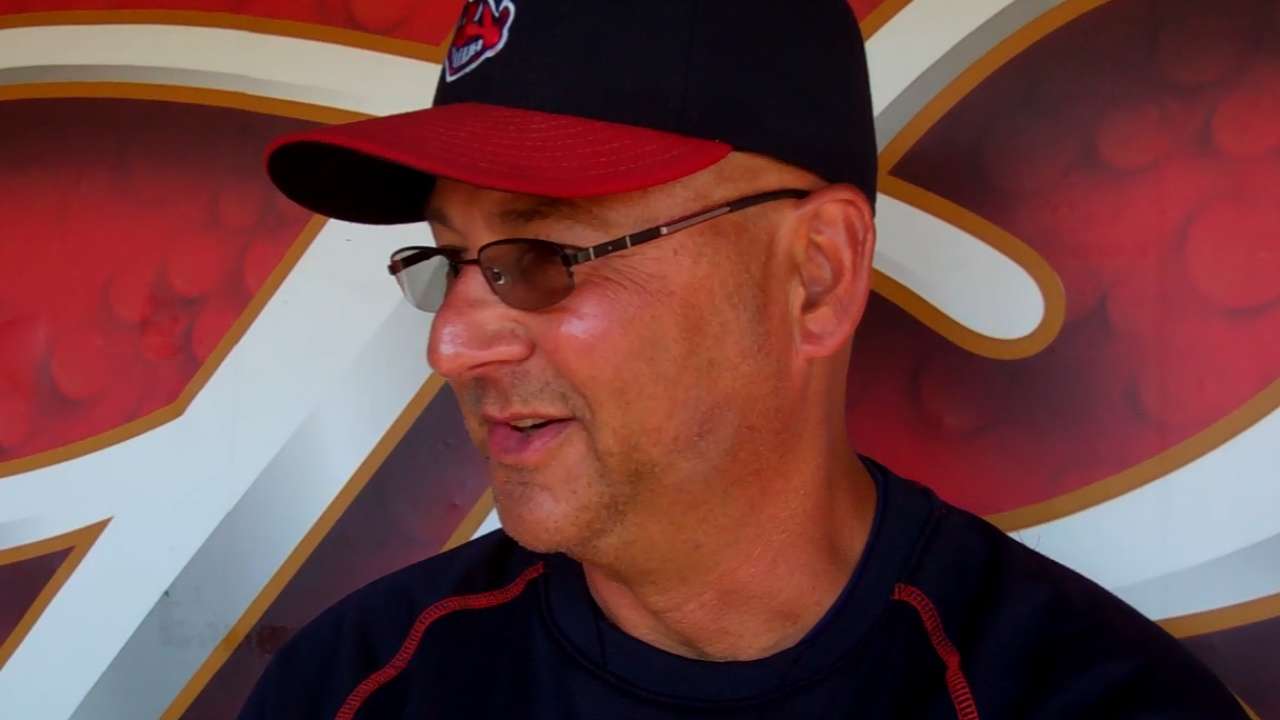 GOODYEAR, Ariz. -- Jason Kipnis tested out his sore back in a series of at-bats in a Minor League game Wednesday, making Indians manager Terry Francona optmistic about the second baseman's chances of returning to a Cactus League game soon.
"He's having a good day," Francona said. "The plan is, if he feels good, we'll play him tomorrow. But, you want to kind of reserve the right to [change your mind], if he needs a day. But, I think all signs are pointing that he was moving around pretty good."
Kipnis, who has missed the past seven games due to mid-back spasms, resumed hitting activites a couple days ago, leading up to Wednesday's game action. He was slated to play five innings in the field, while batting third in each inning in the Minor League game.
"I think he turned a corner," Francona said. "Now, we don't want to overdo it. Sometimes you try to play catch-up and that doesn't make a lot of sense. But a day like today was good for him. He can get a lot of at-bats without having to stand out there for four hours, which is really good."
Worth noting
• Francona noted that left-hander Bruce Chen, who is not in the team's Opening Day roster plans, has indicated to Cleveland that he is willing to go to Triple-A. The Indians have also given Chen the ability to opt out of his contract if a Major League opportunity presents itself with another team.
Veterans Scott Downs and Shaun Marcum, who can opt out of their Minor Leagues contracts with the Indians before the end of camp, are still weighing their options since being informed that they will not be a part of the Opening Day roster.
"There's a reason we want to keep them around," Francona said. "But, at the same time, you want them to have every opportunity for themselves. I thought [general manager Chris Antonetti] expressed it really well. We'll try to help them, but in the meantime, we love having them."
• On Tuesday, Indians starter Carlos Carrasco logged 5 2/3 innings in a Minor League game, finishing with 10 strikeouts, one hit allowed, no walks and no runs. Carrasco was sitting around 95-97 mph with his fastball and topped out at 97 mph.
"I felt great," Carrasco said. "I found what I've been looking for -- the same tempo as last year and the same mentality as last year and the location. That's the most important thing. My location for everything -- my fastball, curveball, slider, changeup -- that was great."
• To this point in spring, Brandon Moss (right hip surgery in October) has played only right field or served as a designated hitter for the Tribe. Francona said Cleveland will likely have him play first base at some point before the end of camp.
Jordan Bastian is a reporter for MLB.com. Read his blog, Major League Bastian, and follow him on Twitter @MLBastian. This story was not subject to the approval of Major League Baseball or its clubs.