Stubbs eyes timing as reason for surge in K's
Rockies outfielder feels mechanics are fine, looking for simple fix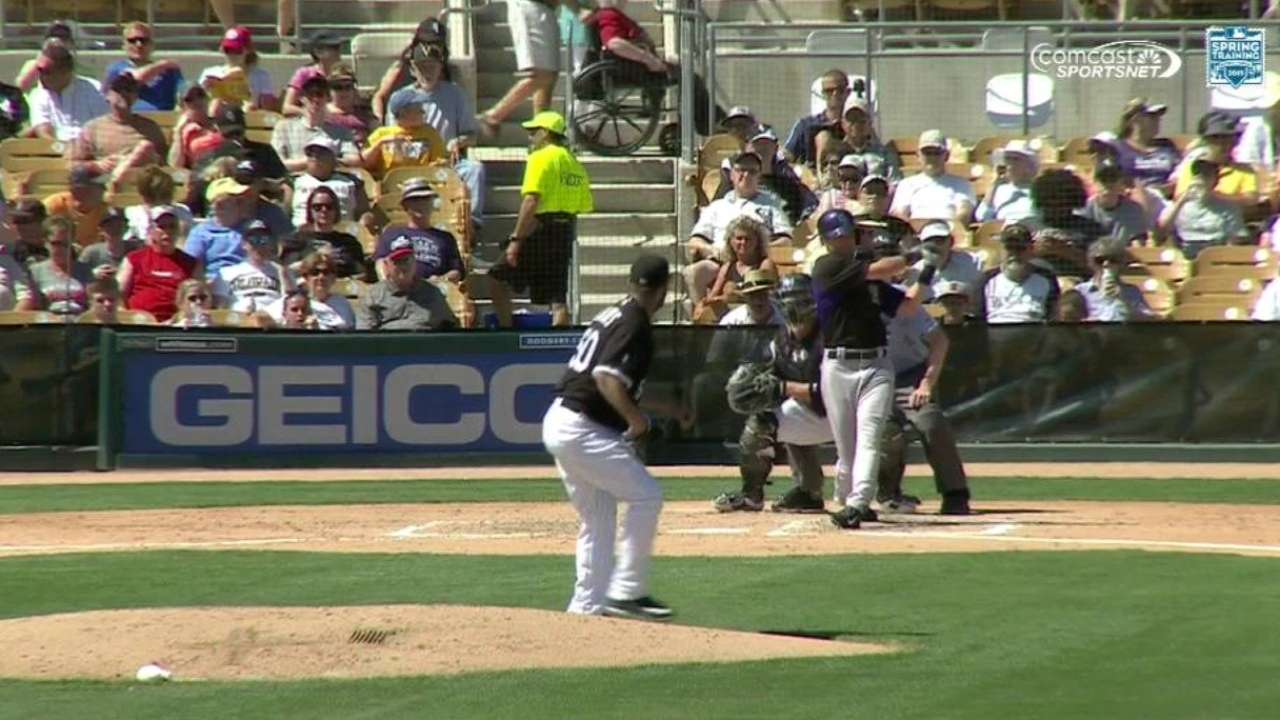 SCOTTSDALE, Ariz. -- The strikeouts are coming in bunches for Rockies outfielder Drew Stubbs, but he has pinpointed the root of the issue.
Stubbs, who has power and speed but also struggles with strikeouts, has fanned 17 times this spring, including eight in his last three games entering Wednesday. But Stubbs also has two home runs, and his six walks have him at a .359 on-base percentage, which actually is above the career-high .339 he established in 132 games with the Rockies last season.
"Up until a week ago or less than that, I was feeling really good at the plate," Stubbs said. "More recently, I'm going through a battle with my timing. I've been late a lot of times and it's causing me to not see the ball as well, and it's put me in a funk."
Stubbs has decided not to go back to scratch with his mechanics or basic hitting approach. He hopes a simple diagnosis will lead to a quick and lasting fix.
"The last few days I've had a lot of stuff going through my head, and that's where you can get yourself in trouble," Stubbs said. "You start having a lot of clutter. I'm trying to get to the root of it, which is timing.
"I was feeling way too good in my batting-practice work and my cage [work] before it started happening, so I know my swing is fine. If all the mechanics are working, it's got to be your timing."
Stubbs is tall with a lengthy swing, so strikeouts can be a problem. But the upside is power and speed.
Last season, after joining the Rockies in a trade with the Reds, he had a career-best .289 batting average, tied a career high with 22 doubles, and hit 15 home runs in 132 games. The homers tied for second-most in his career, but he played 150 games when he hit 22 homers in 2010 and 158 when he hit 15 in 2011, both seasons with the Reds. He also struck out in 32.1 percent of his at-bats, a career high.
The Rockies plan to continue using Stubbs as a part-time starter, since he has the defensive ability to play all three spots.
Thomas Harding is a reporter for MLB.com. Read his blog, Hardball in the Rockies, follow him on Twitter @harding_at_mlb, and like his Facebook page, Thomas Harding and Friends at www.Rockies.com. This story was not subject to the approval of Major League Baseball or its clubs.