Command is key for Bucs' reclamation arms
Focus of Searage, Benedict on throwing strikes continues to pay dividends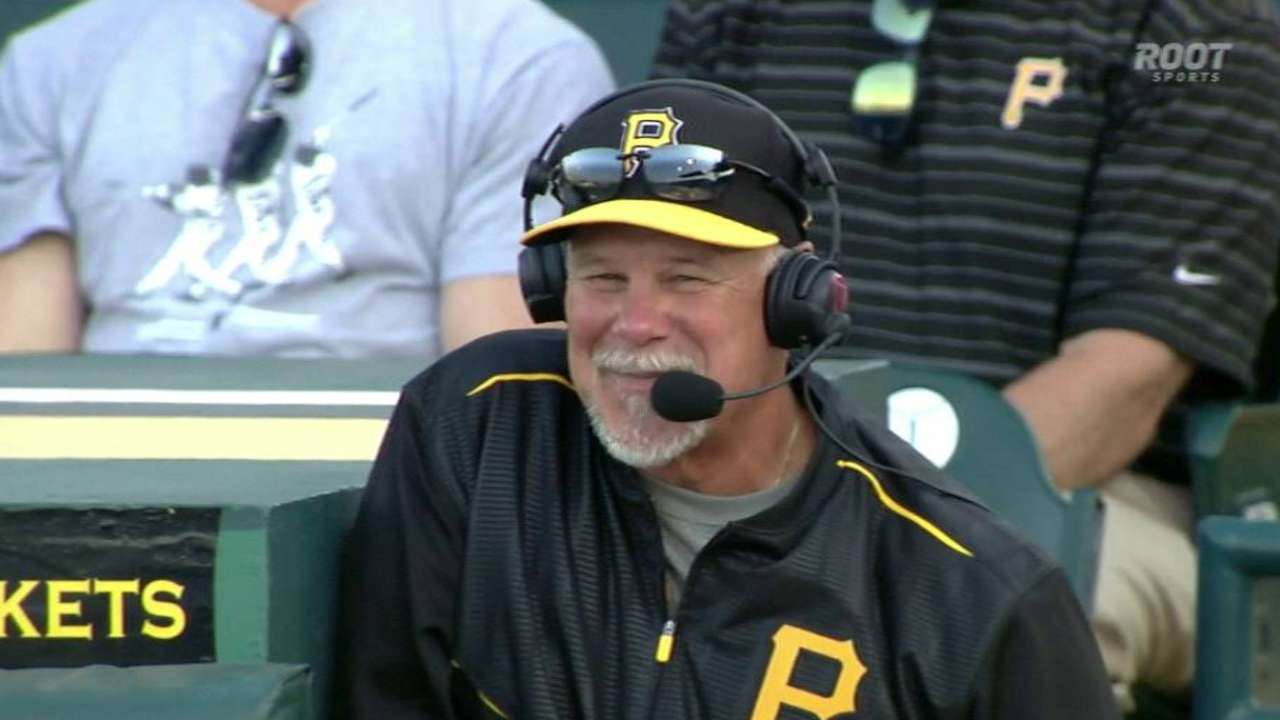 BRADENTON, Fla. -- For several years, Pirates pitching coach Ray Searage and Jim Benedict, a special assistant on general manager Neal Huntington's staff, have earned reputations for restoring pitchers.
When referring to Searage and Benedict, media, industry insiders and fans have thrown around adjectives like "brilliant," "miraculous," "uncanny" and "remarkable." We may have been shortchanging them.
Just when we think all their reclamation successes were simply fortunate lightning strikes, along comes an Arquimedes Caminero.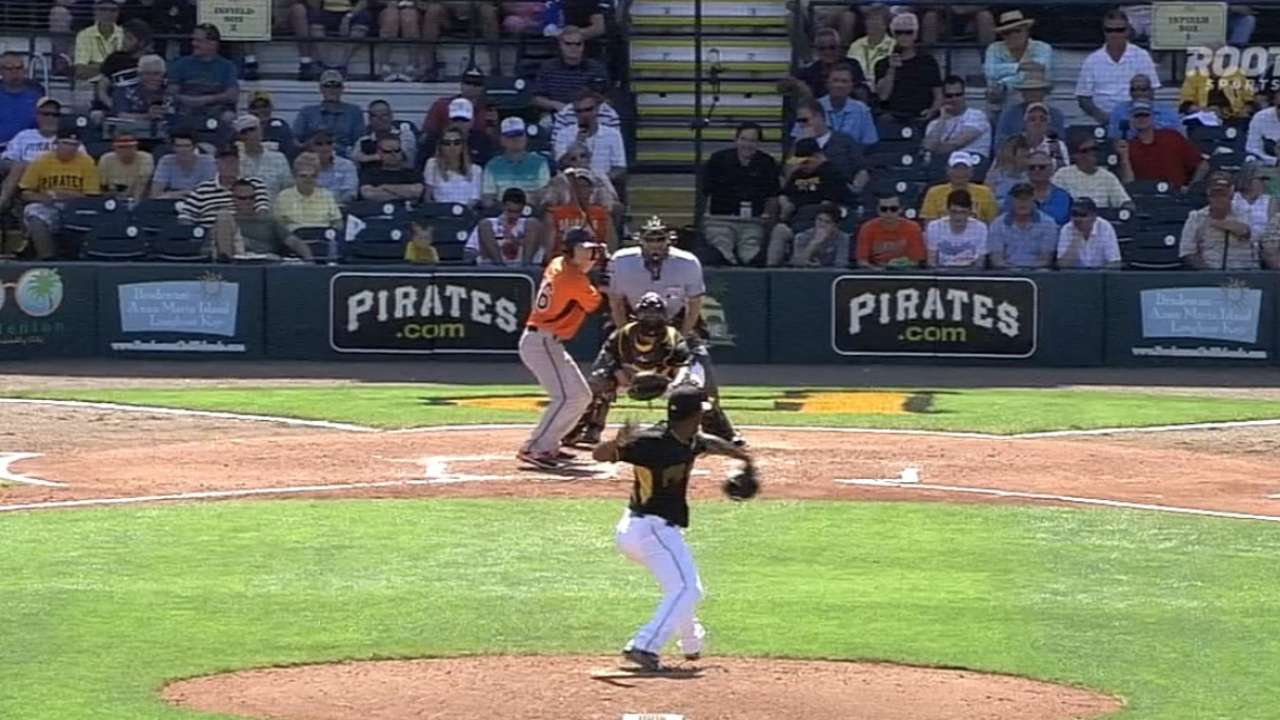 Caminero is a 27-year-old right-hander who has spent eight weeks in the Majors and nine years in the Minors, held back by an inability to control his very hard stuff. He has averaged 4.5 walks every nine innings.
So Caminero checks into the Searage & Benedict Clinic, and he nails down a seat in Pittsburgh's bullpen by striking out 16 while walking one in 10 exhibition innings.
"[Searage] got me to see things that were there, I just didn't notice them that much," Caminero said. "I was trying to throw too hard. He said, 'Go easier. The ball's still going to fly, and you'll be even better.' Once you see that work, you're confident doing it, and hitting my target becomes more important."
Caminero is the latest to become a control freak in a Pirates uniform. Snapshots of a truly freaky trend:
• Edinson Volquez had 182 walks in 353 innings in 2012-13, and he limited them to 71 with the Pirates in 2014.
• Vance Worley walked 15 in 48 2/3 innings with the Twins in 2013, 22 in 110 2/3 innings with the Bucs in '14 -- and one in 11 innings this spring.
• John Holdzkom issued 199 walks in 242 pro innings before joining the organization -- and four in 16 innings (including Spring Training) with the Pirates.
• Even Jeff Locke, after leading the National League with 84 walks (in only 166 1/3 innings) in 2013, resurfaced in '14 to total only six walks in his first eight starts (56 innings).
"They get the same message when they walk in the door: It's pound the strike zone; it's strike one," manager Clint Hurdle said. "Ray and [bullpen coach Euclides Rojas] preach about how at-bats play out after an 0-1 count."
That Searage message is illustrated with corroborating charts, which stun pitchers, remarkably enough given the statistics-driven age in which they play.
"At the beginning of Spring Training," Searage said, "I give them the numbers of what hitters hit once you start off 0-1 [.217 NL-wide in 2014] and what they hit after 1-0 [.268]. They see the improvement, and they are surprised. 'You want some numbers? Here's your numbers.'
"It's one of our main teaching tools. It gives them the mindset of first-pitch strikes, and being on the attack the whole time. Once you get ahead, stay ahead and put them away."
"We're all different," said Worley, who, following his purchase from Minnesota at the end of 2014 Spring Training, spent 2 1/2 months in Benedict's laboratory before getting called up.
"[Benedict] just finds ways to communicate -- not only using pitching terms, but if you don't get what he's saying, he'll say it in some weird way to get through to you. Then it's just finding ways to repeat your delivery. And if you do, you'll be able to command the ball better."
Tom Singer is a reporter for MLB.com and writes an MLBlog Change for a Nickel. Follow him on Twitter @Tom_Singer. This story was not subject to the approval of Major League Baseball or its clubs.