Pillar gets back into swing of things with homer in return
Outfielder embraced unlikely status as comedy star due to oblique injury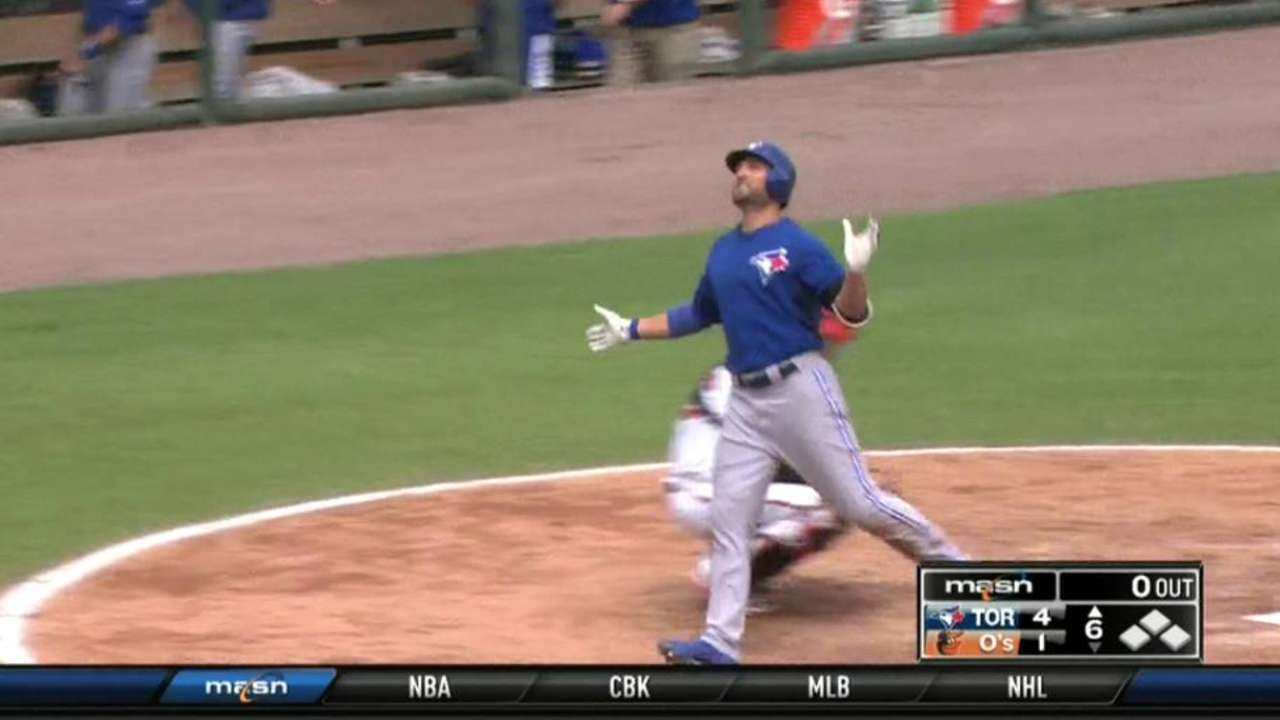 SARASOTA, Fla. -- Kevin Pillar received a lot of attention over the past two weeks for the sneeze heard around the world, but he's taken all of the jokes in stride.
Pillar became a bit of a late-night sensation when NBC's Jimmy Fallon cracked a joke about how the Blue Jays outfielder strained his oblique while sneezing. The jabs and criticism from others could have been taken in a bad light, but instead Pillar embraced it all.
The 26-year-old had a T-shirt made that said, "Ask me about my sneeze," and decided it was OK to have a few laughs at his own expense.
@jimmyfallon #askmeaboutmysneeze pic.twitter.com/niteNC9oz2

- Kevin Pillar (@KPILLAR4) March 18, 2015
"I hit a crossroad right there, where I could have let it break me," Pillar said. "And it started to at first, because I was very upset that it got out and it became as big of a story as it was. That was part of the reason behind the shirt. Me and my wife talked about it, and it was like, 'You have a good opportunity here to make fun of yourself, and eventually it will go away.'
"It was fun for a while, [because] being a guy that is fairly unknown, people always say there's no such thing as bad publicity. When it gets as big as Jimmy Fallon, you just have to laugh at it."
Pillar made his return to the field on Wednesday afternoon following a 10-day absence, and it didn't take him very long to get back into the swing of things. The third-year outfielder went deep in his third at-bat of the game with a solo shot to left field. It was his second homer and seventh RBI of the spring, and showed that his timing at the plate is still there.
All things considered, the injury didn't turn into that big of a deal. Strained obliques often tend to linger, but in this case Pillar was able to get rid of the discomfort relatively quickly and will have more than a full week to get ready for Opening Day.
"When they sent me a week and a half ago to get an MRI, I was devastated," Pillar admitted. "I didn't feel as if it was that serious, because I played with it that day. But any time you go in there you kind of hold your breath and hope it's not that serious.
"Especially talking with guys who have had oblique injuries, it's one, that can nag for the entire season and two, it can get worse and lead to a lot of time off. I was very fortunate. I got with some good people during that time, I definitely got educated on my body and different ways to get my body loose and exercise, and honestly, this is the best my body has ever felt."
Gregor Chisholm is a reporter for MLB.com. Read his blog, North of the Border, and follow him on Twitter @gregorMLB. This story was not subject to the approval of Major League Baseball or its clubs.