Singleton not worried about securing roster spot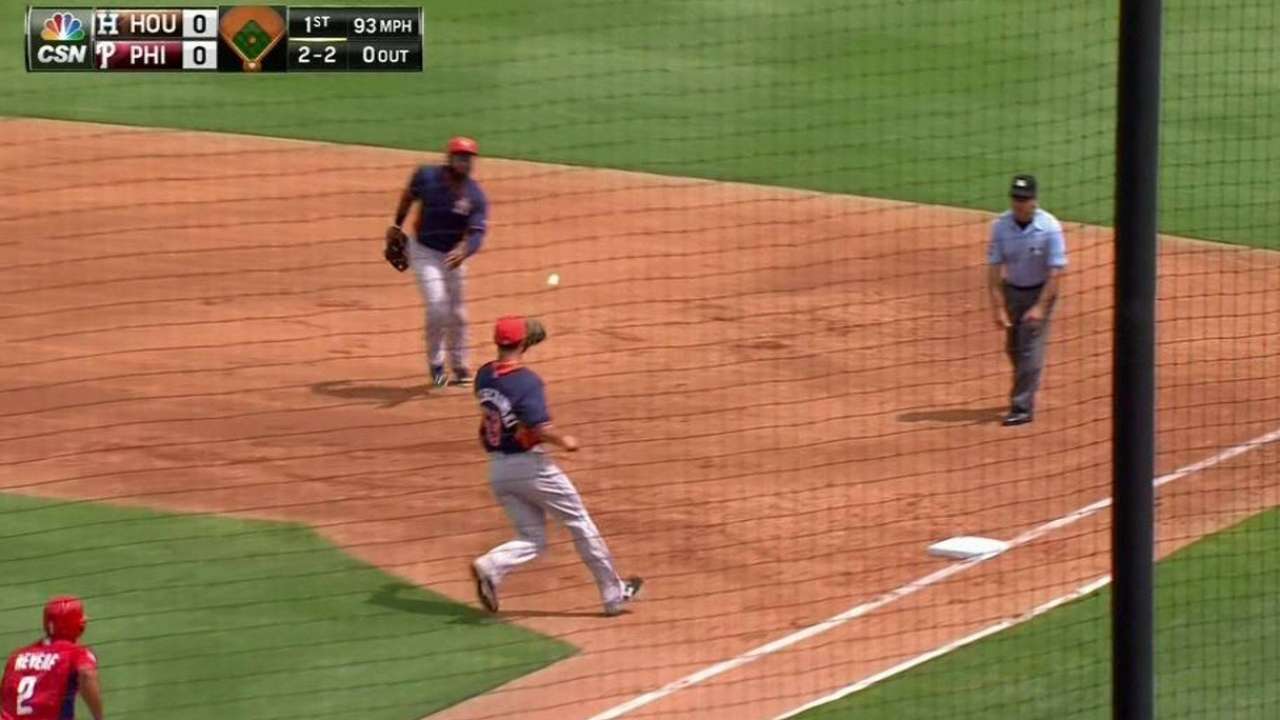 CLEARWATER, Fla. -- He's been considered a key piece in how the Astros will determine the shape of their roster since the start of camp, and with only a week remaining before the club leaves Florida, first baseman Jon Singleton believes he's in a good spot.
After going 0-for-4 in Wednesday's 7-1 win over the Phillies at Bright House field, Singleton's batting average fell to .244 (10-for-41) with no homers and four RBIs. He's getting plenty of chances at first base, where the Astros have options with Chris Carter and perhaps Evan Gattis capable of starting if he doesn't make the club.
"I feel like the things I'm working on are starting to cross over into the games, and every day I feel like I'm making more and more progress," Singleton said.
The left-handed slugger, who bashed 13 homers and had 44 RBIs in his debut last year while striking out 134 times in 310 at-bats, isn't trying to swing for the fences with every cut. After starting the Grapefruit League season 8-for-18 with three strikeouts, Singleton is 2-for-23 with 11 strikeouts.
"I really just want to -- it's pretty simple -- just let the ball travel and just hit it where it's pitched and try not to do too much and try not to over swing," he said. "I just want to make the game as simple as possible."
Astros manager A.J. Hinch said Singleton is making a good case.
"He's a very, very dangerous hitter, and he knows it, the other teams know it," he said. "He got off to a really hot start in the spring and continues to grind towards the roster spot that's becoming more and more debatable."
With outfielders Colby Rasmus, Jake Marisnick, George Springer and Gattis locks to make the team with infielders Jose Altuve, Jed Lowrie Luis Valbuena and Marwin Gonzalez and designated hitter Carter, the Astros seemingly have two rosters spots remaining for non pitchers or catchers.
"Being a first baseman, being a big left-handed-bat presence, he's a threat every time he goes up to bat," Hinch said. "Those are all plusses in his column."
Singleton isn't getting caught up in the roster crunch of the final week of camp.
"I'm still out here playing ball and leaving it all on the field," he said. "I'm just trying to compete."
Brian McTaggart is a reporter for MLB.com and writes an MLBlog, Tag's Lines. Follow @brianmctaggart on Twitter. This story was not subject to the approval of Major League Baseball or its clubs.