MLB.com Columnist
Jesse Sanchez
Top July 2 prospects on display in new event
Inaugural International Prospect Series pits elite foreign amateurs vs. U.S. high schools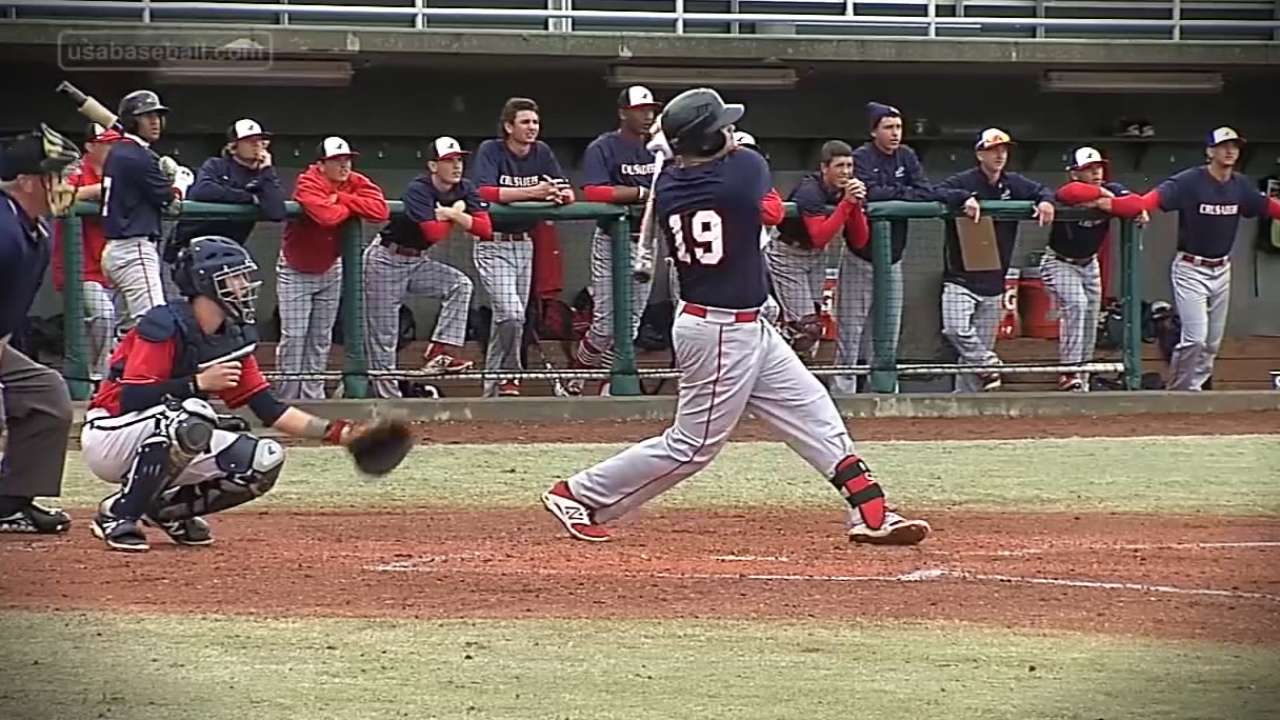 CARY, N.C. -- It was breezy and close to 45 degrees when the team of international prospects stepped on to Field No. 4 at the USA Baseball National Training Complex for the first time on Wednesday morning.
For many of these teens, the journey to the United States for two games marked their first trip outside of their homeland. It's their first foray away from home, their comfort zone, and all they have ever known.
The players were on an unknown field in a foreign country with new long-sleeves shirts and jackets to combat the unfamiliar elements.
Then the 28 prospects from the Dominican Republic, Venezuela, Curacao, Brazil, Aruba, and Panama -- all of whom will be eligible to sign with Major League teams when the international signing period begins on July 2 -- began practice. The balls whizzed across the diamond and the line drives sailed over the fences in deep left and center field. There was chatter in Spanish and the thwacking sound of wood bats connecting with balls during batting practice echoed.
It was just like being at home.
Welcome to the first annual International Prospect Series, a joint venture between USA Baseball and Major League Baseball. The international prospects will play two exhibition games against teams from North Carolina this week during the National High School Invitational that is also being held at the complex.
"I think it's a good opportunity for the domestic scouts to see some of these international players that they have not seen before and for our international team, it's a good opportunity for them to compete against players from the United States," said Joel Araujo, manager of Latin American game development for MLB. "We are excited about the opportunity and the players are happy to be here. It's the first time we have brought a team of international players to the United States and the players are really enjoying coming together and meeting guys they have heard about."
In addition to the two games, the international prospects will check out the local sights and watch a collegiate baseball game between North Carolina State and North Carolina A&T in Raleigh on Wednesday night.
They also expect to put on a show, especially during the professional-style workout scheduled for Thursday.
"Fans will see big kids, a lot of these guys are huge, and fans will see a lot of raw ability," Araujo said. "The international player plays differently and you'll see that. You could see guys here that in a few years could be in the big leagues. For their part, just being here is a great experience and we hope it makes a great event and something we can continue to do."
The NHSI brings together 16 teams from 10 states. College Park High School, Huntington Beach High School, Junipero Serra High School and San Clemente High School represent California while Florida is represented by Mosley High School, St. Thomas Aquinas High School and Trinity Prep. The field also includes College Station (Texas) High School, DeSoto (Miss.) Central High School, Farragut (Tenn.) High School, Horizon (Ariz.) High School, Lambert High School (Suwanee, Ga.), Leesville Road High School (Raleigh, N.C.), Loyalsock Township (Pa.) High School, Puyallup (Wash.) High School and Whitewater High School (Fayetteville, Ga.).
Players to watch:
Jhailyn Ortiz, OF, Dominican Republic
Gilberto Celestino, OF, Dominican Republic
Carlos Vargas, SS, Dominican Republic
Anderson Amarista, RHP, Venezuela
Alvaro Seijas, RHP, Venezuela
Miguel Amaya, catcher, Panama
Gillian Wernet, RHP, Aruba
Enrique Hatma, catcher, Curacao
Miguel Hernandez, SS, Venezuela
Starling Heredia, OF, Dominican Republic
Broadcast schedule
Games will be streamed live on MLB.com
Wednesday
College Park vs. Farragut, 12 p.m. ET
San Clemente vs. Lambert, 3:30 p.m.

Thursday
Quarterfinals (Teams TBD), 1 p.m.
Quarterfinals (Teams TBD), 4:30 p.m.

Friday
TBD, 10 a.m.
Semifinals (Teams TBD), 1 p.m.
International Prospects vs. South Caldwell (N.C.), 4:15 p.m.
Saturday
Championship game (Teams TBD), 12:15 p.m.
Jesse Sanchez is a national reporter for MLB.com. Follow him on Twitter @JesseSanchezMLB.
This story was not subject to the approval of Major League Baseball or its clubs.