MLB.com Columnist
Marty Noble
Paying tribute to 'The Greek,' a true legend
Peters knew as much about the Giants as anyone knew about any team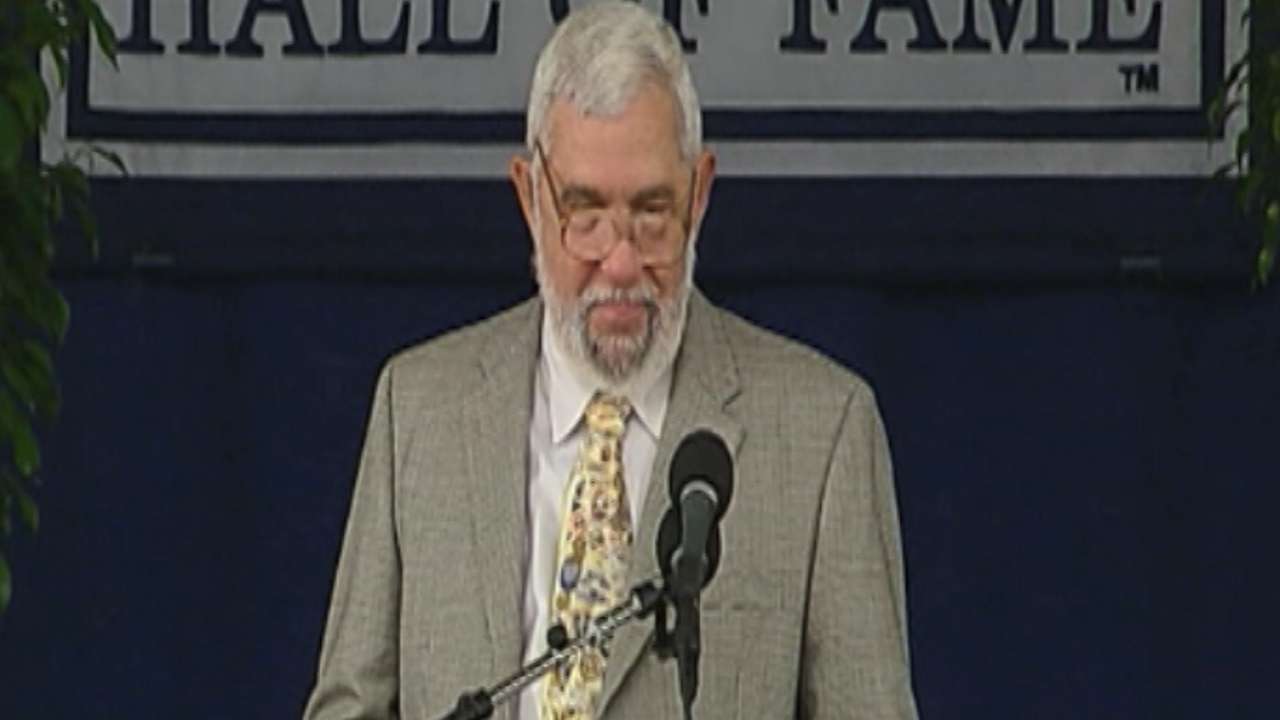 For not enough years, Newsday had the best sports editor in the business. Dick Sandler respected and rewarded the members of his staff and oft-times reveled in what he had assembled when Newsday was widely recognized as "a writer's paper." All Sandler asked was that his reporters and columnists not embarrass themselves, the paper or him -- in that order. Out of mutual respect and appreciation, his request was routinely accommodated by all of us.
Sandler took care of us in every way, sometimes demanding we take time away from the job -- in my case, time away from the game I covered -- to avoid the brain fatigue he identified as " burnout on the baseball beat." I distinctly recall him telling me his baseball guys never would cover 120 games in a season. He believed in the point of diminishing return.
At first I opposed that arrangement, but as 162-game seasons, seven-week training camps, all that October travel, the annual offseason madness and the calendar years on my personal odometer passed, I accepted Sandler's plan. Had to, he controlled the schedule.
But I did learn to appreciate that particular aspect of Sandler's stewardship. And I know I benefited from his direction; it allowed me to remain close to the game for 41 years.
* * * * *
The death Sunday of Nick Peters has prompted some second thoughts about the arrangement though. Nick covered the Giants for The Oakland Tribune, Sacramento Bee, San Francisco Chronicle and Berkeley Gazette for 47 years. This is merely an estimate, though I'm all but certain that he was a 125-games-plus regular. "The Greek" always was with the team -- home and away -- and was as up to date on all things Giants as anyone else was knowledgeable about any team. He died at age 75 and took thousands of stories, anecdotes and attaboys from his contemporaries with him. Nick was a professional in every way.
Nick was voted as the winner of the prestigious J.G. Taylor Spink Award in 2009. It's the equivalent to Hall of Fame induction for a baseball writer. You felt good checking his name on the ballot. Voting for Nick was a no-brainer.
Nick couldn't make it to the 2009 winter dinner staged by the New York Chapter of the Baseball Writers' Association of America. He already was having trouble getting around. But the program for the dinner included a good piece by one of Nick's Bay Area buddies, Kit Stier, himself a 120-plus guy. The story carried a one-word headline -- Prolific, with the first syllable emphasized.
In the days when coverage of the team in the other dugout was expected, a pre-series conversation with the "Greek" was essential for anyone covering a game involving the Giants. And it remained a rewarding experience even after baseball coverage became parochial -- too parochial. Visits to Nick's press box location still were advisable. He knew stuff.
* * * * *
Nick wasn't alone in his obsessive attendance at games. Bob Hertzel -- the Bobby Bonds of BBWAA writers, as he covered the Reds, Pirates, Cardinals, Yankees, Braves, Indians and Senators -- preferred to keep his games-covered average at about 150. Hal McCoy, once Hertzel's colleague in the Cincinnati press box, covered the Reds for the Dayton Daily News from 1972-2009, challenged in his final six years on the beat by optic nerve strokes that severely compromised his vision and made driving from Dayton to Cincinnati impossible. He found a driver.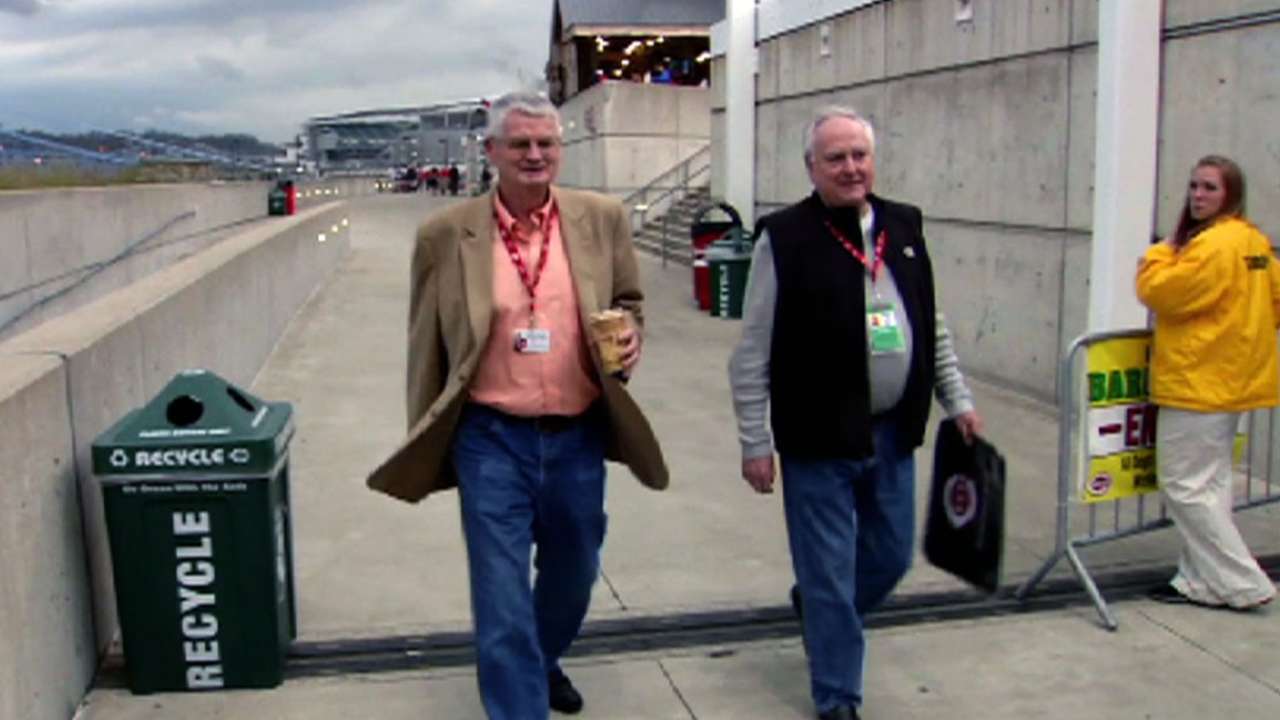 McCoy considered covering fewer than 120 games in one season comparable to covering a five-inning game.
And now Tom Gage, late of the Detroit News, is back in the saddle and in Lakeland, Fla., for his 37th year of camp. Gage wrote this Tuesday: "I can only honestly tell you that this scribe is elated to be back in the house. Baseball writing has a gravitational pull to it, you know -- a tractor beam. The longer you do it, the stronger the beam gets."
Gage will want to cover 163 for FOXSportsDetroit.com.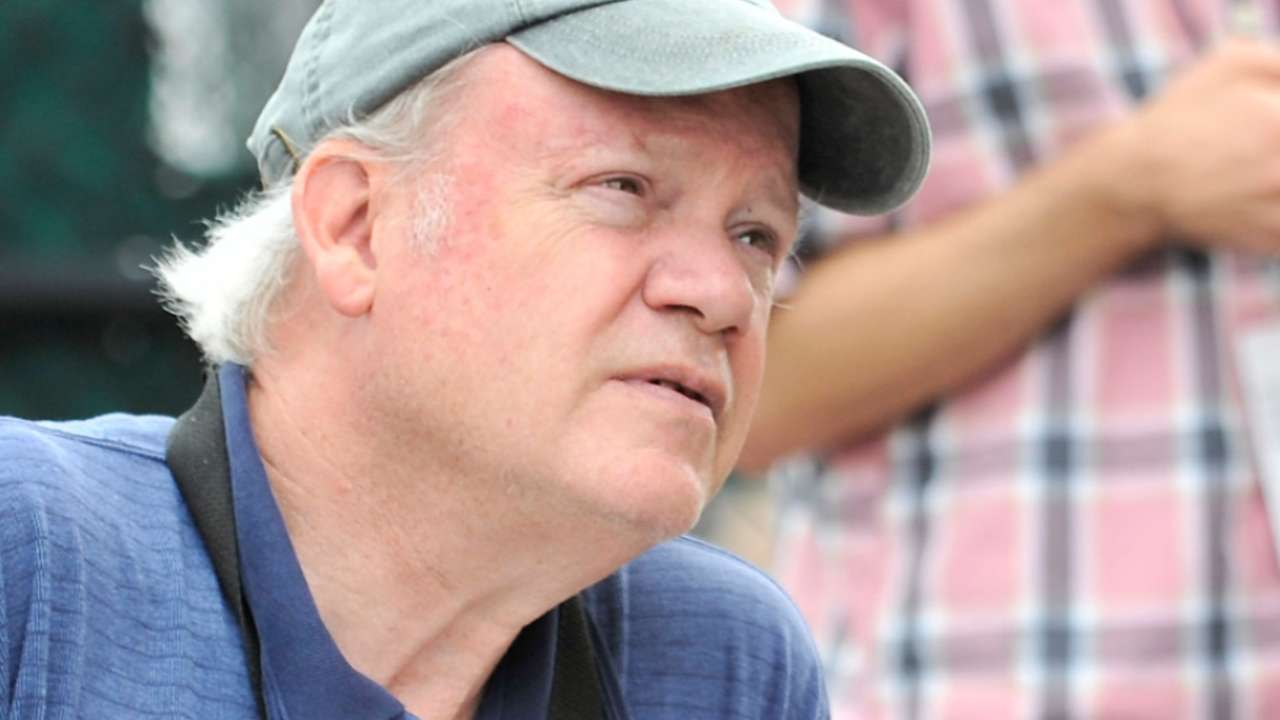 More than a few BBWAA chapters have had members who had the Cal Ripken gene. As appreciated as they are, they also are routinely kidded about their decades on the beat. Peers occasionally asked Nick whether the Babe was a good quote and whether John McGraw was as irascible as it seemed. Hertzel and McCoy had to field questions about Ernie Lombardi's legendary speed and Johnny Vander Meer's no-hitters. And Gage still refers to the notes he took the day Hank Greenberg hit No. 58.
I know the feeling. My most recent visit to Wrigley Field came six years ago, and one of the younger traveling Mets beat men wanted to know how the place looked without ivy. "As naked as Leo's bald scalp," I said. But he knew nothing of Durocher and his Lip. And I was asked what I recalled of the Expansion Draft that fed the Mets in 1961. I admit I missed it for the sake of an eighth-grade class trip.
* * * * *
These days, when my visits to the ballpark are significantly fewer, I often miss the experience and envy those guys who covered so much for so long and did it so well. Staying close to the game -- no one other than the guys behind the microphones is closer than the beat men -- has its rewards. When you were there regularly, you knew stuff, and you developed a sense of what to report, how to report it, when to report it and -- just as important -- what not to report. A good sense of all that is critical is developing a trust with players, managers, folks in the baseball offices and readers as well.
Nick had that sense; Hertz and Hal still have it and use it. Though their hours at the park have diminished, too, that sense derived from daily beat reporting still serves them well in what they do.
Knowing stuff is cool. It makes for insight and fun. It might complement a story about a game that was less than compelling. That the 10th-place Yankees of 1966 were outscored by merely one run might come in handy one day. That Mets catcher Jerry Grote once allowed a high fastball to strike plate umpire Bruce Froemming (in the chest protector) might never come up, but something akin to it might.
No matter how much you know, though, you are occasionally reminded your brain still has unoccupied cells. So it was in October 2006, when the Mets and Dodgers played in a National League Division Series. Two Dodgers -- Jeff Kent and J.D. Drew -- were tagged out at the plate by Paul Lo Duca on the same play.
By that point, I'd been around the game for 45 years. I'd seen stuff. I knew stuff. I shared my knowledge with a younger writer seated next to me. "How could such a play occur" he wondered. So I explained that I'd seen a similar play 21 years earlier at Yankee Stadium. Dale Berra and Andre Robertson had been tagged out by Carlton Fisk on the same play.
My student was thankful and, I thought, a tad impressed. I had a sense of being a sage. I didn't need Google to call up useful information. Within seconds, though, a genuine sage, Roger Angell of the New Yorker, approached. He had me by a few decades, which he proved when he said, "Nineteen thirty-two, Gehrig and Dixie Walker were thrown out on one play. Luke Sewell was the catcher, and he got both of them with one tag."
Wow!
I saw Nick in San Francisco the following year and told him how Angell had unwittingly stuck a pin in my premature "I'm a sage" bubble. And Nick said. "Yeah, you should have seen Sewell; he even tagged the umpire. I'd show you my story on it, but it's in my old computer."
Thanks, Nick.
Marty Noble is a reporter for MLB.com. This story was not subject to the approval of Major League Baseball or its clubs.