Gonzalez still up for rotation spot despite rough start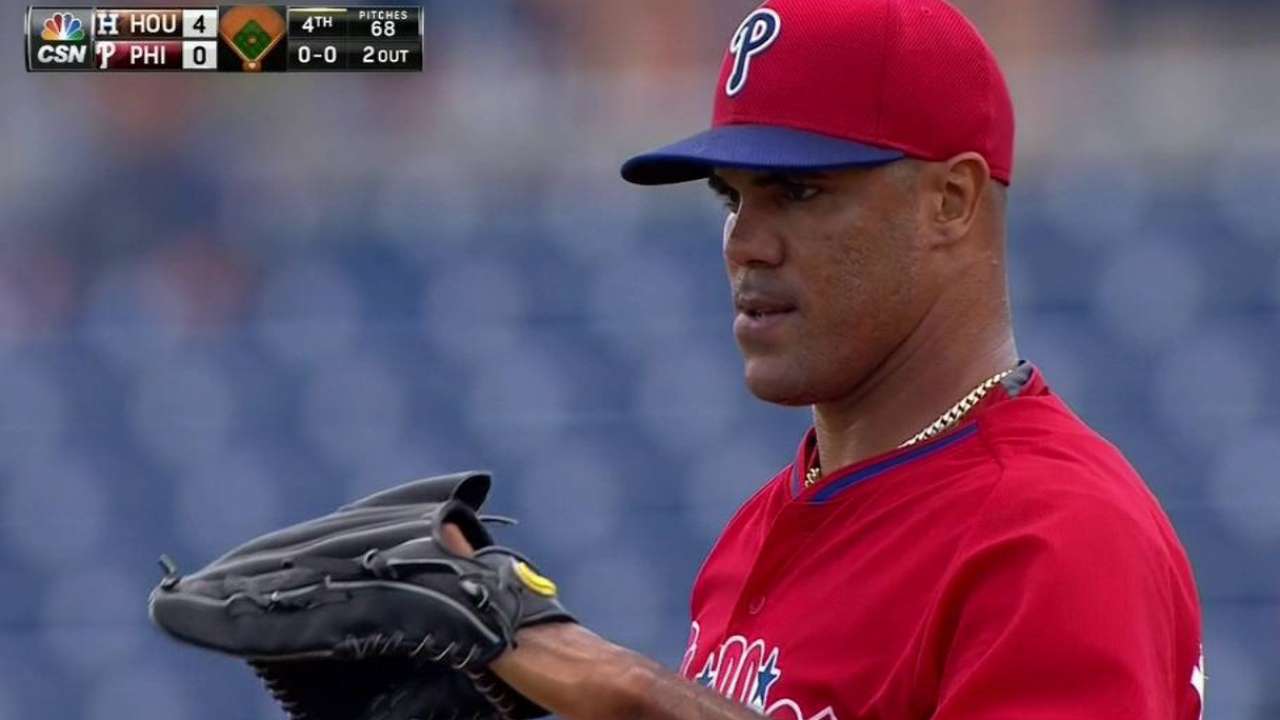 CLEARWATER, Fla. -- Miguel Alfredo Gonzalez is running out of time, but fortunately for him, the Phillies' fifth-starter options are limited.
It might be the only reason Gonzalez remains a candidate to make the club's rotation, if he remains a serious one at all. Gonzalez allowed eight hits, four runs and two home runs in four innings Wednesday in a 7-1 loss to the Astros at Bright House Field.
Gonzalez is 0-3 with a 7.53 ERA in five Grapefruit League appearances. He has allowed 25 hits, 12 runs, five home runs, one walk and has struck out seven in 14 1/3 innings.
"It's not the right time to be frustrated," Gonzalez told translator Rickie Ricardo. "If I'm going to make mistakes, let it be in Spring Training. If it comes to that, I'll get frustrated in the regular season, but not now."
Gonzalez is competing with Kevin Slowey and Sean O'Sullivan for the No. 5 job. Slowey allowed three hits and three runs (two earned) in one inning Wednesday. O'Sullivan is pitching in Minor League camp, but he pitched for the Phillies last season.
"We'll continue to look at our options from here to the rest of camp," manager Ryne Sandberg said. "We will have somebody as the fifth starter."
Gonzalez is in the second year of a three-year, $12 million contract. The organization is still looking for a return on their investment.
"He's just struggling with his control and command and pitches," Sandberg said.
Gonzalez allowed back-to-back home runs to Carlos Correa and Hank Conger in the fourth inning. Gonzalez has allowed five home runs this spring, which ties Cleveland's Trevor Bauer, Baltimore's Bud Norris and Detroit's Justin Verlander for the most in baseball.
"It doesn't worry me, because it's a decision that's out of my hands," Gonzalez said about his chances of making the team. "I'm here to do my best, and whatever decisions management comes up with, I can live with it.
"Physically I feel fine. The only thing has been my location. It's still off, but it's what I'm working on on a daily basis and it's understood with the pitching coach and the coaching staff that I've been working on location."
Todd Zolecki is a reporter for MLB.com. Check out his Phillies blog The Zo Zone. Follow him on Twitter. This story was not subject to the approval of Major League Baseball or its clubs.