Jepsen ready for big role in Rays bullpen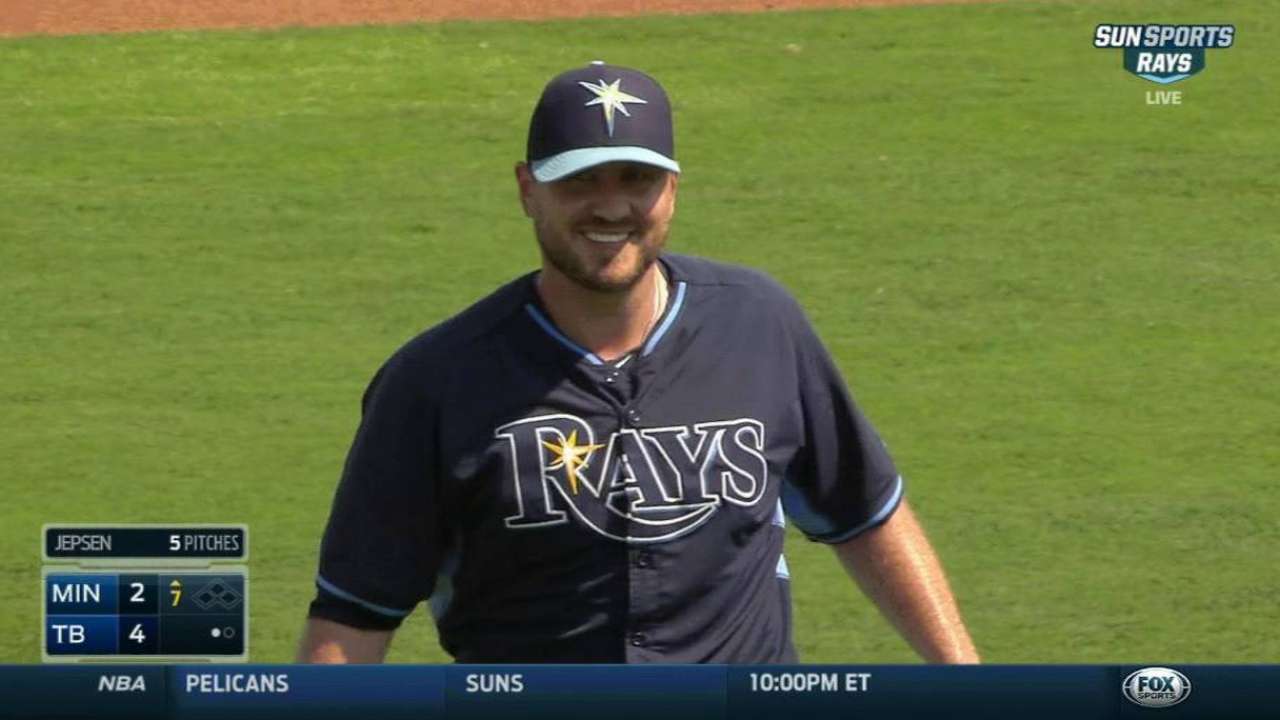 FORT MYERS, Fla. -- Kevin Jepsen should be a mainstay in this year's bullpen for Tampa Bay.
The Rays acquired the veteran reliever from the Angels in exchange for outfielder Matt Joyce. Thus far, manager Kevin Cash said he's been "kind of exactly as everybody envisioned."
"Came in with pretty dominant stuff," Cash said. "His innings, him and [Brad Boxberger's], they've had really clean innings. They've done a nice job. Quiet. Which is nice. No hiccups or anything like that.
"Fastball's been good. [Velocity] command and his breaking ball, that's the one pitch you really notice from the side. That thing just drops off the table when he snaps it off. So I'm excited that we have him and the roles that we'll use him in during the season."
Cash said the right-hander will be used in "very significant leveraged roles."
"As for specific innings, we don't have that," Cash said. "But as far as plenty of game-on-the-line, high-leveraged situations."
Jepsen, 30, had a career-best 2.63 ERA for the Angels in 2014, establishing a career high in appearances with 74, which ranked fourth in the American League. He also established career highs in innings pitched (65) and strikeouts (75). Numbers he attributed to some "behind-the-scenes stuff."
"Last year I was working with Nick Francona, he's Terry Francona's son," Jepsen said. "He was an advanced scout over there with the Angels. We sat down and kind of made a game plan, mostly about what I do well. Figure out what I do well and focus more on what I do well. Not being scared to throw offspeed early in the count because you don't want to get behind. Basically throw all that out the window and attack guys the way they need to be attacked."
Sixty-five of Jepsen's appearances were scoreless, which ranked third among Major League relievers and second in the AL behind former teammate Joe Smith (67). Opponents hit just .192 against Jepsen, and right-handed batters hit only .167.
Jepsen allowed a career-high five runs on Opening Day, then pitched to a 1.96 ERA through the end of the regular season, including two separate scoreless streaks each spanning 19 appearances.
Over seven Major League seasons, all with the Angels, Jepsen is 13-18 with a 3.94 ERA and 271 strikeouts in 315 appearances.
Bill Chastain is a reporter for MLB.com. This story was not subject to the approval of Major League Baseball or its clubs.