MLB.com Columnist
Jonathan Mayo
MLB Pipeline checks in from Reds camp
System on its way up, with starting pitchers like DeSclafani leading the pack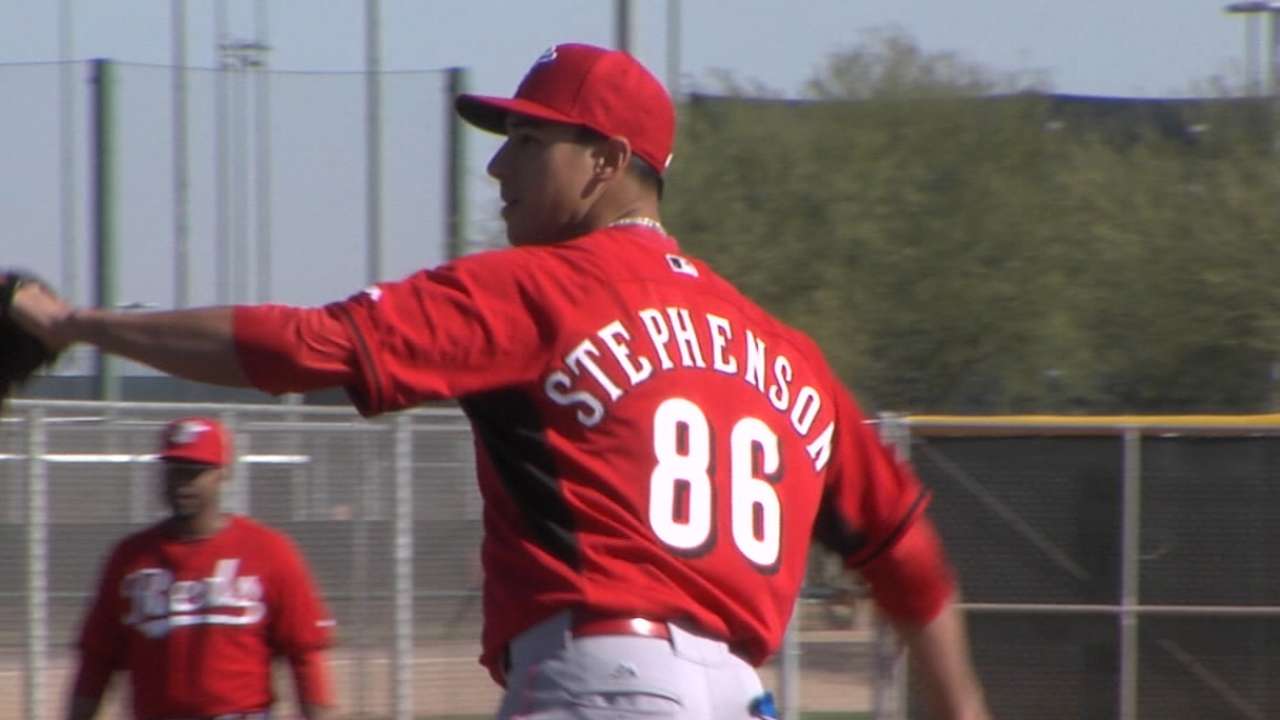 Every Spring Training, prospects get a chance to show what they can do as they prepare for the season ahead. Some are competing for jobs in big league camp, others are prepping for the season as they vie for spots at Minor League affiliates up and down a team's system. MLBPipeline.com will be visiting all 30 camps this spring. Today, we check in on the Cincinnati Reds.
GOODYEAR, Ariz. -- The Reds will admit that their farm system had a stretch when it was thin. There's a feeling now that things are changing for the better.
"I think the arrow is pointing up," Reds farm director Jeff Graupe said. "I think [scouting director] Chris Buckley and his staff have done a very good job of adding more and more talent over the last few years. I think we're the deepest we've been in the last five years, probably going back to 2008-09, when we had a pretty good crop down there."
Graupe points to starting pitching as a strength, and the additions of Anthony DeSclafani -- who's pitched well this spring -- and Jonathon Crawford via trades has bolstered an already good group.
"I think we can match up with most organizations, if not everybody," Graupe said about the pitching. "I think our hitters, there are guys we believe are going to hit. We think there's a bright future there."
MLB Pipeline Spring Training Reports
Camp standouts
Gavin LaValley, Cincinnati's fourth-round pick from the 2014 Draft and No. 19 prospect, was an offensive lineman in high school and could have played football in college. The Reds loved his bat and he's continued to transform his body for baseball, helping his overall athleticism and giving him a shot to stay at third base.
"He's down to 208 pounds; he looks great," Graupe said. "He has a really good offensive approach, a strong kid, who has kept all of his power. He's moving better, with more lateral agility."
If LaValley stays on the left side of the infield, he could be joined by another 2014 draftee, first-rounder Alex Blandino. The Reds have thrived with some unorthodox drafting-and-developing (turning college relievers into starters, for instance), and they think Blandino -- the organization's No. 8 prospect -- has the chance to stay at shortstop despite not having played there much at Stanford.
"He has tremendous professionalism," Graupe said. "He's one of the better makeup kids we've come across. He's transitioned to short seamlessly, shows great actions, just an all-around package for us."
Breakout candidates
Sal Romano, Cincinnati's No. 13 prospect, repeated the Midwest League in 2014, and started to see an uptick, stuff-wise. The big right-hander is poised to take off in 2015.
"At the end of last season, he was up to 97 mph, a big sinker, with a good curveball," Graupe said. "I think he's right there in the mix with Nick Travieso, Amir Garrett, Nick Howard and that wave of starting pitchers."
Aristides Aquino (No. 12) has already opened some eyes with his complete set of tools, but he's yet to hit full-season ball. That will happen this season.
"He's a guy who can do everything on the field," Graupe said. "He's really a guy who has the chance to explode on the national scene and do some big things."
Three questions with Garrett
Garrett was the Reds' 22nd-round pick out in the 2011 Draft. He also played basketball at St. John's for two years while spending his summers with Cincinnati's Minor League system.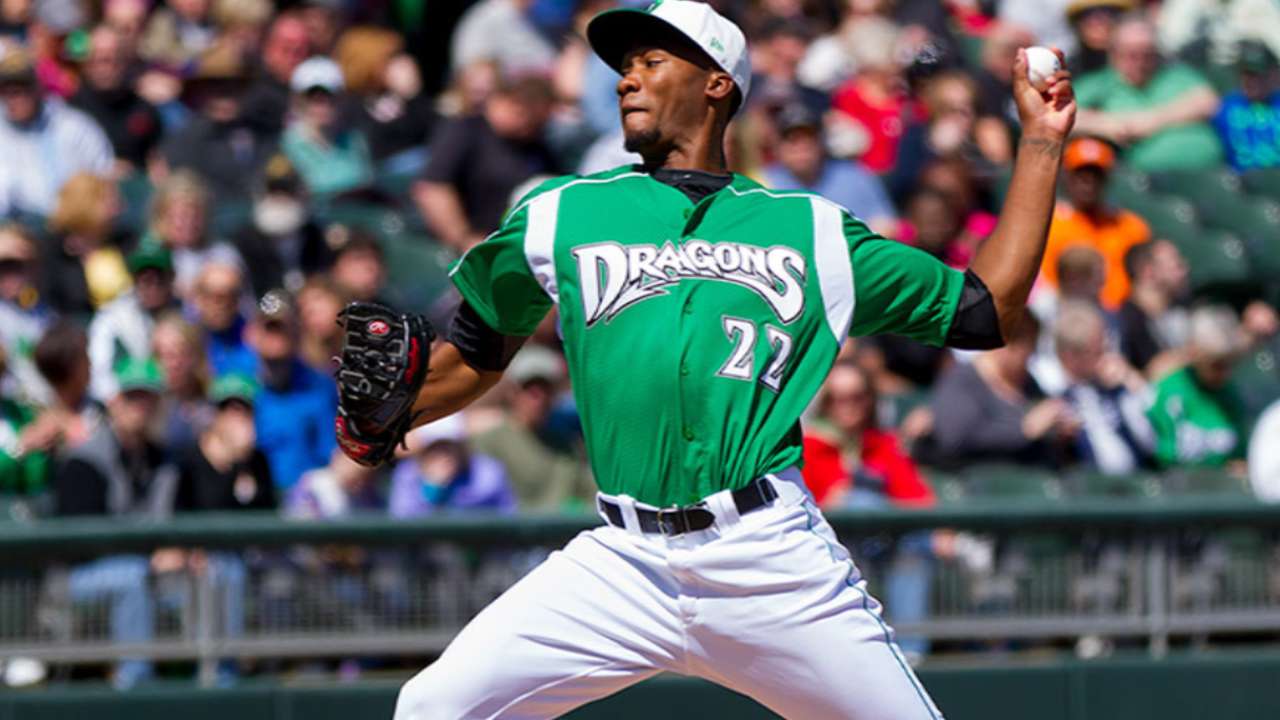 MLBPipeline.com: You were in big league camp in just your second Spring Training. What's the experience been like?
Garrett: The beginning, big league camp, was awesome. It was a great experience. I got to learn from a lot of older guys. I saw how they went about their day, their routine. Coming down here from big league camp, it definitely boosted my confidence a little bit more. I'm way more comfortable every time I get out on the mound. Last year was way different. I was still trying to find myself at the beginning of the season. When I committed myself to baseball, then I knew I had to put all my focus into this and it paid off. I think I picked up where I left off last year.
MLBPipeline.com: What did you learn from the grind of that first full season?
Garrett: I just have to stay healthy. I'm working hard, getting in the weight room -- that's a big thing, keeping your body fit and your arm strong. I was going through a little fatigue last year, but I learned from that, doing extra bands, doing whatever it is to get myself in full condition. The whole Spring Training thing, for full season baseball, that's very important. I was able to enjoy a full season. It's a grind, it's tough. I tell everybody baseball players grind the most out of any sport.
MLBPipeline.com: There's been a lot of talk about pitchers throwing too much, especially as amateurs. What are the benefits of having played more than one sport?
Garrett: Because I don't have as many innings as a lot of other guys coming out of high school or college, I don't have as much stress on my arm. I'm just scratching the surface. I like to throw as much as I can now, keep my arm strong, doing a lot of bands. There are times when I do get fatigued, but I think that's when my athleticism kicks in and I can say, "Just go."
I've talked to a lot of high school guys who have problems playing two sports. I just tell them, "Go with what your heart says. If you want to play two, then play two." They said I couldn't play both, and I played both. There's going to be a time when you have to make a decision, but you have to follow your heart, that's it.
Jonathan Mayo is a reporter for MLBPipeline.com and writes a blog, B3. Follow @JonathanMayoB3 on Twitter. This story was not subject to the approval of Major League Baseball or its clubs.