Zimmerman remains driven in 10th season with Nats
Veteran serves as consummate teammate a decade deep into career with Washington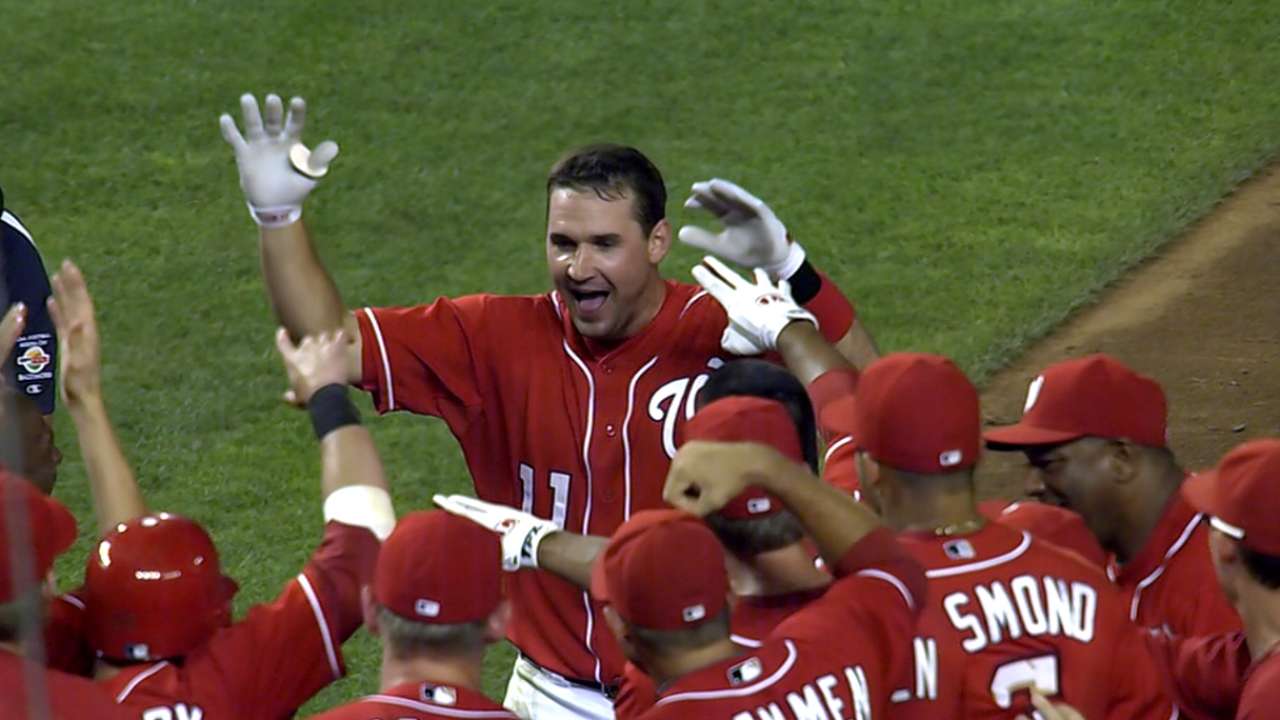 VIERA, Fla. -- Ryan Zimmerman has been the face of the Washington Nationals' franchise practically since he arrived in the Major Leagues on Sept. 1, 2005. He was the team's first star in Washington and he's still a star.
Zimmerman is a homegrown legend from Virginia Beach, Va., and playing close to home hasn't put any added pressure on him. He is a clean-cut guy who never got into trouble off the field. When things go wrong with the Nats, Zimmerman is always by his locker to field questions.
While some players would complain and sulk about the questions being asked, Zimmerman has always been a different story.
In 2013, for example, Zimmerman was asked so many times about his ailing right shoulder that one reporter apologized to him for asking another question about it. Zimmerman's response: "Stop apologizing and ask the question."
Now in his 10th full season with the Nationals, the 30-year-old Zimmerman said he is still having fun after a decade with the organization. He is one of few links to 2005, the franchise's first year in Washington after relocating from Montreal.
"I think the organization and myself have grown a lot, but I wouldn't change anything I've done one way or the other," Zimmerman said.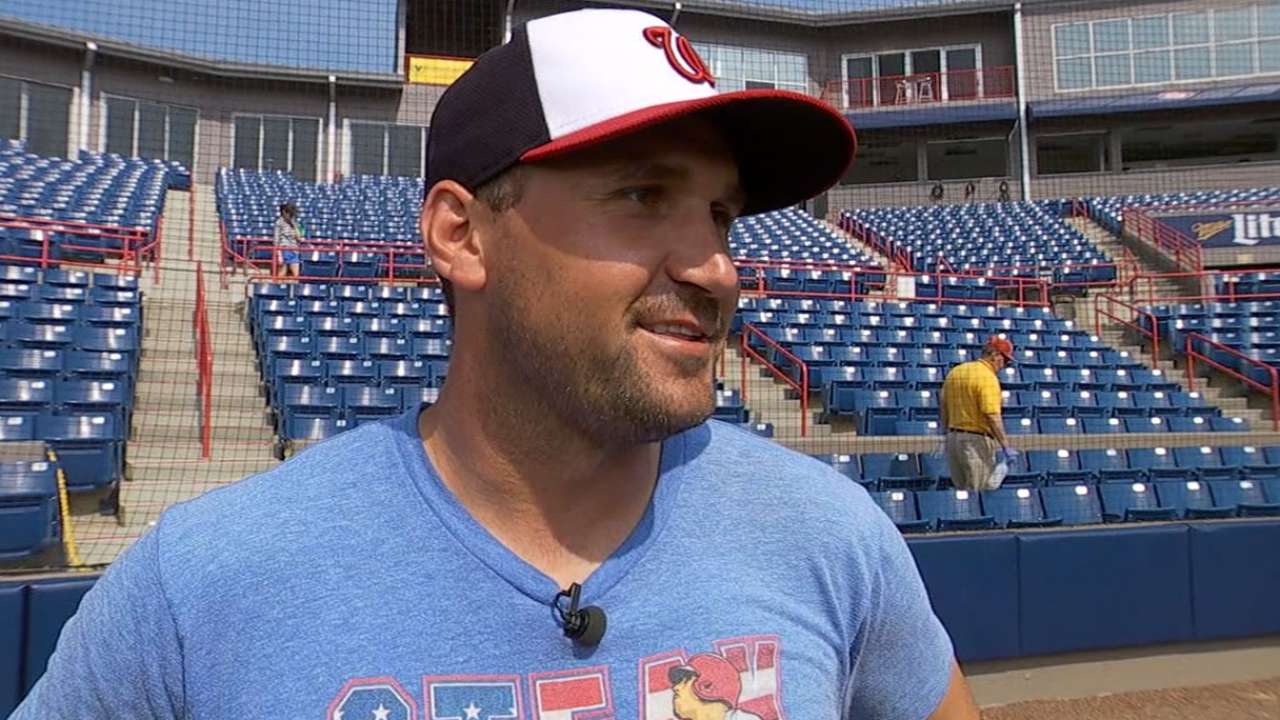 Being compared to the greats of the game
It seems like yesterday when then-general manager Jim Bowden said Zimmerman was Scott Rolen, Brooks Robinson and Mike Schmidt rolled into one. This came days after the Nats drafted Zimmerman in the first round (fourth overall) of the 2005 First-Year Player Draft out of the University of Virginia.
"Right out of the gate, he showed the range, he showed you the glove, he showed you he could hit the other way and he showed you he had raw power," Bowden said. "You could just tell he could be a Gold Glove-caliber third baseman if he stayed healthy.
"Of course, if you do the homework on who Ryan Zimmerman is, you will find the highest character that you will ever find."
Bowden didn't put any added pressure on Zimmerman by comparing him to three great players. If anything, it made Zimmerman work even harder. Zimmerman wanted Bowden to look like a genius.
"Jim took a chance on me," Zimmerman said. "He talked me up. He was honest with me. I was 20 years old, and Jim told me to go get 'em. He trusted me and I just took advantage of the opportunity."
The opportunity finally came when he replaced Vinny Castilla at third base in mid-September 2005 because of Castilla's bad knee. Who can forget the great catches Zimmerman made at third over the past decade? How about all those walk-off home runs, especially the one against the Yankees on June 18, 2006, against Chien-Ming Wang?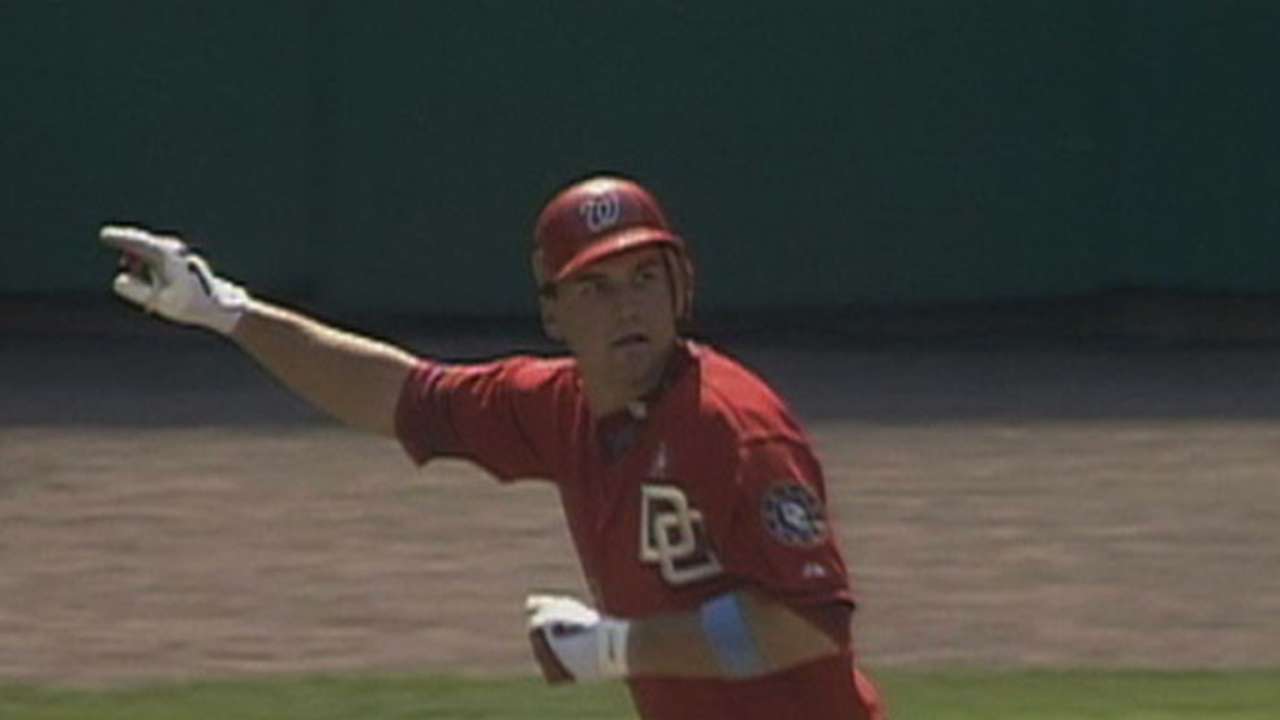 Off the field, Zimmerman is a special person. He established the ziMS foundation, which is dedicated to the treatment and ultimate cure of multiple sclerosis by funding comprehensive support and educational programs. The disease hits home for Zimmerman because his mother, Cheryl, has MS. The foundation has raised more than $1 million. Cheryl is doing well, Ryan is happy to report.
It's the combination of being both a great player and a great man that makes Zimmerman the face of the organization.
"When you think of the Washington Nationals, you think of Ryan Zimmerman," said Ian Desmond, Zimmerman's teammate since 2009. "Professional. The guy that goes about his business -- not only on the field, but off the field. He is a tremendous player. He is a young player. He still has a lot left in the tank. He could be Hall of Fame-type guy."
Even when the Nationals struggled, finishing last in the National League East four times in five years from 2006-10, Zimmerman showed class.
"You are playing baseball in the big leagues," Zimmerman said. "I was young. It would be different if I was a guy who was in the league for 15 years, then came over to a team like that. That's tough. But I was young, excited to be here, learning how to be consistent and play at this level. You learn when you lose, too."
Early in Zimmerman's career, the Nationals were one of the worst teams in baseball. Now, going into his 10th full season, the Nats are favored to win the World Series.
"The Lerners have done a good job building from the ground up," Zimmerman said. "They did it the right way. It wasn't necessarily the quickest way to get good, but I think it's the best way, being competitive every year like we are now."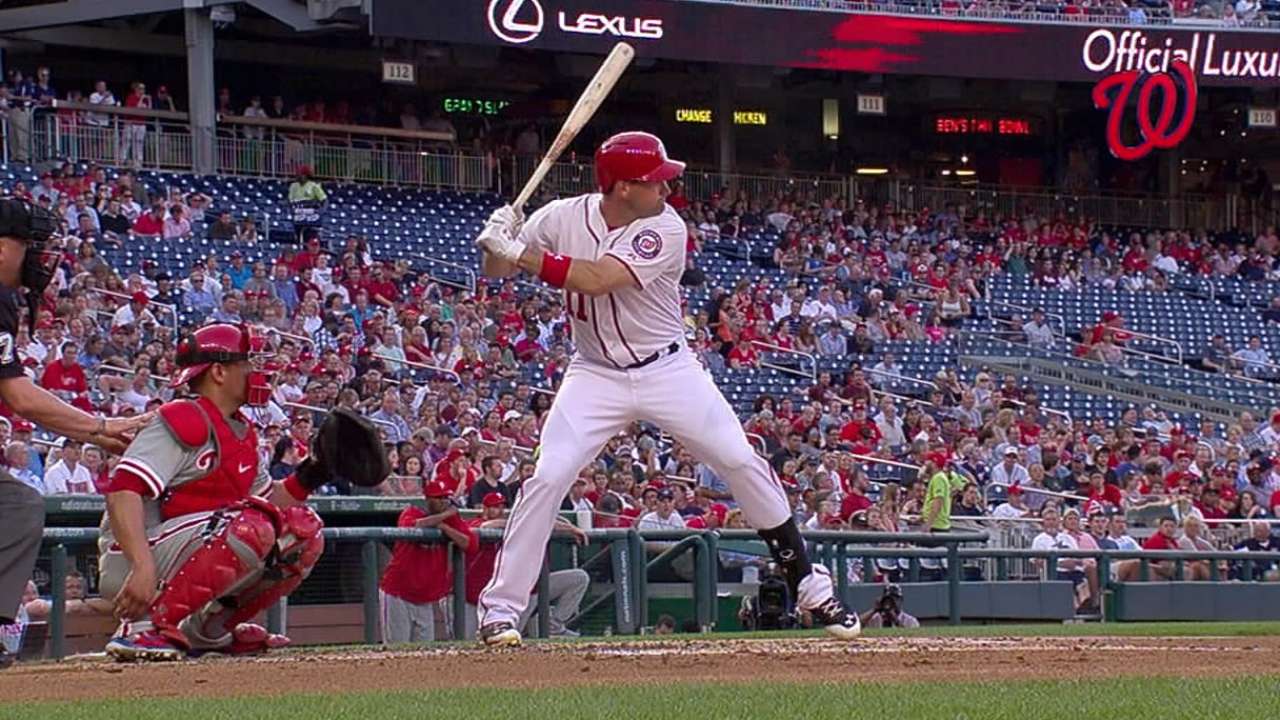 New decade, new position
Things are different this year for Zimmerman. His days of being the team's third baseman are over, as a bad right shoulder has forced him to switch to first base.
Zimmerman said he is more comfortable at first right now than he was the last two years at third. His shoulder was really barking at him, so throwing to first was an adventure.
"Nobody wants to make errors. No one wants to let their teammates down," Zimmerman said. "I feel good for two weeks, and then for four or five days, I feel terrible. It's hard to wake up every day and you don't know what you are going to get. It's tough, and I did everything I could to battle through, try to help out and help the team win. I think going to first base is the best move."
Zimmerman is still learning to play first. He is pretty good at scooping balls in the dirt, but he is still learning the nuances of the position -- when to be the cutoff man when the opposing player is trying to score and when not to go after a ground ball and let the second baseman take it.
"I'm getting a lot of things out of the way," Zimmerman said. "I'm feeling more and more comfortable -- learning the footwork.
"The hardest thing for me is, at third base, I tried to get every ball I could. It's hard to get that out of your mind. I can get a lot of balls to my right. But it's much easier for whoever is playing second base to pick it up and flip it to me than for me to go get it. For me, that's one of the things -- not going after every single ball. I have to learn the second baseman's range. My range doesn't matter. It's what they can get. That goes along with being in the game and being in the situations, knowing the hitter. It's a lot of little things that you have to learn. So far, things are going great."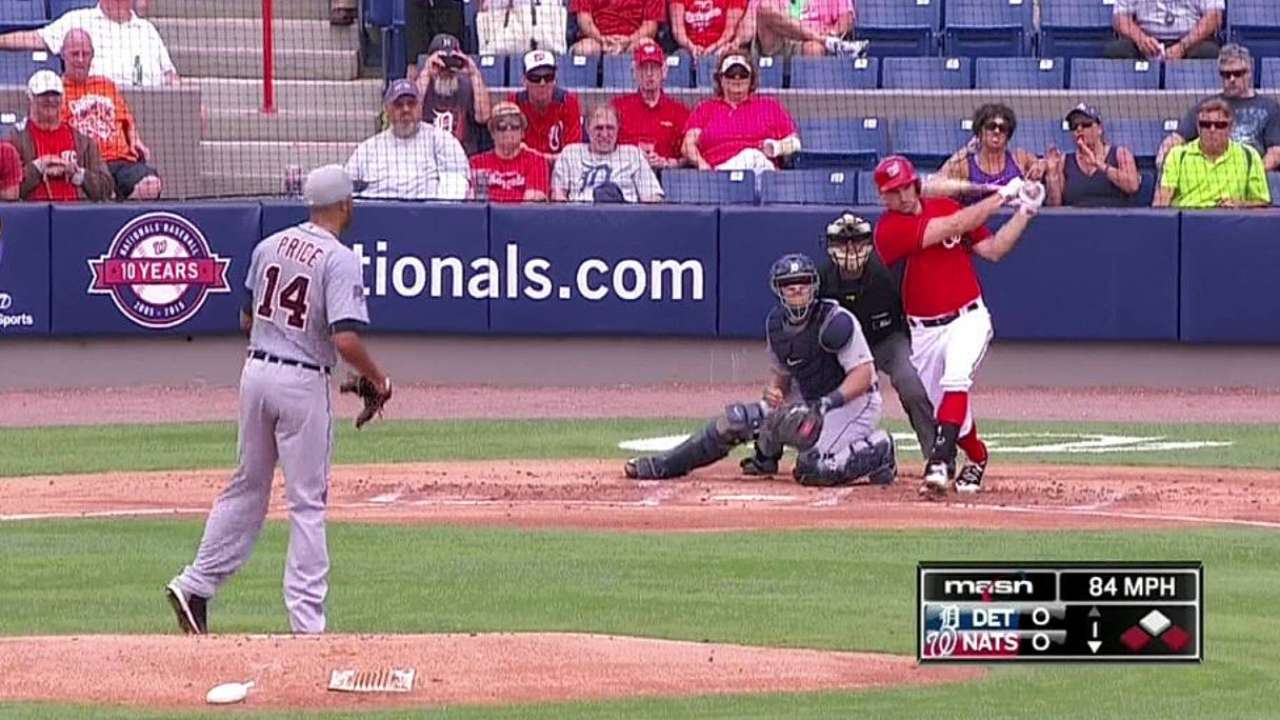 Zimmerman knew early last year that his time at third was ending. After missing almost two months with a broken right thumb, Zimmerman was the first to say that Anthony Rendon was the best person to play third base. So when Zimmerman came back, he found himself playing left field, and he looked like a natural out there.
One might think that Zimmerman, one of the team's highest-paid players as well as its longest tenured, would be reluctant to make a change. For manager Matt Williams, that showed how much of a team player Zimmerman was.
"He epitomized team. He is willing to do whatever," Williams said. "He is not concerned about himself. He is concerned about our team and helping us win games. He has always been like that. He cares about winning. He is secure in his contract."
Bryce Harper doesn't care what position Zimmerman plays; he just wants his bat in the lineup. After all, this is a guy who is capable of driving in 100 runs a year.
"I don't care where he is at. As long as he is hitting and doing things at the plate, that's all we need," Harper said. "He is a great ballplayer. He can play anywhere. It doesn't matter. He's an athlete. It's a lot of fun watching him play. The main thing we need is his swing."
Bill Ladson is a reporter for MLB.com and writes an MLBlog, All Nats All the Time. He also can be found on Twitter @WashingNats. This story was not subject to the approval of Major League Baseball or its clubs.