Betances not concerned with low velocity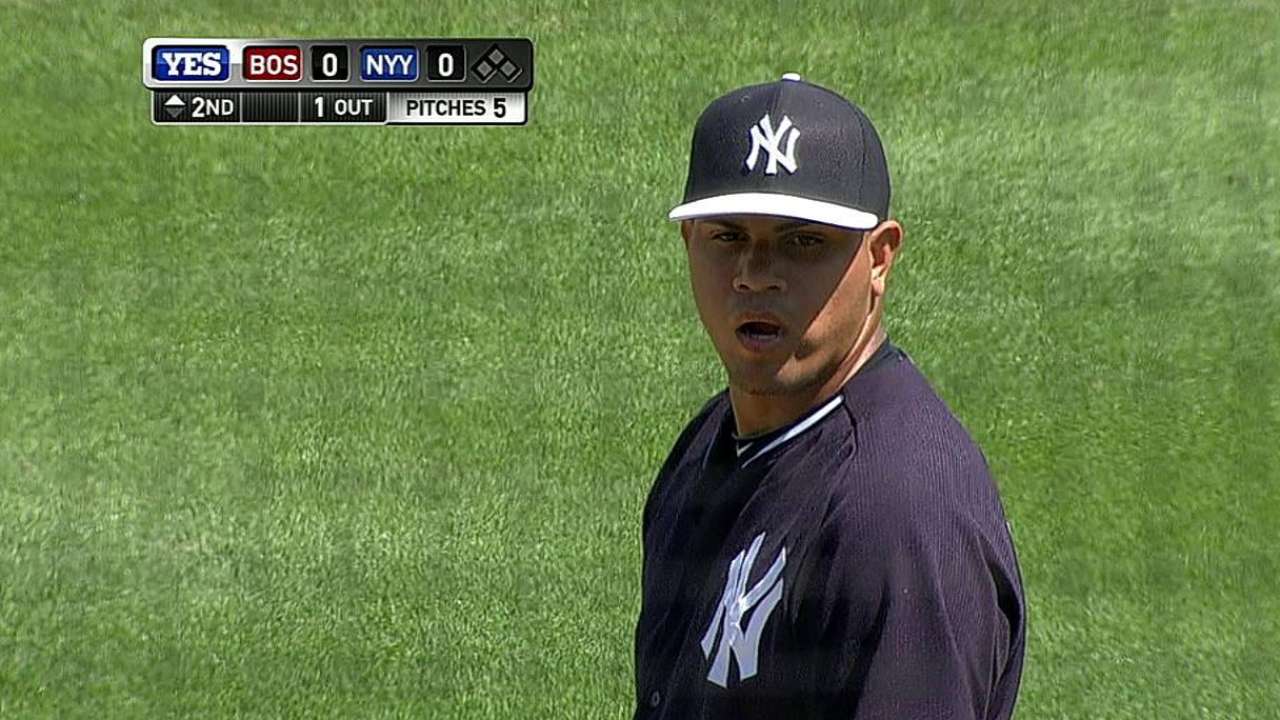 TAMPA, Fla. -- Dellin Betances believes that his arm strength will continue to build the more he is used out of the bullpen, and so the Yankees right-hander isn't concerned about radar-gun readings at this stage of the spring.
Betances maxed out at 94 mph with his fastball on Tuesday, according to the YES Network radar gun, as he allowed a run in the fifth inning of New York's 9-8 victory over the Tigers. He regularly sat a few mph faster last year as an All-Star setup man.
"I've got to just trust whatever I have right now," Betances said. "I know that the velocity will come. Same thing last year in Spring Training; last year I just trusted it and this year I'm trying to do a little extra with whatever I have instead of just trusting it."
Betances has only five Grapefruit League innings under his belt this spring, sporting a 5.40 ERA after permitting three runs and six hits. Because of that, manager Joe Girardi said that he is not troubled by Betances' lower velocity.
"There's not concern for me now," Girardi said. "If it was to go on for a long time, you'd be concerned, but he wasn't throwing 97, 98 in Spring Training at this time last year. He wasn't. Power pitchers usually take a little bit longer to get going."
Girardi said that Betances should get close to 12 innings by the end of the spring. He did pitch a two-inning simulated game last week at the Yanks' complex and is scheduled to face one or two more batters in Wednesday's game against the Mets.
"I've just got to pitch more," Betances said. "The more I pitch, the better I'll feel. That's always been my thing. Ever since I moved to the bullpen, the more I get to pitch, the better I feel with all my pitches. I'm glad I'm back out there tomorrow. We'll see how it goes."
Bryan Hoch is a reporter for MLB.com. Follow him on Twitter @bryanhoch and read his MLBlog, Bombers Beat. This story was not subject to the approval of Major League Baseball or its clubs.