Angels broadcaster Mota talks upcoming season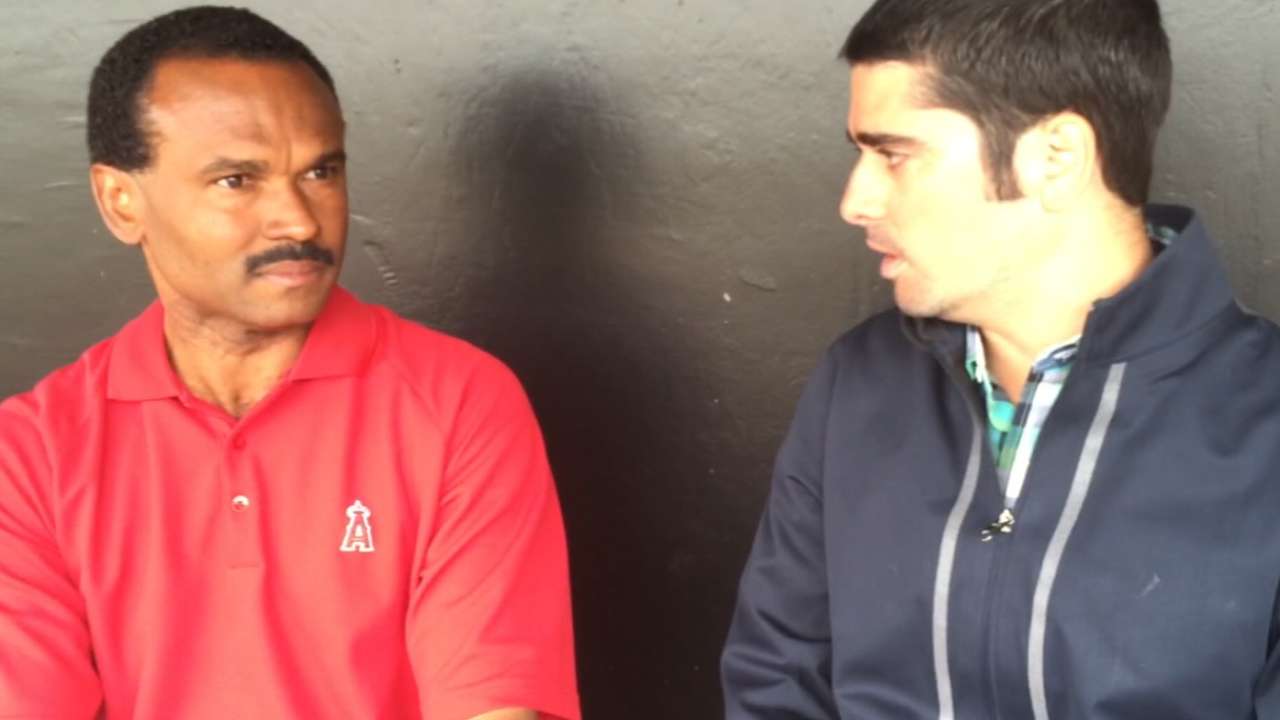 Jose Mota is paid to be an English and Spanish broadcaster for the Angels on Fox Sports West, but he's much more than that. Over the last 14 years, he's become an important link between the organization and its Latin American players.
When Vladimir Guerrero won the American League Most Valuable Player Award in 2004, he flew Mota to New York to help facilitate the language barrier at the Baseball Writers' Association of America banquet. When Bartolo Colon claimed the AL Cy Young Award the following season, Mota did the very same thing.
He helped Albert Pujols feel welcome in Southern California in 2012, translated for Cuban middle infielder Roberto Baldoquin this spring and often does spiritual readings for Latin players on Sundays.
With Opening Day fast approaching, Mota -- son of longtime outfielder Manny Mota and a former professional infielder himself -- sat down with MLB.com to discuss the 2015 Angels.
Howie Kendrick is gone and we don't know when Josh Hamilton will be back. What concerns, if any, do you have about the offense this year?
David Freese is a guy who, to me, is going to be stepping up. I'm worried about opposing managers saying, 'If we can get by [Mike Trout], Pujols and Freese, we have a great chance of minimizing damage overall.' … It's going to be a matter of complementing, it's going to be a matter of not thinking about Josh Hamilton, if he's here or not, and a matter of being creative overall. Mike Scioscia manages a team well when he's not thinking about one thing called batter's-box offense.
We know he's going to put up his numbers, we can be pretty confident he's going to be great. But what do you see with Trout regarding the high strikeouts and the low stolen-base total from last year? Where do you see those numbers moving this year?
I believe they're both going to improve. The reason I say that is Mike Trout is very smart as a hitter. He told us all in Spring Training, 'I need to cut down on the strikeouts.' And he's doing something about it. [Hitting coach] Don Baylor has incorporated a two-strike-approach drill, where guys mentally and physically know they have to do some things differently with two strikes. Mike Trout has bought into that tremendously, and we've seen the results. He can be a guy who takes a lot of pitches, but he can also be a decent two-strike hitter by putting the ball in play.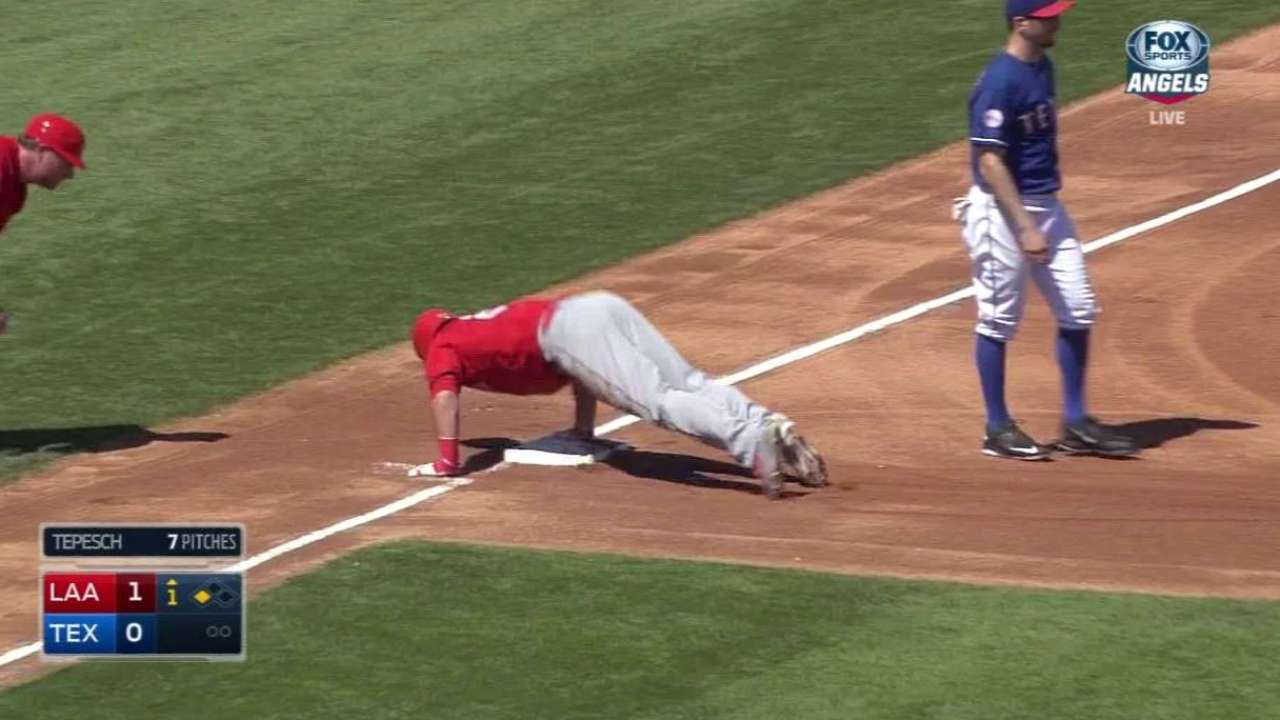 On the stolen bases, here's what I think: Mike Trout is going to decide, and tell Mike Scioscia -- with his actions, not with his words -- that he's going to run more. Taking better leads, having better reads and understanding what they're trying to do with him. But you can't be tentative. And just because you get thrown out a couple times, you can't stop running or taking good leads. It all starts with a good lead, the guy behind you understanding what you're doing. I think communication with the guy hitting behind you is going to be key, too.
Who has jumped out to you so far in camp?
I love gamers, man, and I tell you what, Taylor Featherston is a gamer. He's not afraid, he takes his swings, he's got great extra-base power, gap to gap, and also fearless.
Where do you see the Angels fitting into the American League West, and what is it going to take for them to win another division title?
It's going to take beating a lot of No. 1's and No. 2's. The Angels were not a very good team last year when they played teams that had .500-or-better records. ... The Angels did what they were supposed to do with teams under .500 last year. ... It's going to be tougher to repeat 98 wins, but it's doable, because the core is here. You have guys like Albert Pujols expressing time and time again, 'Guys, we got it done last year, we didn't finish it.' [Jered Weaver] saying the same thing, [Erick Aybar] saying the same thing. 'Guys, 98 [wins] is over. It's about 2015, getting it done, getting healthier, and playing more as a group.'
Alden Gonzalez is a reporter for MLB.com. Read his blog, Gonzo and "The Show", and follow him on Twitter @Alden_Gonzalez. This story was not subject to the approval of Major League Baseball or its clubs.