Former first-rounder Bradley embraces switch to bullpen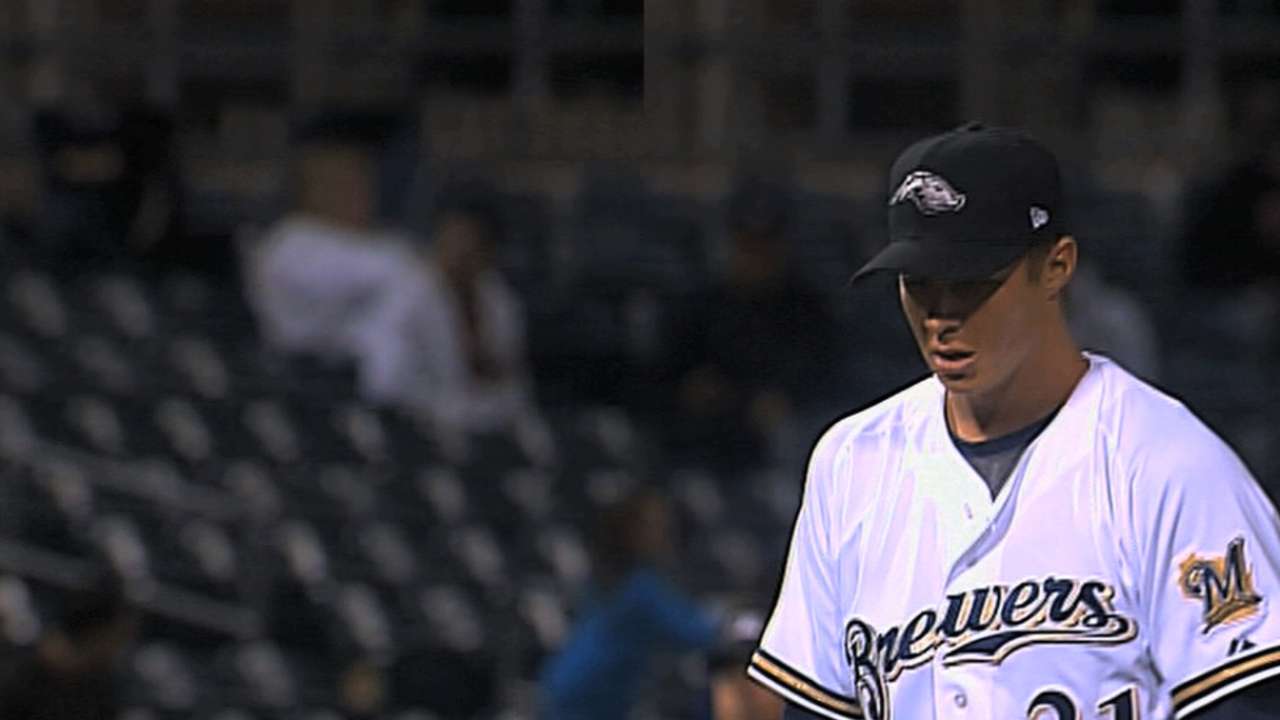 SCOTTSDALE, Ariz. -- After three so-so seasons as a starting pitcher, former Brewers first-round Draft pick Jed Bradley is eager to begin a new phase of his career in the bullpen.
When Bradley reported to Brewers Spring Training, Milwaukee Minor League pitching coordinator Rick Tomlin and some other officials met with the club's No. 26 prospect and proposed a switch to relief. Even though the left-hander was coming off his best season statistically -- Bradley was 10-10 with a 3.91 ERA at two levels in 2014 -- he agreed.
"They said it would make me a more valuable asset to the team, and I said, 'OK, I'm in,'" Bradley said. "It's going to be adjustment. When the phone rings, you have to be ready every day. Right now, it's kind of easy because you know what day you're going to throw in Spring Training, but the biggest adjustment will be in-season, getting out there on the mound a couple of nights in a row. It will be a mental adjustment more than anything."
On Tuesday, Bradley was rewarded with an appearance in big league camp. In a 12-0 win over the D-backs, he worked around a hit and logged two strikeouts in a scoreless eighth inning.
"He was aggressive with his fastball, threw a nice slider to get a punchout," Brewers manager Ron Roenicke said. "He looked OK. He's got a little more energy now that he's in the bullpen."
The Brewers selected Bradley out of Georgia Tech with the 15th overall pick in the 2011 First-Year Player Draft, three spots after they selected University of Texas right-hander Taylor Jungmann. While Jungmann has progressed in the Minor League system, Bradley has struggled with injuries and inconsistent velocity. He topped out last year at Double-A and was 5-8 with a 4.55 ERA in 17 starts there.
At his best, Bradley's fastball sat in the 92-96-mph range. Last year in a starting role, it was 88-92, he said.
"I hope it goes up," Bradley said. "There's a pretty good trend of guys making the move to the 'pen and getting a little bit of a spike in velocity."
Physically, he believes he's suited to relief.
"I've always been a guy who gets loose quick," Bradley said. "I think it will be a fun transition. I've always liked bullpen guys. They're kind of goofy, and they've got their own thing going on. I think I'll fit in."
Bradley expects to be used for full innings, and not as a left-handed specialist. He's heard rumblings about an assignment to Triple-A Colorado Springs.
Adam McCalvy is a reporter for MLB.com. Read his blog, Brew Beat, and follow him on Twitter at @AdamMcCalvy. This story was not subject to the approval of Major League Baseball or its clubs.